RV Expert Bill Widmer shares how to live in an RV on a budget. With tips for the cost of living in an RV, what to expect when traveling in an RV and an overview of their expenses.
The Idea of Living in an RV
Back in 2016, as my final college semester was coming to an end, we had a big problem…We had no idea what we wanted to do or where we wanted to live.
My then-girlfriend-now-wife Kayla and I knew Pennsylvania wasn't the place for us. We absolutely hated the cold, icy winters and 80% cloudy days. We wanted something more. But we didn't know what "more" meant. Where was our forever home? So we decided we needed to travel to figure it out.
But we had a cat who was basically our son, and the idea of traveling the country in a car and staying in hotels with a cat sounded miserable.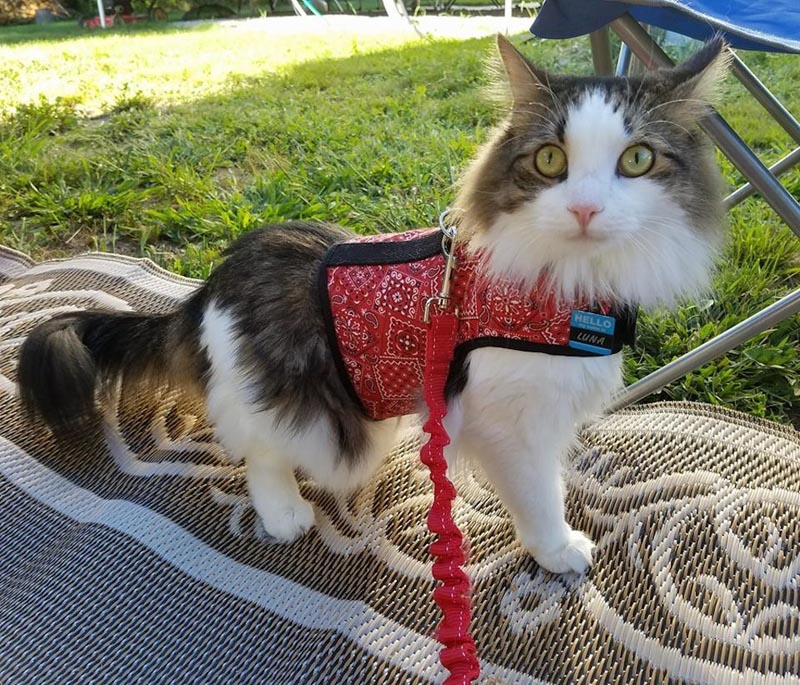 How to Live in an RV
That's when I had the bright idea to live in an RV!
It would solve all our problems; Luna (our cat) wouldn't be cramped in cars and hotel rooms, we could travel and still feel at home, and we could save money compared to jumping from hotel to hotel.
Today, I'm going to share our story of how we sold all our possessions to live in an RV and travel the country on less than $2,000 per month.
Let's dive in!
The Prep Work for Living in an RV: Selling (Nearly) Everything We Owned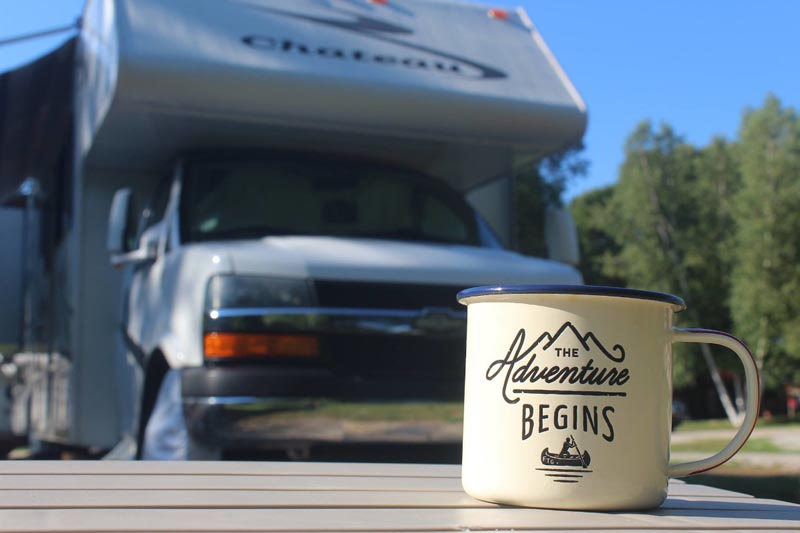 The first big issue with living in an RV is that you have very limited space.
If you're like me, you're probably used to having way more of everything than you actually need. But on the road, you will be living in a small space.
Those seven extra coffee mugs? Not happening.
The ten hoodies? Pick one or two!
Eight pairs of shoes? Yeah, more like two.
And that's just scratching the surface.
It took us a few weeks to go through every room and closet in our two-bedroom apartment.
We needed to comb through every possession we owned; particularly because we were virtually broke and couldn't afford a storage unit.
And once we went through every item we owned, we went through it again… and a third time.
The best part? We STILL had too much stuff for our 32' class C RV.
We needed to store a few totes and bags of clothes at my grandparent's house that we just couldn't part with. (Funny thing is that after we finished RVing, we ended up getting rid of/donating most of that "must-keep" stuff anyway. More on that later.)

Moral of the story: You're going to need to become more minimalistic in order to live in an RV. Especially if you want a smaller rig than ours, as we had a fairly large Class C.
Choosing an RV
With our very limited income, we couldn't be very picky with the RV we bought. In fact, after a few weeks of browsing around, we ended up buying our 32' Four Winds Chateau from my aunt because they gave us a good deal on it.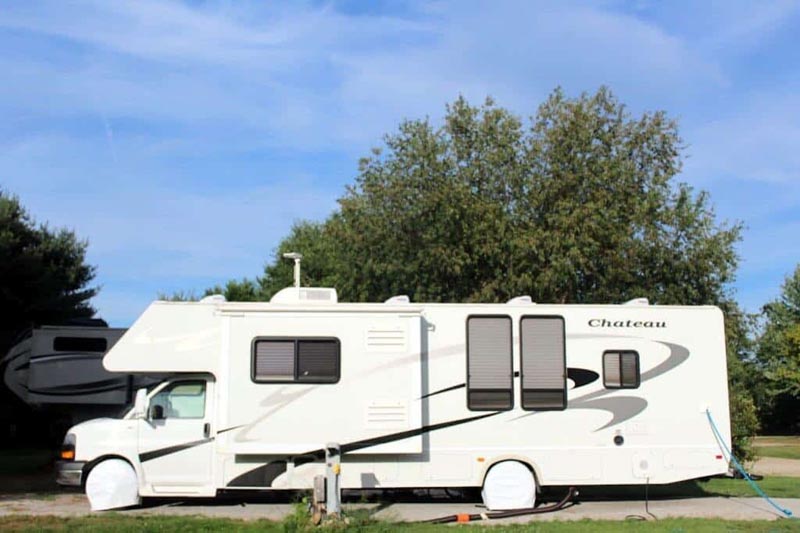 That said, there are all kinds of types of RVs, including:
Class C (tradition mid-sized motorhome with a bunk over the driver's cabin)
Class B or Campervan (the smallest motorhome size)
Class A (the big bus RVs)
Travel Trailer (teardrop campers, micro campers, and normal-sized towable RVs)
Fifth Wheel (trailers that are attached to a truck bed rather than a ball hitch)
There are other kinds of vehicles for living on the road like toterhomes (motorhomes pulled by tractor-trailers) and truck campers but you don't see those as often and they're pretty impractical.
Anyway, we could talk all day about choosing an RV, but I'll boil my advice down to the following questions:
Do you want a vehicle to get around with that isn't your RV? While you can tow a car behind a motorhome, it's often easier to get a tow vehicle that can detach from your rig.
How much room do you need? If you, like us, feel cramped even in a 32' RV, a fifth wheel or class A is probably for you. Otherwise, go as small as you can! Having a big rig makes traveling a headache and limits where you can stay, as many RV parks have a 32' limit on the size of their camping spaces.
Total Monthly Expenses of Living in an RV
There are a lot of costs involved with living in an RV that most people wouldn't think of or expect, such as RV repairs or maintenance.
Here's a list of all the expenses we had while living in our RV:
RV Payment: We took out a loan to pay for our RV for $325 per month.
Campground Rent: This cost can vary widely, as campgrounds have different costs based on location, time of year, and length of your stay. We stuck to campground costing >$40 per night (preferably around $15-$20). We often staying in places a month at a time to get hefty discounts and budgeted about $500 per month.
Gas: Another widely variable expense during RV travel is gas. Gas could cost you hundreds or dollars per month or virtually nothing depending on how much you drive. We averaged ~$150 per month across our year of travel.
Insurance: RV insurance is pretty cheap, costing around $560 per year (~$48 per month) for a motorhome or $250 per year (~$20/month) for a non-motorized trailer. Full-time RV insurance, however, can be much more expensive at ~$2,000 per year ($200 per month). See our guide to RV insurance for more info!
Utilities: We filled our propane around once per month, on average. A 20-pound tank costs roughly $19 to fill, so this is another $19 per month cost. Electric, internet, trash, and water are usually free, but some campgrounds charge for them separately. Our phone bill was around $180 per month. Let's call it $200 per month for everything.
Food/Groceries: Once again, this cost varies massively. You could be a person like us, who loves to eat out a lot. Or you could be frugal. We budgeted $600 per month for food.
Repairs/Maintenance: Be warned: You WILL need to pay for repairs at one point or another if you RV for any serious amount of time. We budget $100 per month for repairs and maintenance.
Activities: Part of the fun of traveling the country is experiencing all it has to offer. We had a budget of $200 per month for things like events, movies, riding hot air balloons, swimming with sharks, etc..
Miscellaneous: You never know what other costs might creep up. We always add 5-10% to the budget for miscellaneous expenses.
Our Total Monthly Costs: Ranged from $2,000 to $2,500 per month.
Planning Your Route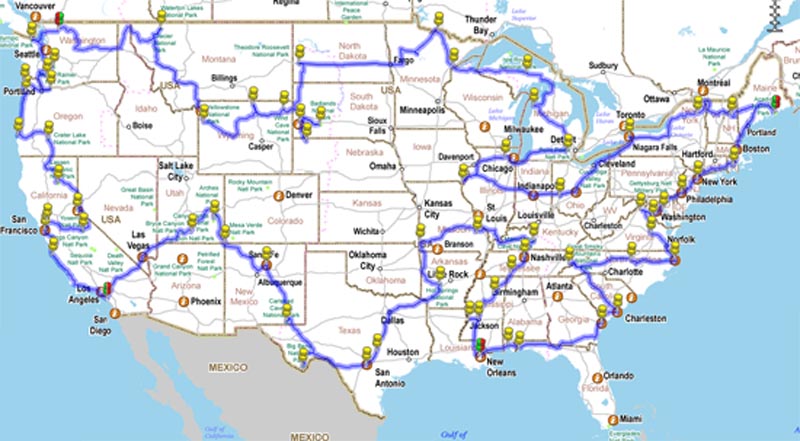 Our original plan was to travel the coast from PA to California, then come back through the middle/top of the country. However, life happens and plans change!
We ended up staying a month in Maine because we love it there, then went south down into Florida.
The goal of the whole experience was to figure out where we wanted to live, and we figured it out before ever visiting the west coast: We fell in love with Greenville, South Carolina!
How to plan your RV route
If you can, try to travel slowly. Not only is this less expensive (less gas, better discounts on longer stays, etc.), but it also allows you to really experience the area and all it has to offer. Staying just a few days or even a week in an area is hectic and doesn't allow you to experience much without rushing.
Use a trip planning tool like RV trip planner. You can plan what campgrounds you'll stop at, where you'll stop for gas (a big deal for big rigs), and any activities or sights you want to do/see along the way.
Be flexible! You may find you love a small town you only planned on stopping in overnight. Be open to staying longer and letting life take you where it wants.
While planning in advance can save you time, money and headaches, you can't plan for everything. And sometimes it's better to just show up at a campground rather than booking in advance (openings often happen last-minute).
Test it out and see what works best for you! Everyone's different with how spontaneous versus calculated they are and what they enjoy.
Number 1 Tips for Living in an RV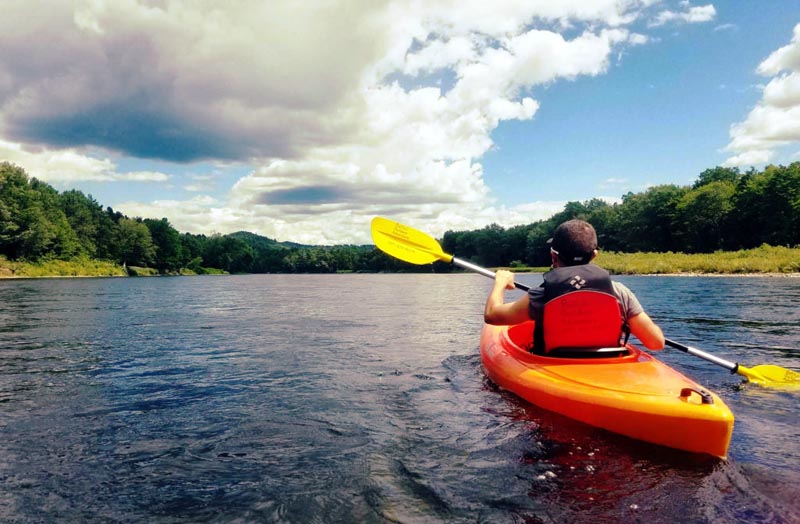 Our Recommendation: Test The RV Lifestyle First
If you have never RV'd before, such as with friends or family, you probably have no idea what to expect. While the RV lifestyle can be a lot of fun and very rewarding, it's definitely not for everyone. It can be frustrating, challenging, and downright painful.
I highly recommend renting a camper for a week or at least a long weekend to see how you feel about it. Better yet, go for a month to really understand what the lifestyle would be like. You can get a long-term RV rental from a site like Outdoorsy.
It may be a bit costly, but it's far less expensive than buying a $20,000+ RV and realizing living in an RV isn't for you.
If you have any questions about the RV lifestyle or just want to get in touch, feel free to reach out to us on our site or in the comments below!
So after all of this are your ready to hit the road and live the rv life.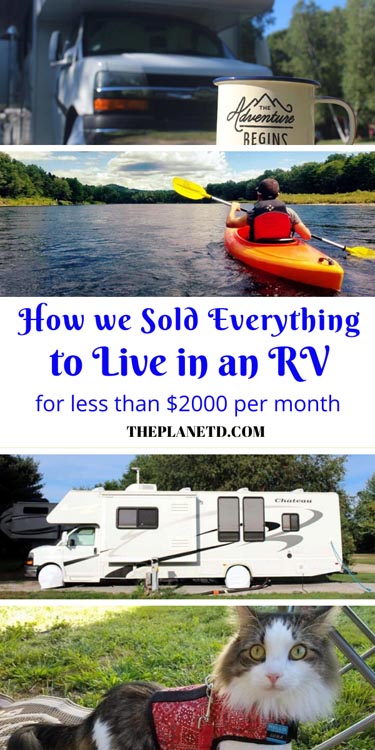 Check out more RV Living and camping