One of the most delightful locations on the entire island of Lanai, Hawaii is the stable at Koele Lodge. It's a full working ranch where they raise 300 heads of cattle, have horses for work and pleasure and is a place where you can reenact the days of the Wild Wild West.
Adventure Travel in Lanai
We had the pleasure of meeting our guide Frankie of Lanai Western Adventures on a beautiful sunny morning to take part in the UTV clay shooting adventure.
We were looking forward to the UTV ride through the back country of this tiny island, but we weren't sure how to feel about the clay shooting. Neither of us had ever shot a gun before in our lives and neither of us really ever had the desire to do so. It's not like we have to go hunting for our meals, we have a fully stocked President's Choice Supermarket down the street, thank you very much.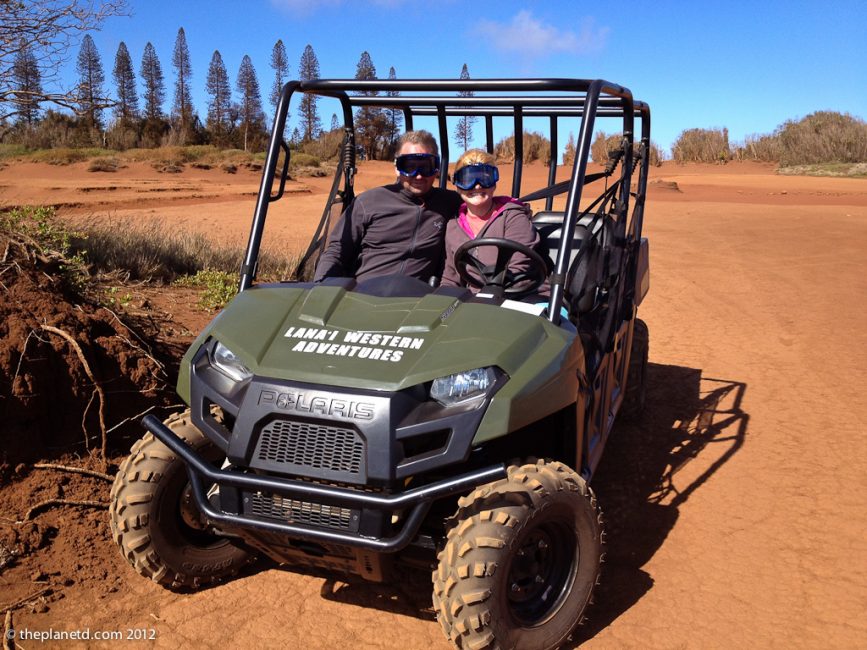 I took the wheel for the first round of the UTV ride and surprised even myself with how aggressive I was at the wheel. All those weeks on the Mongol Rally made me put my pedal to the metal and these potholes had nothing on the barren desertscape of Mongolia. I felt bad driving for too long as I knew Dave was itching to take this magic machine for a spin.
Views of Lanai
We drove around for about an hour taking in the views of the neighbouring islands of Maui and Molekai before heading to the shooting range.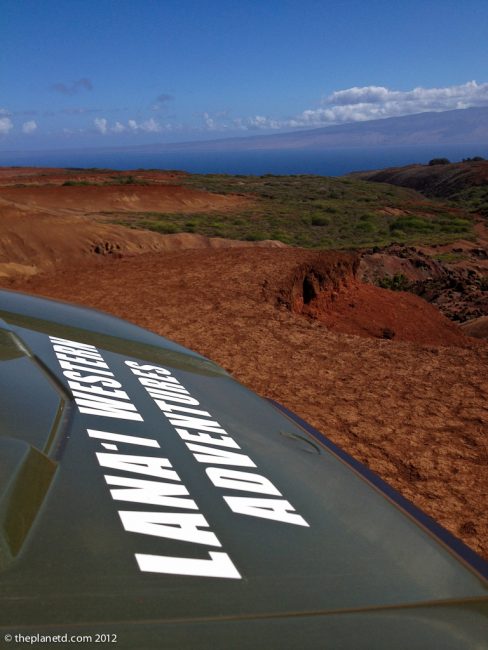 We had no idea what to expect. What would it feel like to hold a gun let alone shoot it? We were taken aback when we walked in and saw all the guns on the wall just waiting for someone to pick them up and shoot them. Shouldn't they be locked up or something?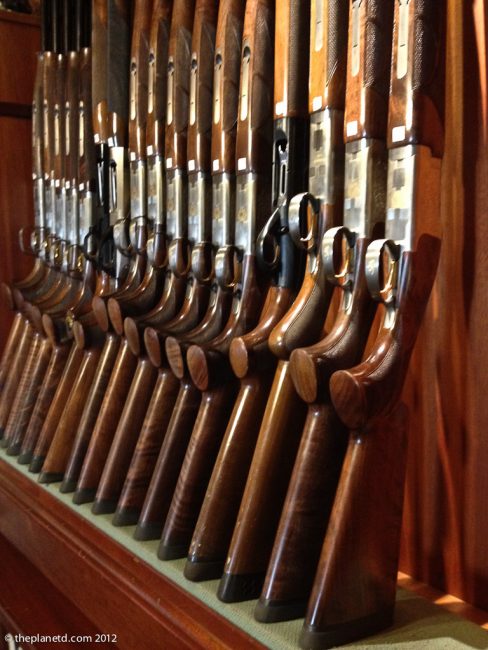 Frankie handed us our vests and earplugs and chose a couple of 20 Gauge shot guns for us to shoot. He said that he didn't want to give us the more powerful 12 gauge shot guns because for one thing, they have a hug kick and for another, he didn't want us to be turned off shooting guns. If you start too powerful too soon, you'll never shoot another gun again.
Out at the Shooting Range
Dave went first and as usual, he was a natural. I couldn't believe that he hit the first two clay pigeons right off the bat. How was I supposed to compete with that? But then to my surprise, I hit my first target as well!
It was easier than I expected. With Frankie's guidance, we understood quickly how to point the gun at our target. Frankie explained that when shooting with a shot gun you are not taking aim, but pointing instead. It's quite easy, you just point your eye down the barrel of the gun and point the gun at the target. Relax and shoot.
What I was really impressed with was how safe the clay shooting is. Frankie took great care to talk to us about the safety of handling a gun, how to load the gun, shoot the gun and carry the gun. I was worried that I'd be scared out there on the shooting range, but with Frankies guidance I felt completely in control and at ease.
Lanai Pine Sporting Clays has several different stations set up where the clays simulate different types of birds taking off into the air. Ducks go up and down, pheasants fly more across the horizon and finally shooting rabbits scampering across the ground. We were both better at ducks who fly straight up. Better yet, all the clays are made out of fertilizer so you are helping the land with every shot you take.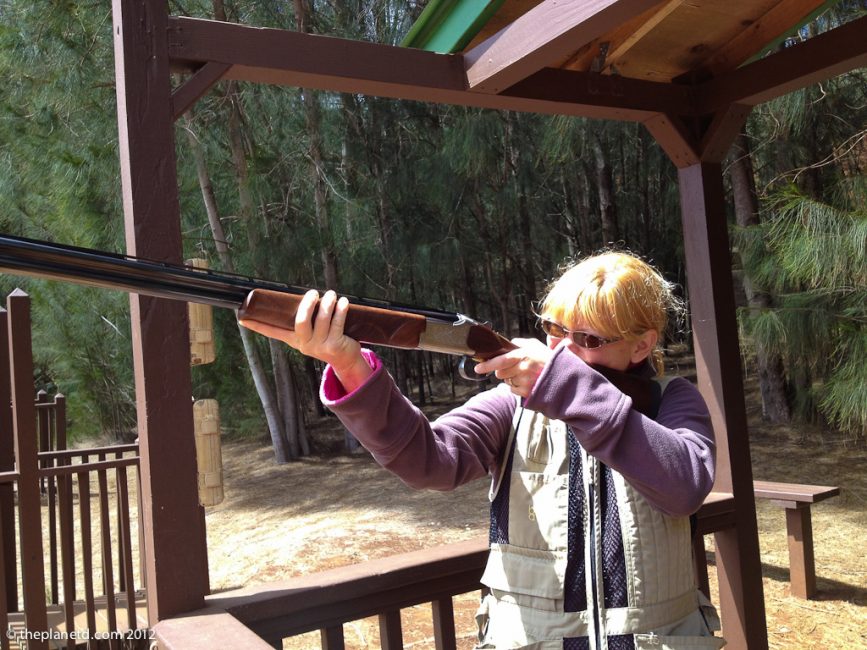 Dave and I both did our best work when we weren't concentrating. Each time we walked up to a new target we managed to hit our first clay pigeon, but when we went for the 2nd or 3rd pull, we missed. Especially me. I would always surprise myself that I hit clay target number one and then I would think too hard about what I just did to hit it again. Dave was much better at going with the flow and he hit most of his targets.
Frankie was an excellent guide who was patient and informative. His voice was calming and whenever he gave me a note, I always seemed to hit my target.
Adventure Travel of a Different Kind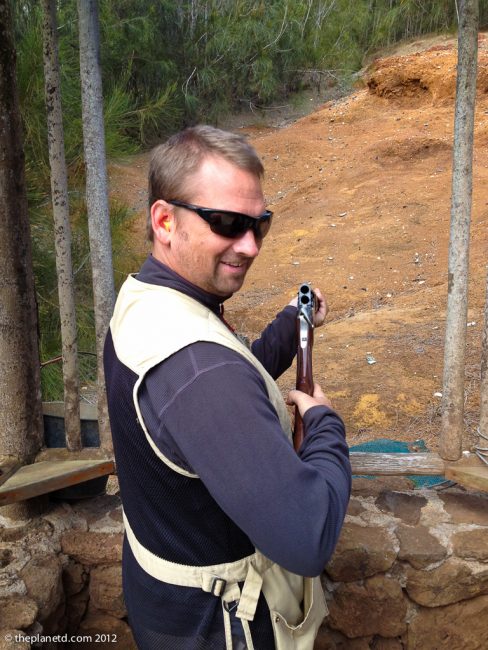 Skeet shooting was a lot more fun that we expected it to be and it was much easier than we could have hoped for. We both truly didn't think that we'd hit one target when we first started. Walking out to the shooting range, i was hoping for stationary targets, but then as the day went on, I was truly happy that we had the moving clays to shoot at.
The UTV and Clay shooting adventure is the perfect combination for a morning out on the island of Lanai. If you are staying at the Four Seasons Koele Lodge it's a short walk from reception. You can easily use the complimentary shuttle, but the walk it so pleasant, you really should get out and enjoy the countryside.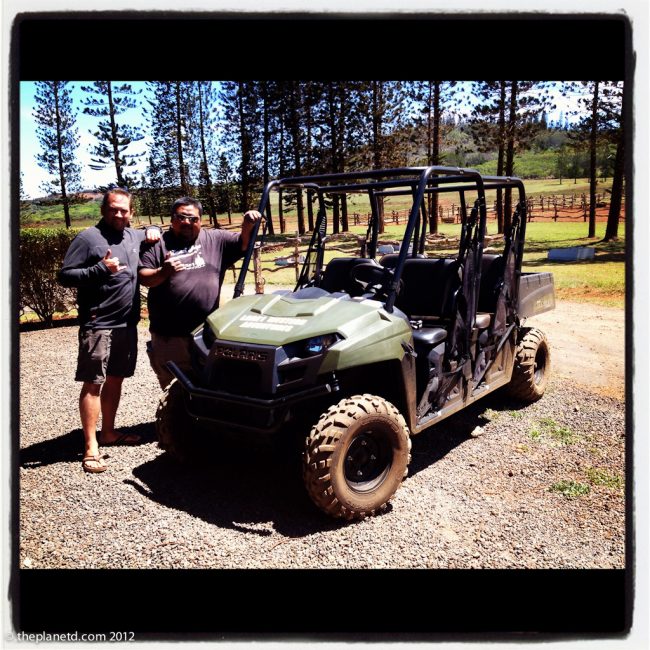 There are free shuttles from Manele Bay Four Seasons and from Downtown Lanai as well. If you are looking for something different to do in Hawaii, Lanai Western Adventures is definitely worth checking out. Ask for Frankie, he's so much fun!
For more information on Lanai Western Adventures, join their facebook fanpage.
Our trip to Lanai was made possible by the Lanai Vistors Bureau