It was the highlight of our time on the Hawaiian Island of Lanai. The Lanai Cat Sanctuary is a must visit when traveling to Hawaii. 
When we were told that we'd be visiting an animal rescue centre we didn't know what to expect. We were ready to have our hearts broken and tears in our eyes as we left, but this was the most uplifting experience we've ever had stopping by a community project.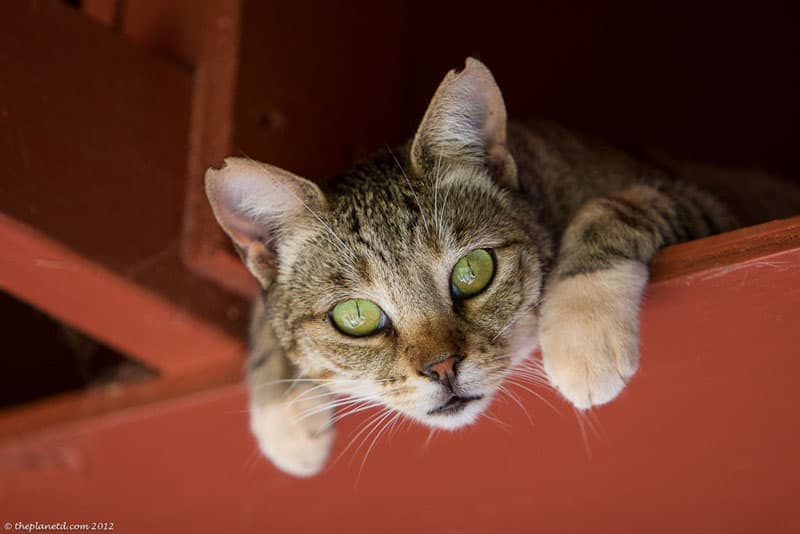 Lanai Cat Sanctuary
Started 7 Years ago by friends Kathy Carroll and Loretta Hellrung who set out on their own with a few humane traps to spay and neuter the feral cats of Lanai, the Lanai Animal Rescue Centre has turned into a cinderella success story.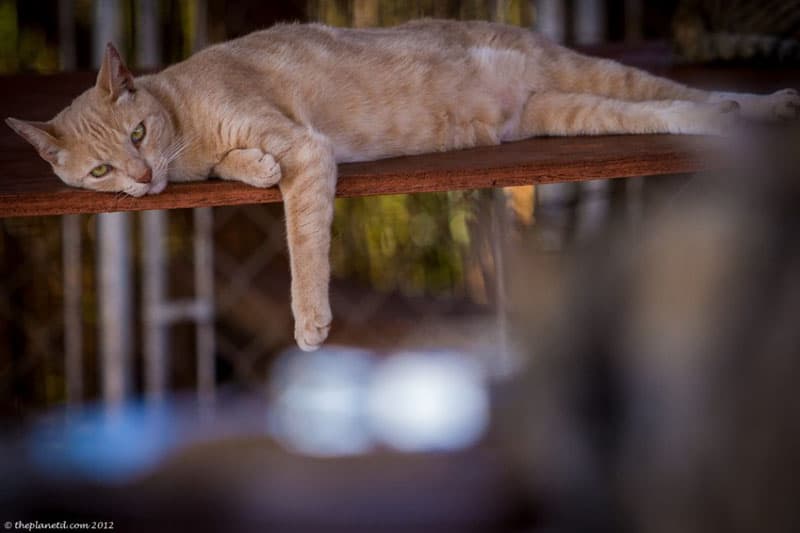 It was over a century ago that the cats came to the Hawaiian Islands on whaling ships. They reproduced and overpopulated the islands endangering the endemic bird species and wreaking havoc on the ecosystem.
Many residents saw these cats as pests and poisoned and trapped them but with the hard work of the volunteers at LARC, the cat population is under control and the birds are coming back.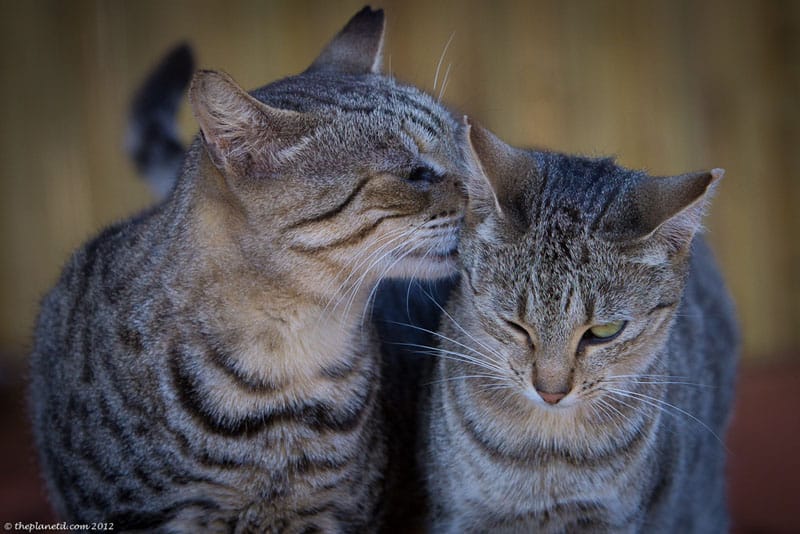 Since many of the cats couldn't go back to their natural habitat for fear of wiping out the bird population, temporary shelters had to be made. Luckily Loretta's husband was the General Manager of the Four Season's Manele Bay and they graciously donated a temporary location until a permanent shelter could be built.
The shelter that stands today is a testament to their hard work and big hearts.
Meeting everyone at LARC uplifted our spirits. You couldn't help but feel joy among these women. And it didn't hurt that these are the cutest and cuddliest cats that we've ever seen.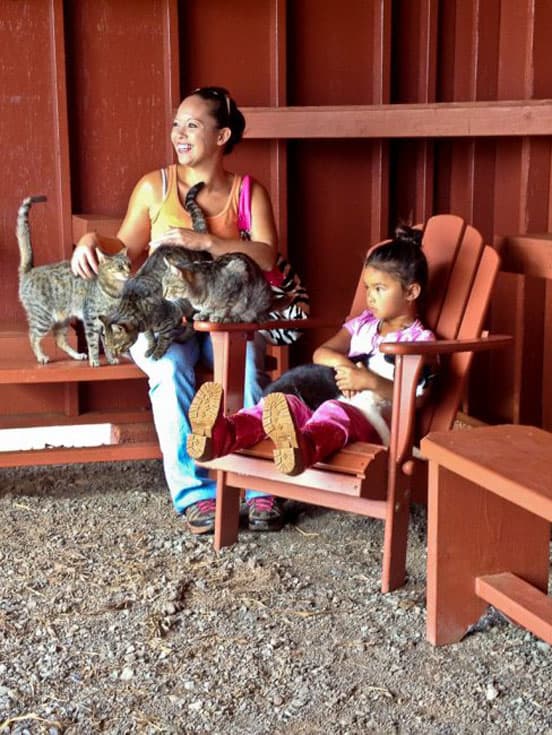 When we opened the door to the shelter, they all slowly greeted us. These cats are not starved for affection so they didn't come a running. Instead, they came over in their own time, when they felt like it. Just like any healthy and happy cat would do.
Besides, if you had your own Cat-fur-teria, would you leave?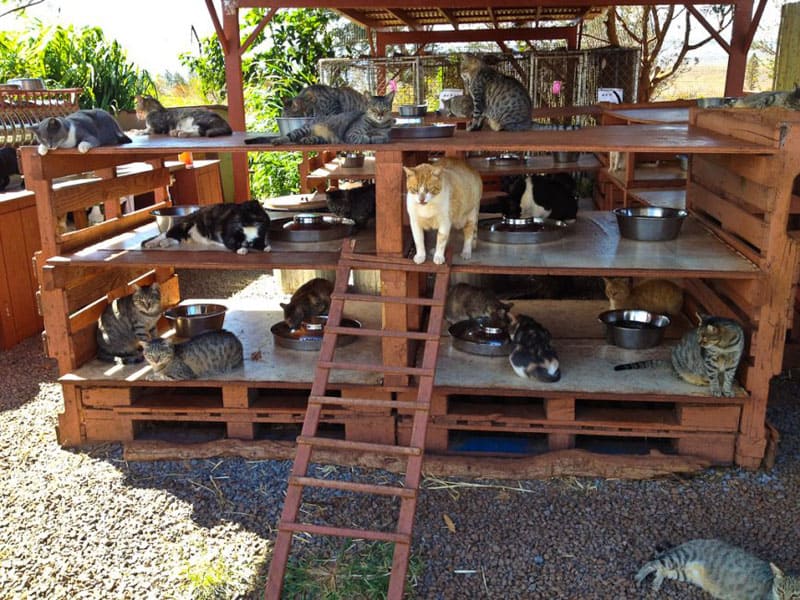 The Lanai Animal Rescue Centre has a non=kill policy and has even gone so far as to rescue Cupid, a cat that came into the centre with an arrow shot right through the entire length of her body. Luckily no vital organs were hit, but they had to stabilize and transport Cupid from Lanai to a vet in Maui.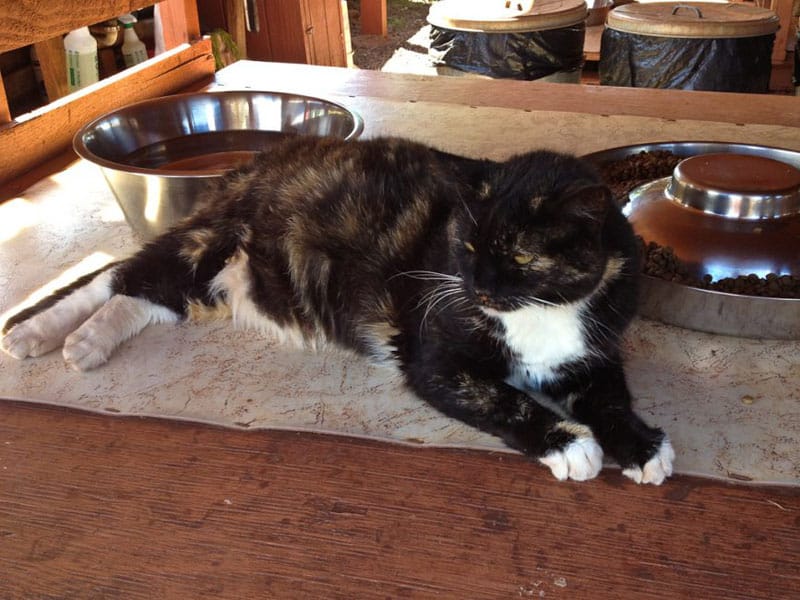 There are no vets on the island of Lanai, so these women have learned to be veterinarians, animal control, caregiver and gardiner all at once.
They have figured out how to create a latrine system where the cats go in fresh loose dirt that is created by cars driving over plant life in the parking lot. The entire sanctuary is open air so there is no scent of cat urine but there is also plenty of shelter for the cats to escape any heavy rains or harsh winds.
These cats wouldn't leave if the door was left wide open for them. 
Set on two acres of land, the enclosure uses fencing to keep the 300 cats at the sanctuary in, the Lanai animal rescue has several buildings with hideouts and perches for each cat. They receive plenty of food and water and regular grooming from the local school children who have grown to love the kitties.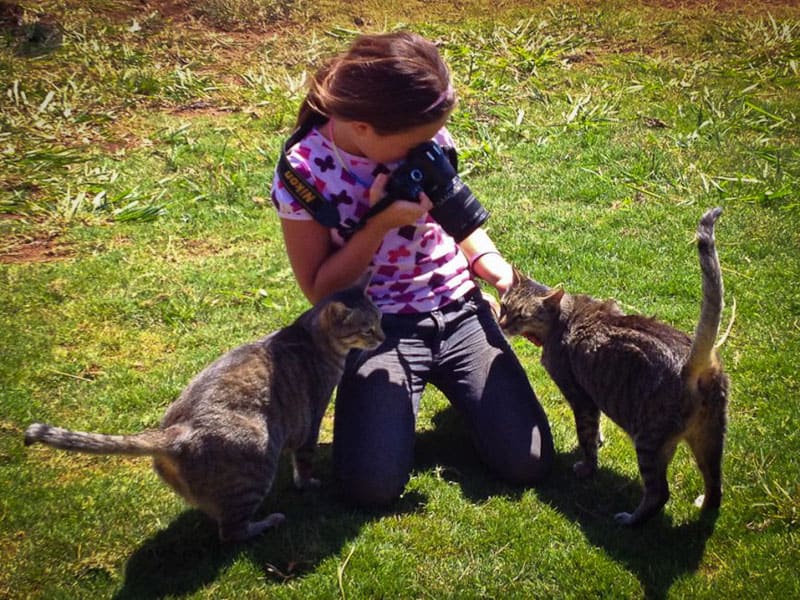 The girls helping out at the centre today were described as the Cat Whisperer and Paw-Per-Razzi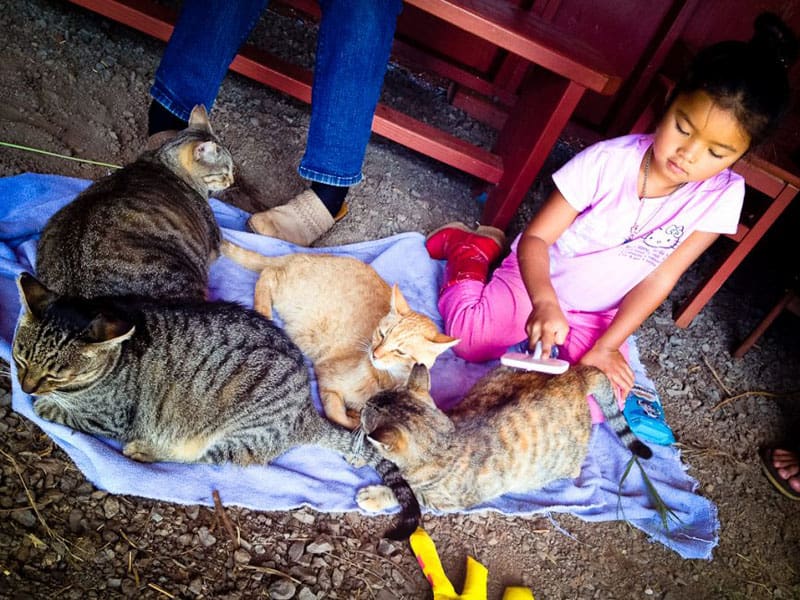 How You Can Visit Lanai Animal Rescue
If you are visiting the Island of Lanai, arrangements can be made at the Four Seasons to visit the centre. They don't charge a penny and you will be picked up by a volunteer who will bring you to the sanctuary for a pet and purr session. Or you can help out with some gardening, painting and grooming.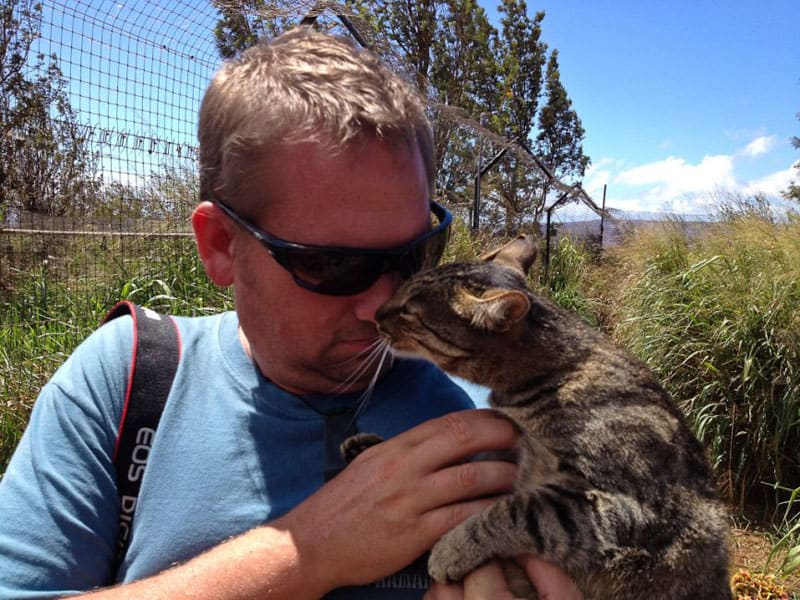 We were surrounded by cats who loved to be brushed. Kathy brought over a box of brushes and the cats stood in line to be groomed and cuddled. Some would sit on our laps while others would watch from afar. Each cat has been at the shelter for different lengths of time and it takes them a while to get used to humans. After all, these were wild cats. But within a month or two, they are ready to be loved and rubbed by anyone who will have them.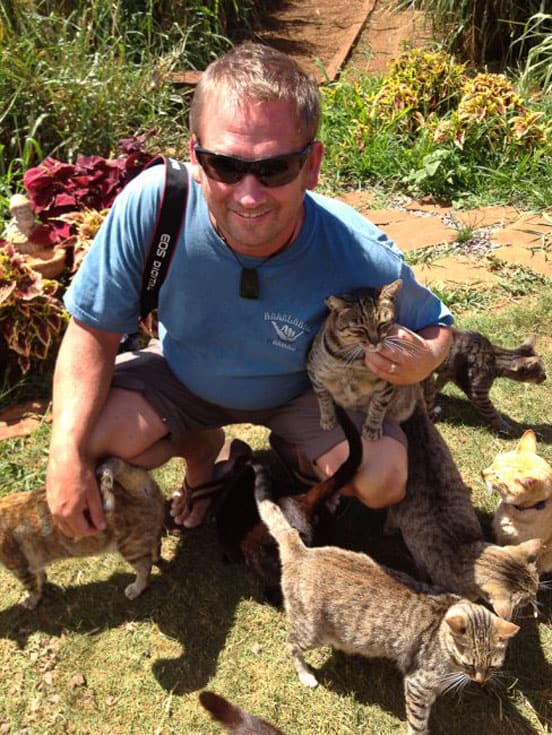 Donate Now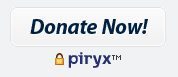 Like any community project. The Lanai Anima Shelter relies on the kindness of your donations. You can adopt a cat for $20 a month or make any donation of your choice. All donations are tax deductible! 
Success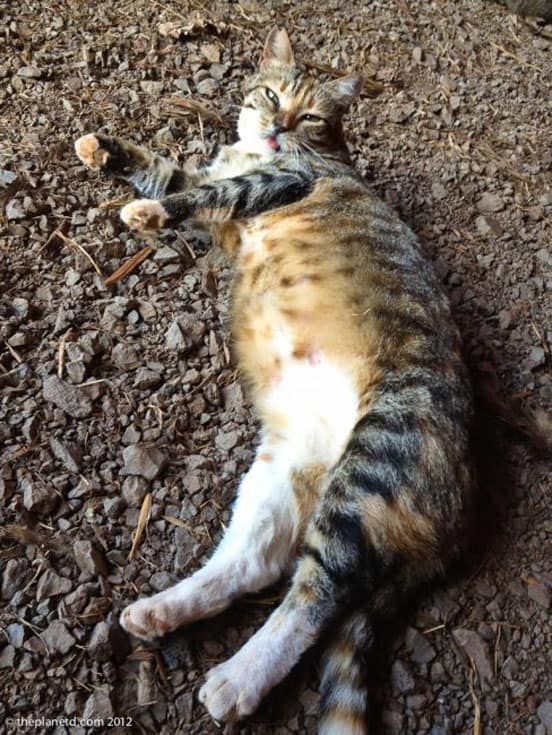 Lanai Animal Rescue is a model for all islands to follow. Feral cats are a problem throughout the world but with a spay and neutering program along with an adoption plan, cats can live a more humane life. Thanks to the shelter's efforts, they have shrunk the population of wild cats and controlled the growth on the island. Luckily they caught the problem early because cats can breed quickly. Just look at these stats from the LARC website.
If you visit Hawai, make sure you take time to explore the quiet island of Lanai where old world hospitality still thrives and if you do go to Lanai, be sure to stop in at the Lanai Animal Rescue. You never know, you may just adopt a cat and take it home with you that trip! It has been done and cats have been adopted and sent home with people from San Fransisco to Vancouver BC
For More Information visit the Lanai Animal Rescue Centre and any donations will be greatly appreciated. Donate Now! 

---
Read More
The Best Way to See Maui – Helicopter Tour of Maui
The Road to Hana and Beyond – Maui's Great Coastal Drive
SaveSave
SaveSave
SaveSave