One of the biggest challenges facing sick children in rural Cambodia is the cost of getting to the hospital. What would be a simple ailment quickly develops into something far worse while family members save money to get to a hospital. Back in 2010 The Smiling Albino formed a relationship with the
Angkor Hospital for Children
(AHC), the country's premier child care center who provide free healthcare to all comers.
They employed a tuk-tuk driver that the Smiling Albino team has known for a number of years, Mr. Sophoan, to drive kids two-times-per-month for treatment. Each day he drives, they pay him $20US, a good deal more than he'd make in a typical day picking up fares around town.
Through donations they increased his days of service per month to four and then six!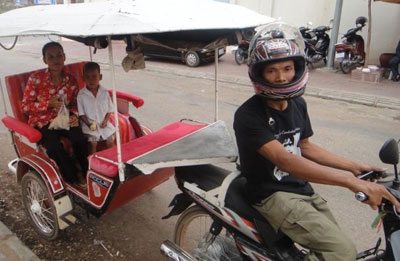 Last year a
Smiling Albino
guest generously donated $1,000 for a micro-loan to buy him a much needed, second-hand motorcycle. They added two more days of work per-month, which he applies to paying down his motorcycle loan. So through most of 2011 The Smiling Albino provided eight days of driving per month for sick kids, while putting $120 of much needed income in Mr. Sophoan's pocket and helping him to keep driving/working via the micro-loan.
Everyone wins!
Here's Where You Can Help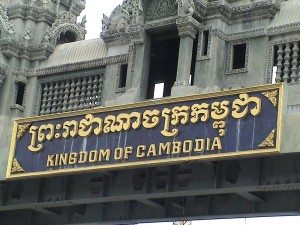 So here we are in early 2012 and program funds are running low. They currently have enough money to keep the program operational until the end of March 2012 and are hoping you'd like to help keep it going.
Smiling Albino is currently accepting donations via PayPal at http://www.smilingalbino.com/about-us/community.php and any amount is greatly appreciated.
Suggested donations include one day of driving ($20), one month of driving ($120) or a larger amount that we could apply to adding more days of driving per month.
They are aiming to raise $2000 by March 31, 2012. I know that ThePlanetD readers have it in their hearts to help them out. We travelled with The Smiling Albino in 2011 and met the companies owners. They are a couple of Canadian guys with big hearts doing a world of good in Thailand and Cambodia alike. We're heading over to donate, I hope you do too!
Note from Smiling Albino: We're all about transparency and deliver as near to 100% of funds to the program as possible. We lose 3% of each PayPal transaction in fees but all remaining funds go directly to paying for rides. We personally take the money to Cambodia and our Team there manages the funds, paying Mr. Sophoan monthly, while the AHC schedules his days of work.
We're trying to raise money to keep our Angkor Hospital for Children Tuk-Tuk Program going strong (http://www.smilingalbino.com/about-us/community.php) and need your help.