Overland travel has always held a particular charm for me. It takes longer, but you get to see more of the land in between destinations. Geographical and geological formations transform from lines on a map into real life experiences.
Overland travel has other benefits as well, it is more environmentally friendly, and often also more budget friendly.
The Loop: Motorcycle Adventures Through Laos
I wanted to cross from northern Thailand into Laos, and I wanted to do it overland. While exploring my options I discovered the crossing between Nakon Phanom and Ta Khek. I also discovered that Ta Khek is the starting place for a journey quickly becoming popular with those seeking adventure – The Loop.
The Loop is a three day motorbike adventure through central Laos which starts and finishes in Ta Khek. The whole thing revolves around a particular guest house, the Ta Khek Travellers Lodge. Their bookshelves are full of large scrapbooks, filled with travellers stories, tips, and hand drawn maps.
These books are full of invaluable information on routes, places to stay, and things to see – and everyone about to embark on 'the loop' should spend some time with these books.
Motorbike rental will cost you about $12 per day, and it is important to thoroughly test out the bike before signing the contract. There are not very many villages along the loop, and the last thing you want is to break down in rural Laos.
The loop can be ridden in either direction, but we chose to head north first, so as to save the most difficult roads for last – the scrapbooks were full of horror stories about road 8b, and we will soon see why!
Highway 13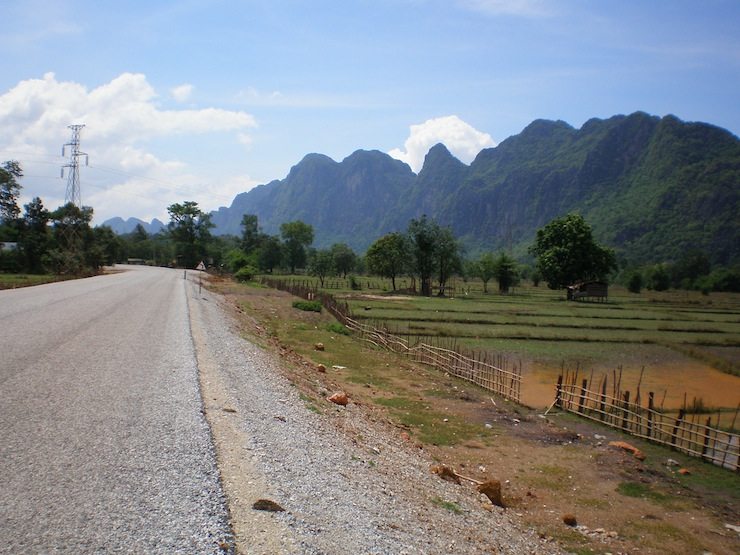 Highway 13 is a wide paved highway which passes tiny villages with roadside cafe's. It's a great place to stop for a steaming bowl of noodles. The road is smooth enough that I felt confident enough to squirm about, readjusting the pillow underneath me constantly, to try to lesson the pain in my backside.
By the way, that pillow was the most useful thing I packed. The passenger's comfort doesn't seem to be taken into consideration when bikes are designed.
The good condition of the road is also a nice start for those of us with limited motorbike experience, before turning on to slightly more difficult highway 8.
Highway 8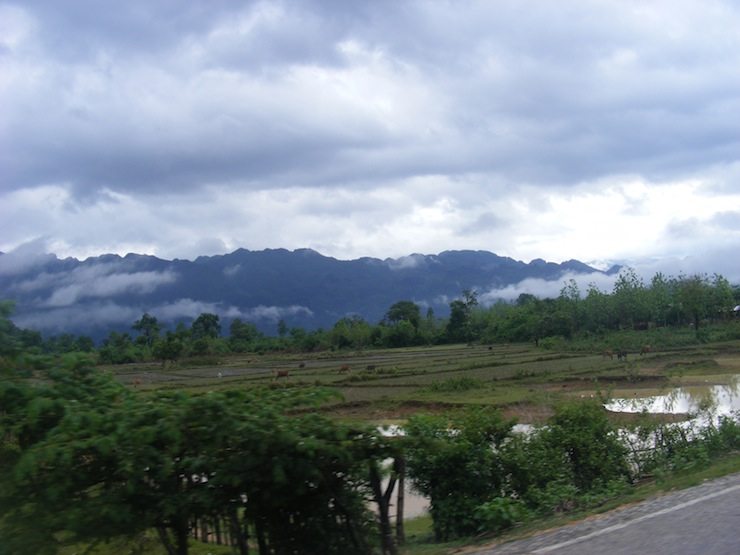 Highway 8 winds its way through the mountains, providing spectacular views over the countryside. The road gets progressively more narrow, and Laotian drivers are not particularly cautious, so keep at least one eye on the road and don't let the view be too distracting.
Along this road, it is possible to turn off and visit the Kong Lo caves. Here you can hire a boatman to take you through the 7km long cave system.
There is a small village near Kong Lo, and it is the most logical place to spend the night as there are limited options past this point. It's also the last town before road 8B – the worst "road" I have ever seen. You don't want to take on that leg of the loop when not well rested.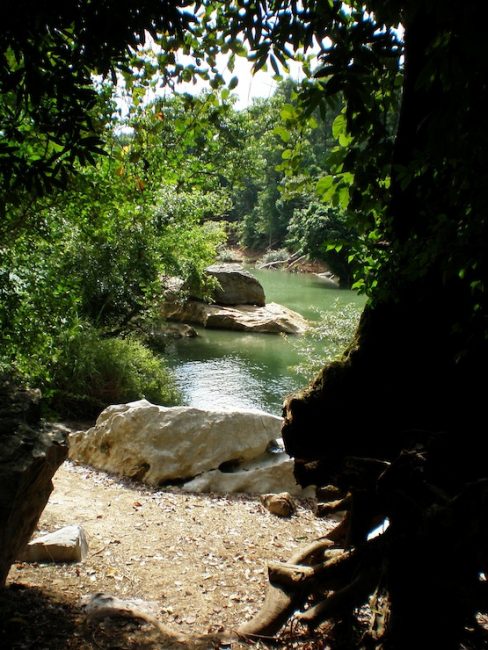 Road 8B
From the moment you turn onto road 8B, the atmosphere changes. Gone are the pretty karst mountains and countryside views. The road changes from pavement to mud, from smooth hardtop to a minefield of potholes.
The scenery changes from idyllic village scenes to that of industrial logging. Human habitation is few and far between, and it is unlikely that you will pass many other people on this road.
I held on for dear life as we swerved around potholes. The state of the road is such that even my poor little pillow did nothing for my behind. The lack of trees now provided very little shade and the sun beat down.
It's not hard to see how ones mental abilities can be drained and how bad decisions can be made. We came to a large patch of thick deep mud, and attempted to cross at too fast a pace. The motorcycle flew out from underneath us, and we ended up sliding in the mud. White trousers, ruined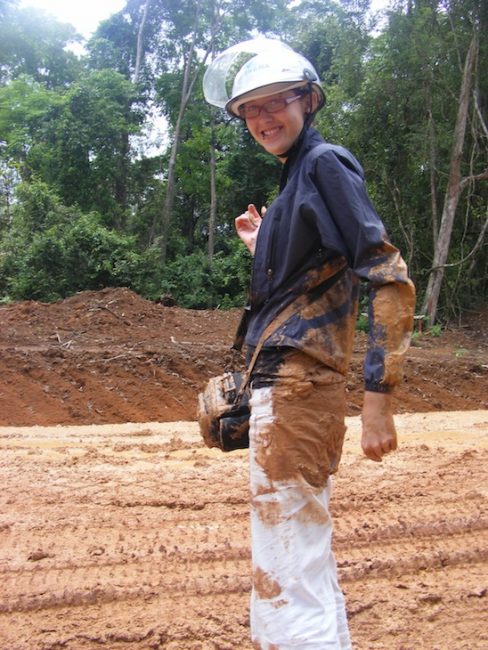 When we finally reached a town, we refuelled from the petrol station which sold fuel in plastic soda bottles, and ate a dubious lunch which contained copious amounts of unknown meat. The posters used to decorate the restaurant contained educational material on why one should refrain from killing monkeys for food. You can spend the night here – if you dare (I'm sure it's not as bad as I remember).
The Final Leg

From this point onward the road widened, and softened, and the going became easier. We saw some other backpackers pass by us in the other direction, blissfully unaware of the road beyond. Nearing Ta Khek we came upon some other cave systems which gave us an opportunity to stop and stretch our legs.
Since these caves are located much closer to Ta Khek, they are also much busier than the Kong Lo caves. The other main difference is the mode of exploration. In Kong Lo you navigate the caves by boat, where in the others there are designated walking paths complete with hand rails and guide lights.
We did the loop in two days, although most people opt to take a little more time. If I could do it again I think I would go about it slower and savour the experience of being in a place so seldomly visited by tourists. I would also opt for my own bike instead of being the passenger – and not just to spare my poor butt – which by the way ended up thoroughly bruised after road 8b.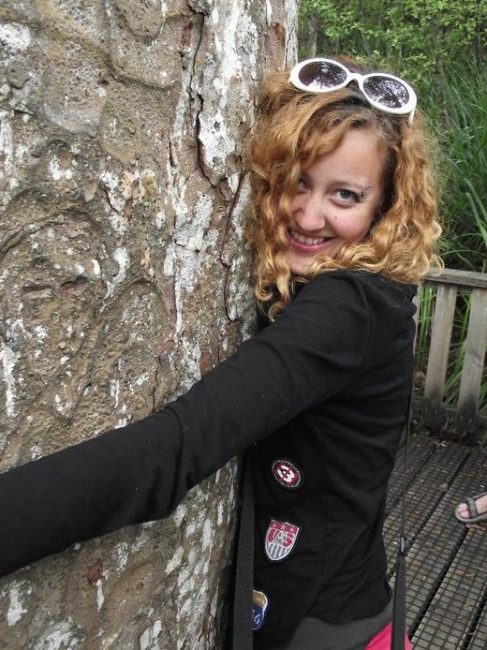 Jade Johnston is a lifestyle traveller and writer who documents her adventures in her blog Our Oyster. Her partner and her enjoy working their way around with world through working holiday programs and travelling slow. Jade has been travelling since 2005 and has lived in 6 countries and travelled through more than 30. An avid photographer and culture buff, there is nothing she likes more than discovering new places. Keep in touch with Jade and the OurOyster project at Facebook or on Twitter.
Read More
16 of The Best Road Trips in the World
The Road to Hana and Beyond – Maui's Great Coastal Drive
Niagara Falls Road Trip – The Best of the Niagara Parkway
You Might Also Enjoy