It's the little things that make Smiling Albino in Thailand stand out from the rest of the pack.
Like setting us up with some of the best businesses in the country that care about conservation and preservation.
They tailored a trip especially suited to our interest of adventure and responsible travel and the next two weeks are going to be some of the most exciting days we have ever had in one of our favourite countries on earth.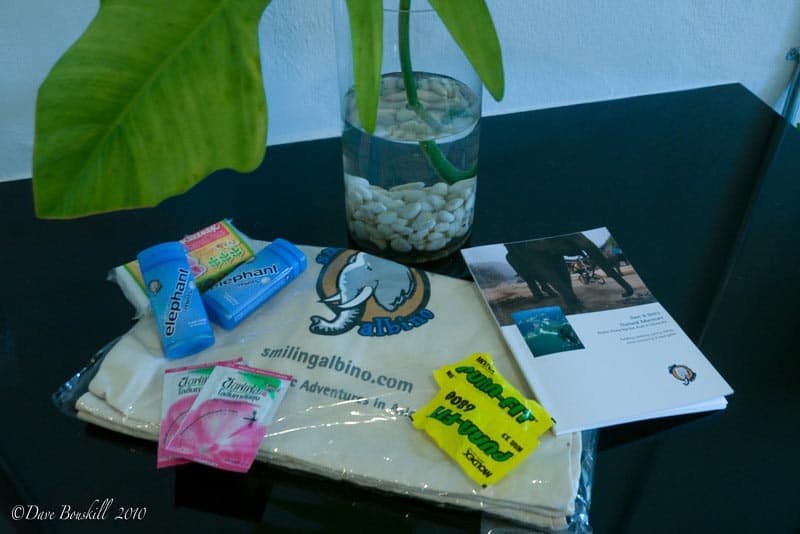 When you receive a one of a kind booklet stating "Dave and Deb's Thailand Adventure" with our complete itinerary and facts about Thailand, the places we will be visiting and the establishments we will be staying, one can't help but feel just a little special.
Meet John Gray aka Ling Yai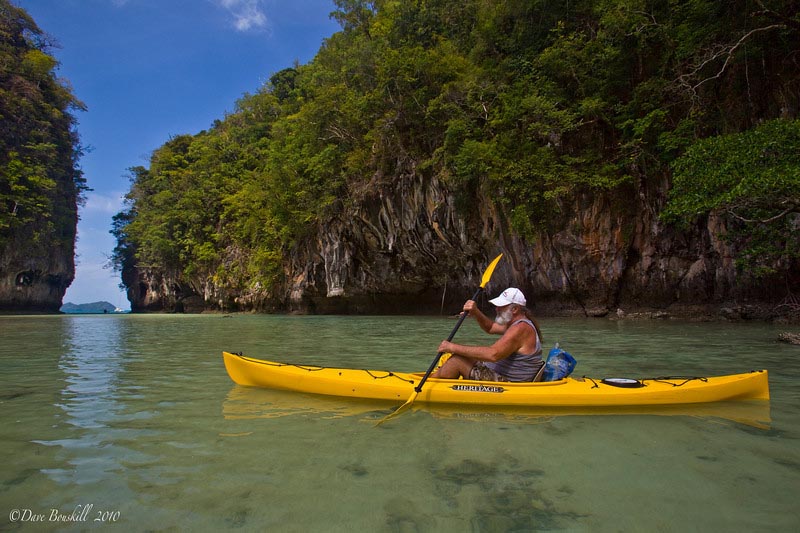 Sea Kayak in Thailand
The day was sunny and bright at Patong Beach in Phuket as we waited for our ride to start our kayaking safari with John Gray Sea Canoe.
We had messed up the dates a day earlier thinking it was already Feb. 1st when we called John Gray to make sure they didn't forget about us.  "We have you on the books," they said, "but not until tomorrow ."  Whoops, my bad.
We have been traveling for months, and knowing the days of the week is not our strongest suit.
It ended up being a blessing in disguise as I had the chance to chat with John Gray himself and we enjoyed a pleasant conversation. By the end of it,  he decided that he was going to come and pick us up tomorrow to take us personally to the boat.
It was 11:45 sharp when we were greeted by a jolly, large man with a long white beard.  John Gray is known as LingYai (Big Monkey) in Thailand and he is famous all around for starting the Sea Kayaking business in the  Andaman sea and the Polynesian Islands.
Hailing from Hawaii, he is an expert in tidal caves and stresses conservation of the ocean that he holds so dear to his heart.
Our drive to Phuket Pier gave us about an hour to get to know John better.  Building his first canoe in 1955, he hasn't left the water in over 50 years.
Having already won many an environmental battle in Hawaii, he felt secure in leaving his "island paradise" to look after itself.  It was now time to set his sites on South East Asia and teach the people about the preservation of their incredible land.
So he came to Thailand in 1989.  It was just him and his inflatable canoes exploring the uncharted frontier of Thailand's incredible karst formations.
He would duck into tidal caves facing the very real dangers of saltwater crocodiles, being trapped in a cavern as the high tide filled the void and never knowing what was on the other side.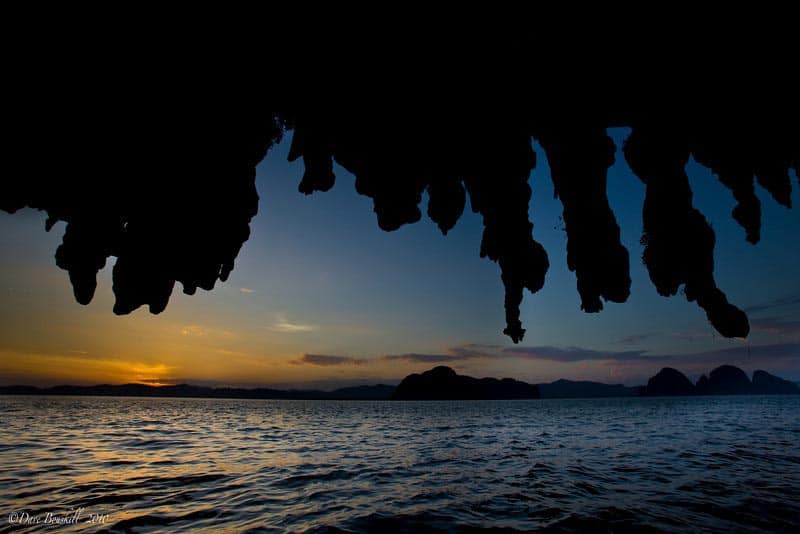 It was his pioneering days that introduced the world to Thailand's famous Hongs. Lagoons in the centre of a tiny island.
You remember the movie "The Beach" where Leonardo Dicaprio and the gang spent their days living on a secluded island with the perfect beach that no one has ever heard of?
Well, these hongs are filled with those perfect landscapes in nature that one only dreams of seeing.
Sea Kayaking in Thailand with John Gray
John Gray has an impressive resume and it is an honour to be able to talk to such a man.
Winner of the Smithsonian's award for conservation, owner of Hawaii's first Emmy and respected environmentalist, John Gray has certainly accomplished a lot in his life, but he remains humble and giving.
Without even knowing us, he invited us to the Philippines to share in the Valentines Day ceremony that takes place every year in Puerto Princessa.
He has vowed to take us to Hawaii and could not believe that we haven't been there, and he has decided to set us up with an itinerary in Fiji.  "Don't go to Fiji without me" he says, I can show you around Polynesia like no one else. And we believe him!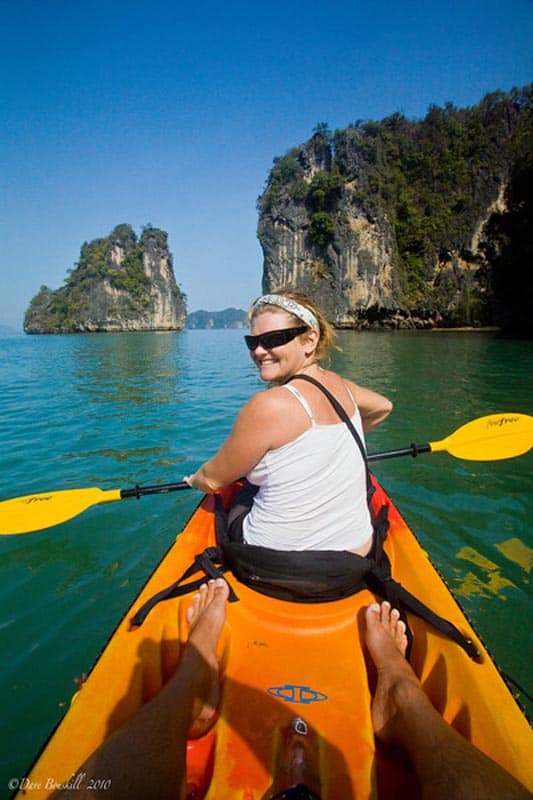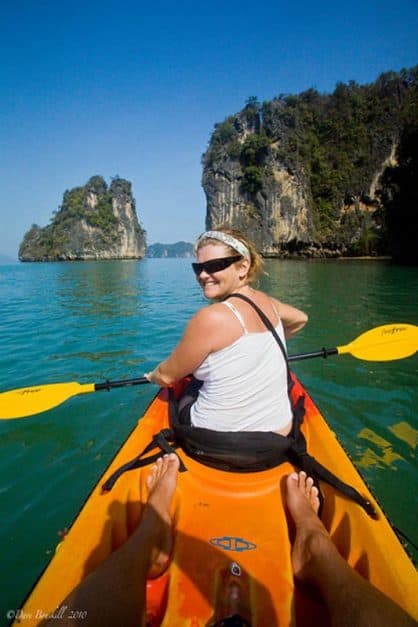 John Gray's Sea Canoe has businesses in Fiji, Thailand, Philippines and Vietnam.
He is an outspoken environmentalist that makes no apologies for his fight to save the seas.  He faces an uphill battle in Thailand as dozens of operators open their doors and destroy the very environment that they make their living from.
By throwing their leftover garbage into the sea (something that we witnessed first hand, to encourage tourists to sit on the fragile roots of the mangrove tree to driving their motorized boats into the peaceful hongs and destroying the environment, other companies don't seem to understand or care just how much irresponsible tourism is affecting their future.
One of our guides told us that he used to work for another tour operator, but they didn't care about the environment.
He came here because John cares. Each year on Ling Yai's birthday, they hold a large clean up of the bay where hundreds of people join in to pick up garbage that is floating on the water and has washed up on the beaches.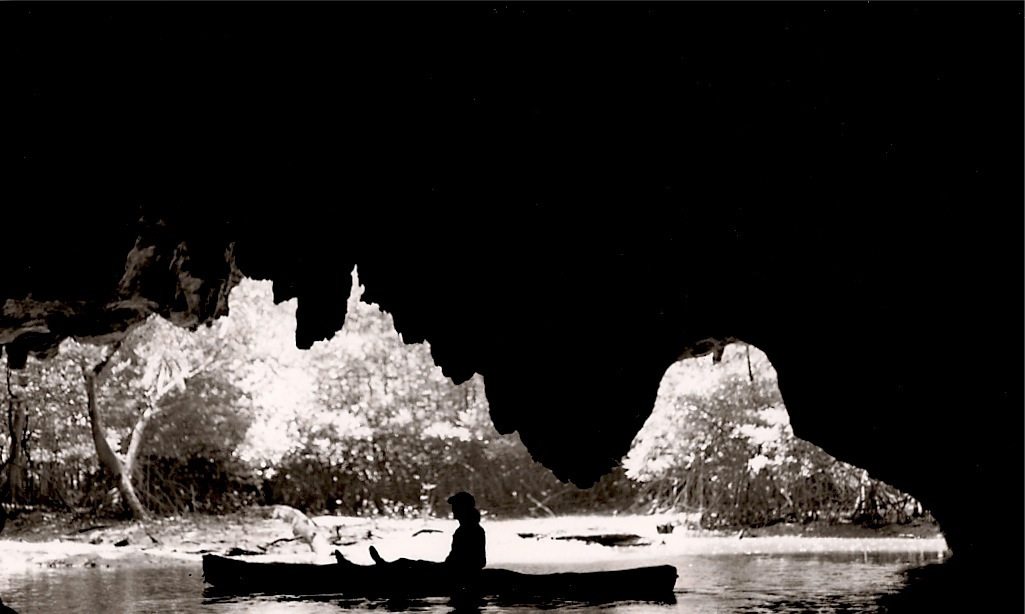 Once again, an uphill battle is being lost.
It has only been a couple of weeks since the cleanup and John points out how much garbage has already accumulated by other operators leaving their rubbish behind.
He may be facing an uphill battle, but John Gray will never stop fighting.
Stay tuned for more on our incredible two days with John Gray's Sea Canoe
Note: John Gray's Sea Canoe used to be known as Sea Canoe Thailand. Please do not mistake Sea Canoe Thailand for the original John Gray.
Trade Marks are loose in Asia and Sea Canoe Thailand has continued to operate under the veil of being owned by John Gray but it is not the case.  J
ohn Gray Sea Canoe is the original in Kayak excursions in Thailand and the leader in environmental awareness and professionalism.  You won't be overcrowded on your tour, you will get amazing food and an authentic experience. More on that later this week.
Read more:
The Importance of Responsible Tourism in Thailand
5 Unique Thins to do in Thailand
You Might Also Enjoy