I could write about our Swami on Patnem Beach and tell you everything that I have learned.
But I find that his website that is posted on his business card gives a better story than I could ever tell.
We didn't realize that we were taking classes from someone quite extraordinary.  He has a presence and is calm and peaceful, but until we pulled up a chair the other night and read his story, we didn't know just what Swami Shinva Nand Jee was all about.  Our jaws dropped once we finished reading this post written by another of his students and it tells his story so beautifully, that we just had to share it with you.
Yoga Instructor in Goa India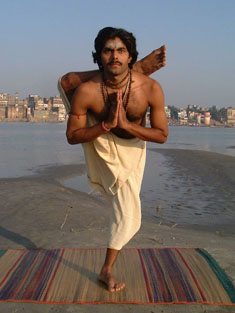 Yogi Priest Swami Shiva Nand Jee
Swami Shiva Nand Jee, is a yogi priest. Although he is more dedicated to the traditional Sadhu ways than most of the remote mountain-dwelling Sadhus, his guru has sent him back down to the city. Although he aspires to attain illumination and believes that one day he will return to the rural Sadhu life, he is following his guru's will. He splits his time living in Varanasi with his family and traveling to various ashrams around the country to teach yoga, breathing techniques, meditation and Indian philosophy. He fills much of his waking day with prayer and meditation.
Swami's goal is to spread a message of love and peace throughout the world. At age 28, he has become a well-respected yogi. The power of his energy and philosophy is remarkable. In his own words, "a real Sadhu isn't the one who dresses like one, it is the one who lives all his life like one, with all his heart and soul"
Blog post from Jean Phillipe Soule of Native Planet
To read the rest of his story, click here
Photos by Yumi Soule 2002
Texts by Jean-Philippe Soule
with the participation of
Swami Shiva Nand Jee
You Might Also Enjoy