The sky was hazy when we made our way to Pokhara in Central Nepal.
Pokhara is the jumping off point for everyone trekking around the region and many people spend only a day or two in town before setting off.
We were considering a short trek on the Annapurna circuit after completing our Everest Base Camp Trek, but once we arrived in Pokhara, we decided that we would wait for our next trip to Nepal to do either the entire Annapurna circuit or to climb to Annapurna Base Camp.
Dave and I found that there are a lot of things to keep you occupied here besides trekking into the Himalayas and one of them is mountain biking.
Mountain Bike Pokhara
We were very excited to see that there is off road biking here.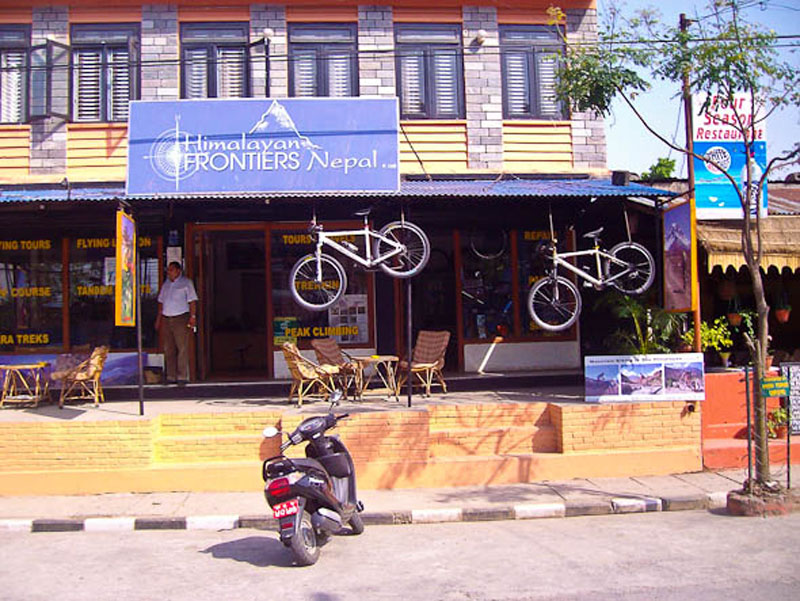 We rented our Trek mountain bikes, helmets and gloves from Himalayan Frontiers on the main street of Pokhara.
We bought ourselves a map, had the owner of the shop point out some trails and set off first thing in the morning to find some epic climbs and rapid descents.
Following the map
Following our Pokhara Area map, we found the trail off the highway and instantly moved from the busy, polluted road to a quiet field with a bumpy trail.
It wasn't long before we started our climb into the mighty Himalayan foothills of Nepal. We knew it was going to be uphill towards Sarangkot but naively we didn't expect it to be so steep or rocky.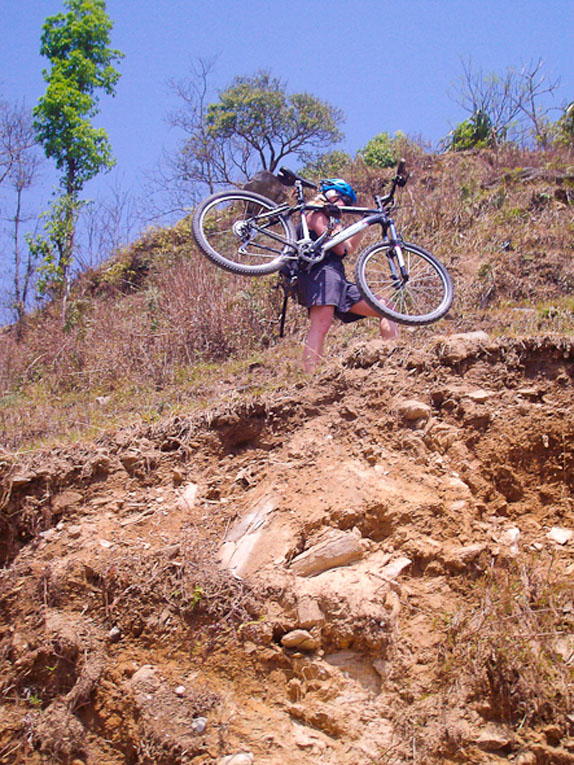 Biking in our granny gear we climbed and climbed stopping only for the odd bus or tractor to pass by.
We couldn't believe our eyes when we saw a bus screeching down this rocky mountain trail that seemed barely walkable, but there it went filled with passengers looking at us with curiosity.
They seemed just as shocked to see us as we were to see them.
Crazy Canucks
After awhile, we caught up to people walking up to look out over the city.  A teacher and his wife were off for the day enjoying a stroll and were surprised to see to Canadians riding a bike up this mountain.
"There are far better roads." He said.  "Yes, but we love this one." We replied.
He couldn't comprehend why these crazy Canadians would want to ride on a steep trail covered with loose rocks when there is a perfectly acceptable highway winding leisurely up the mountain.
We tried to explain to him that we love to ride our bikes through trails, forests and awesome scenery.
We explained that mountain biking is a popular sport in our country and that people do this for leisure in Canada, but he kept insisting that we should be riding the safer and better route to our destination.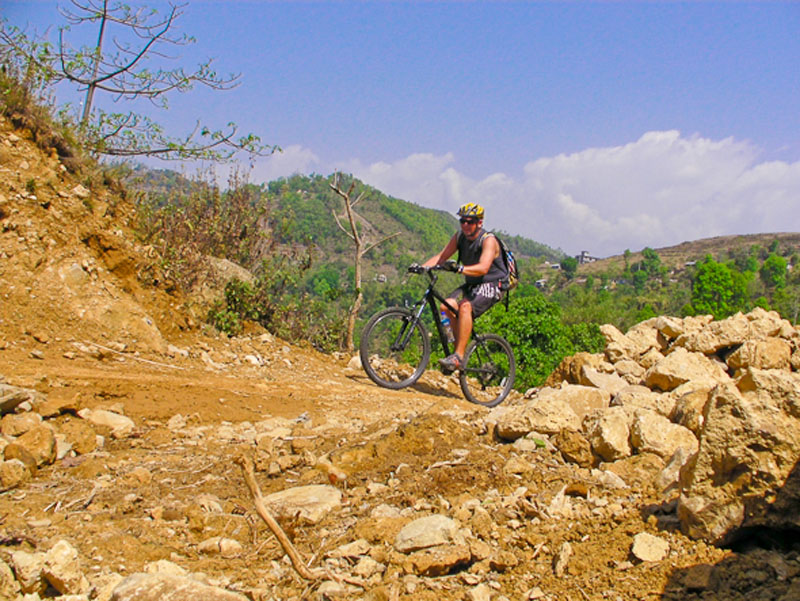 We assured him that we would take the "better way" down, and after shaking, hands were on our way.
The ride took hours.
We could look up and see Sarangkot in the distance, but we didn't seem to be getting any closer.
The paragliders were riding the airwaves above where they had jumped off at the summit, but we seemed to be moving away rather than towards our target.
We crossed several passes and roads through small villages.
People were taken aback as we cycled passed yelling Namaste (hello).  Children ran beside us and visions of our time cycling through Africa raced through my head.
This time, however, we didn't have to dodge flying rocks from naughty kids or hear the constant call of "give me money and pens."
At the Lookout
After an awesome climb that we both thought we wouldn't be able to make, we came to a lookout and knew that we must be close.
Feeling pretty good about ourselves and how far we had come, we looked over the valley and saw Pokhara far below.
After a short rest, we carried our bikes up steep steps and had a good feeling that it wouldn't be long until we were sitting pretty at the lookout sipping a coke and planning our route back.
At the top of the steps, we saw a sign for cold drinks and asked the proprietor if it was much farther to Sarangkot.
"You are on the wrong side of the mountain!" She exclaimed.   "You need to go back the way you came and ride over to the other side."
Yikes!
We were down, but not out.
The day was still young and we were having a blast cycling in peace and solidarity.
So we carried our bikes back down the steps and enjoyed the wicked and bumpy downhill retracing our steps back over what we just climbed.
People yelled hello and asked us where we were going.  Others said that we must be very tired and that it is very hot.
We smiled in agreement and kept on peddling.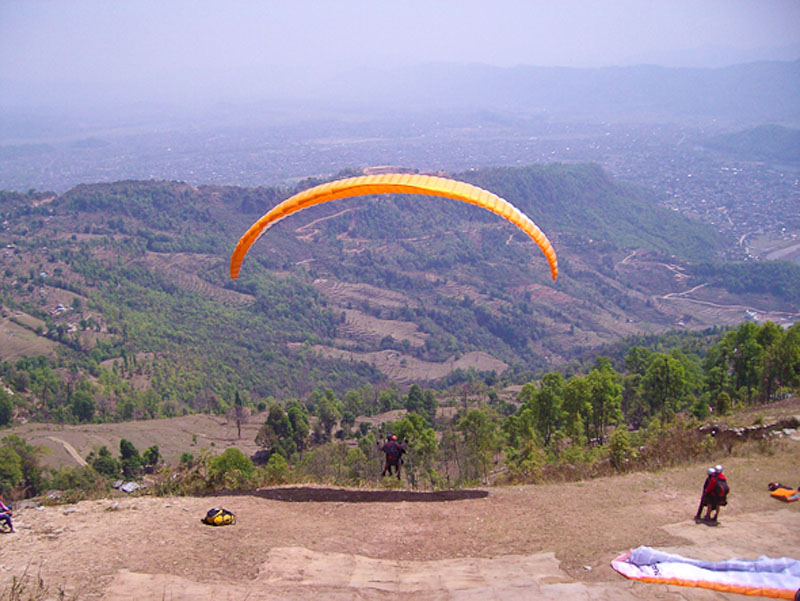 On the Right Track
When we finally made the right turn and approached the area where the paragliders took off, the road was paved and we felt relief that it was going to be a snap to make it to the top.
Our joy was short lived though, right after we reached the launching point of the paragliders, the road reverted back to loose rocks, dirt and potholes.
It turns out that the paragliders don't jump from the top, they stop at the end of the paved road to fly off of a patch of grass on the side of the mountain.
We watched a few take off before pushing forward. They looked like works of art in the air flying high over the Pokhara Valley.
We had another hour of riding
We followed some motorcyclists that told us to follow them, but they didn't wait around for long and soon we lost them.
A woman told us to leave our bikes with her and we could hike to the top in 10 minutes, but we wanted to ride.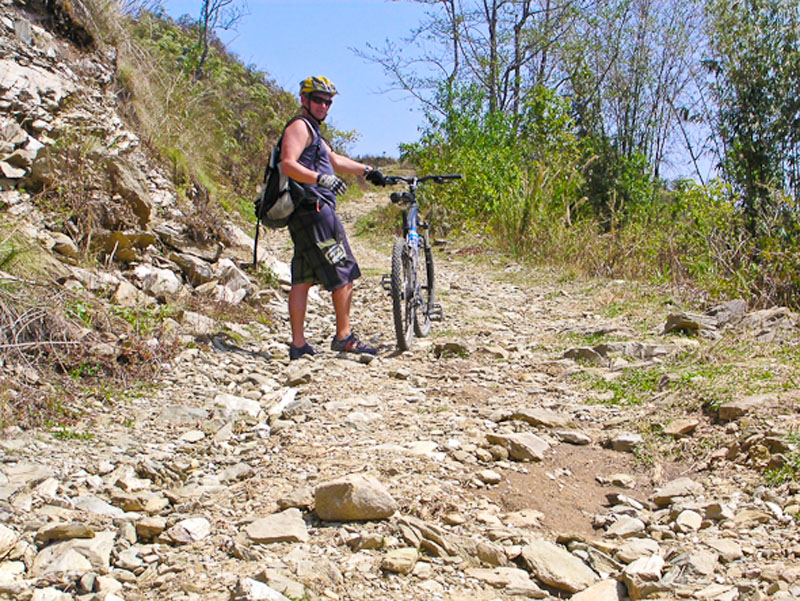 Almost Done
We looped our way around the mountain and finally saw a sign pointing us to the top.
The trail was extremely steep and we could not ride our bikes up it, so for our last and final ascent, we pushed our bikes up to a very anticlimactic lookout.
We felt like true mountain bikers now, carrying our bikes upon our shoulders whenever the rocks were too difficult to ride over.
The haze never burnt off all day and the views of the Himalayas were obstructed by thick grey air.  The viewpoint is small and looks as if it has seen better days.
When we were climbing up, I mentioned that it is odd that the paragliding companies don't at least take their clients to the top to lookout over the valley before jumping.  When we reached Sarangkot, I understood why they didn't.  There just isn't much to see.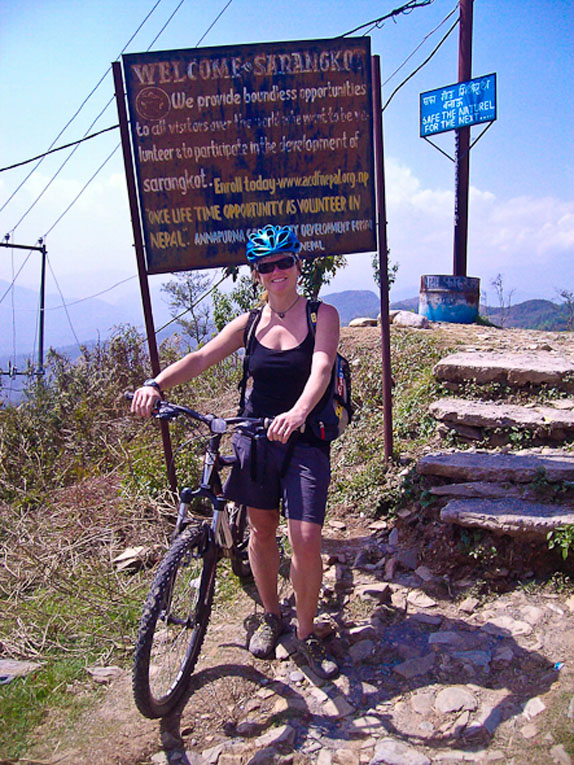 We didn't mind though, we were out for the journey not the ending.  The lookout was merely the turnaround for our ride.  It is the workout, the challenge and that feeling you get when you accomplish something epic that we love.
We gave each other a high five. We made it!
As we looked down to the valley, we realized that we haven't climbed something this huge since the Blue Nile Gorge in Ethiopia.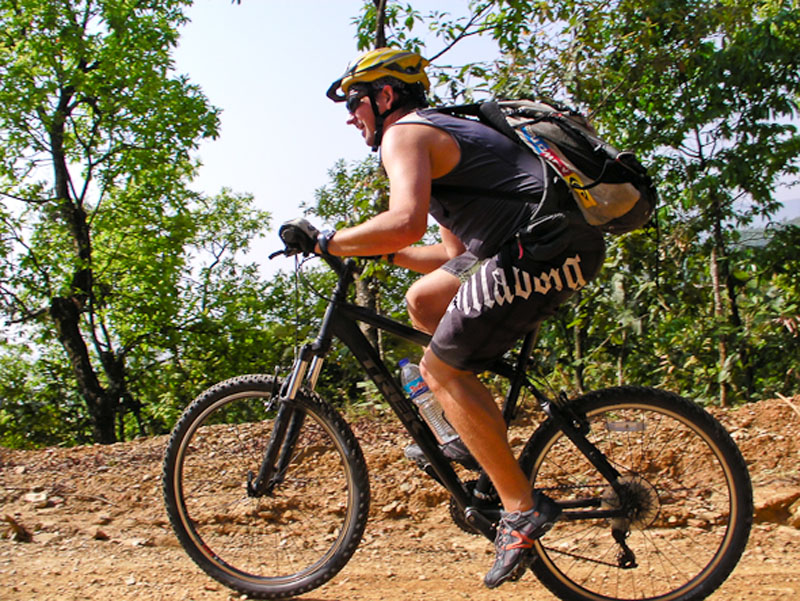 This climb off road up to had the same steep grade, the same loose rocks and the same heat that we faced that day in 2008.  We were elated then and we were elated now. Especially after we quenched our thirst with a cold coke and knew that it was all downhill from here.
We had been cycling steadily for 6 hours.  Our legs felt like rubber and we didn't know how long it would take us to make our way back to Pokhara.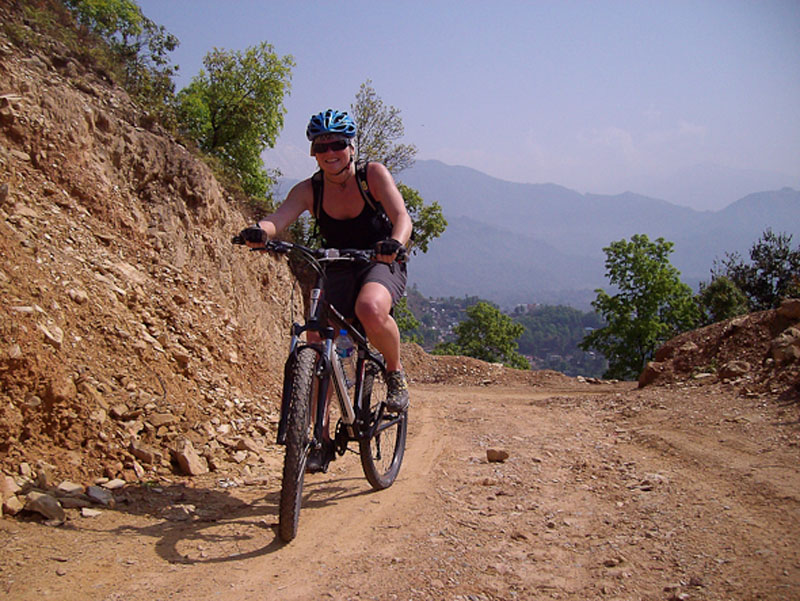 It was 2:30 in the afternoon and after carrying our bikes down the steps that the normal patrons take, we met up with a paved road that took us all the way down to the town.
Downhill was so much Better
It was awesome.  We followed a bus and truck until we had enough of their braking and passed them.
We were only passed by one group of motorbikes, that we caught up with at the bottom.
The switchbacks kept everyone in control so we never went too fast, but we sat back and enjoyed the half hour downhill without putting any effort into our peddling.
Even the final push into Pokhara was downhill and we made it back to town in less than an hour.
We loved coming into town covered in dust, sweat and dirt.  We felt like we had been on an amazing adventure.
At one point during our ride, Dave said that he loves being those people that others look at and think how crazy are they?! I love that feeling too.
While people take jeeps and motorbikes up the mountain, they look at us as they pass as two crazy fools huffing and puffing our way up.
We wouldn't have it any other way.
We returned our bikes and vowed to go on another ride in a day or two. Right after our butts recovered from the jolting of the bumpy road.
We had accomplished one of our goals, we not only trekked in the Himalayas, we biked in the mountains of Nepal.
Read More
Top 6 Places to visit in Kathmandu, Nepal
Everest Base Camp Trek – All You Need to Know from Start to Finish