Dave and I have seen a lot of what many would consider the best skylines in the world when visiting the most beautiful cities on earth.
City Skylines are one of Dave's favourite things to photograph so we have quite the collection of city pictures to choose from.
 The World's Best Skylines in Photos
We've actually been to all the places listed in this post.

We don't have to use Getty images like the other city skyline lists we've seen around the web, and we won't make you scroll through a slide show filled with ads to keep you on our page longer.

We just want to share the beauty of the world with you.

We have actually visited, studied and seen these cities and these are what we think are the best skylines in the world. What do you think?
We can attest that they are indeed the most eye catching, unique, and interesting city skylines we've seen during our travels to more than 100 countries over the past 16 years. Enjoy!
The Best City Skylines That Dave and Deb have been to
While writing about Hong Kong last week, we realized that we've seen pretty much every city that appears on the best city skyline posts all around the Internet.
These city skylines difficult to choose in order  but we tried. And I am sure most people will disagree with our choices.
Perhaps it comes down to our memories in the cities. We know they all have beautiful skyline views, but we also had a great time in them all!
#1 Hong Kong, China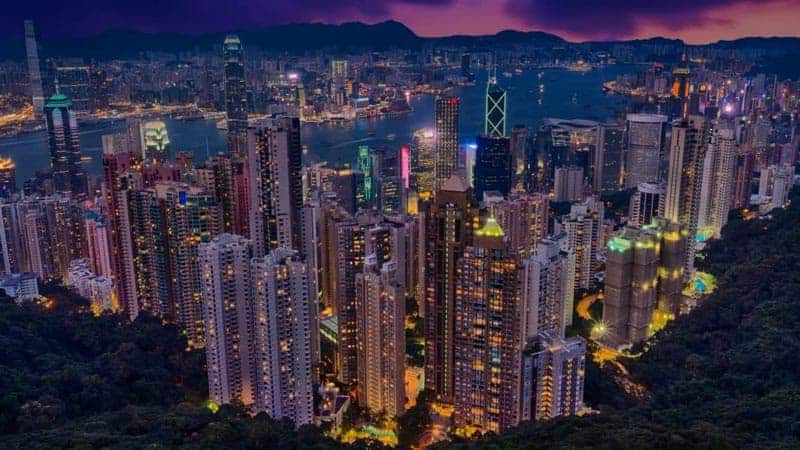 Hong Kong is definitely our favourite skyline on earth. It's just so massive. There are skyscrapers everywhere.
Another view of the Hong Kong SkylineNo matter which way you look at it, Hong Kong as beautiful.
And they know it! Each night Hong Kong puts on a light display to show off it's stunning skyline, letting everyone celebrate the beauty of Asia's World City.
Read more about Hong Kong at: 19 of the Best Things to do in Hong Kong
#2 Dubai, United Arab Emirates
Dubai is filled with skyscrapers. Soon, no city will be able to keep up to Dubai with the sheer amount of tall buildings.
The thing about Dubai is that its skyline is very spread out. There are several different pockets, and yet each is just as impressive.
We couldn't just show one portion of Dubai's skyline, we had to show three.
There's downtown in the business district, there's the Dubai Marina and the Beach.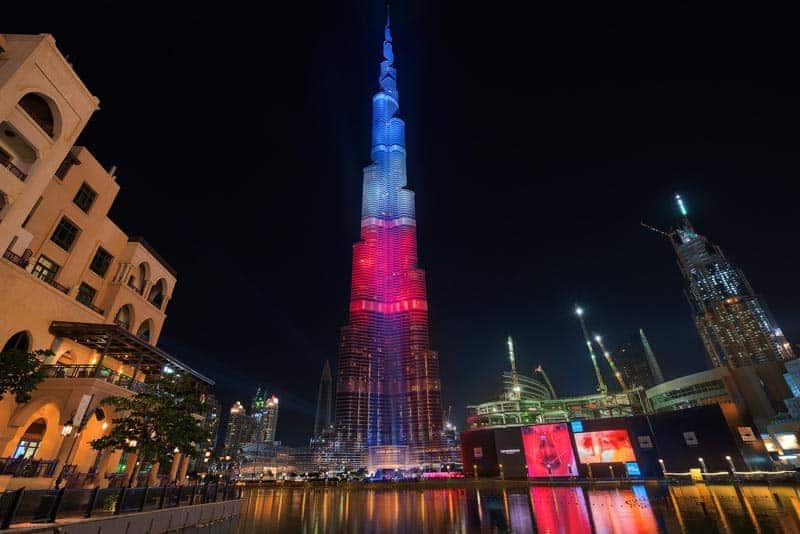 It's hard to choose a favourite spot!
Each part of Dubai's skyline is different from the next and equally as eye catching.
Learn more about Dubai at 10 Fun and Fabulous Things to do in Dubai
#3 Shanghai, China
Shanghai is an out of the world skyline. The city was built to simply look impressive!
We couldn't believe our eyes when we heard that Shangai was just a simple village in the 1990s. Since that time they have built the city up to have one of the most eye catching skylines on earth.
Sometimes I don't know which one I like better. Hong Kong or Shanghai. Shanghai is just so unique and beautifully designed.
#4 New York City, USA
Oh how we love New York City. It is the most energized city on the planet and yes, it has one of the best skylines in the world.
Many people would say, it's the best! We can't get enough of New York and there are so many great vantage points to take in the New York Skyline.
From DUMBO under the Brooklyn Bridge, from the Top of the Rock or the Empire State Building.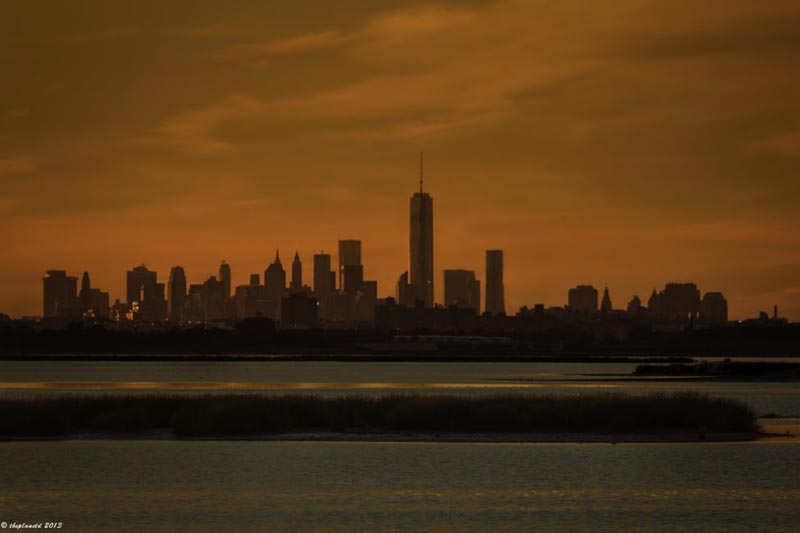 Or even from this vantage point below in Queens. New York is a hell of a town no matter where you look at it.
#5 Brisbane, Australia
We finally had the chance to explore more of Australia this year. We'd been to the "Land Down Under" a couple of times, but we really didn't explore the cities of Oz.
Australia has done a beautiful job designing their main city skylines.
We loved photographing Brisbane which has it's own bridge similar to the Sydney Harbour Bridge. But Brisbane's came first!
Enjoy this opening Time Lapse of Brisbane complete with everything there is to do in the city
Want to explore more of Brisbane, check out Everything you need to Know about What to do in Brisbane
Beautiful Skyline View:
#6 Paris, France
We love Paris. It is the city of Love and there is no better city for romance than Paris. Looking at it from above lets you really see just how big this city is.
What I love about Paris is how there are no skyscrapers in sight. It's an historically beautiful city centred around the Eiffel Tower, and that's just the way we like it.
Read: How to Visit Paris on a Budget  and Where to Stay in Paris – a Guide to the best Neighbourhoods. 
#7 Rio de Janeiro, Brazil
We had heard amazing things about Rio, but it wasn't until we saw the city for ourselves that we realized how special it is.
What makes Rio's skyline so magnificent is the surrounding mountains framing the sky rises and endless beaches.
Christ the Redeemer looks over and can be seen from every vantage point of the city.
Subscribe to our YouTube Channel for Travel Videos Twice Weekly!
Check out our Travel Hacker Guide for more hot summer Destinations.
#8 Florence, Italy
You may not expect Florence, Italy to make the list since it doesn't have any skyscrapers.
But it is the Duomo and historic buildings that make it stand out among some of the best city skylines on earth.
Viewing Florence from the Piazzale Michaelangelo is the best way to truly take in the city.
#9 Toronto, Canada
How can our home town not make the list? We were proud to see that Toronto has been a part of so many "world's best skyline" lists.
It is a great city.
I must admit, we haven't taken enough photos of our own town. We're going to have to fix that this summer to really show it off properly.
Check out this really old video of our scenic flight over Toronto. It shows off the city skyline nicely!
Don't forget to Subscribe to our channel for weekly videos!
For more Toronto fun enjoy our CN Tower EdgeWalk
#10 Panama
Who knew Panama had such a magnificent skyline. We didn't expect it to be so modern and filled with skyscrapers.
It completely reminded us of Dubai.
It is definitely poised to be the best city in all of Central America.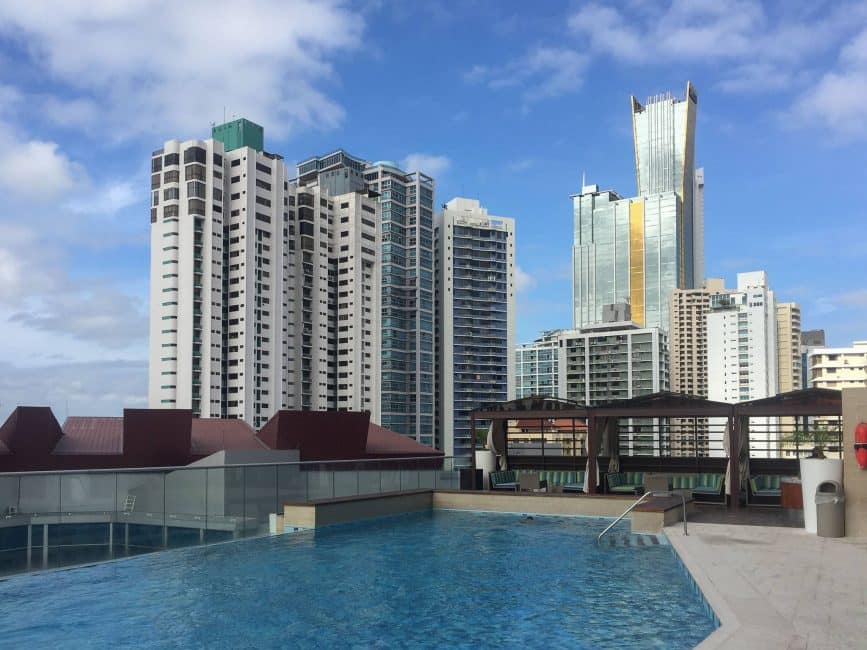 With skyscrapers, a fantastic waterfront walk, luxury hotels and the Panama Canal close by. This was one of our favourite city views.
#11 Istanbul, Turkey
Who would have thought Istanbul would be so beautiful. Not us.
We knew it would be historic. We had seen photos of the Blue Mosque and assumed it would be an amazing cultural experience.
But we were surprised with how modern and progressive the city is.
With the Istanbul Bridge spanning the Bosphorus linking Europe and Asia together. Istanbul is a mix of old and new and seeing the skyline from  the Galata Tower is a must.
Read: 12 Things to do in Istanbul
#12 Budapest, Hungary
Budapest is one of our favourite cities in Europe.
Walking on the river really lets you see the beauty of the Budapest Skyline.
The Budapest Chain Bridge connects the cities of Buda and Pest connecting them across the Danube River.
Each city is as different as its skyline but it works together creating a beautiful destinations for travellers to explore.
Enjoy 16 of the Top Things to do in Budapest
#13 Sydney, Australia
Sydney has probably one of the most recognizable skylines.
With the Sydney Opera house standing proud over Sydney Harbour, they have truly set the standard of creating a beautiful skyline.
#14 Cape Town, South Africa
During our first visit to South Africa, Dave and I spent four days in Cape Town before the sun came out.
We had heard that Cape Town was beautiful, but we didn't believe it.
Until one day we were taking a stroll at the V&A waterfront and the skies opened up.
Seeing Table Mountain for the first time took our breath away. What makes Cape Town so extraordinary is the backdrop of Table Mountain.
The city is picturesque located on the waterfront with colonial architecture mixed with modern designs. But really, nowhere else on earth can compete with the beauty of Mother Nature.
Love Cape Town? You need to read: 12 Awesome Things to do in South Africa
#15 Astana, Kazakhstan
Where the heck is Astana you ask?
While driving through Kazakhstan during the Mongol Rally, we took a detour to the country's capital city.
It is quite the contrast between the desert landscape and massive spans of land with nothing but dirt and mountains.
When we drove up to the city, we were mesmerized by the massive, modern urban centre plopped in the middle of nowhere. This will be a world city in a few years.
You can tell that the government is designing it with the goal of making it one of the best city skylines on earth. It already won us over.
With indoor malls complete with amusement park and skating rink, Astana has luxury and beauty making it a world city.
#16 Kuala Lumpur, Malaysia
The last time we were in Kuala Lumpur was 2003. We didn't even own a digital camera so you will have to forgive me for taking this scan of an early print.
Kuala Lumpur had an impressive skyline when we visited and it has only been getting better and better.
The Petronas Towers are definitely the centre piece of the Kuala Lumpur skyline, but the KL Tower is actually taller!
It's a perfect spot to go to get a view of the Petronas Towers. Whichever tower you choose to look at the KL Skyline, just make sure you get yourself high in the sky.
#17 Singapore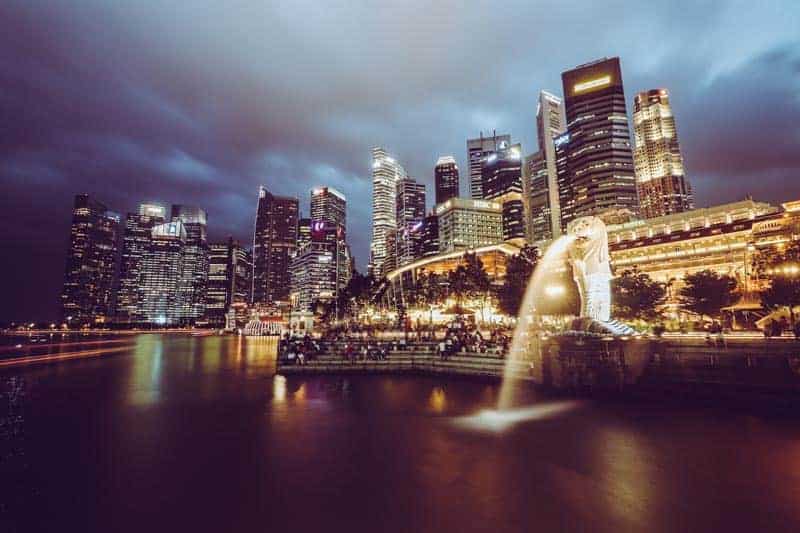 We bought our first digital camera on the same trip we took in 2003 when we visited Kuala Lumpur. Our next stop after KL was Singapore and we bought a Canon 5D camera
This was one of Dave's first photos he ever took with a digital camera and he did a great job capturing the Singapore skyline.
Singapore is a beautiful city and it's only growing and becoming more modern.
#18 Chicago, Illinois
While going through images on our website, we saw this fantastic shot of Chicago by Lisa Luban of LLWorld Tour.
She shared a great post about the top eats in Chicago, so to leave you, we thought we'd share this city skyline shot of Chicago.
A city we've merely driven through and didn't stop to really take a look. We must fix that soon!
So what have we missed? We saw it on many lists, so I look forward to seeing it for myself.
Read Next:
The Most Beautiful Cities in Europe
You Might Also Enjoy