The largest city in the United Arab Emirates, Dubai is a very popular tourist destination.
From giant shopping malls to the world's tallest building to its many beaches and resorts, Dubai is a place to go for those who want to experience something grand and luxurious.
Add in low crime levels, low sales taxes, and beautiful cosmopolitan views, and it makes for a great trip.
This Dubai travel guide will help you plan your next vacation.
Fast Facts
Dubai's currency is the Dirham (AED) and 1 AED equals 0.27 USD.
The best way to get around Dubai is by taxi, with public metro being a close second.
If your trip to Dubai is under 30 days, you do not need a tourist visa, just a roundtrip ticket and a passport valid for six months. You will need a visitor visa, but this is free of charge and can be picked up when you enter Dubai.
Etisalat and Du are the two network providers in Dubai and a SIM card can be purchased through either of them. You can find SIM cards at the Dubai and Abu Dhabi airports, as well as local Dubai shops and malls.
Follow a modest dress code to be respectful of the Islam culture.
Dubai has a sales tax rate of 5%.
Budgeting
Accommodation
Budget – Dubai offers a variety of both dorm-styled and private hostels close to the airport and downtown area for roughly 46- 179 AED per night, which comes with communal kitchens, free high-speed Wi-Fi, and great central locations. One of the most popular is Backpacker 16, which has a rooftop swimming pool.
Mid Range – For mid-range hotels, expect to pay between 200- 550 AED per night and enjoy services like air-conditioned private rooms, room service, fitness centers and pools, and the hotel's restaurant and bar, all while being only a mile or two away from the city center.
High End – Upscale hotels will cost about 700-1,800 AED per night. Experience the best of Dubai with a range of top-class suites (family to presidential suites), top-of-the-line room and hospitality service, beautiful Arabic architecture, room balconies with ocean views, personal trainers and spas, infinity pools, and some of the best dining, among other things.
Check out our favorite booking platforms Booking.com, Tripadvisor and Air B&B for the best deals on accommodation in Australia
Food
Food: The cuisine in Dubai favors rice, fish, and meat as their main staples, with Al Machboos (rice and chicken mixed with onions and spices), Shawarma (slow-roasted chicken or lamb sandwich), and Khuzi (roasted lamb on rice with vegetables and nuts) being main dishes. Dubai has a variety of food courts, shops, and restaurants where you can sample their cuisine. Expect to pay around 25-200 AED per meal, depending on where you go and what you order.
Transportation
Getting to Dubai: The Dubai Airport and the Abu Dhabi airport are the two main places to fly into. If heading downtown, Dubai Airport is only 22 miles away and will take approximately 42 minutes by metro train.
Flights: You can check for the best flights to Dubai on Skyscanner.
Bus: Buses are a cheap way to get around Dubai and run frequently. Expect to pay around 4-8.5 AED per trip depending on how far you go.
Train: Dubai has metros and trams that can also get you where you need to be. Prices are the same as the bus.
Rent a car: As long as you have a valid US license and are at least 21 years old, you can rent a car in Dubai. Prices start at around 45 AED per day. Taxis are available in Dubai, as well as Uber.
You can also compare prices here
You can compare flight fares to Dubai Below
Places to Stay
JW Mariott Hotel Dubai – We loved our stay at the W. Located downtown it's great for spending time at the Dubai Mall. It's the tallest hotel in the world and pure luxury.
Habtoor Grand Dubai – Located directly on Jumeirah Beach on beside the famous Dubai Marina. It's excellent for a beach holiday with swimming pools, directly beach access and several dining rooms.
Backpacker 16: One of the most popular backpacking hostels in Dubai, stay in a prime location with many nearby attractions. Enjoy the various amenities, including Wi-Fi, a shared kitchen, a fitness center, and a rooftop pool.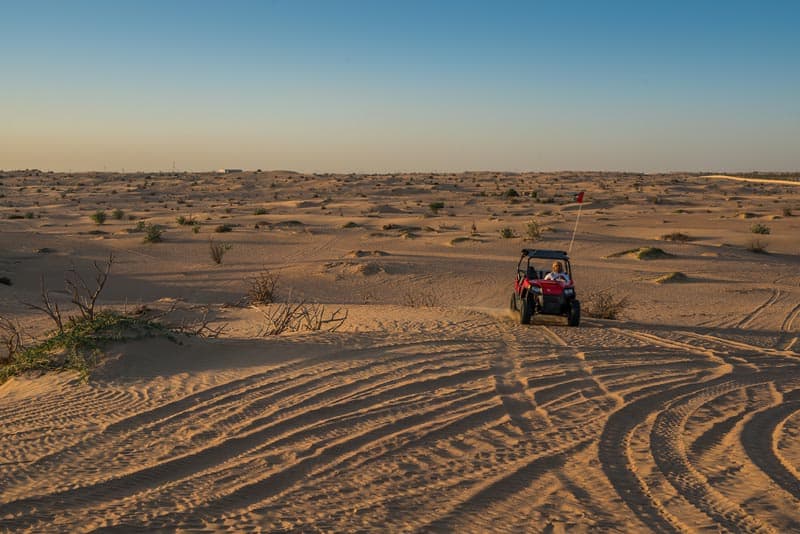 Packing Tips
Dubai may be the more liberal of areas in the Middle East, but still respect the culture and cover your shoulders and legs.
When entering temples or mosques follow the rules over covering your head and shoulders.
Layers: Despite the hot weather, the air-conditioning in Dubai can sometimes be on the colder side, so layers are encouraged. Note that certain areas (like the shopping mall) require both men and women to wear clothes that cover the knee and shoulders, so make sure to bring clothing items that do that.
Sunscreen: With so much beautiful sunshine, protect your skin with some sunscreen.
Swimsuit: Bring a swimsuit to enjoy Dubai's beaches and resorts.
Sarong: I use a solid colour darker sarong to use as a shawl (to cover shoulders) and sometimes to cover my head if appropriate.
Lightweight breathable pants.
See our packing tips: packing tips
When to Go
November to April is the best time to go to Dubai. While the weather tends to be beautiful year-round, during this period, temperatures are not as humid.
January and February are when the very popular Dubai Shopping Festival occurs, and also tends to be peak tourist season.
However, if you want to find lower prices for hotels, consider going outside of those two months.
Things to Do
Adventure
Desert Tour: You can get out of the city and explore the countryside. We enjoyed our jeep tour to see desert wildlife, the sand dunes and traditional belly dancing.
Culture
Old Dubai: Dubai is a Megacity, but if you go to Old Dubai, you can still get a sense of the culture and history of Dubai.
What not to Miss
Burj Khalifa: Standing at 1,198 feet, Burj Khalifa is the highest building in the world. Great for those who love thrills and heights, book a ticket to the observation deck to see a view of Dubai unlike any other.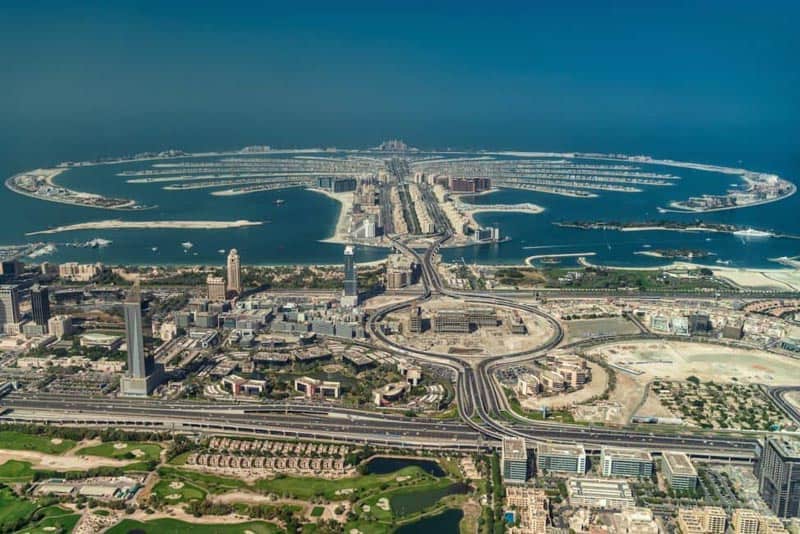 Booking Resources
Whenever we travel to we make sure to start with these companies.
We have tried a lot of different ones over the years and all of these have consistently proven to be the best when it comes to offering great prices.
We have used every one of these personally and continue to do so.
Booking.com: This is our go site to when comparing prices for accommodation. It is usually the has the cheapest prices, not to mention you get free cancellation and you are guaranteed the best price.
Trip Advisor: What we like about Trip Advisor is that we can look at all the reviews and then book our accommodation.
Air BnB: Airbnb is the main search engine we use when we are looking for a home or apartment rental. It is the best way to stay in areas that offer a more local feel.
Skyscanner: This is the first place we check for flights. It consistently comes back with the cheapest and best options. It allows us to compare a lot of airlines to get the best price.
Hostelworld: With one of the largest databases of hostels in the world, Hostelworld is the go-to site when you are looking for budget accommodation.
Rome 2 Rio: If you want to see how to get somewhere by plane, train, bus, ferry or car Rome2Rio lays it all out for you as well as related costs. I love how they show it all to you on a Google Map and it works offline.
Get Your Guide: For all your day trip and city guide needs, we use Get Your Guide. It has the world's largest collection of things to do with more than 30,000 activities in 7500 destinations.
World Nomads Insurance: When traveling you should always have travel insurance. We do.
Related