We had a day off between our three-day rock climbing adventure with Hot Rocks Climbing School in Krabi, Thailand.
The course is laid out perfectly for the climber that has experience but hasn't been out to the crag for a while or for the climber that has been busy in the gym and is ready to take it outdoors.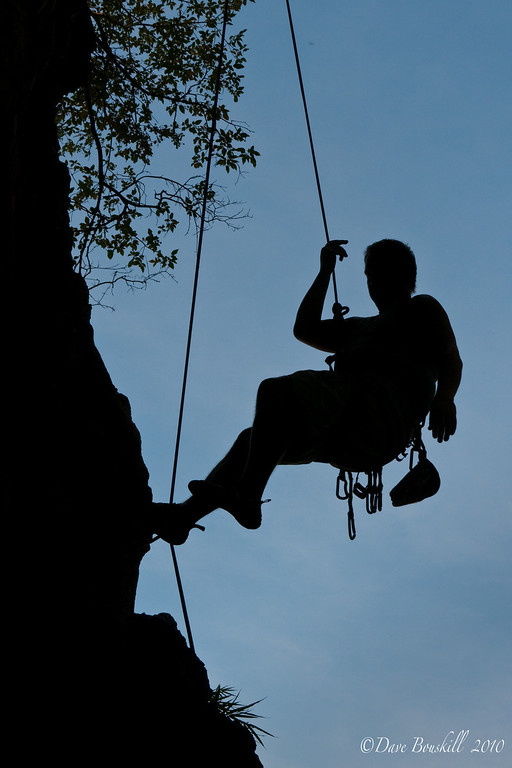 Ao Nang Paradise Resort a Good Option in Krabi
We fall in the former category. We used to rock climb regularly, but with all our travels and trying new adventures around the world, we needed a refresher course on the art of rock climbing.
The past two days were a perfect blend of relearning technique and having the chance to climb hard on some fun routes.
A Rest Day was well deserved.
We had the chance to rest our muscles and recover from the past few days of adventures.
The Tourism Authority of Thailand sent us to Smiling Albino to arrange our Thailand Adventure and they pulled out all the stops. Dave and I don't get to spend a lot of time in decadence, but at the Ao Nang Paradise Resort, we were treated to a deluxe poolside premium suite.
We couldn't wait to hang out for the day by the pool. We had been staying at Ao Nang Paradise for two days but hadn't gotten the chance to enjoy the hotels facilities. We were over in Railay rock climbing.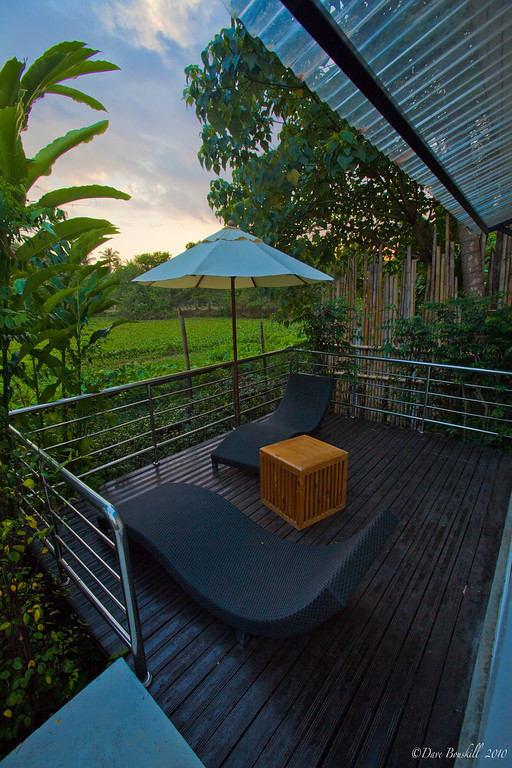 Relaxing Morning
We slept in and waited until the last minute to make our way to the buffet breakfast that was included with our room. Feeling completely content and relaxed we went back to our room where we chilled on our private poolside deck.
We felt so lucky to not have to fight for a poolside chair. People had already put their towels and belongings all over the deck to save their spot for the day. All we had to do was go to our private deck and relax.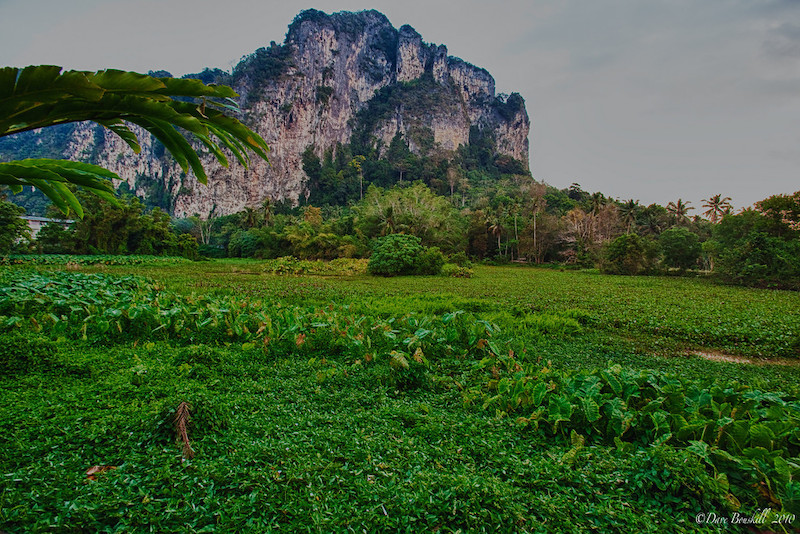 The pool was on one side of our deck while the rice paddy field reached out towards our incredible cliffside view.
The morning was spent working on our tans and hopping into the pool every once in a while to cool down.
At this point, we had really worked ourselves to the point of exhaustion so we decided that it was time for a nap.
Comfortable Room
Our king size bed and cool air conditioned room was a place that we never wanted to leave.
It had an inviting lounge chair to sit and catch up on some reading and the complimentary coffee woke us up enough to keep us from spending the entire day inside.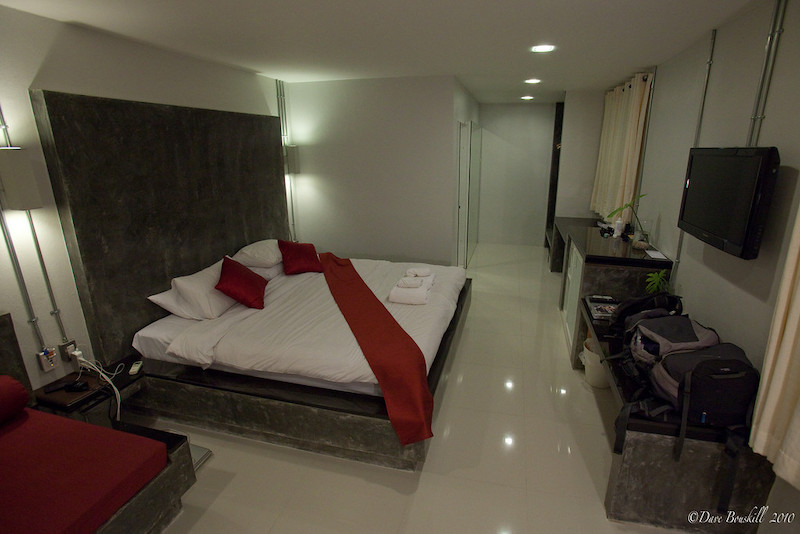 Ao Nang Paradise hotel is perfectly located in the heart of Ao Nang, but set back far enough from all the noise and chaos. It is it's own little paradise with everything you need for a relaxing holiday.
Reasonably priced drinks are available at the smartly decorated poolside bar and an outdoor library is filled with books and two comfy chairs to lose yourself in a novel.
Beach Time
If you find yourself getting a little too relaxed, head out to the beach and catch a long tail boat to one of the many islands. Tours are offered to James Bond island, The infamous Beach (setting for the book by Alex Garland) Railay and Phra Nang Beach.
You can go snorkelling or paddling, rock climbing or exploring caves. Not only is Ao Nang located in the heart of Thailand's Adventure Capital of the South, it is located in Thailands' most stunning landscape.
It is here that the kharst formations reach out from the Andaman Sea and white sandy beaches curve in the shape of a horseshoe bay.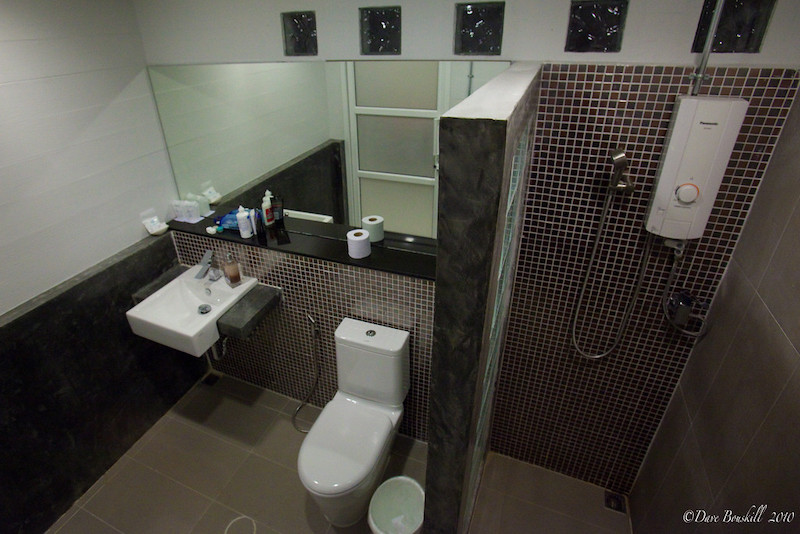 There is a reason that Dave and I have come back to this place 3 times before and are constantly awed as we ride the longtail boats and look at the gorgeous coast line.
As you ride, you may just see some daredevil rock climbers high on a cliff directly over the sea.
Right next door to Ao Nang Paradise is a fabulous restaurant that offers up an all you can eat seafood buffet and salad bar for 200 baht. (Less than $7 US) I will not lie, we ate there 2 of our 5 nights in Krabi and each time we ate somewhere else, we wished we went back to the seafood buffet.
Ao Nang Paradise was one of the best places we have stayed in Thailand. The staff was friendly, the rooms were tastefully decorated and the facilities were inviting with an outdoor pool and many places along the grounds to chill out and relax.
While it isn't on the water, it is close to everything and the pool makes up for the lack of beach access. It looks out onto a serene rice paddy field and there are several different options for accommodation available.
The one complaint we would have is the Internet is very expensive. In todays world, I don't understand why hotels don't put the price of the internet into the price of accommodations.
They had wifi, but it cost 200 baht (about $7) per day.
Read More
Rock Climbing in Yangshuo China
Rock Climbing in Railay, the Final Day
The Fab Four Climbs of Dave and Deb