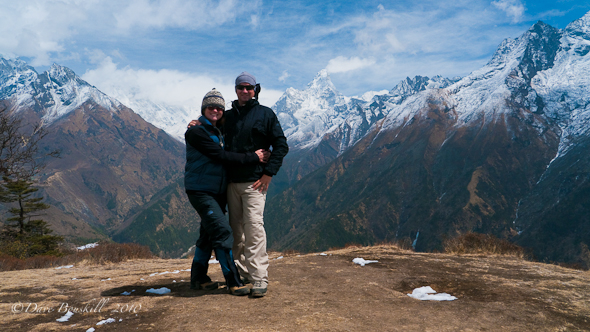 Namche Bazaar to Tengboche on the EBC trek is an exciting day. It is the first time you catch a glimpse of Mount Everest. After spending a day acclimating at Namche Bazaar, it is time to work up to a higher elevation.
–
Surrounded by astounding panoramas of the Himalayas the day is exciting and exhausting at the same time.
Starting in warm sunshine and clear weather, our day ends with snow and frigid air making for a cold nights sleep at the Tengboche Monastery.
This is our favourite video of our Everest Base Camp Trek so far. We bonded with our guides Sher and Deep and enjoyed some of the most stunning views on earth.
To see more awesome shots of the landscape check out our photo gallery of Nepal at Picture the Planet.com
Music courtesy of MusicAlley.com
Artist – Onbekend Number 10