We've had the pleasure of visiting Alberta three times in the winter and four times in summer. Deb was born in Alberta, and we love the province so we know a thing or two about all the things to do in Alberta.
Trust me, if you visit Alberta, you'll be the envy of all your friends when you share photos of the Canadian Rockies on your Instagram feed.
Things to do in Alberta
This guide shares the very best things to do in Alberta that we have done ourselves over the past 10 years of traveling.
Banff and Lake Louise
Canoe or Hike Around Lake Louise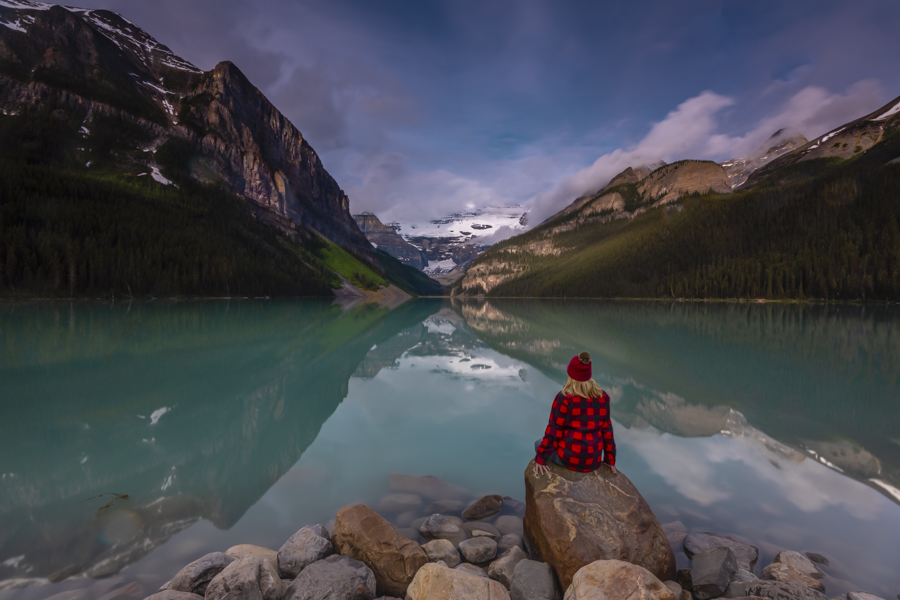 Play Hockey on the world's Most Beautiful Skating Rink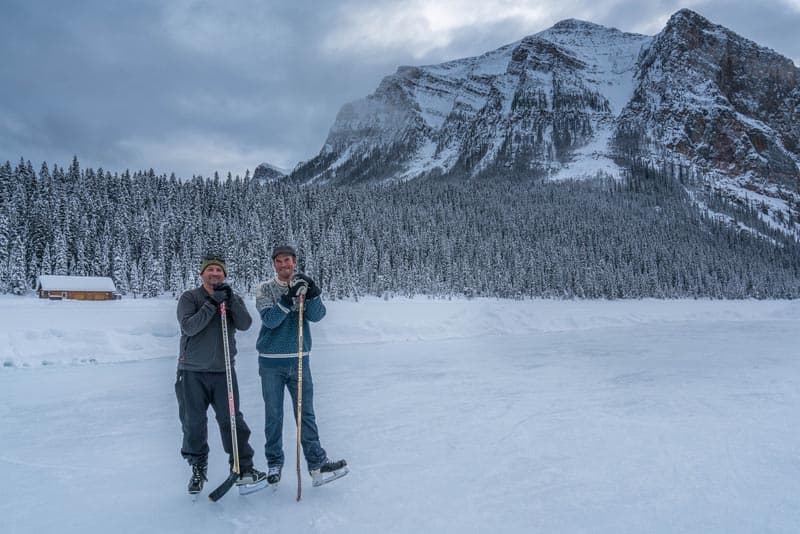 There is absolutely nothing more Canadian than playing pond hockey on a frozen lake.
And if you are going to visit Alberta in winter, you better skate on the world's most beautiful skating rink!
Located directly in front of the Fairmont Chateau Lake Louise, the rink attracts visitors from around the world whether they can skate or not!
You can rent hockey gear from the hotel or from Wilson Mountain Sports.
Hike or Ski into Backcountry Lodges
There are several backcountry lodges in Alberta that make for an amazing active adventure that ends with a luxurious stay in a remote lodge.
We visited Sundance Lodge when exploring Banff and fell in love with the beauty of the area.
In the winter you can head out to lodges by cross country skiing or snowshoeing.
In the summer you can hike or go by horse.
Johnston Canyon Ice Walk or Hike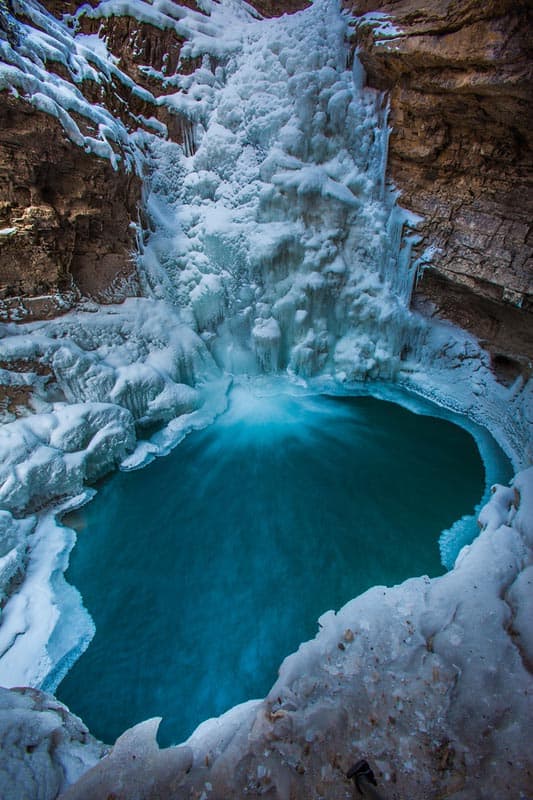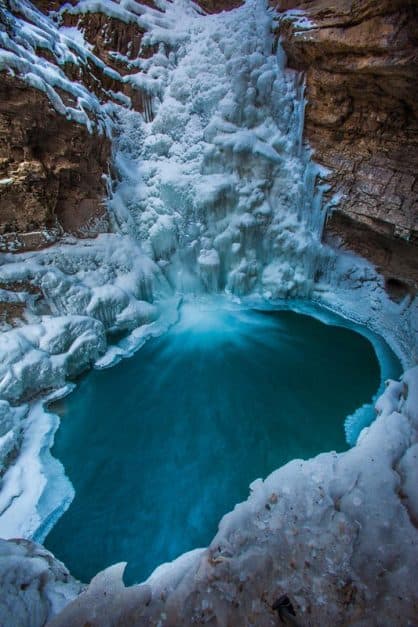 If an overnight trip to the backcountry isn't your thing, you may want to try a half-day visit to the Johnston Canyon ice walk.
It is open winter and summer.
Discover Banff Tours offers guided scenic winter walks and let me tell you, this is one of the most stunning walks we've ever taken.
The steel catwalk runs 2.5 miles through a picture-perfect limestone canyon.
Banff Gondola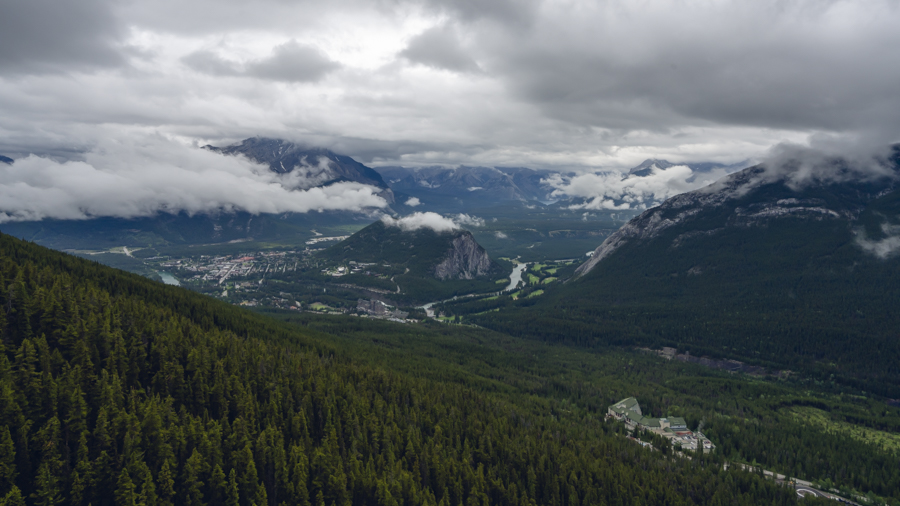 Photograph Alberta's Most Iconic Sites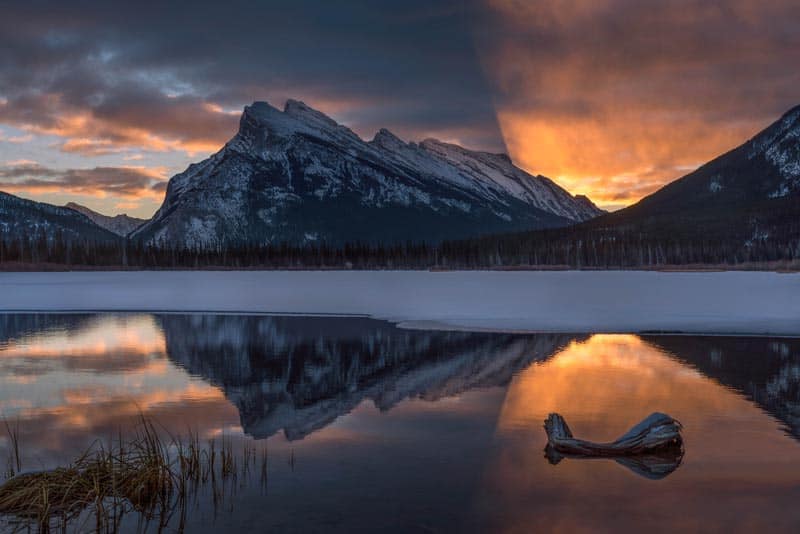 Bring home your own memories on a photo tour with Rocky Mountain Adventures.
Alberta is known for its picturesque landscape attracting top professional photographers from around the world.
Best Places to Photograph in Banff:
Bow Lake
Vermilion Lakes
Lake Minnewanka
Lake Louise
Moraine Lake
Cruise Lake Minnawanka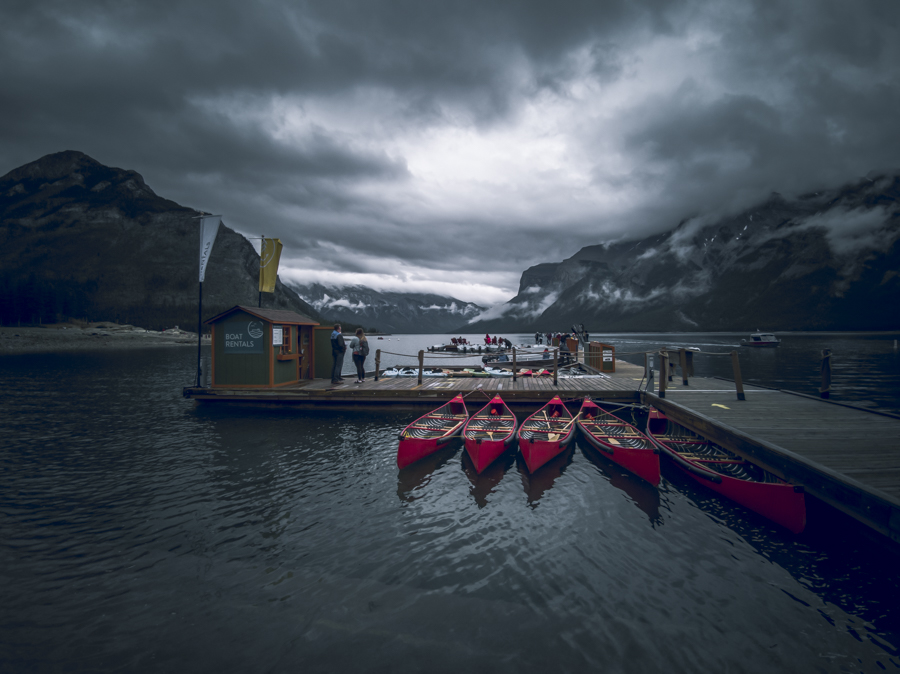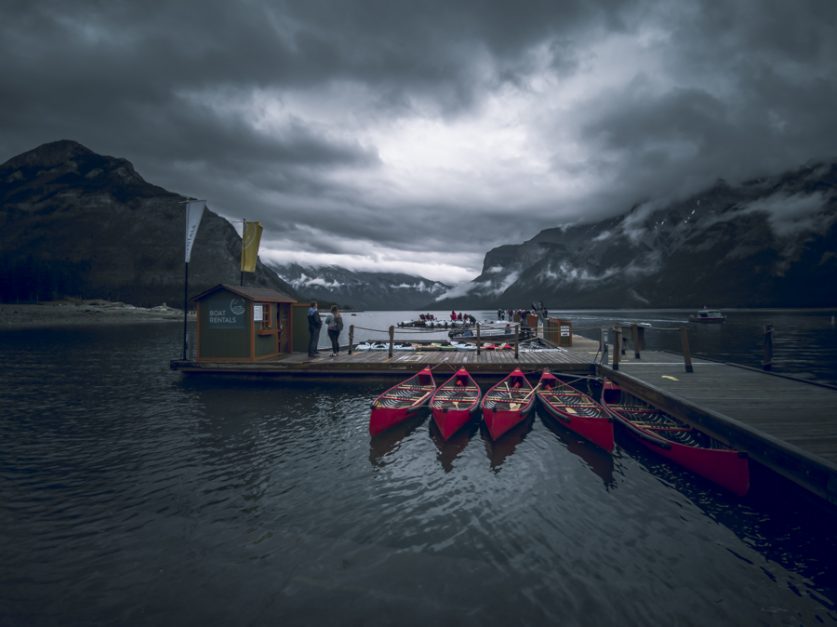 Cave n' Basin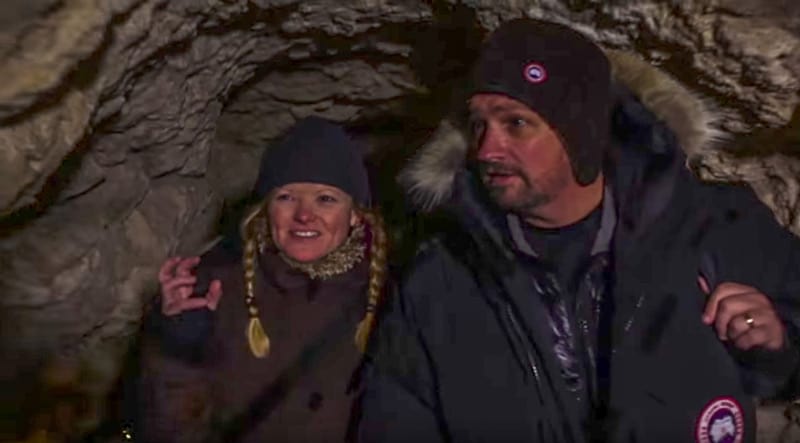 Discovered by railway workers back in 1883, Cave n Basin is where Canada's National Park System began.
To attract visitors to Banff, Canada opened the first National Park and visitors flocked to swim and relax in the hot springs.
Today it is a national historic site and there is no swimming in the pool to protect the endangered snails that inhabit the pool.
Banff Hot Springs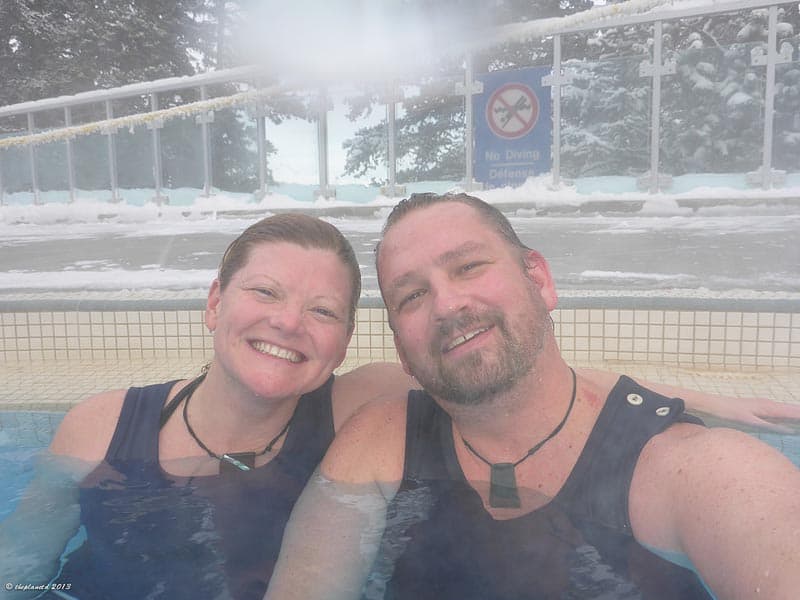 Banff Hot Springs is world-famous for its natural springs and outstanding view!
The Hot Springs aren't the most luxurious of destinations but they are a hoot to relax in the hot water looking at the landscape.
Plus, you can rent old fashioned bathing suits and pretend you are an aristocrat visiting Alberta like they did back in the days when the great railway made its way through the Rocky Mountains.
Sleigh Ride on Lake Louise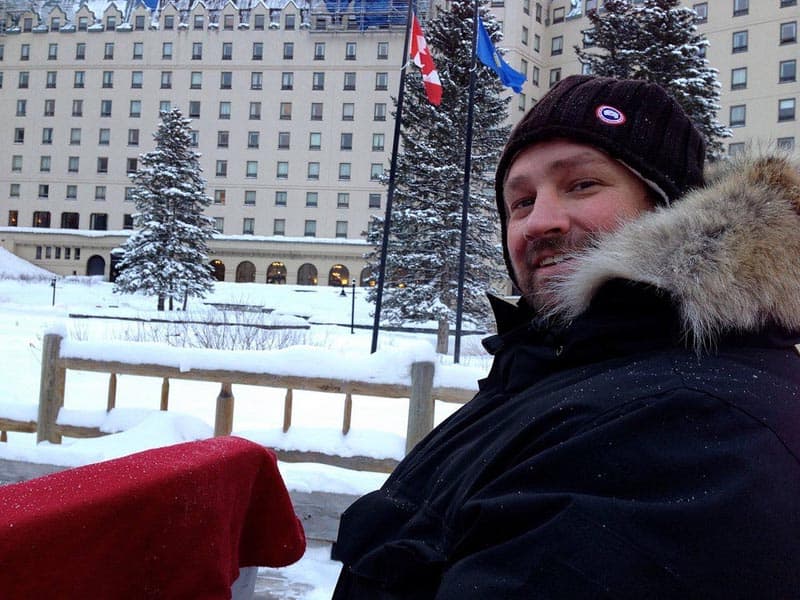 The Fairmont offers daily sleigh rides leaving from the front of the chateau and it takes you up the trail to the mouth of the glacier.
As you ride along the trail with a blanket on your legs cozied up to the one you love, you feel as if you are in a movie.
Skiing in Alberta
There is no going to Alberta in winter without going skiing or snowboarding.
Banff National Park houses three different ski slopes.
Sunshine Village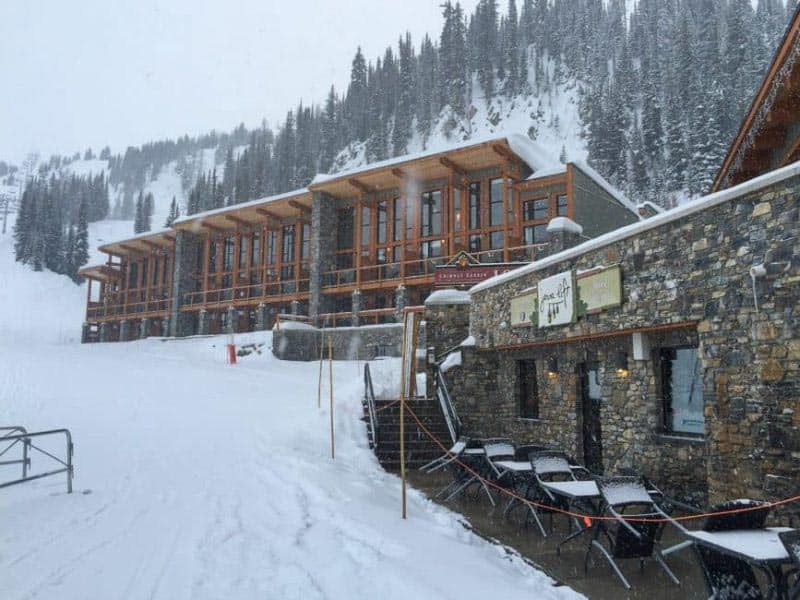 We love Sunshine Village because it has the Sunshine Mountain Lodge located right at the side of the hill offering the only ski in ski out adventures in Banff.
It also has Banff's largest hotel hot tub where after a day on the boards, you can soothe your aching muscles in the tub.
Lake Louise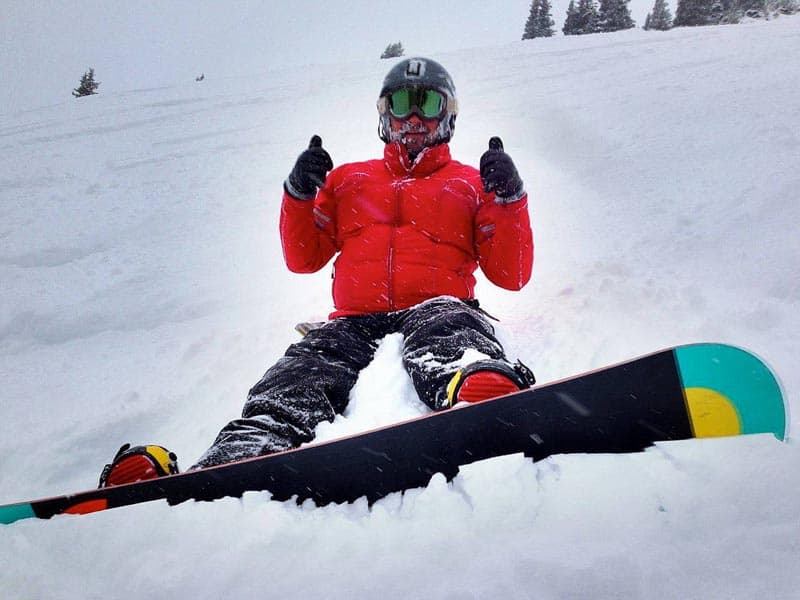 With 4200 skiable areas in one of the largest ski destinations in North America, this is not to be missed.
There are trails for all levels of Skiing and Snowboarding.
Lake Louise is on the World Cup Circuit with a Terrain Park and a Snowcross Course.
It's Epic. Check out more on Snow Boarding Lake Louise
Norquay Ski Resort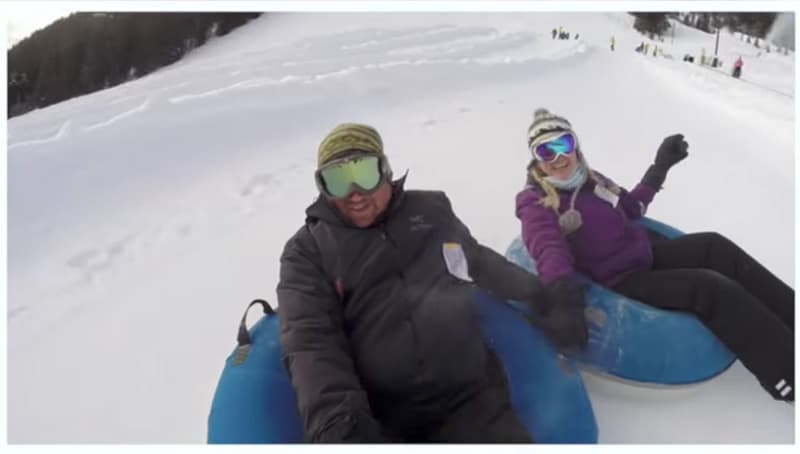 Norquay has the only night skiing in the area including a lit night terrain park.
Located just 5 minutes from Banff it's a great place to go for a quick ride down the mountain. They even offer hourly passes!
We visited Norquay for some snow tubing. You get to wizz down the mountain at high speeds while spinning around in circles, but it requires very little effort from you.
Icefields Parkway
Glacier Skywalk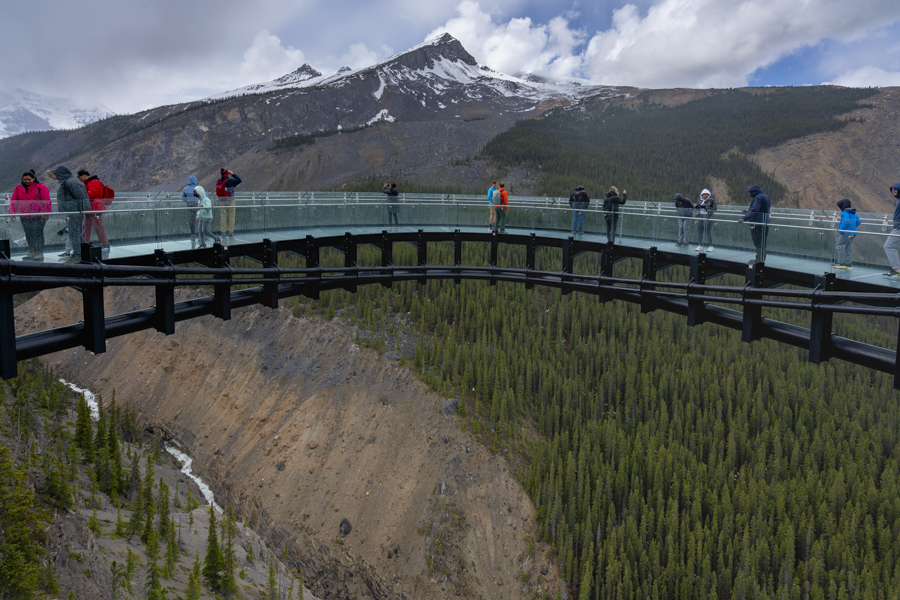 Bow Lake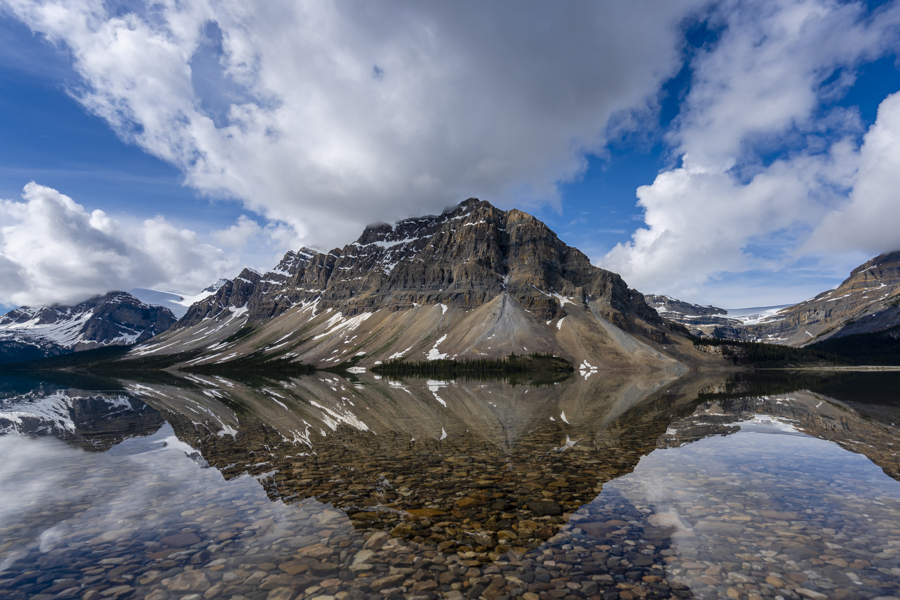 Columbia Icefields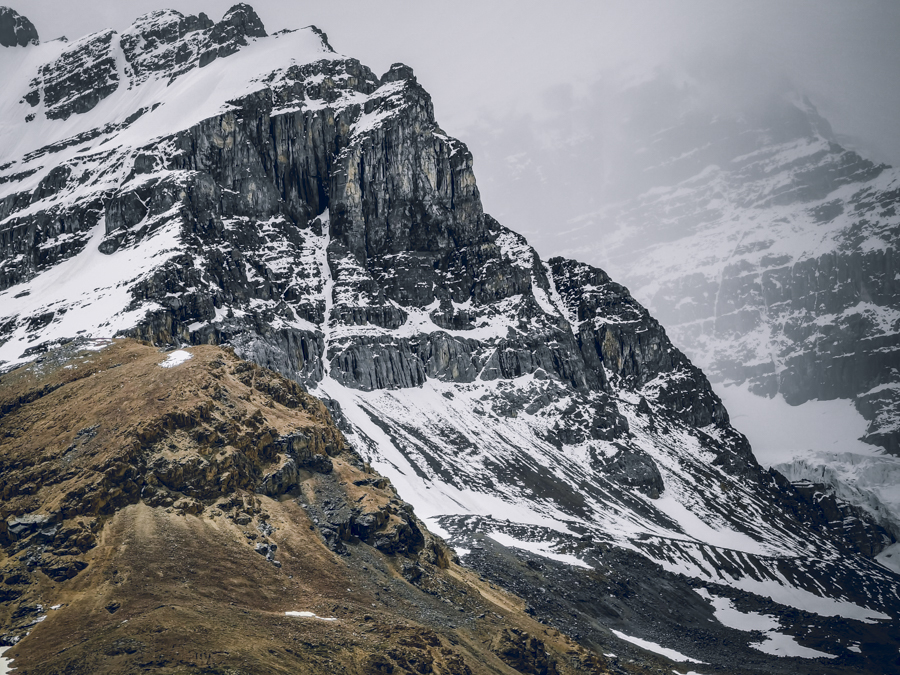 Athabasca Glacier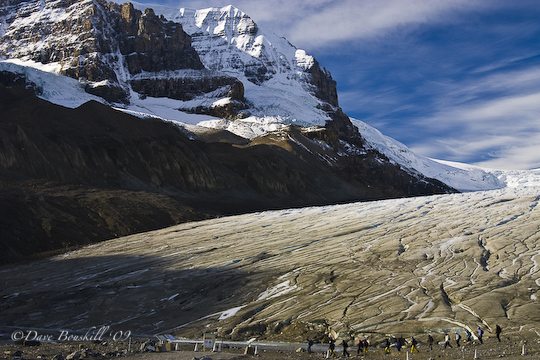 Jasper National Park
Maligne Lake
Maligne Canyon
Fairmont Jasper
Side Car Motorcycle Tour
Canmore
1. Wolfdog Sanctuary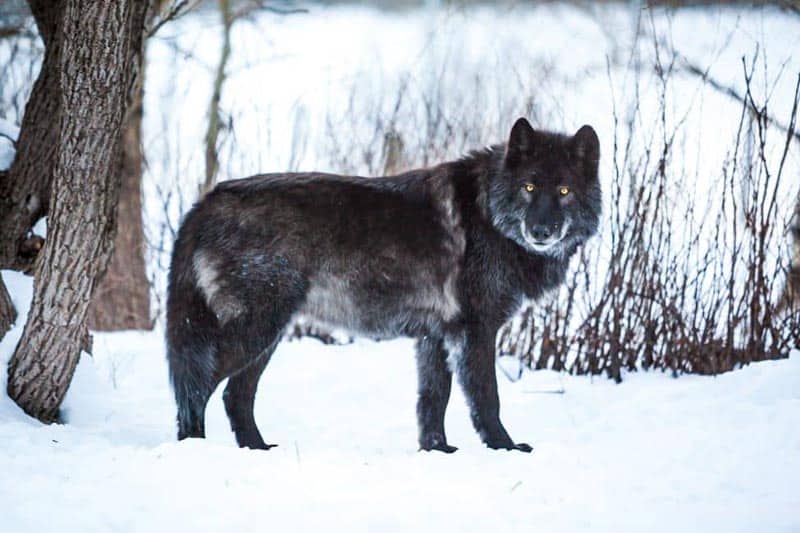 Visiting the Yamnuska Wolfdog Sanctuary located just 60 minutes outside of Banff will put a smile on your face.
Wolfdogs often end up being too much for dog owners and they are often abandoned, abused or displaces,
The sanctuary rescues wolfdogs, rehabilitates them, and finds new and loving homes for them.
Visitors can sit with the wolfdogs and watch them interact and behave in their natural habitats.
Depending on the percentage of wolf in their blood, wolfdogs can range from being timidly friendly to nearly wild.
The wolfdog sanctuary is a magical experience visit their website for more details. Yamnuska Wolfdog Sanctuary: Things to do in Alberta
Skijoring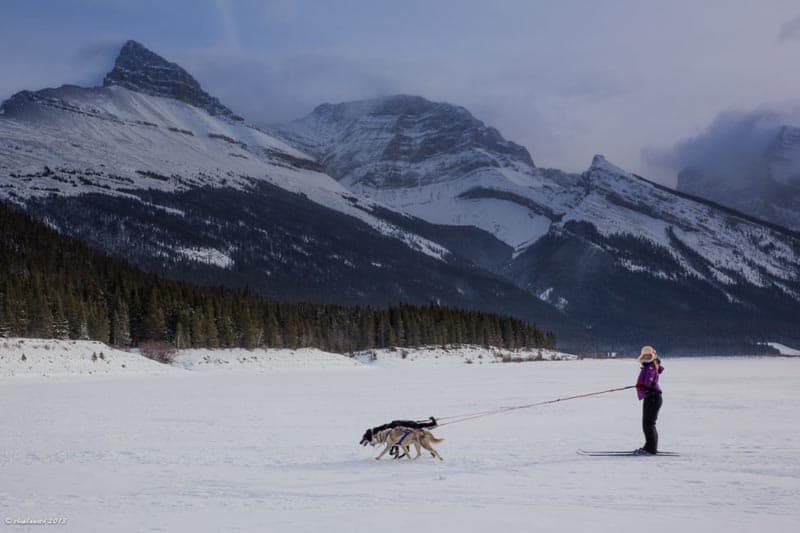 What on earth is skijoring you ask?
It's a mix between cross country skiing and dog sledding. Skijoring was invented in Norway, but Alberta has embraced it.
We met Russell Donald of Mad Dog and Englishman Sled Dog Expeditions at Spray Lake outside of Canmore.
Skijoring was a thrill of a lifetime as two sled dogs pull you across the lake at breakneck speeds.
Looking for more things to do in Alberta that involve dogs? See the Best Place to go Dogsledding in Banff
Ice Climbing in Canmore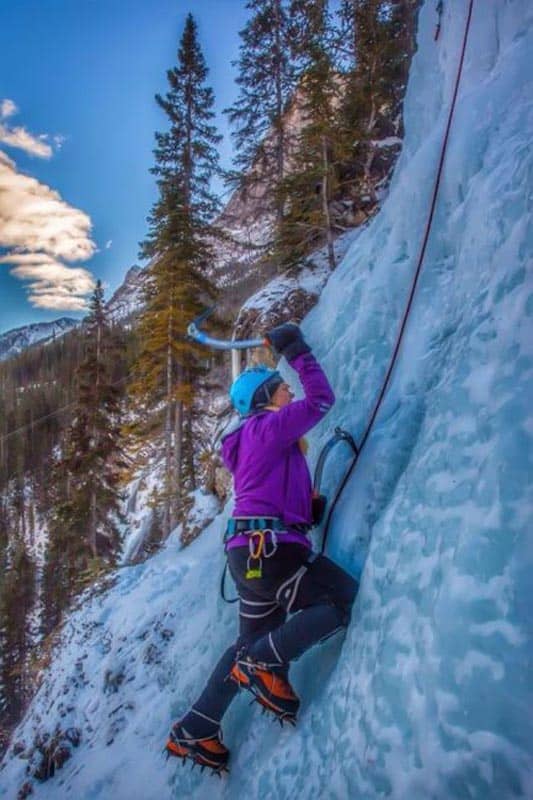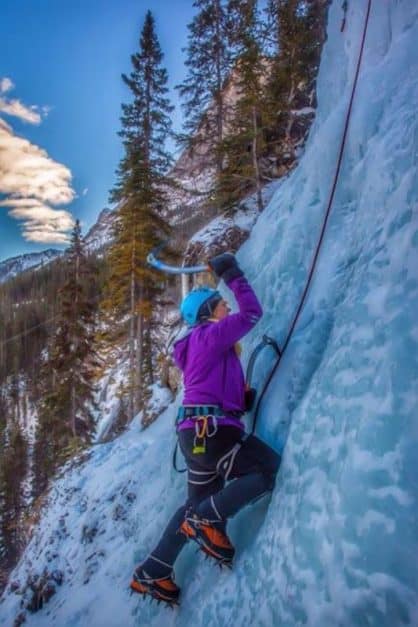 If you are looking for an adventure that gives you the ultimate adventure travel bragging rights, ice climbing in the Rocky Mountains is a must.
Canmore is the ice climbing mecca of the world drawing top athletes to its routes each year to train and explore.
Yamnuska Mountain Adventures in Canmore offers guided ice climbing excursions with professional Rock Climbers.
Armed with an ax and crampons, you climb up a frozen waterfall swinging your pick all the way to the top.
What a rush!
Snowshoeing Canmore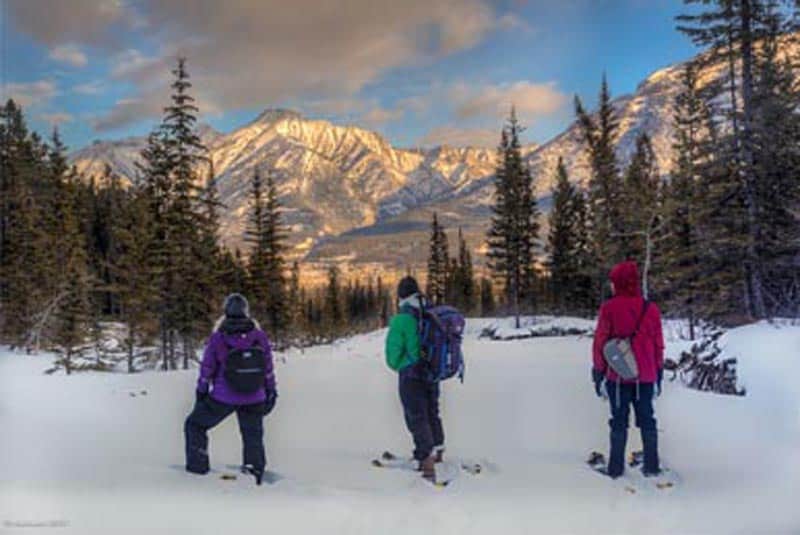 Canmore became popular as the population grew in Banff National Park.
It's now a town filled with outdoor lovers and very healthy people.
You can do a lot of activities directly from town and we went snowshoeing from Canmore.
It wasn't long before we were surrounded by mountains and treated to spectacular views of the Three Sisters.
If you are new to snowshoeing, hire a guide to take you out to the backcountry safely.
Cowboy Trail
High Mountain Trail Ride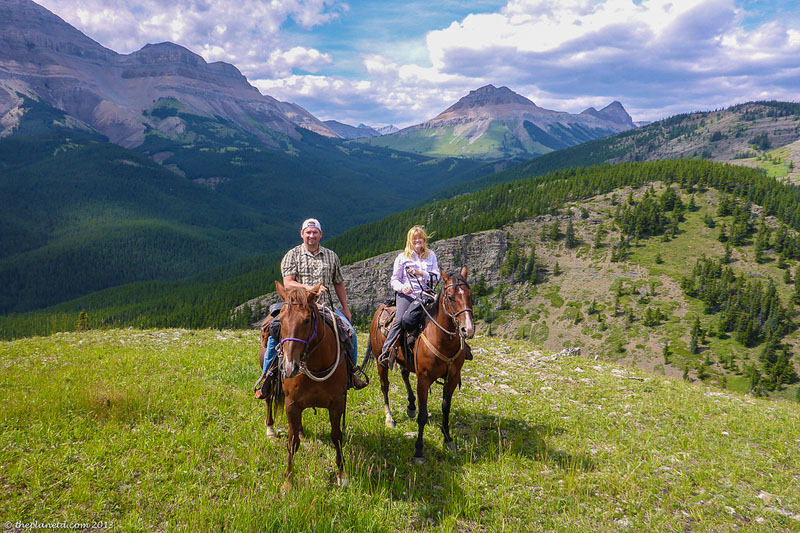 Bar U Ranch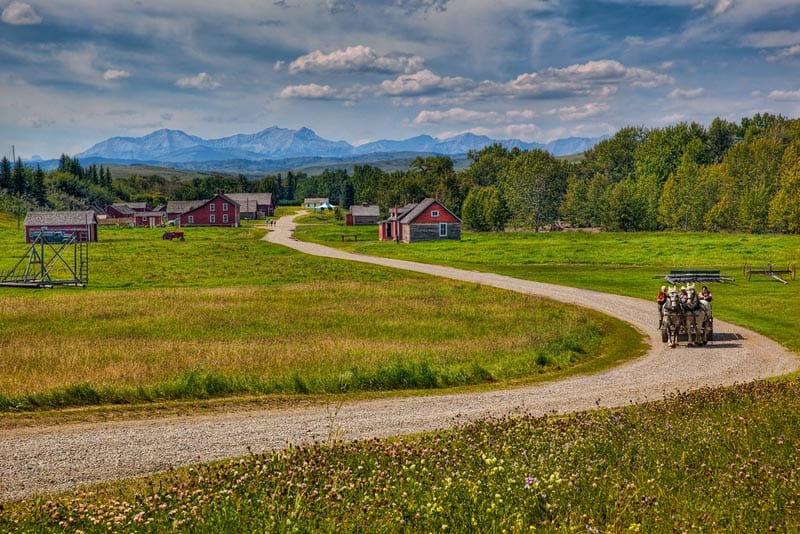 Waterton Lakes National Park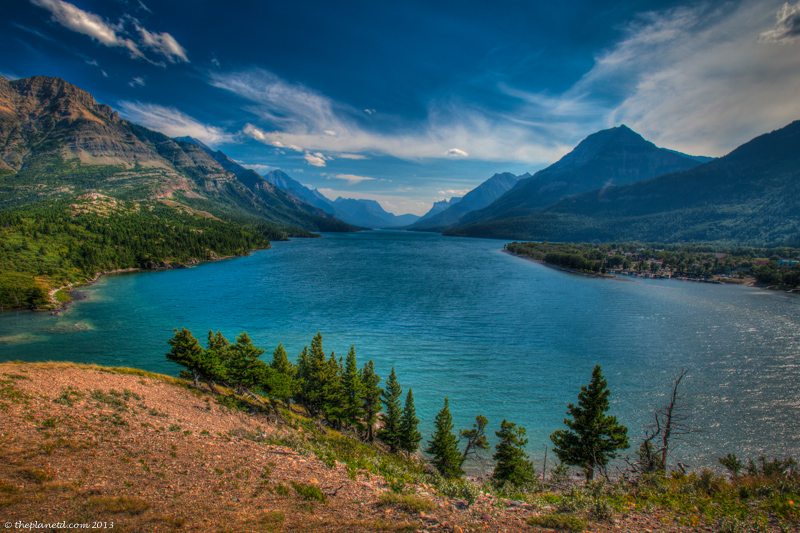 Frank Slide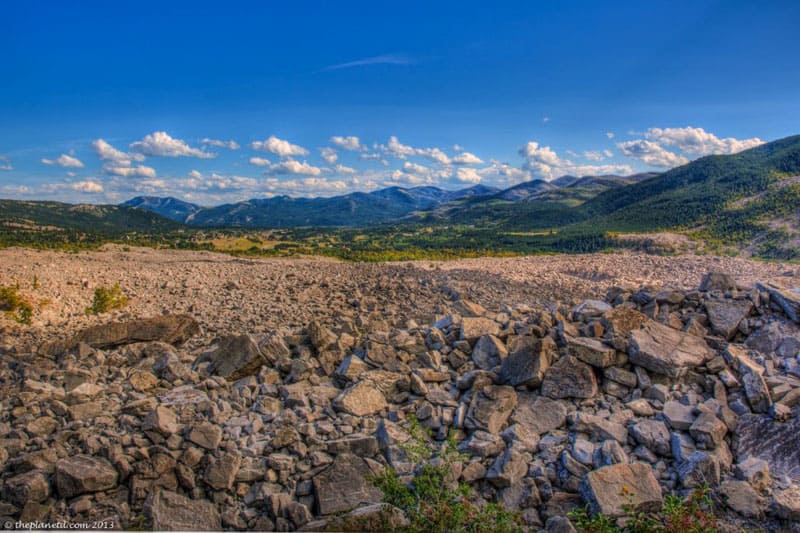 Burmis Tree
Canadian Badlands
Dinosaur Provincial Park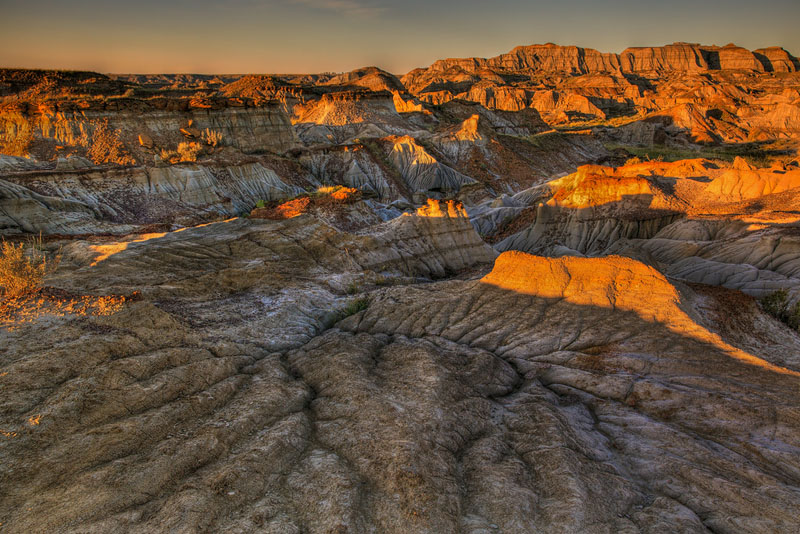 Hoodoos of Drumheller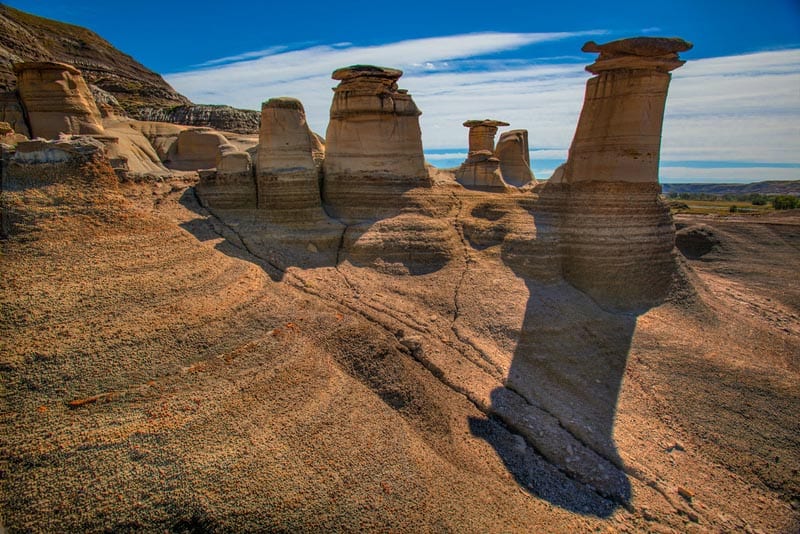 Royal Tyrrell Museum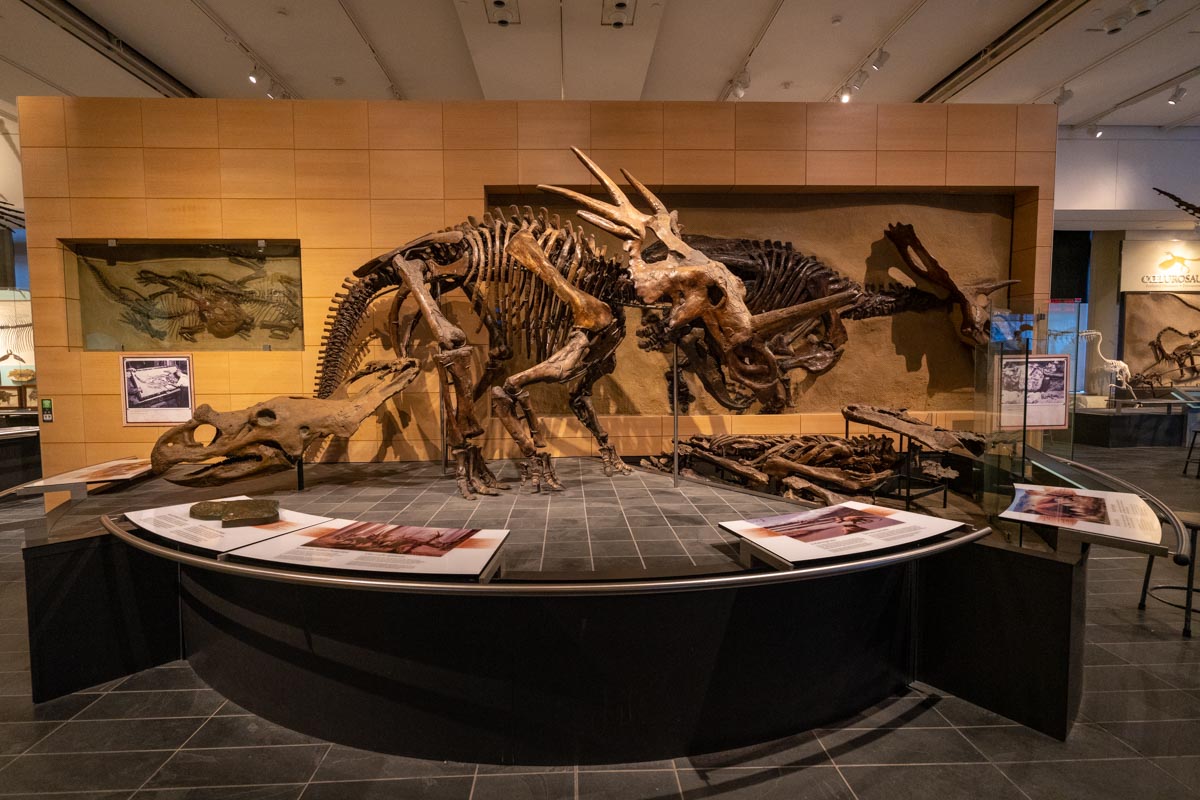 Last Chance Saloon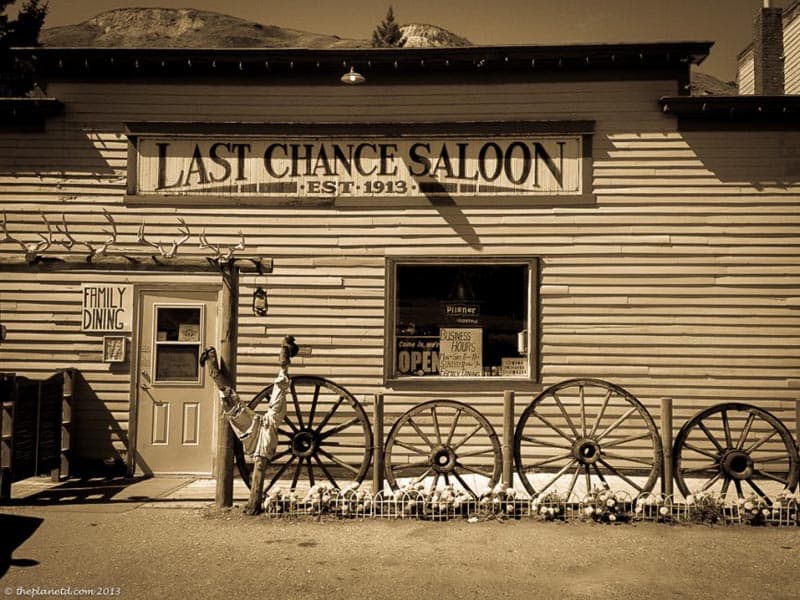 Calgary
Bobsleigh at Canada's Olympic Park – Calgary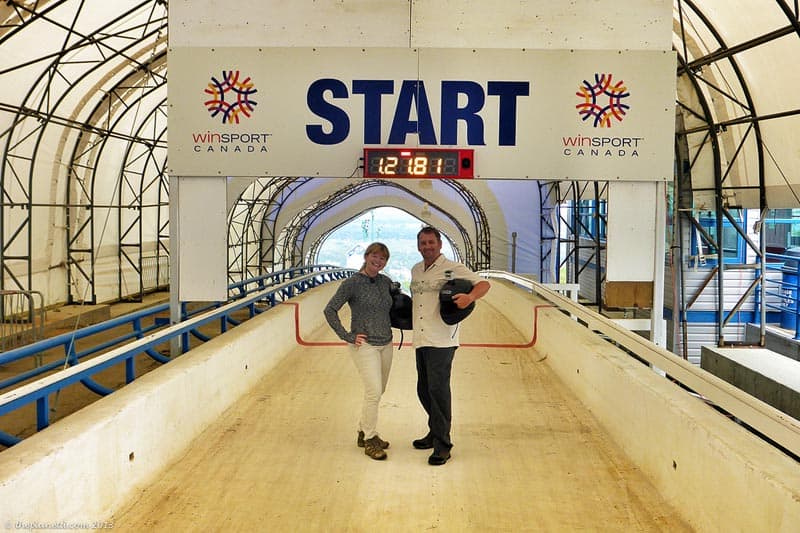 Who thought they'd ever get the chance to hop in a bobsleigh and barrel down the pipe with an Olympic athlete at steering the sled?
Bobsledders from around the world train at Calgary's Canada Olympic Park and to make some money on the side, they take tourists down their home track!
Feel the G-force push you down as you reach speeds of 125km per hour while banking the icy turns as you plunge down the World Cup track.
See our experience at Whipping Through the Olympic Village in Calgary
World's Fastest Zipline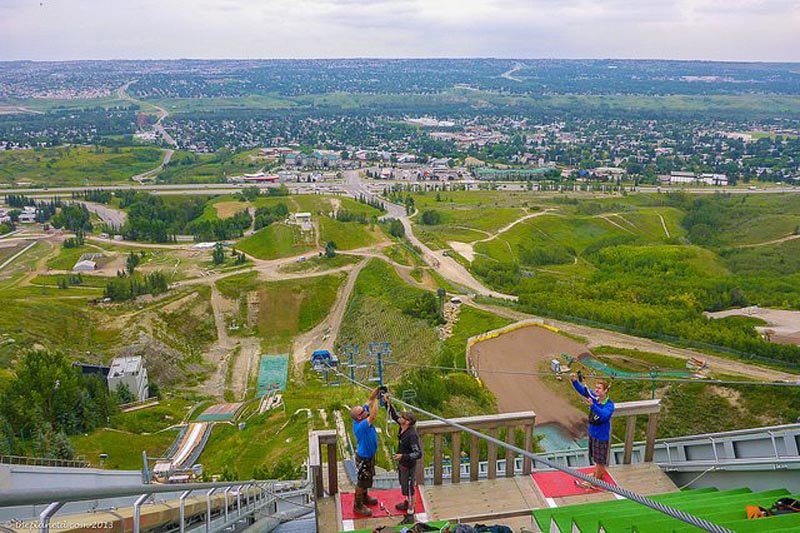 This Zipline is so fast you need to pull a parachute out when you land!
Taking off from the top of the big Olympic ski jump, this zip line is a thrilling experience!
I can only imagine the courage ski jumpers have flying off this ramp. A Zipline was enough for me!
We also took the luge down to the parking lot once we finished our extreme sports.
Calgary Tower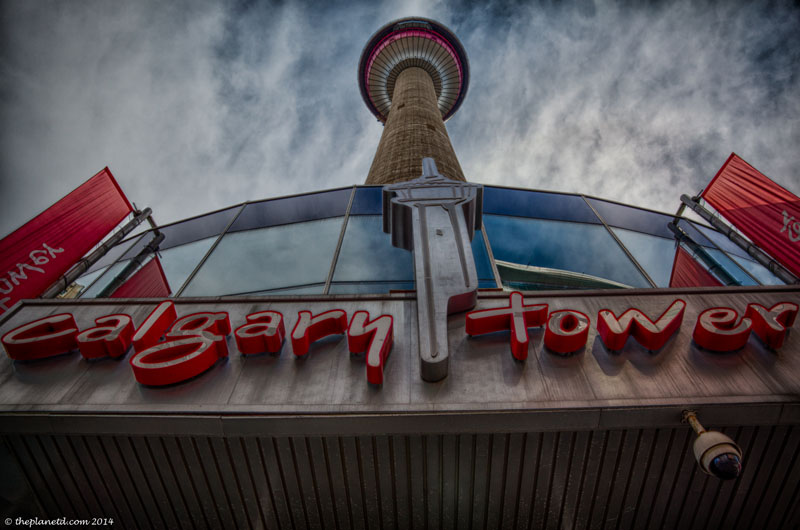 Calgary Face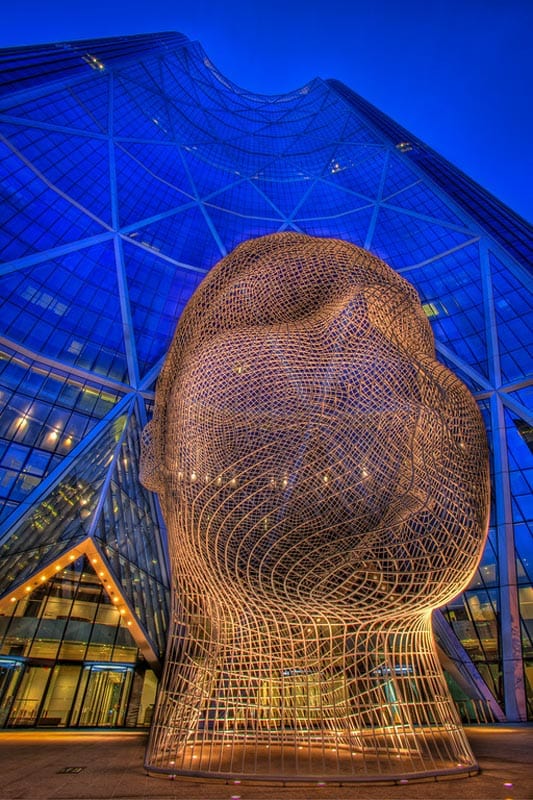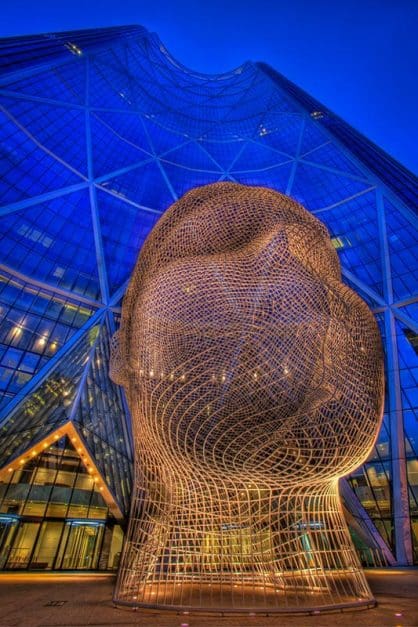 Nakiska Ski Hill
We didn't ski at Nakiska but if you are staying in Calgary this is the closest ski hill to the city. It has high-speed chair lifts and is a great place for beginners.
Heli Hike and Snowshoe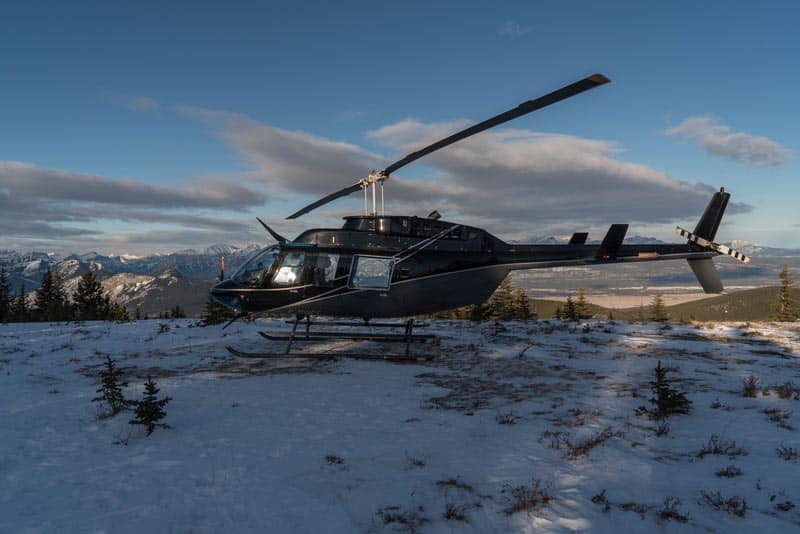 Located just an hour from Calgary and a short drive from Canmore or Banff, Rockies Heli is one of the premier helicopter tour companies in Alberta.
Our helicopter tour took over Banff National Park to witness the famous peaks like Mt. Assiniboine, The Three Sister,s and Mount Lougheed.
This adventure offers the added bonus of landing on a peak just outside the park to go snowshoeing where nobody else dares to go.
When landing a helicopter on the top of a mountain, you can be sure you won't see crowds of people during your hike!
Book your Alberta Helicopter tour with Rockies Heli located in two locations for your convenience
Calgary Stampede
Have you done an adventures or activity in Alberta that we've missed?
Read more:
Ice Climbing Adventure in Canmore
Pond Hockey on Lake Louise- A Good Od Hockey Game
Banff Helicopter Tours and Snowshoe