It's difficult to compete with the beauty of Alberta. Whether you visit in winter or summer there are so many things to do in Alberta you'll want to keep going back again and again. At least that is what happened to us, we've had the pleasure of visiting Alberta on several occasions in all seasons.
Trust me, if you visit Alberta, you'll be the envy of all your friends when you share photos of the Canadian Rockies on your Instagram feed.
The Best Things to do in Alberta
This guide shares the very best things to do in Alberta that we have done over the past 10 years of traveling to all corners of this great Canadian province.
Banff and Lake Louise
Banff National Park is Canada's first national park and its most beautiful. There's a reason this is one of the most popular places to visit in the country.
A visit to Alberta wouldn't be complete without exploring Banff and Lake Louise, so let's dive into what you can do in Banff.
Canoe or Hike Around Lake Louise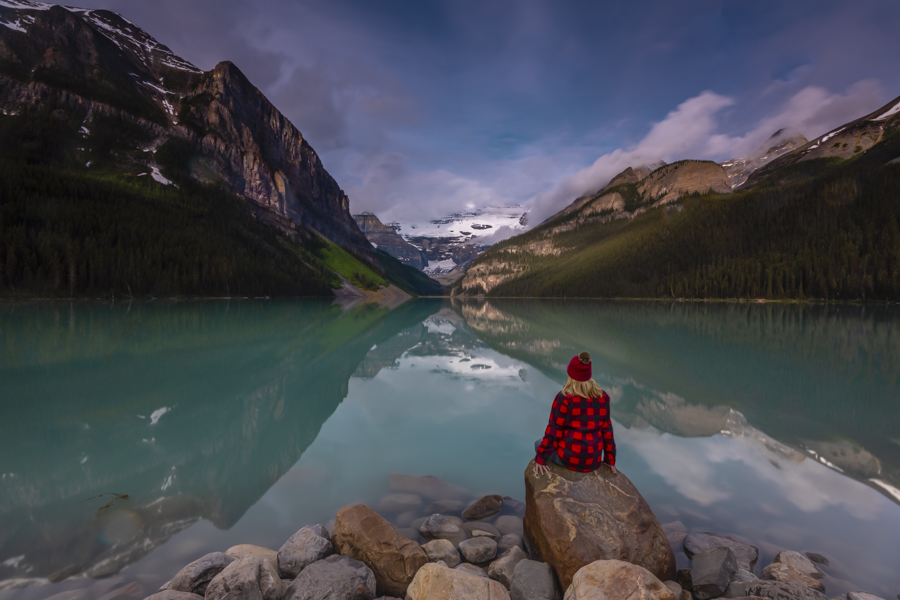 I'll never forget witnessing Lake Louise for the first time. It took my breath away. Victoria Glacier reflected in the still turquoise waters of Lake Louise as the Rocky Mountains loomed overhead.
The legendary Fairmont Chateau Lake Louise sits on its shores, and one could spend hours just taking in the beautiful views.
A bucket list item for anyone visiting Lake Louise is to rent a canoe and experience a true Canadian tradition.
Play Hockey on the World's Most Beautiful Skating Rink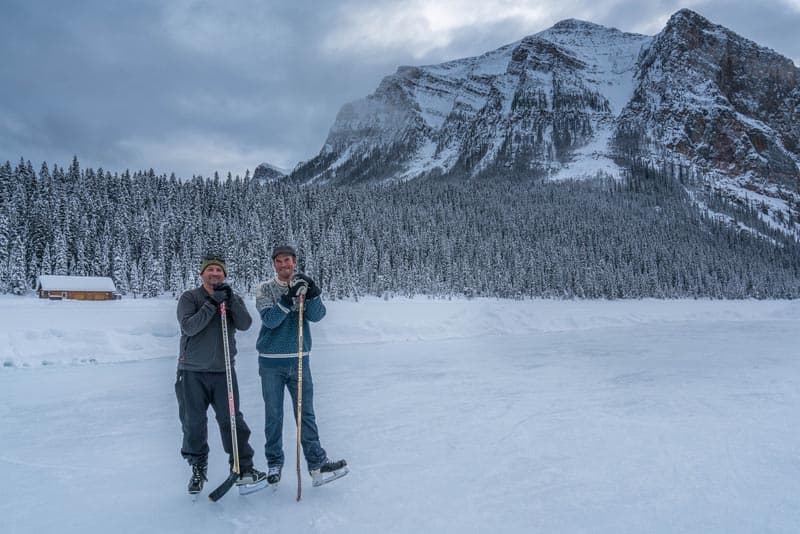 There is absolutely nothing more Canadian than playing pond hockey on a frozen lake.
And if you are going to visit Alberta in winter, you better skate on the world's most beautiful skating rink!
Located directly in front of the Fairmont Chateau Lake Louise, the rink attracts visitors from around the world whether they can skate or not!
You can rent hockey gear from the hotel or from Wilson Mountain Sports.
Hike or Ski into Backcountry Lodges
There are several backcountry lodges in Alberta that make for an amazing active adventure that ends with a luxurious stay in a remote lodge.
We visited Sundance Lodge when exploring Banff and fell in love with the beauty of the area.
In the winter you can head out to lodges by cross country skiing or snowshoeing.
In the summer you can hike or go by horse. Whichever season you visit Alberta in, a backcountry lodge is an experience you'll never forget.
Walk through Johnston Canyon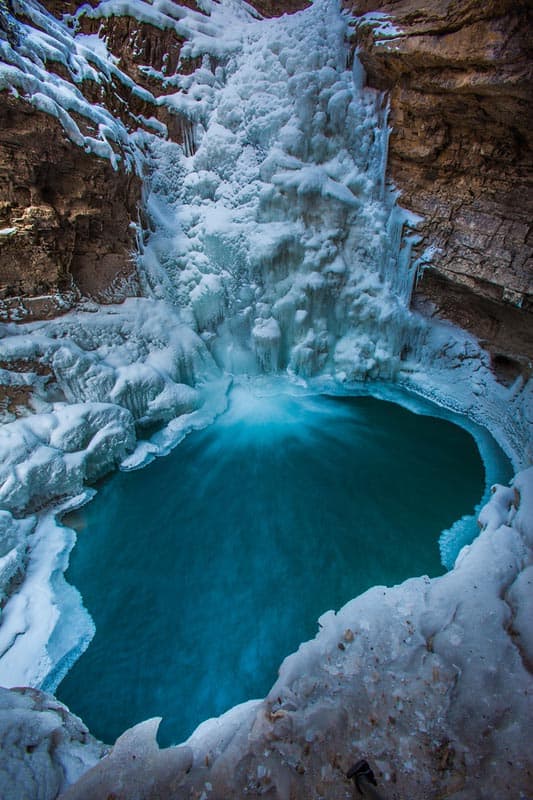 Johnston Canyon is open winter and summer and is beautiful no matter what time of year you go. In fact, we think it truly comes to life in the winter!
Discover Banff Tours offers guided scenic winter walks and let me tell you, this is one of the most stunning walks we've ever taken.
The steel catwalk runs 2.5 miles through a picture-perfect limestone canyon.
Go Up the Banff Gondola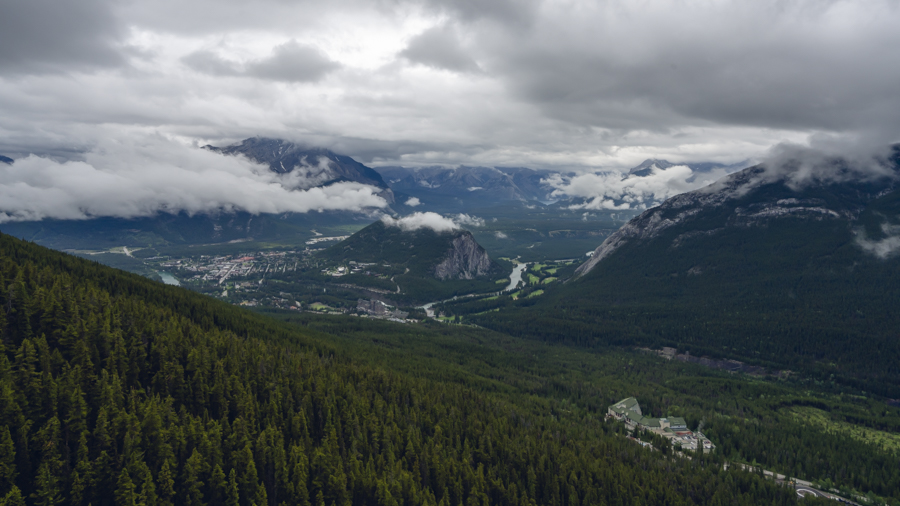 The Banff Gondola gives you incredible views of the Rocky Mountains and the village of Banff.
If you don't have the chance to ski or snowboard at Lake Louise or Sunshine Resort, this is a perfect way to get up into the Rocky Mountains and take in the extraordinary views.
There's a museum, and restaurant at the top and there are hiking trails to get outside.
Photograph Alberta's Most Iconic Sites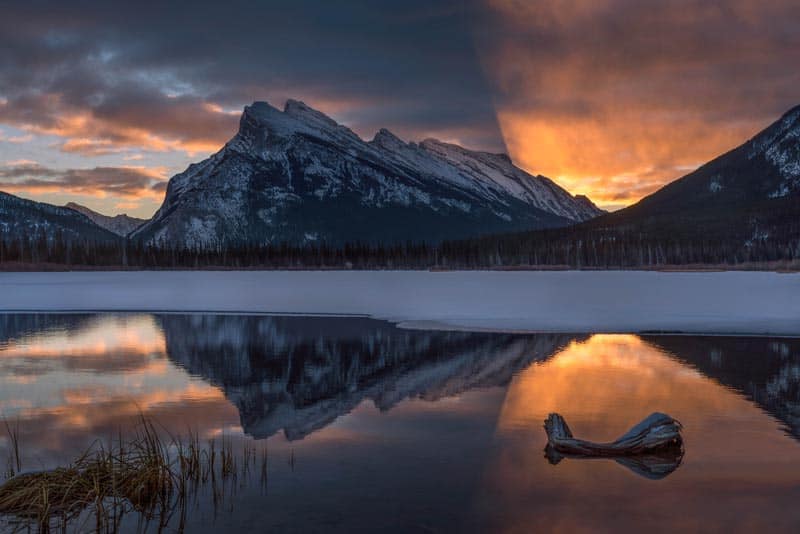 Bring home your own memories on a photo tour with Rocky Mountain Adventures.
Alberta is known for its picturesque landscape attracting top professional photographers from around the world.
Best Places to Photograph in Banff:
Bow Lake
Vermilion Lakes
Lake Minnewanka
Lake Louise
Moraine Lake
Cruise Lake Minnawanka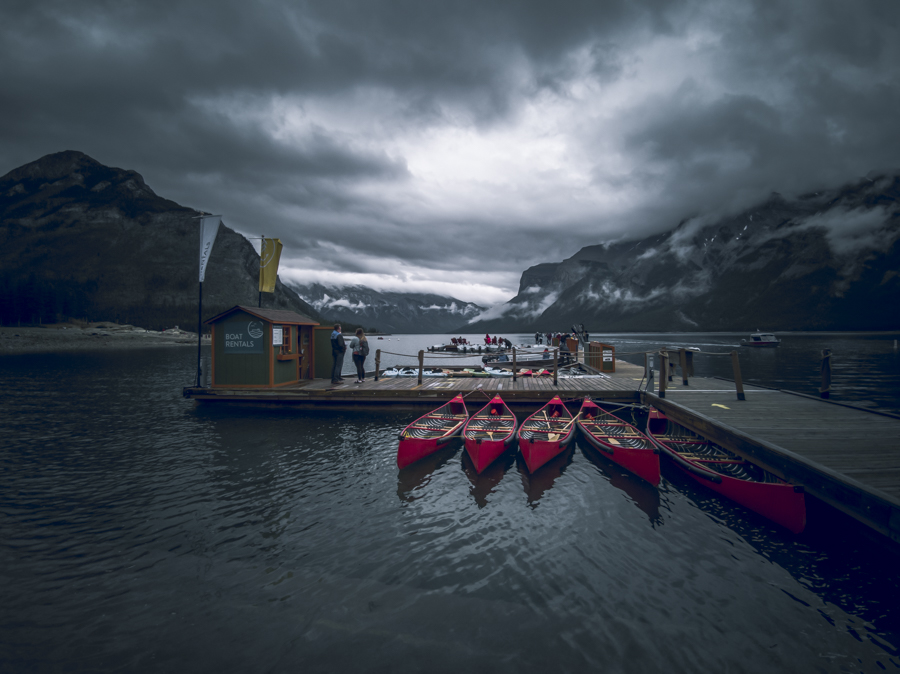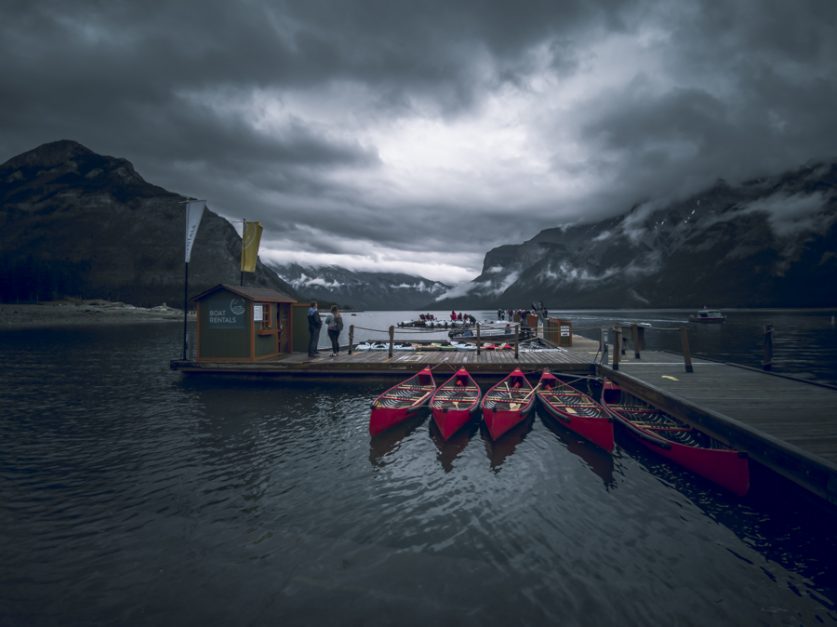 Lake Minnewanka is a popular spot in Banff for hiking, night photography and for taking a scenic cruise.
The guides are fantastic and you learn all about the monster that drew visitors to this lake in the early 1900s.
Explore Cave n' Basin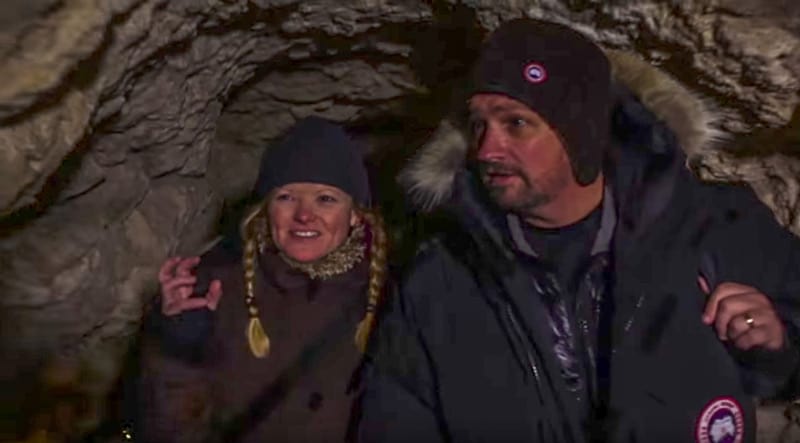 Discovered by railway workers back in 1883, Cave n Basin is where Canada's National Park System began.
To attract visitors to Banff, Canada opened the first National Park and visitors flocked to swim and relax in the hot springs.
Today it is a national historic site and there is no swimming in the pool to protect the endangered snails that inhabit the pool.
Soak in the Banff Hot Springs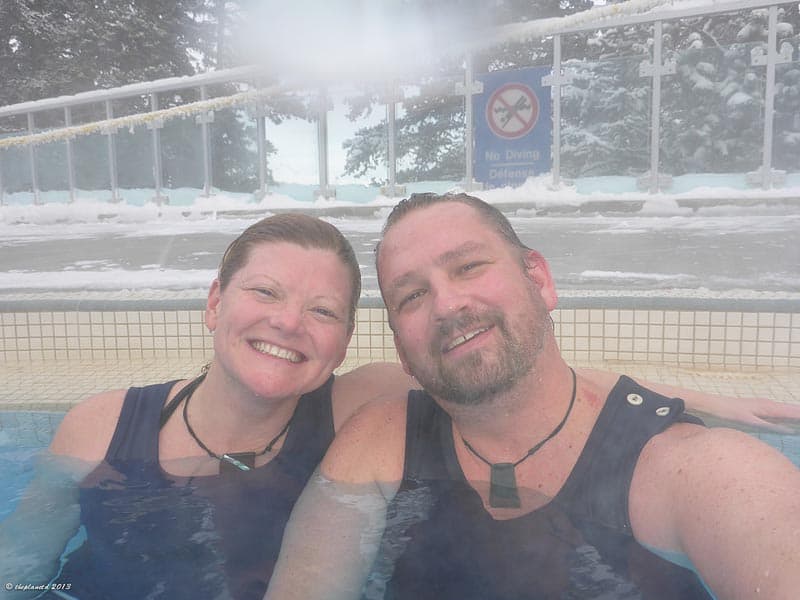 Banff Hot Springs is world-famous for its natural springs and outstanding view!
The Hot Springs aren't the most luxurious of destinations but they are a hoot to relax in the hot water looking at the landscape.
Plus, you can rent old fashioned bathing suits and pretend you are an aristocrat visiting Alberta like they did back in the days when the great railway made its way through the Rocky Mountains.
Skiing in Alberta
There is no going to Alberta in winter without going skiing or snowboarding.
Banff National Park houses three different ski slopes.
Discover Sunshine Village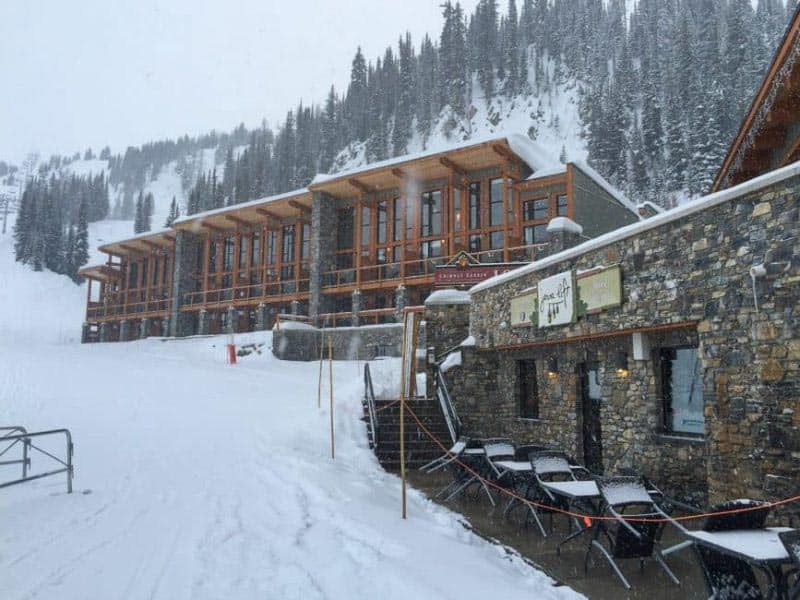 We love Sunshine Village because it has the Sunshine Mountain Lodge located right at the side of the hill offering the only ski in ski out adventures in Banff.
It also has Banff's largest hotel hot tub where after a day on the boards, you can soothe your aching muscles in the tub.
Ski Lake Louise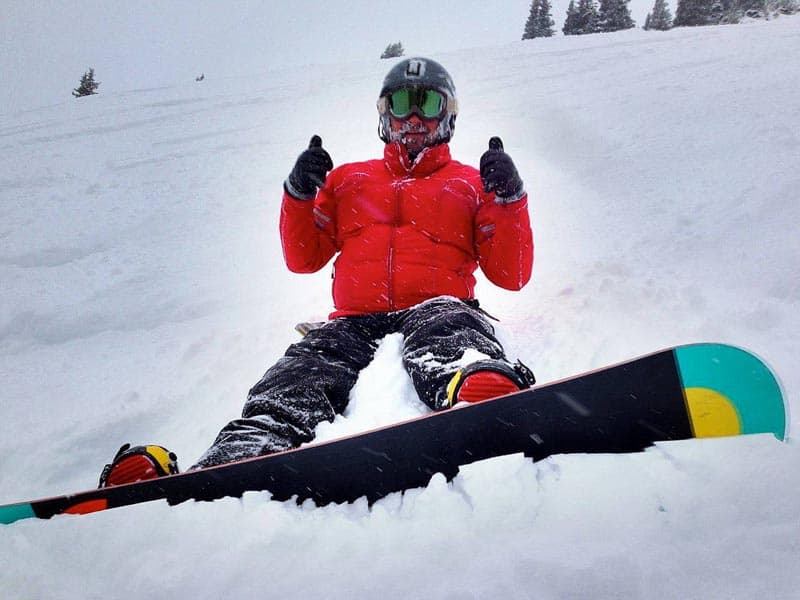 With 4200 skiable areas in one of the largest ski destinations in North America, this is not to be missed.
There are trails for all levels of Skiing and Snowboarding.
Lake Louise is on the World Cup Circuit with a Terrain Park and a Snowcross Course.
It's Epic. Check out more on Snow Boarding Lake Louise
Icefields Parkway
The Icefields Parkway is considered one of the most beautiful drives in the world and with good reason!
Surrounded by the Rockies, this drive takes you from Banff to Jasper with lookouts at every turn!
These are a few of the must stop places along the highway.
Dare to Walk the Glacier Skywalk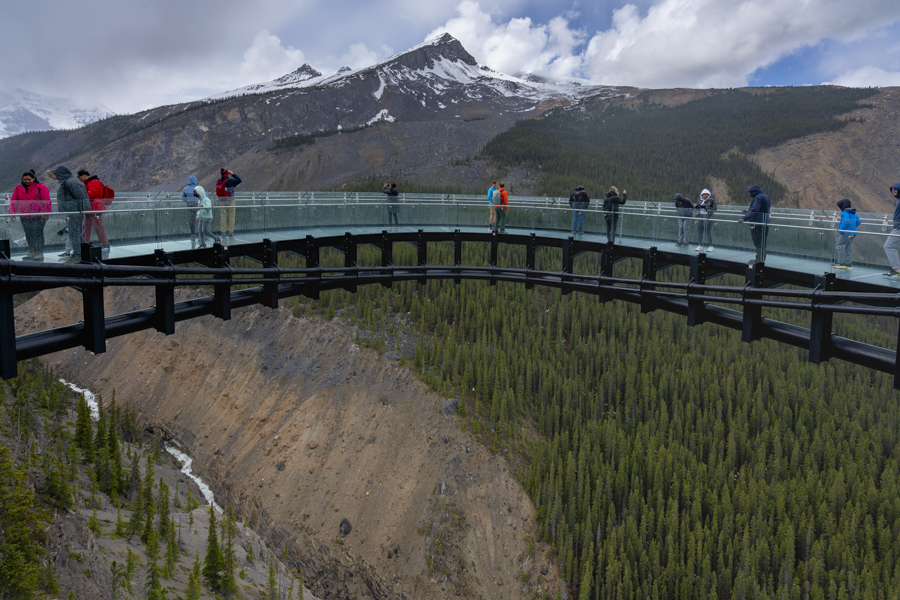 This is one of Alberta's newest attractions and it is definitely the most eye catching.
Walk along a glass floor that drops 280 m (918-foot) over the Sunwapta Valley if you dare.
Reflections of Bow Lake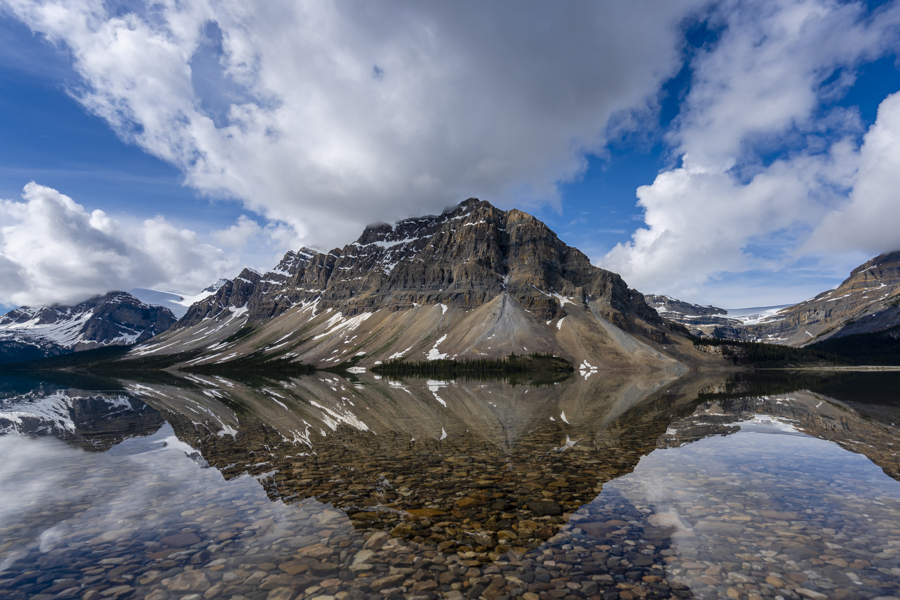 Our favourite lookout along the Parkway is Bow Lake with the most extraordinary reflections you'll ever see.
Athabasca Glacier at the Columbia Icefields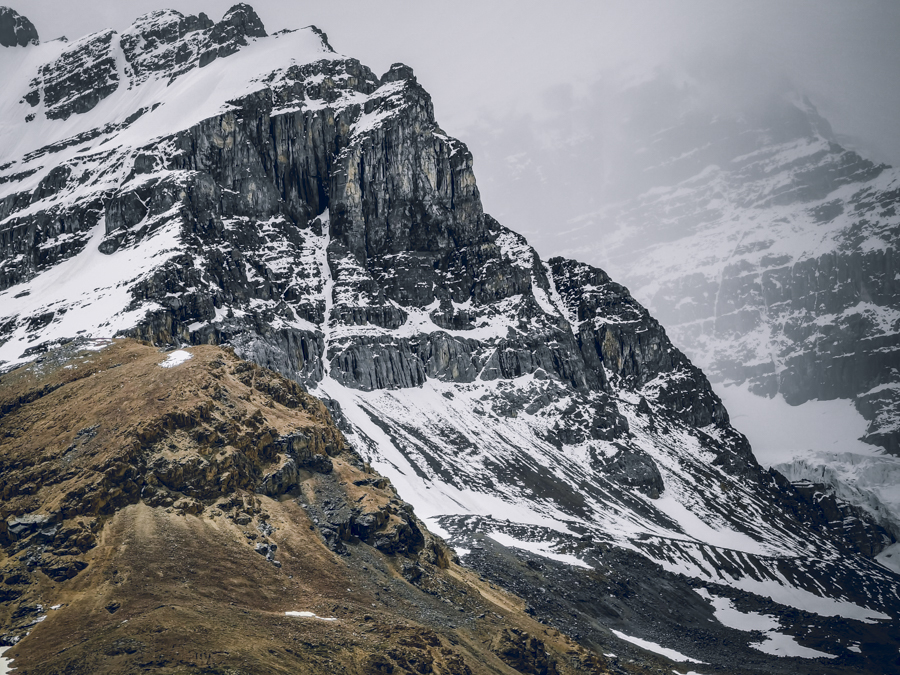 The Columbia Icefields is North America's largest sheet of ice and on it you can discover the Athabasca Glacier located directly on the highway.
Take a tour to see this massive glacier up close. You can even drive on a glacier vehicle to go out and witness the giant crevasses up close!
Jasper National Park
When you come to the end of the Icefields Parkway drive, you arrive at the incredible Jasper National Park. Famous for its dark sky festival and gorgeous rocky mountain views, this is a place to spend a few days when planning a trip to Alberta.
And here are the top things to do in Jasper National Park.
Hike Maligne Canyon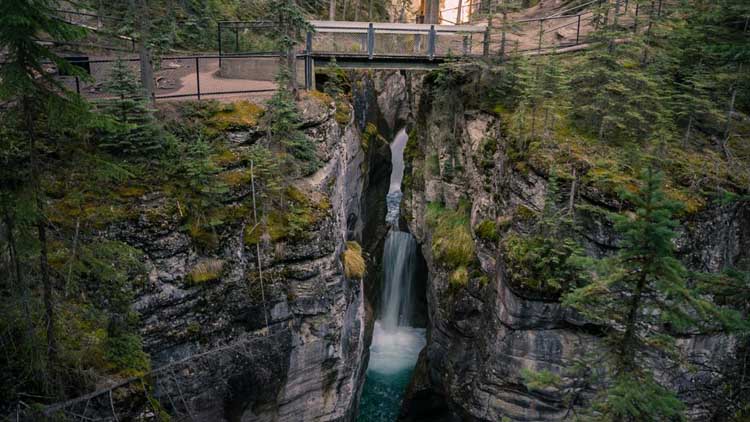 Maligne Canyon is my top recommendation for things to do in Jasper. It is a stunning hike through a canyon dropping 50 metres (154 feet).
With waterfalls and bridges, walking trails and scenic views, this is not to be missed!
Sunrise at Pyramid Lake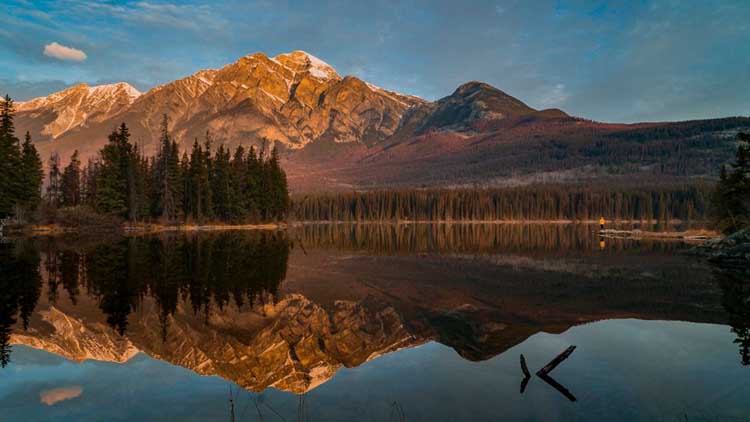 Maligne Lake is the top lake for visitors to see in Jasper, but our favourite was certainly Pyramid Lake.
With beautiful reflections of a pyramid shaped mountain twinkling in the still waters, it's easy to understand how it got its name.
Go in the morning at sunrise to see for yourself.
Stay at the Fairmont Jasper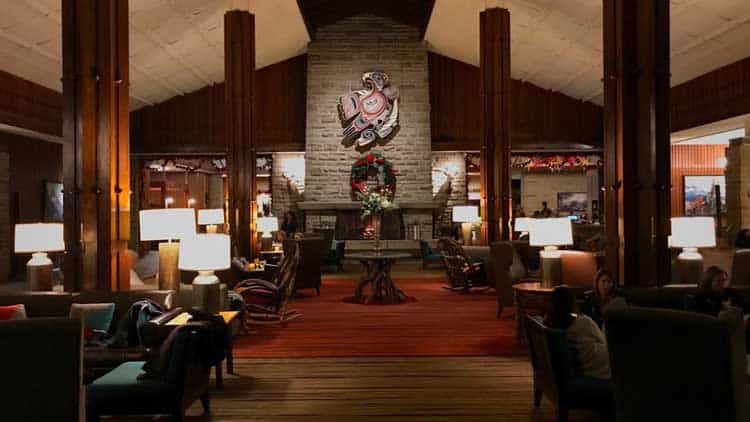 Staying at the Fairmont Jasper Park Lodge is an attraction unto itself. The rustic setting of luxurious and chic log cabins is set on the shores Lac Beauvert. The Queen of England has graced these grounds. If it's good enough for her, it's good enough for us! .
Ride a Side Car Motorcycle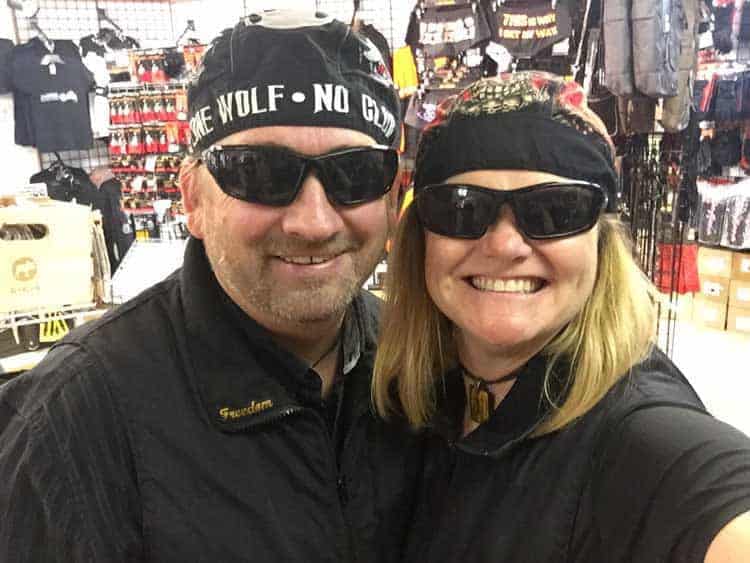 Our favourite excursion in Jasper is hands down the side car motorcycle tour. This is the coolest ways to explore the roads of the Rocky Mountains.
Hop in a Harley Davidson Motorcycle and take off to the high viewpoints of the Rocky Mountains from Downtown Jasper. It's one of the coolest and most unique things to do in Alberta that is for sure.
Canmore
Canmore is located just outside Banff National Park and has turned into a destination unto itself.
These are our favourite things to do!
Visit a Wolfdog Sanctuary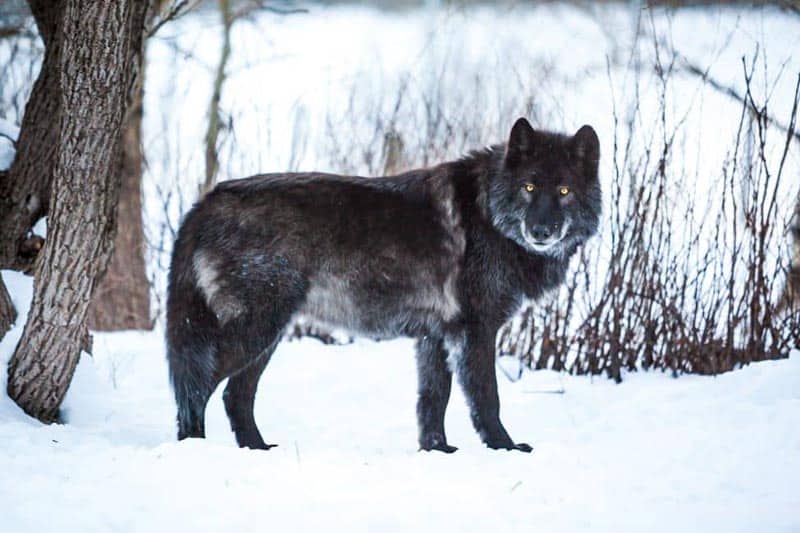 The Yamnuska Wolfdog Sanctuary is a rescue centre for wolfdogs to rehabilitate abandoned and neglected wolf dogs.
Wolfdogs are part wolf and part dog and often end up being too much for dog owners who don't realize what is involved in owning a wild animal. The sanctuary rehabilitates the dogs and finds them new homes.
Visitors can sit with the wolfdogs and watch them interact and behave in their natural habitat.
The wolfdog sanctuary is a magical experience visit their website for more details. Yamnuska Wolfdog Sanctuary
Rock Climbing in Canmore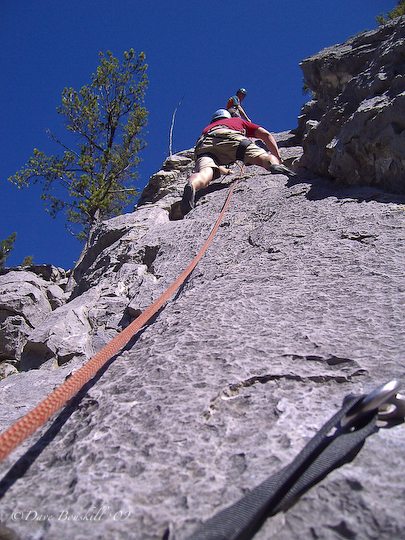 Alberta is home to some of the best rock climbing and mountaineering experiences on earth. When in Canmore, be sure to get out on a wall for some great sport climbing routes.
Yamnuska Mountain Adventures in Canmore offers guided ice climbing and rock climbing excursions with professional Rock Climbers.
Swing and Ax at Ice Climbing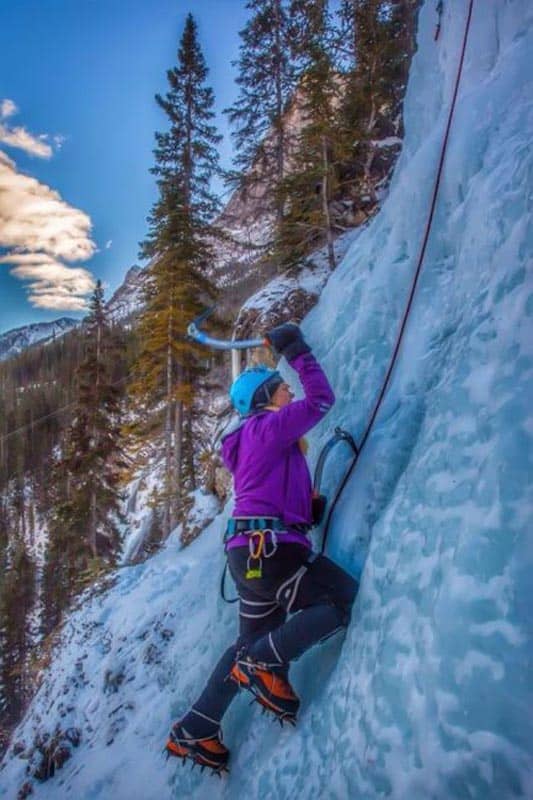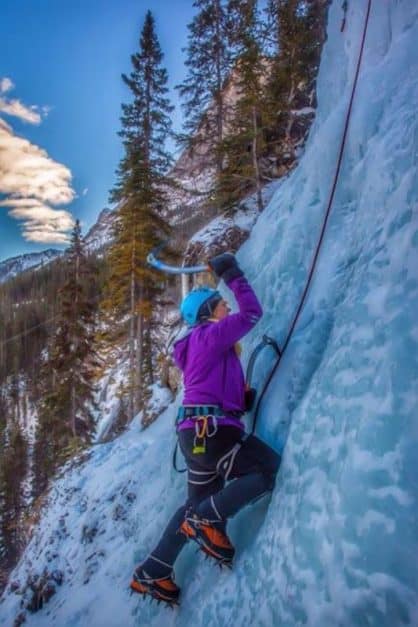 If you are looking for an adventure that gives you the ultimate adventure travel bragging rights, ice climbing in the Rocky Mountains is a must.
Canmore is the ice climbing mecca of the world drawing top athletes to its routes each year to train and explore.
We've done both Rock Climbing and Ice Climbing in Canmore and they are both a thrill of a lifetime.
Skijoring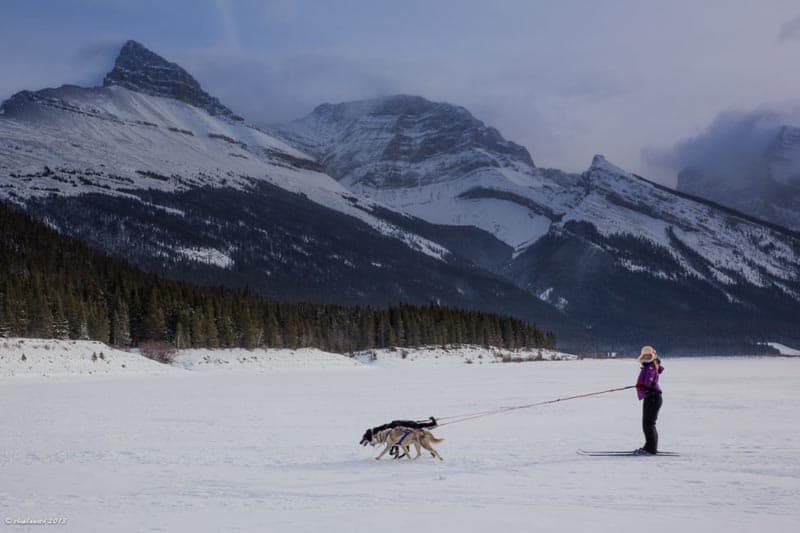 What on earth is skijoring you ask?
It's a mix between cross country skiing and dog sledding. Skijoring was invented in Norway, but Alberta has embraced it.
We met Russell Donald of Mad Dog and Englishman Sled Dog Expeditions at Spray Lake outside of Canmore.
Skijoring was a thrill of a lifetime as two sled dogs pull you across the lake at breakneck speeds.
Looking for more things to do in Alberta that involve dogs? See the Best Place to go Dogsledding in Banff
Soar High in the Sky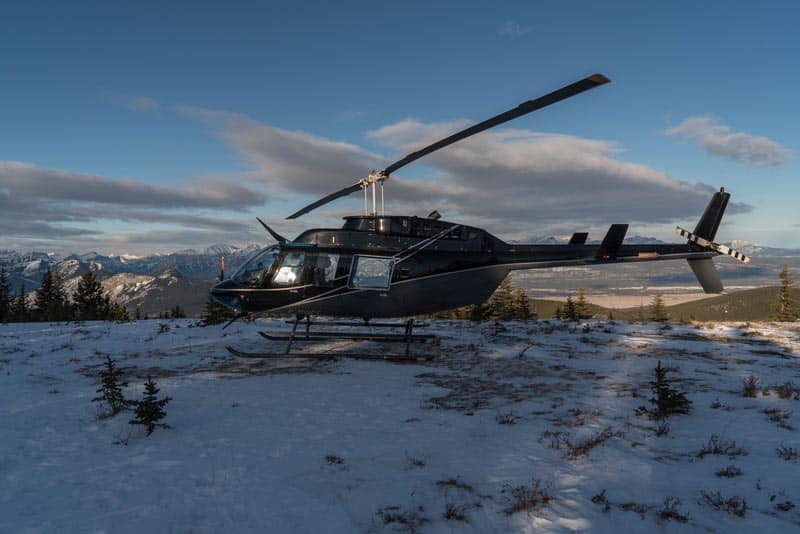 Located just an hour from Calgary and a short drive from Canmore or Banff, Rockies Heli is one of the premier helicopter tour companies in Alberta.
Our helicopter tour took over Banff National Park to witness the famous peaks like Mt. Assiniboine, The Three Sister,s and Mount Lougheed.
This adventure offers the added bonus of landing on a peak just outside the park to go snowshoeing where nobody else dares to go.
When landing a helicopter on the top of a mountain, you can be sure you won't see crowds of people during your hike!
Book your Alberta Helicopter tour with Rockies Heli located in two locations for your convenience
Go Snowshoeing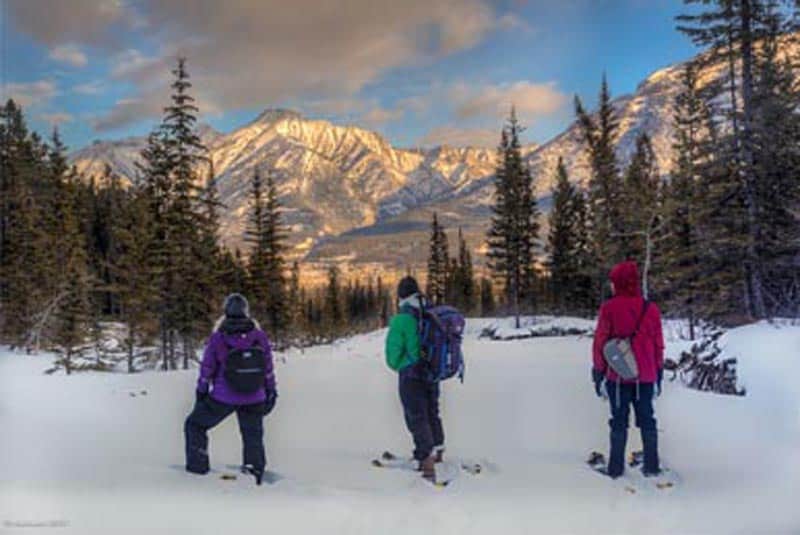 Canmore became popular as the population grew in Banff National Park.
It's now a town filled with outdoor lovers and very healthy people.
You can do a lot of activities directly from town and we went snowshoeing from Canmore.
It wasn't long before we were surrounded by mountains and treated to spectacular views of the Three Sisters.
If you are new to snowshoeing, hire a guide to take you out to the backcountry safely.
Southern Alberta
It took us a few trips before truly exploring Southern Alberta but I wish we went sooner.
Southern Alberta is where the prairies meet the rockies and it is and awe-inspiring landscape of wide open valleys with those signature vast Alberta Skies.
Bar U Ranch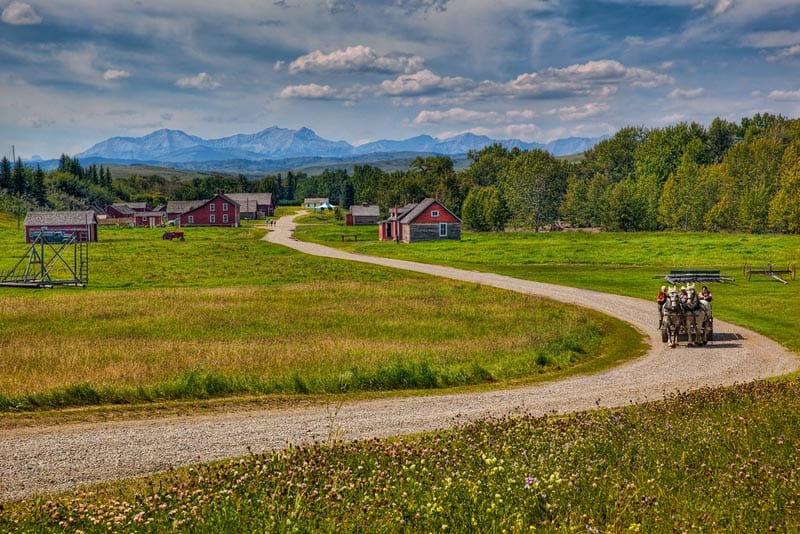 The Bar U Ranch is a National Historic Site and a very cool place to learn about Alberta's Cowboy Heritage. This was once the largest ranch in North America spanning 160,000 acres and had 30,000 heads of cattle.
The Sundance Kid worked on the Bar U Ranch and the Prince of Wales loved the setting so much, he bought a ranch right next door!
Have a cowboy coffee, try your hand at the lassoo and learn everything about Ranch Life.
Cool Fact: Deb lived on the Bar U Ranch when she was born. Her dad was the head ranch hand!
Waterton Lakes National Park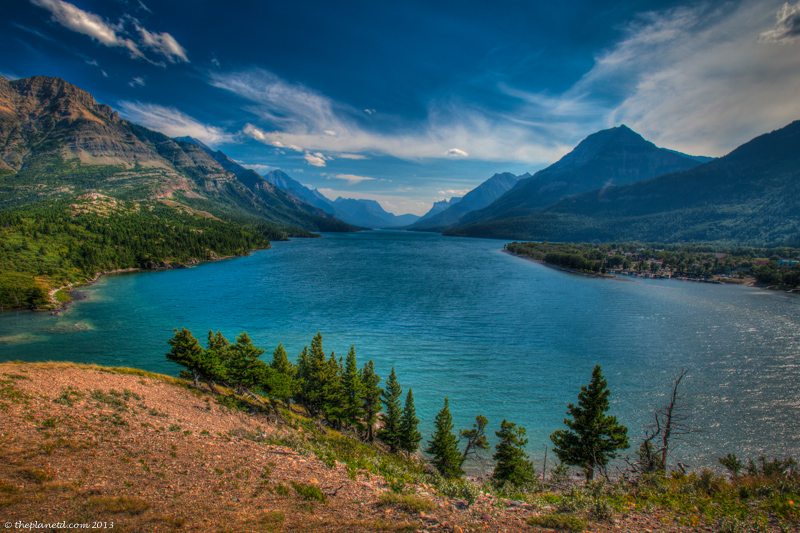 Waterton Lakes National Park is a unique nation park in the fact that it shares a border with Glacier National Park in the United States
Together, the two parks create the only UNESCO World Heritage Site, International Peace Park, and a Biosphere Reserve rolled all in one.
It is here that you can see herds of buffalo roam and go for extraordinary hikes into the Rocky Mountains.
Take a High Mountain Trail Ride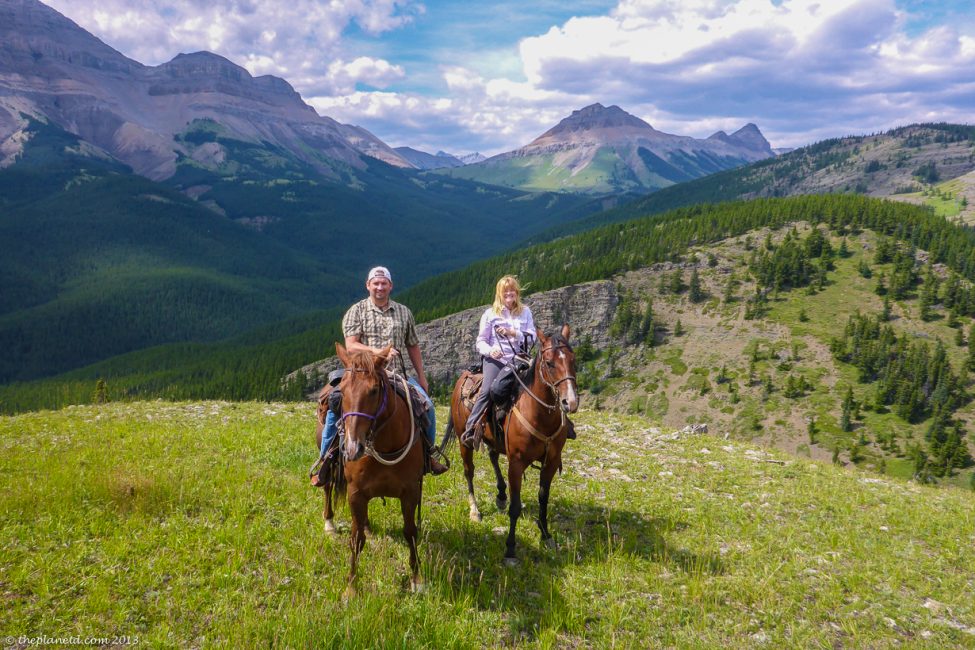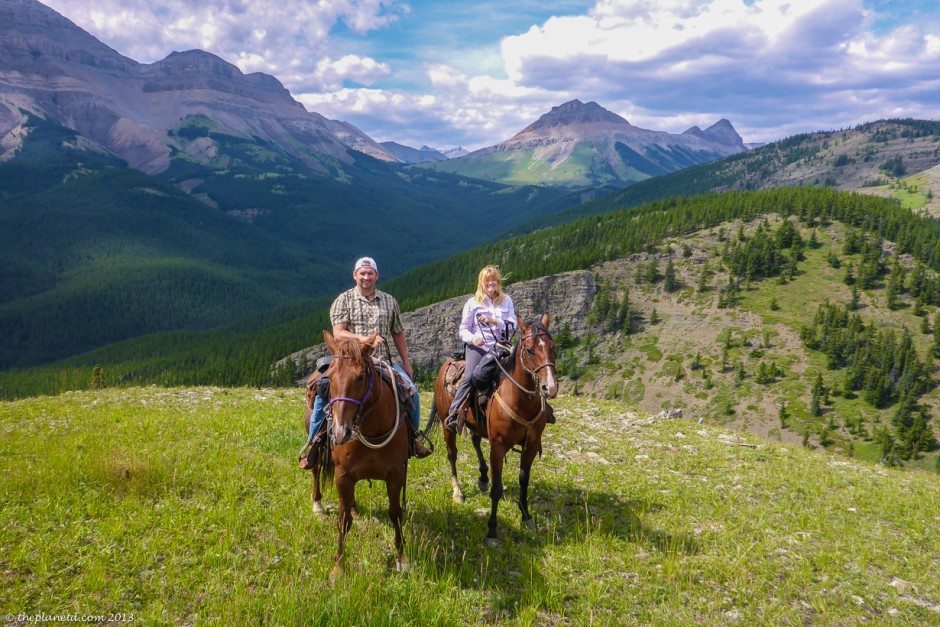 Sure, you've taken a trail ride in other places, but in Black Diamond Alberta, a high mountain trail ride takes you into the Rocky Mountains.
Hop on a sure-footed horse and bushwhack your way up a mountain trail pass to the backcountry of Alberta. If there is one time in your life to go horseback riding, this is it!
Head Smashed in Buffalo Jump

It's a UNESCO World Heritage Site and although it isn't the most exciting thing to see in Alberta, it is a very historic place to visit.
6000 years of history happened on this site where prehistoric plains people lured herds of buffalo to the edge of a cliff where they met their fate.
Crowsnest Pass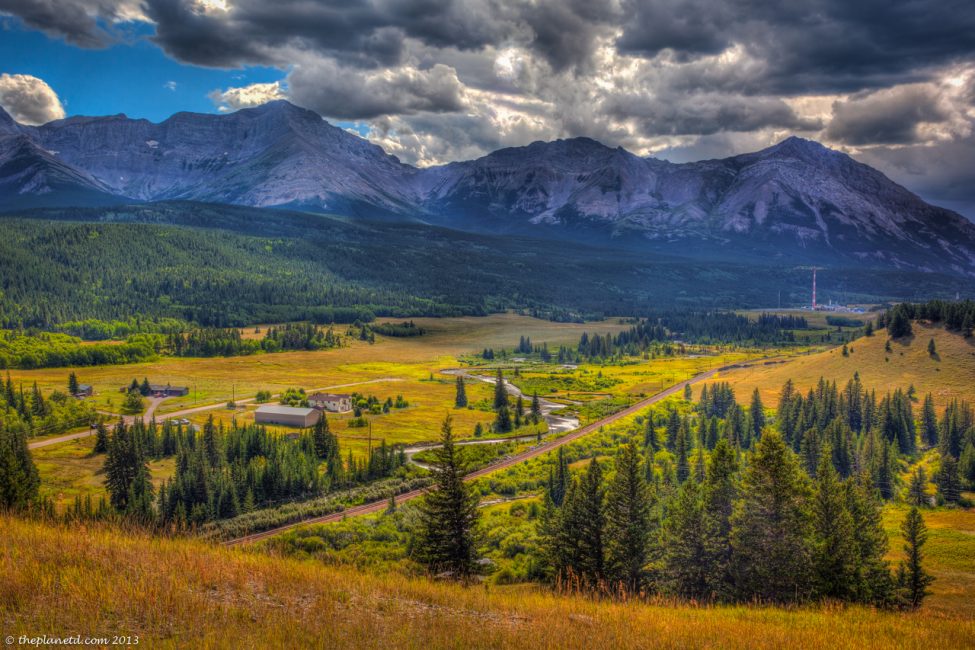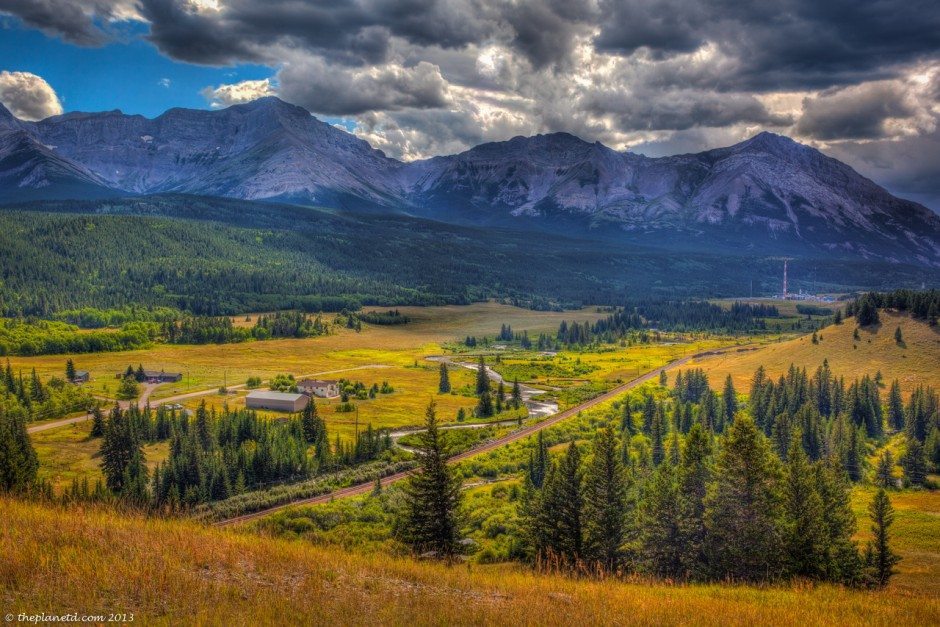 Crowsnest pass is a mountain pass along the continental divide where Alberta meets British Columbia. It is an interesting drive along this route with some cool sites to see!
Frank Slide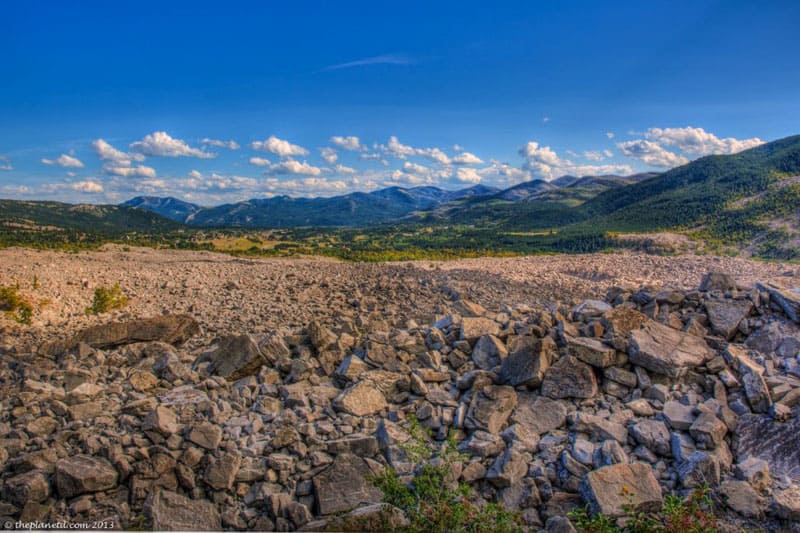 When stopping at the home of one of Canada's most deadly natural disasters, you really see the power of Mother Nature.
In 1903 the town of Frank was buried under 110 tons of rocks that broke off from tunnel mountain. Looking out from the interpretive centre shows just how far the rock slide travelled and how the town never stood a chance. 90 people lost their lives that fateful day.
Burmis Tree
One of the most unique things to see in Alberta is the lone Burmis Tree standing at the entrance to Crowsnest Pass. This tree is a symbol of endurance for the people of the region.
At years old, it is hanging on by a thread. Or I should say wire. The tree died years ago, but residents loved it so much, they saved it by wiring it together with stainless steel brackets to stablize the roots.
See it before it is too late!
Canadian Badlands
Often overshadowed by Banff and Jasper when planning for of things to do in Alberta, the Alberta Badlands are one of the most beautiful paces to visiting the province.
There are so many attractions to see, and these are the best!
Dinosaur Provincial Park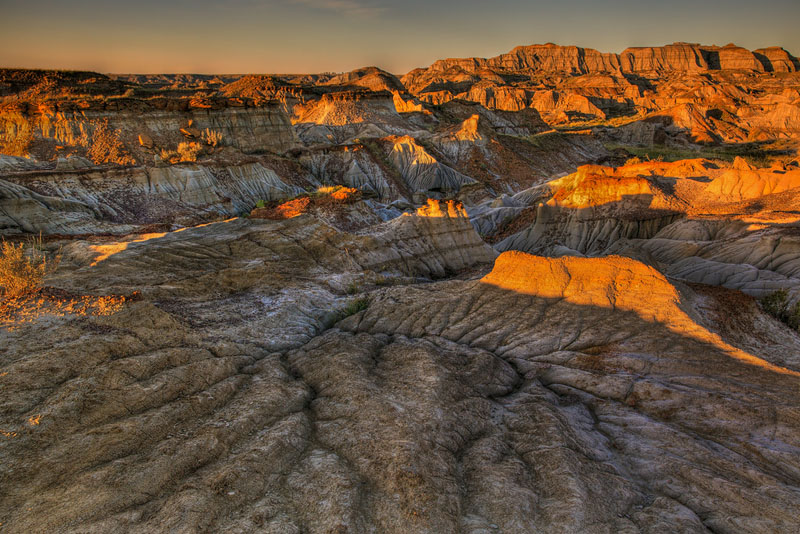 Dinosaur Provincial Park is a UNESCO World Heritage Site housing one of the largest dinosaur excavations sites on the planet.
You can take a guided hiking tour to an excavation site to see dinosaur bones and fossils.
Be sure to stay in the park in one of the glamour camping tents. Its an amazing experience.
Hoodoos of Drumheller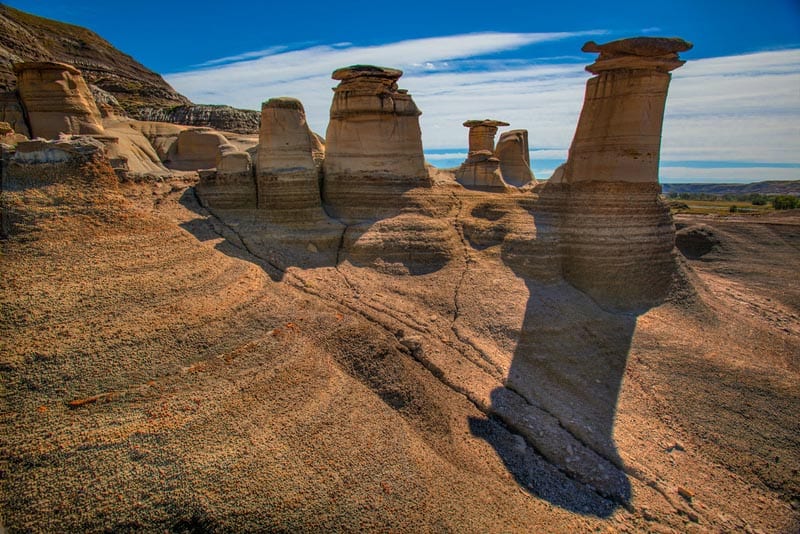 One of the most amazing sites in Alberta are the Hoodoos of Drumheller. There are hoodoos throughout the badlands, but these are the most distinct and perfect hoodoos you'll ever see in yoru life.
Located directly on the side of the road, these fragile formations are formed over hundreds of years through erosion. This tiny cluster is a wonderful display of the beauty of Mother Nature.
Royal Tyrrell Museum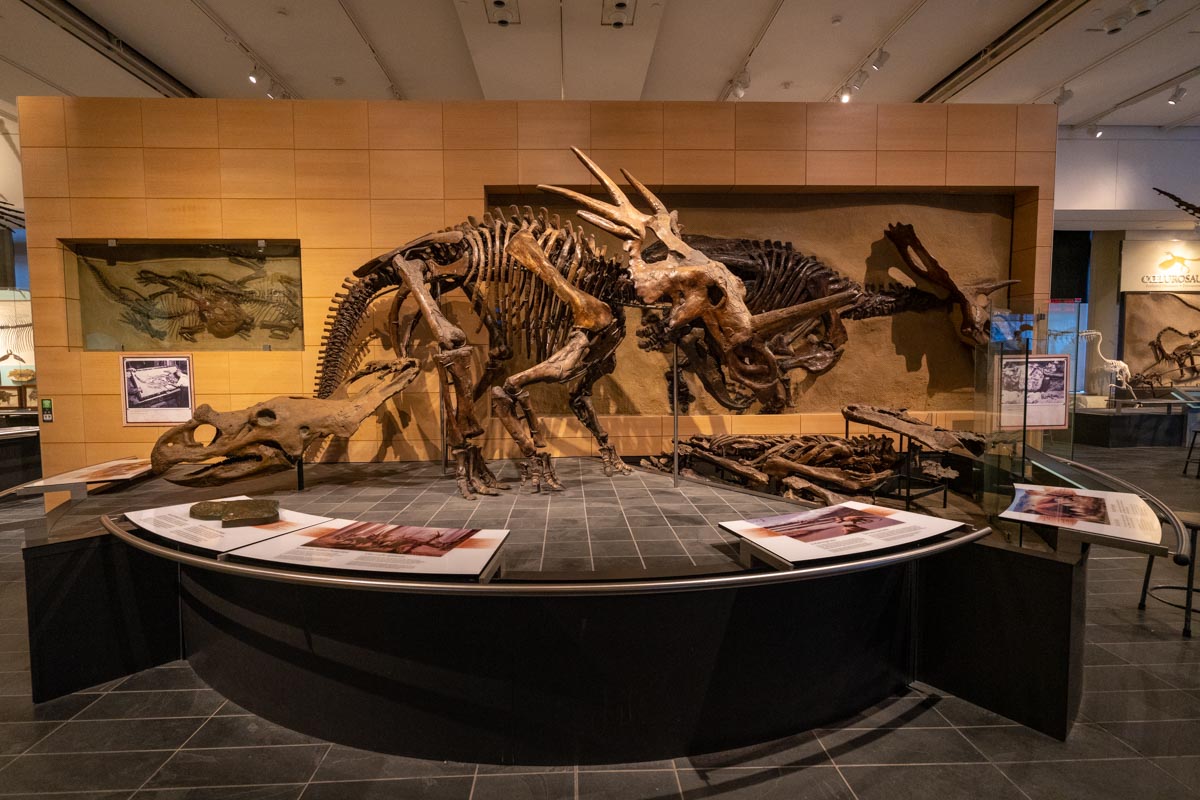 One of the best museums we've ever been to is the Royal Tyrell Museum. We've seen a lot of dinosaur bone recreations in museums around the world, but this one has the real deal on display!
Here you'll see one of the best-preserved authentic T-Rex skulls in the world and there are archeologists working in a lab on sight.
Calgary
Bobsleigh at Canada's Olympic Park – Calgary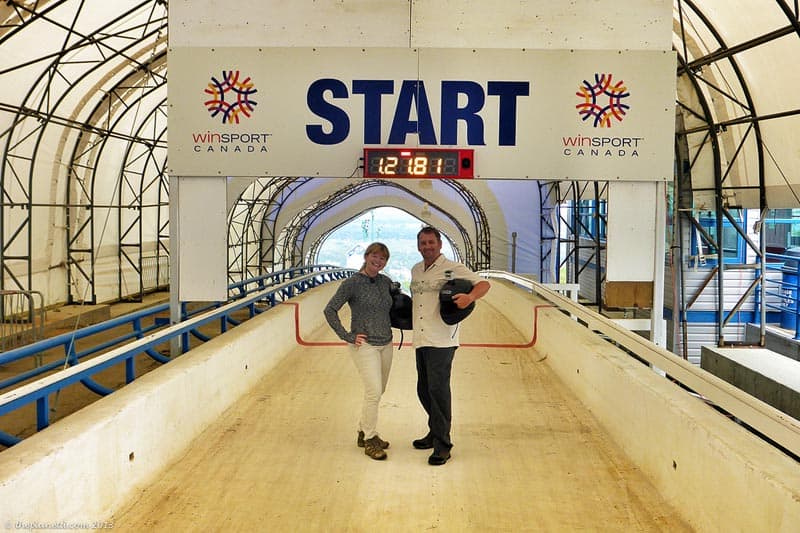 Who thought they'd ever get the chance to hop in a bobsleigh and barrel down the pipe with an Olympic athlete at steering the sled?
Bobsledders from around the world train at Calgary's Canada Olympic Park and to make some money on the side, they take tourists down their home track!
Feel the G-force push you down as you reach speeds of 125km per hour while banking the icy turns as you plunge down the World Cup track.
See our experience at Whipping Through the Olympic Village in Calgary
World's Fastest Zipline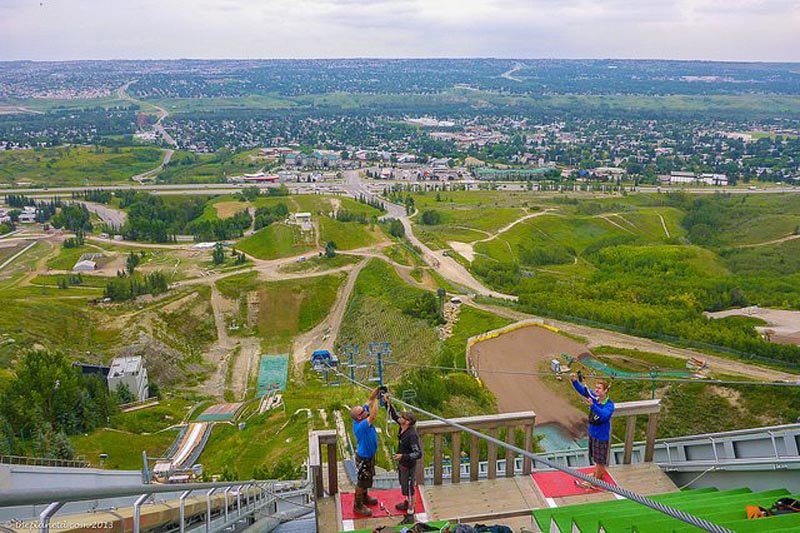 This Zipline is so fast you need to pull a parachute out when you land!
Taking off from the top of the big Olympic ski jump, this zip line is a thrilling experience!
I can only imagine the courage ski jumpers have flying off this ramp. A Zipline was enough for me!
We also took the luge down to the parking lot once we finished our extreme sports.
Calgary Tower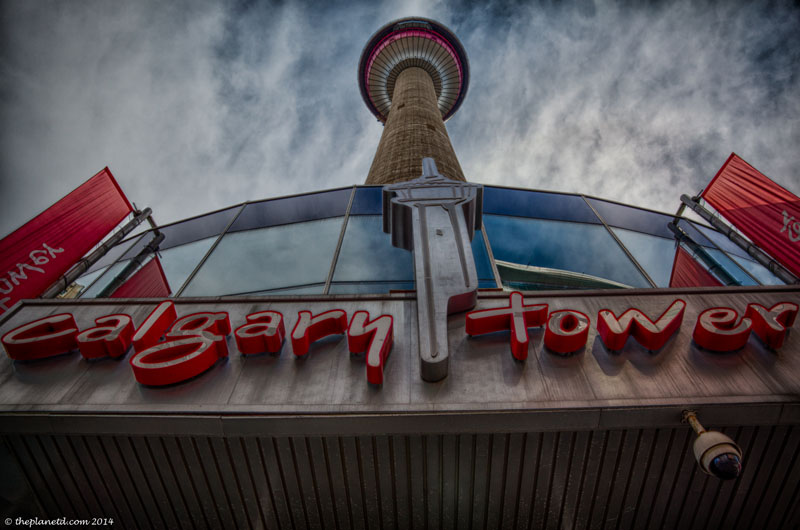 Like all world cities, Calgary has its own tower that makes for a superb lookout over the city.
Calgary Face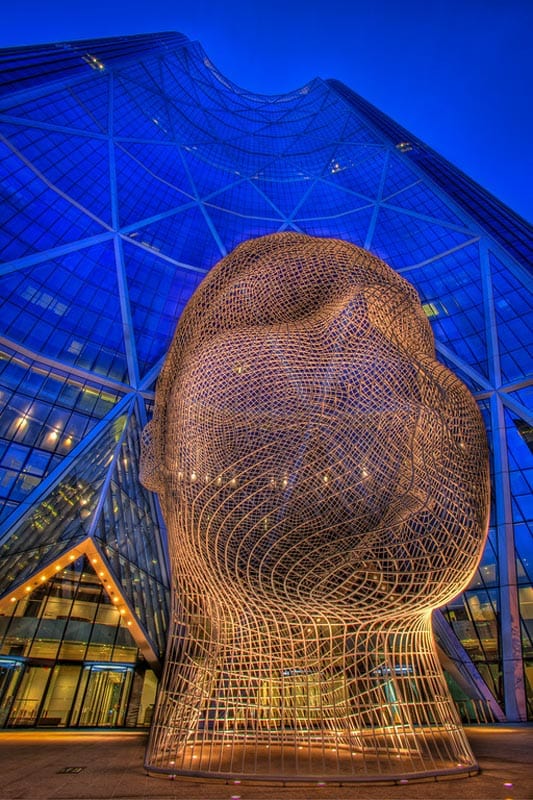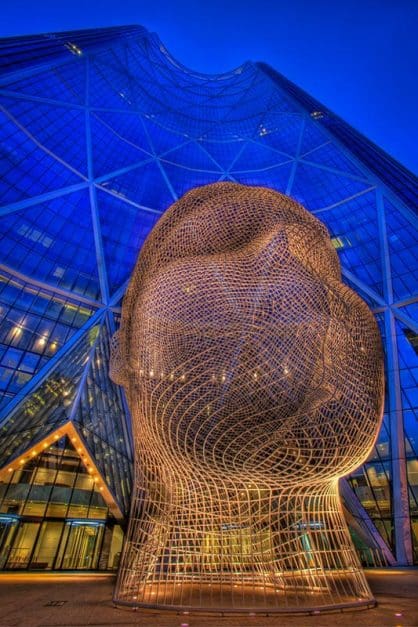 We never tire of seeing the wire art installation known as Wonderland.
Located in front of the Bow Building, the Face, attracts visitors for that perfect Instagram shot to inside the 12 metre high structure.
Calgary Peace Bridge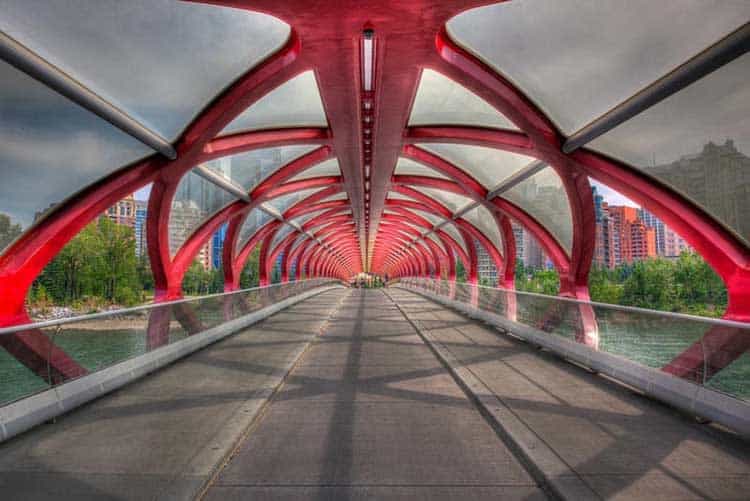 The Calgary Peace Bridge spans the Bow River from Downtown to communities across the river. It's become a popular path for cycling and an iconic symbol of the city.
Calgary Stampede
If you are in the city in June, check out the greatest outdoor show on earth. The world's largest rodeo has been running since 1912 and is the biggest ticket in town.
Have you done an adventures or activity in Alberta that we've missed?
Edmonton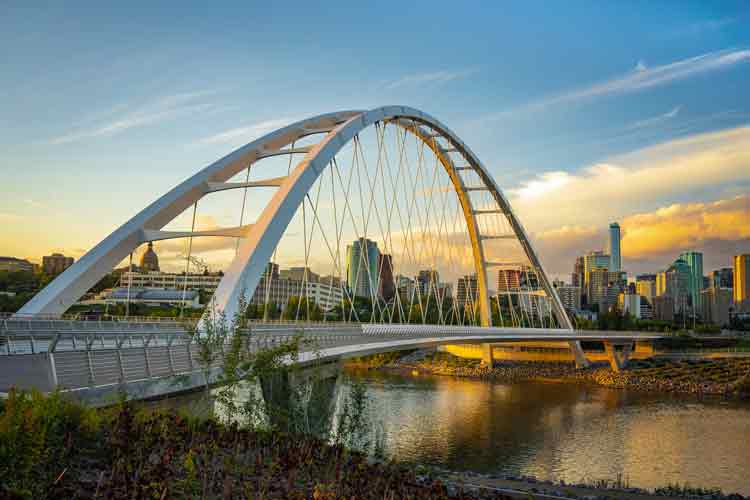 I'm not going to lie, Dave and I have been to Edmonton twice and we seem to rush our way through the city, but there are many things to do in Edmonton and we admit, we really need to go back.
West Edmonton Mall
It is North America's largest mall and probably what first put Edmonton on the map. With an amusement park, water park, and an indoor skating rink, it is the original super mall!
Read more: