The Hoodoos of Drumheller are a must-see on a road trip through Alberta.
But what is a hoodoo?
A hoodoo is a tall thin rock spire made of sandstone with a hard and dense rock sitting on top, like a hat.
Or as the sign at the park describes them: "Eroded pillars of soft sandstone rock topped with a resilient cap."
The Hoodoos of Drumheller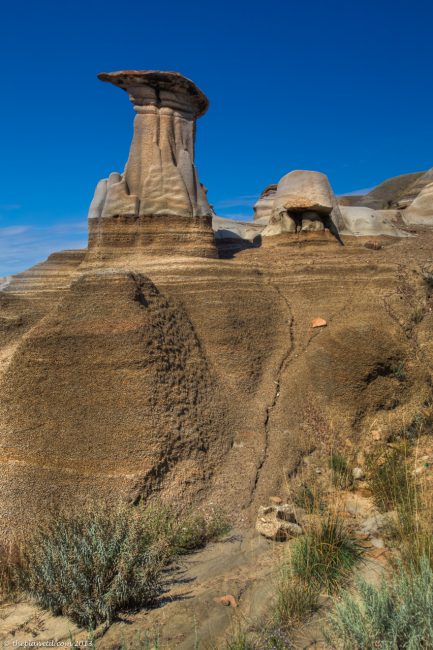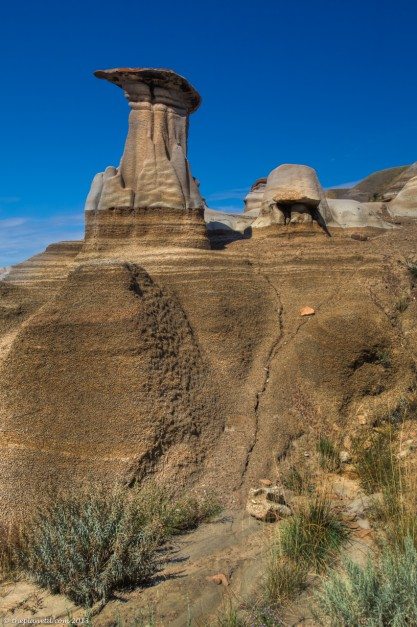 The hard rock protects the sandstone from the elements and over time, the sandstone erodes into long chimney-like formations that remain standing because the hat keeps it from completely eroding away.
Hoodoos and The Supernatural
We were pretty excited to see the hoodoos of Drumheller.
The name alone made us want to take a trip out to the Badlands of Alberta to see what they were all about.
I mean, what is a Hoodoo anyway?
We only know of them from Sam and Dean of Supernatural.
They're always talking about "Bad Hoodoo" and we always thought of it as some sort of Voodoo. As it turns out, we weren't too far off.
How do hoodoos relate to Supernatural?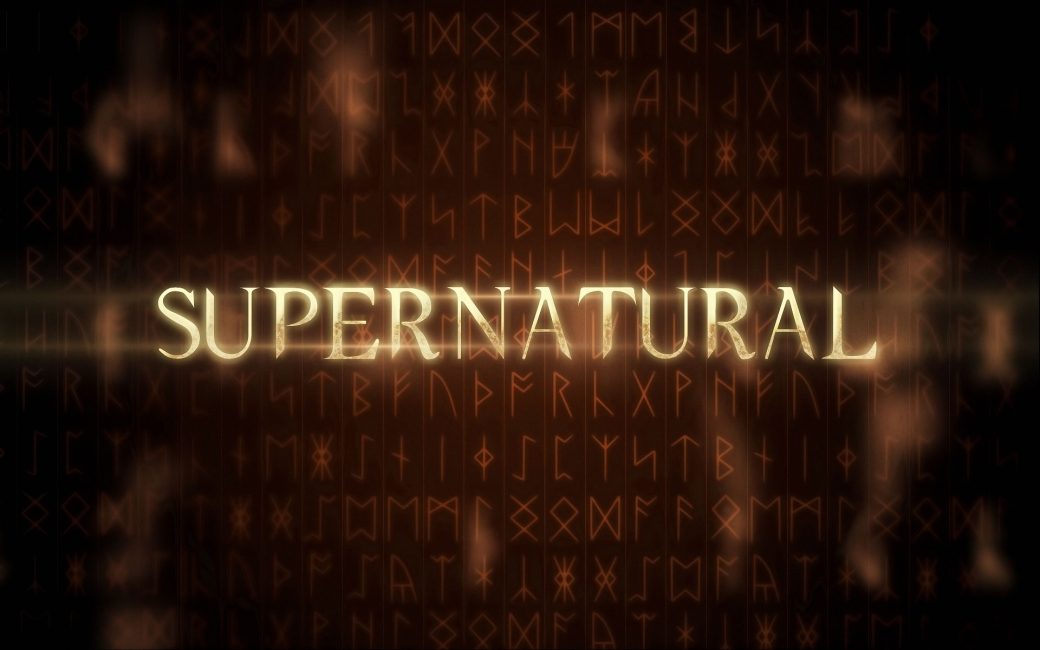 Definition of a Hoodoo
According to the sign at the Hoodoos, "The word Hoodoo comes from the Hausa Language originating in West Africa. The term hoodoo means 'to arouse resentment and to practice retribution.'
Hoodoo was a distinct magic practice introduced to North America in the 18th Century. 'Aboriginal People used Hoodoo to refer to evil, supernatural forces."
We found out that Hoodoo was also very popular in New Orleans when we visited.
There you have it! The boys at Supernatural know what they are talking about.
Hoodoo Rock – How Are Hoodoos Formed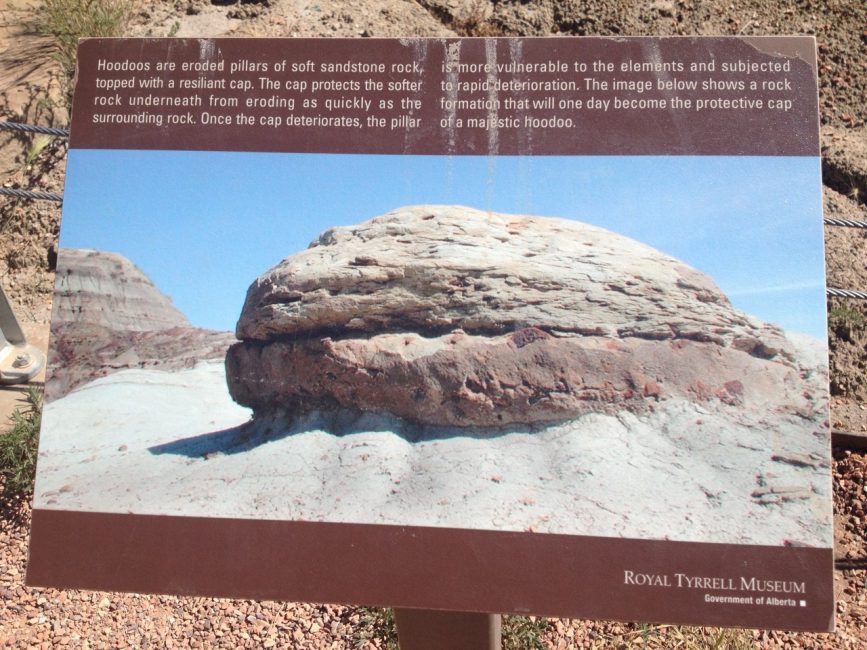 I took this photo above to show what a Hoodoo looks like in the early stages.
You can see the layers of rock here and how the harder rock on top will eventually become the cap of the Hoodoo in the very far future.
Over centuries the soft rock erodes away and the hard cap remains. You can see in the photo above that it is softer rock underneath a hard layer.
As the sandstone erodes, the it gets narrower and longer and the cap remains creating these fascinating formations.
Drumheller Hoodoos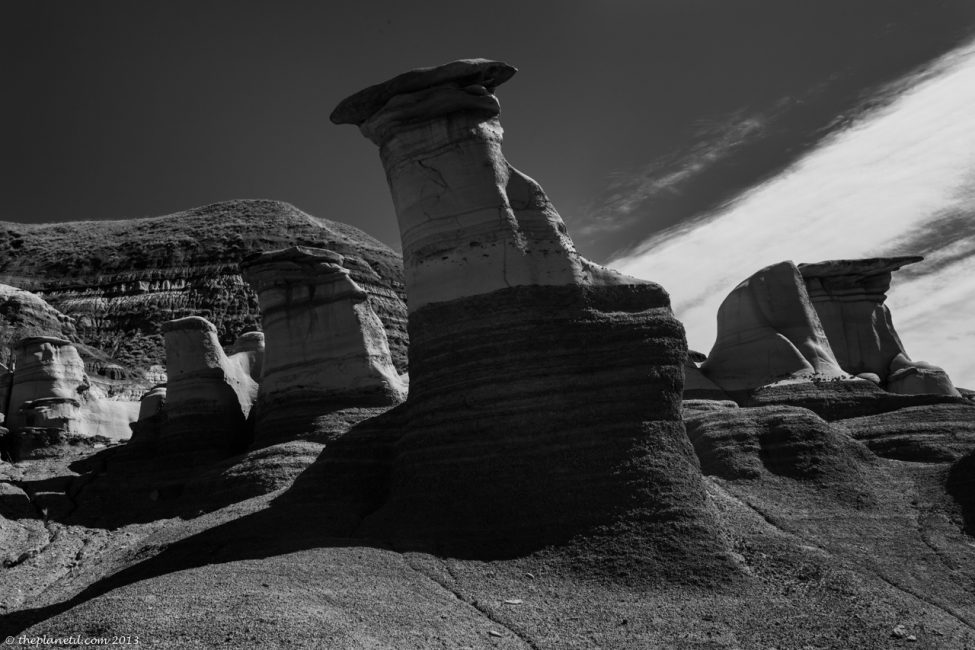 I wasn't quite sure what to expect when viewing the hoodoos.
I had visions of valleys filled with thousands of formations, and that we'd be hiking through for miles to have a look.
But when we stepped out of our car at a location on the side of the road, I said, "Is this it?" At first glance, it doesn't seem like much.
There are about seven or eight hoodoos clustered together near a parking lot with a protected barrier around them.
There is a walkway around them so that you can see every angle, but you can't go near them.
I didn't realize that the Hoodoos were just in one spot and were a tourist attraction.
For some reason I thought all Hoodoos look like this and that these formations would be scattered all over the landscape of a barren desert.
But I was wrong, the Drumheller Hoodoos are definitely special and while there are hoodoos everywhere, none are so defined and striking as the cluster at Drumheller.
The Hoodoo Site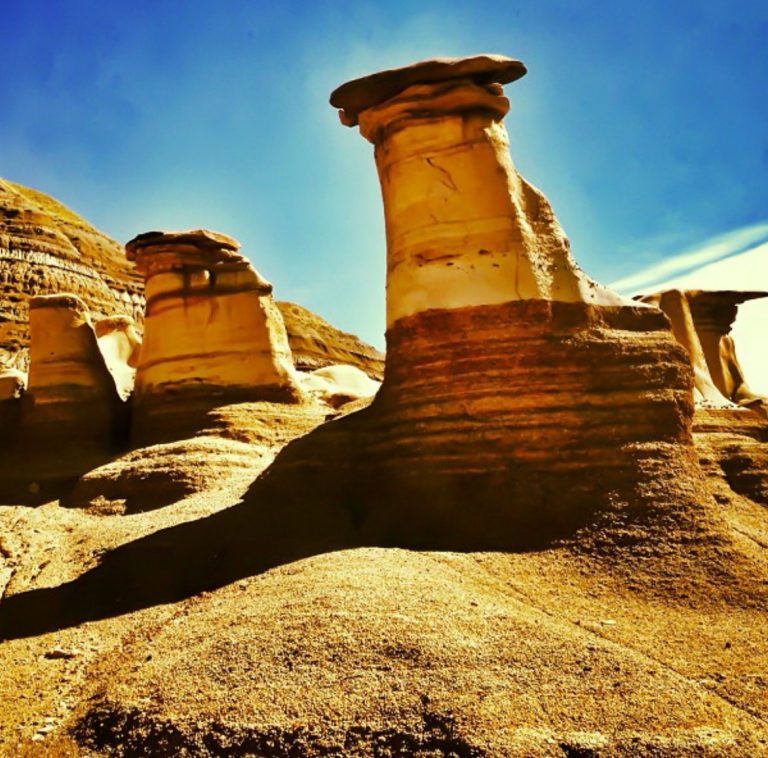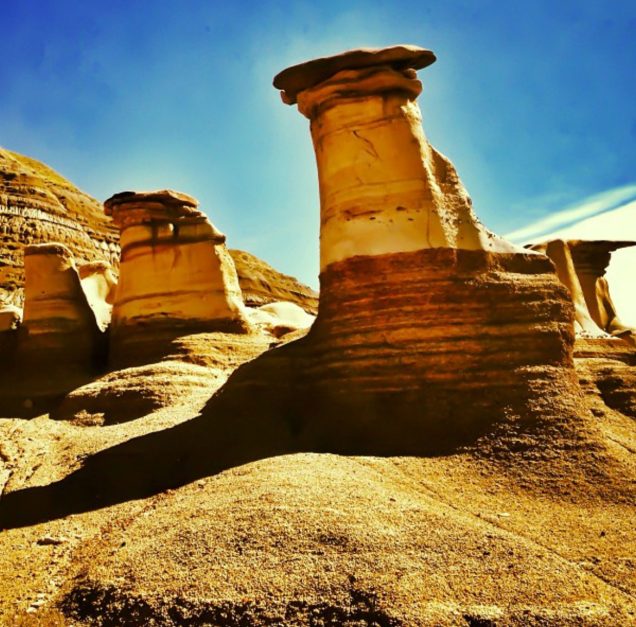 When we got out of the car, I thought we'd stay for about 10 minutes or so.
But once we started exploring, we stuck around for more than an hour!
I began to realize just how fascinating and unique these hoodoos were.
The Drumheller Hoodoos are la creme de la creme of the hoodoos.
They are in amazing shape and I realized that if there weren't a protective barrier around them, they'd be destroyed.
The Drumheller Hoodoos are truly a spectacular display of nature.
It's hard to imagine that wind and rain can turn rock into such beautiful works of art and I found that I could gaze upon these for hours.
The Lookout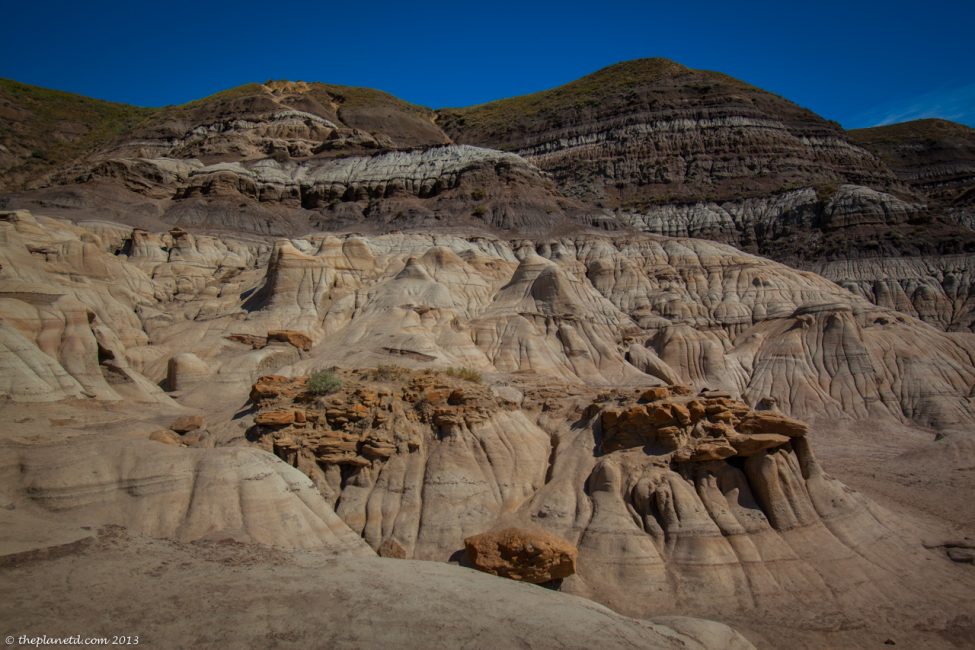 We also took a hike to the top of the mountain for a better view.
It's a fun climb that is a bit steep and slippery but it was nice to be able to get out and stretch our legs after the long drive.
Plus it gave us the chance to look down and see the hoodoos from a different view.
It wasn't an amazing view, I'm not going to claim that it will take your breath away; I mean the hoodoos are located right next to the highway.
Top of the Hoodoos Trail Drumheller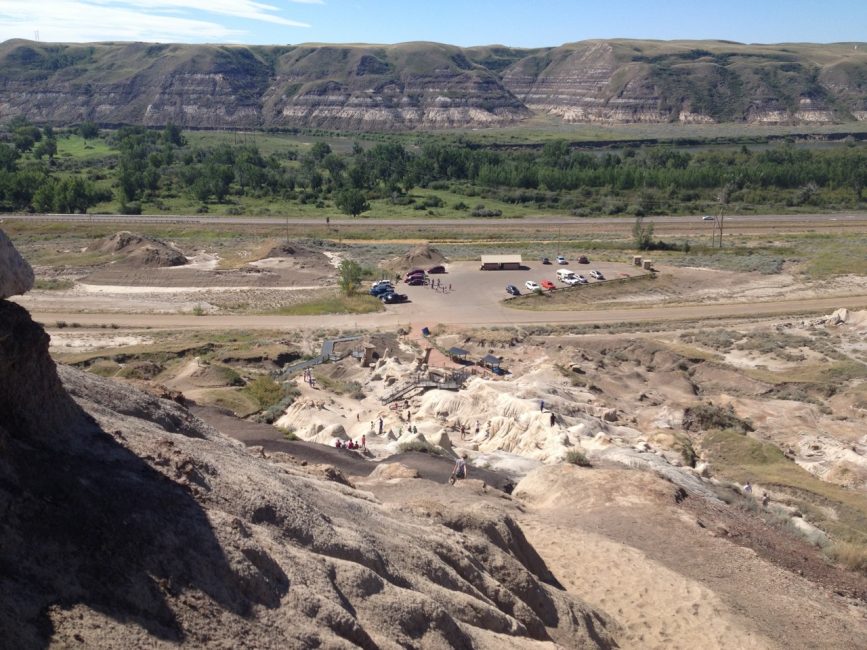 You won't find anything but a field up there and the view isn't superb, but I do recommend it, it's a lot of fun, and you'll feel a sense of accomplishment when you make it to the top.
The climb down is even more enjoyable as you try to find a path that won't cause you to topple over.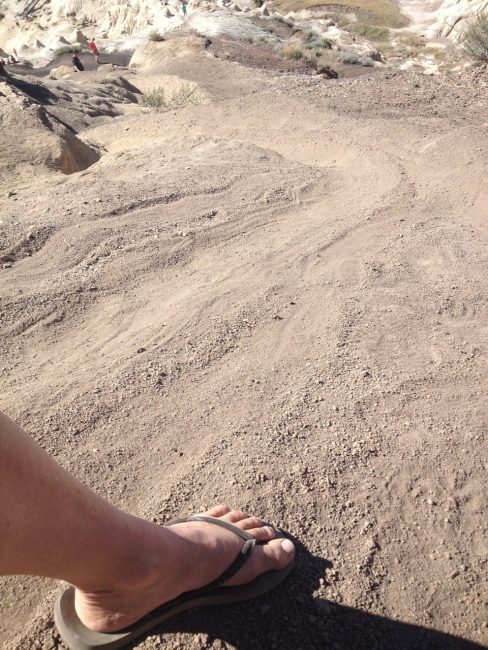 We hiked in our flipflops which wasn't a good idea and if I had known better, I would have thrown on my hiking boots.
Oh well, anything to add to the adventure!
Are the Hoodoos of Alberta Worth The Stop on the Drive to Drumheller?
So were the hoodoos of Drumheller worth stopping for?
Yes indeed.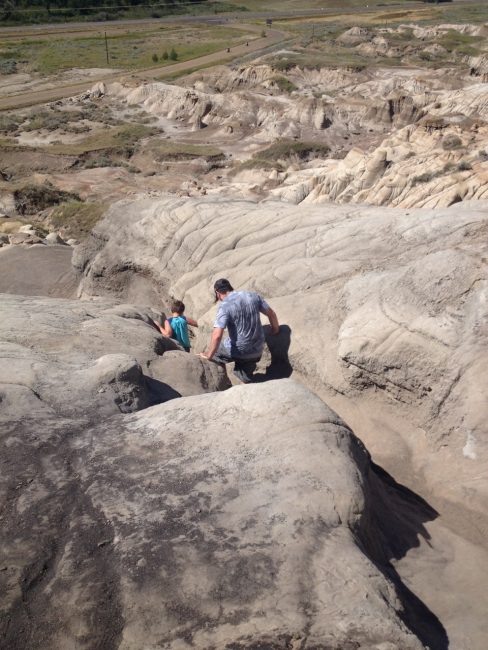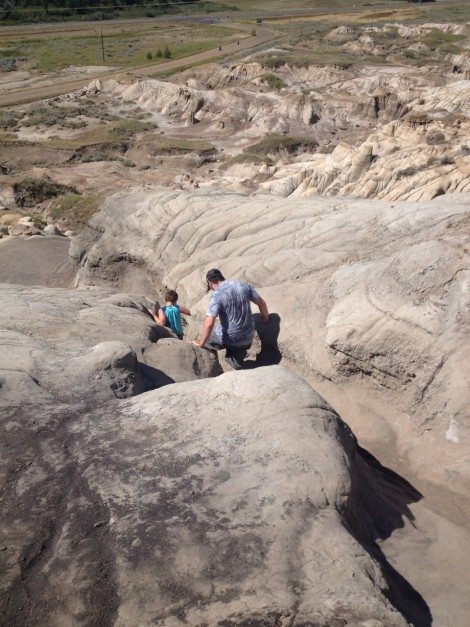 Even though they are clustered together and just off the side of the road, they are still amazing.
These aren't man-made formations, they are created by nature and this is where they stand naturally.
It's one cool stop of many on your way from Dinosaur National Park to Drumheller.
So when you see the signs on the side of the road, make sure you stop at the Hoodoos and go for a climb to the top. You'll be happy you did.
Watch the video on Instagram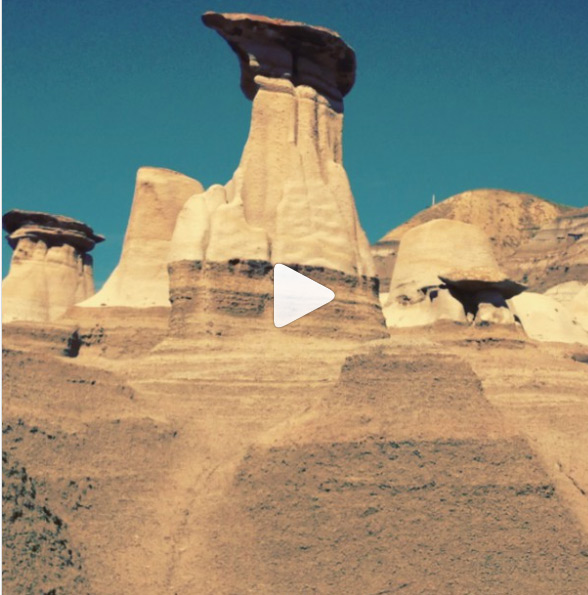 For more of our posts on Alberta check out
Whipping Through the Olympic Village
Glamping with the Dinosaurs
A High Mountain Trail Ride, Your Buns have come a Long Way Baby!
Back to my Roots at the Bar U
Many Sites of Pincher Creek