A word about Namibia Travel
When confronted by cheetahs, it's best to lock eyes with them. Eyeball them menacingly and don't back down.
Namibia Travel
Cheetahs need their speed to hunt and aren't going to risk an injury fighting with a crazed soccer mom (or in my case a short, slightly chubby guy from Wisconsin), relentlessly defending her delicious little morsel of a child.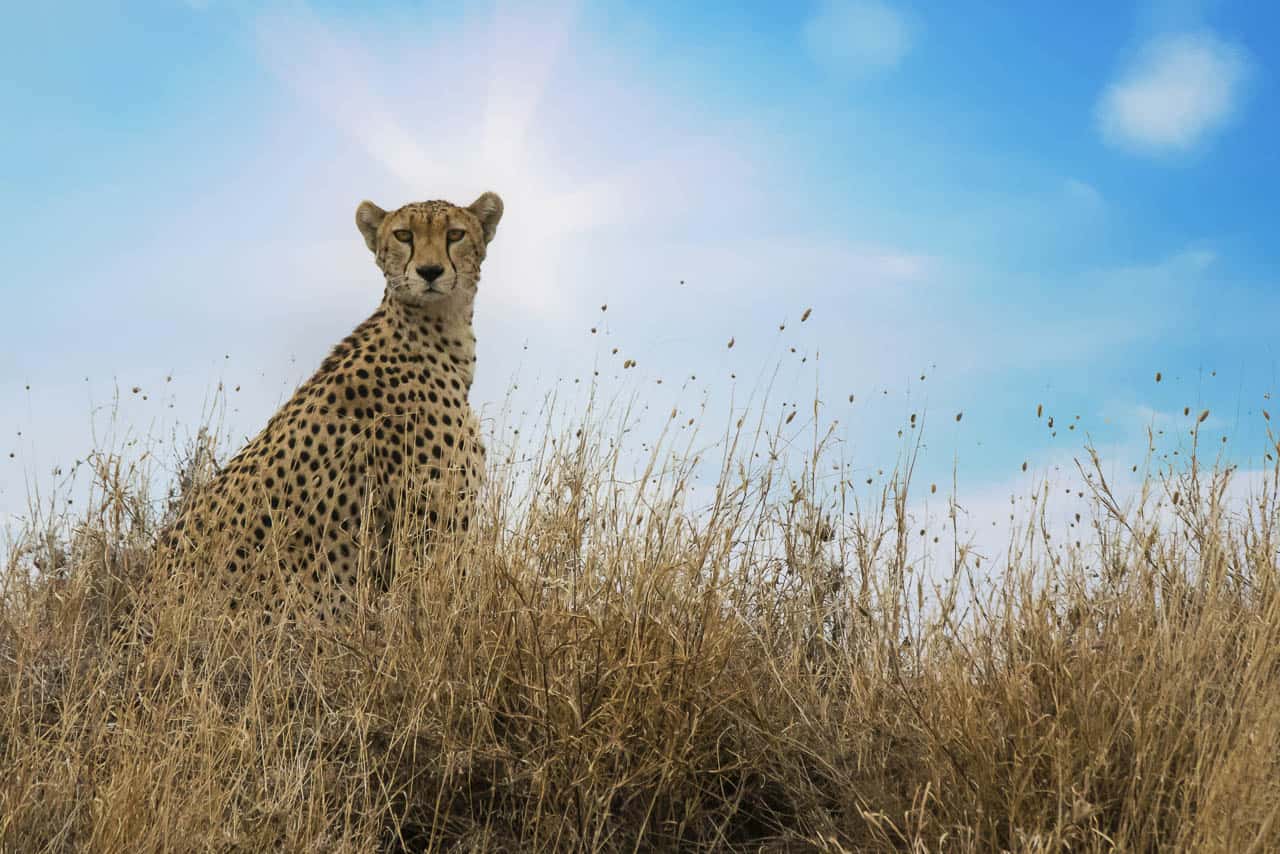 Leopards on the other hand… Don't eyeball them.
If you somehow spot a leopard – the ninja of the big-cat world – it's probably because it already has it's jaws wrapped around your jugular.
But just in case you've seen it, and you're not already 3/4 of the way across the River Styx, just keep walking.
Whistle a happy tune and try to act nonchalant.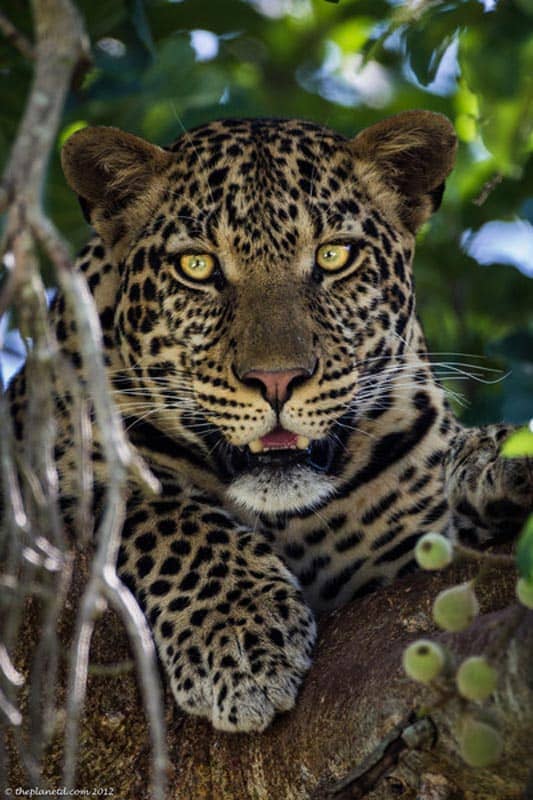 These were the words of wisdom given to me by the game manager at the now-defunct Naua Naua Lodge in Northern Namibia, just outside of Etosha.
The lodge had a huge amount of land for its customers to use, and I wanted to go out on their hiking trails.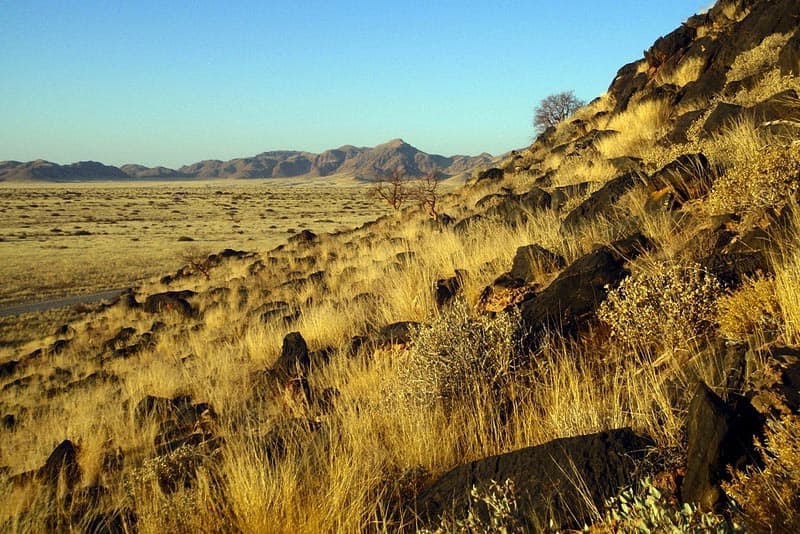 They try to stay on top of the wild cats living nearby to make it safer for you, but if there's one thing I learned while in Namibia, it's hard to stay abreast of all the things, all the life that is present, surrounding you all the time, in Africa.
Why Travel Namibia, and Why Solo?
Like so many things in life, there really was no grand plan. I had never spent years dreaming of Namibia, and I wasn't making any esoteric point of philosophy by going it alone.
I chose Namibia for a few specific reasons though:
I wanted to go to a continent I hadn't been to, and Africa came up from essentially throwing darts.

After my destination became Africa, I knew I didn't want to "wuss out" and go to Morocco or Egypt, despite the fact that I have dreamt – and still dream – of going to both of those places.

My aunt knew someone I could stay with in Cape Town, so that turned into the perfect launching point for my Namibia road-trip.
After those conclusions had been made, the rest was pretty straightforward. I picked a date and started saving my money. I toiled away at my job, which is often difficult and thankless work, but it's always worth it when you have dreams of an exotic location in the back of your mind.
And as the date grew closer and I did more research, that's exactly what I had.
I wanted to go someplace that looked nothing like where I live. Granted, traveling around Wisconsin has it's moments, but I wanted something different, and Namibia promised to deliver.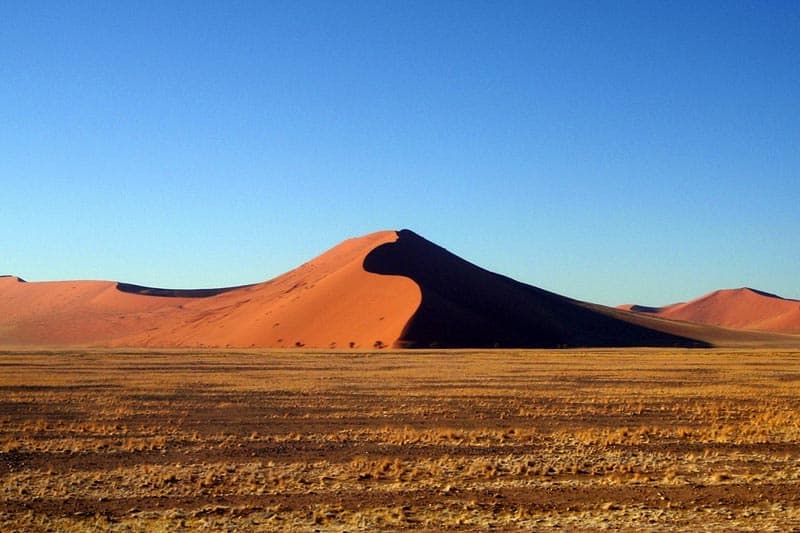 Lions stalking Blue Wildebeest under the cover of sun-burnt savannah grasses. Desert elephants – smaller than most, and with unusually wide feet – adapted to the blowing sands of the Kalahari.
Termite mounds as tall as my house, and people that throw incomprehensible pops and clicks into their speech at seemingly random times…. All of this swirled in my head as the date drew near.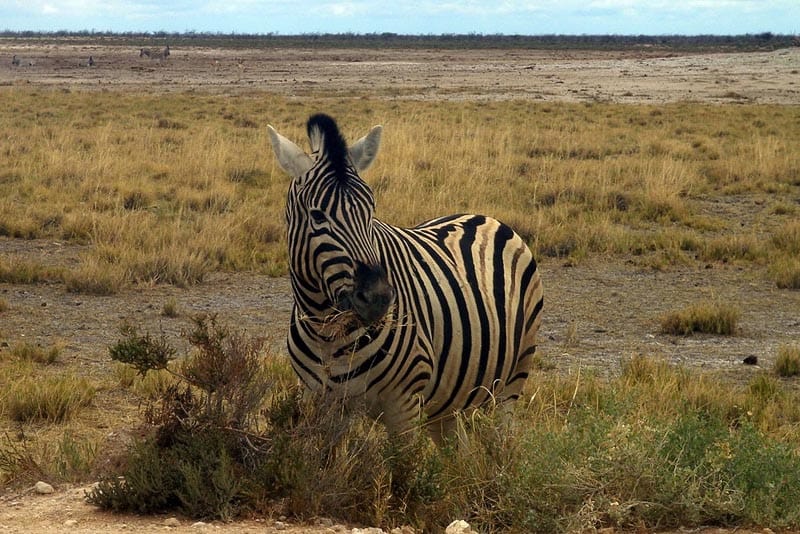 I've taken many solo trips, and this one was no different. Of all my friends and family, not many people seem willing to put some time and money into traveling, and I've never understood why.
Traveling is an investment in oneself, which is always the best investment you can make.
True to form, I was going on this trip solo. So I booked my ticket, and got ready for an adventure.
High Speed, on the Wrong Side of the Road
To my fellow North Americans, I can tell you that nothing will prepare you for the awkwardness – for the soul-shaking, mind-bending, bowel-quaking weirdness that is sitting on the right side of a car, shifting with your left hand, and driving on the left side of the road.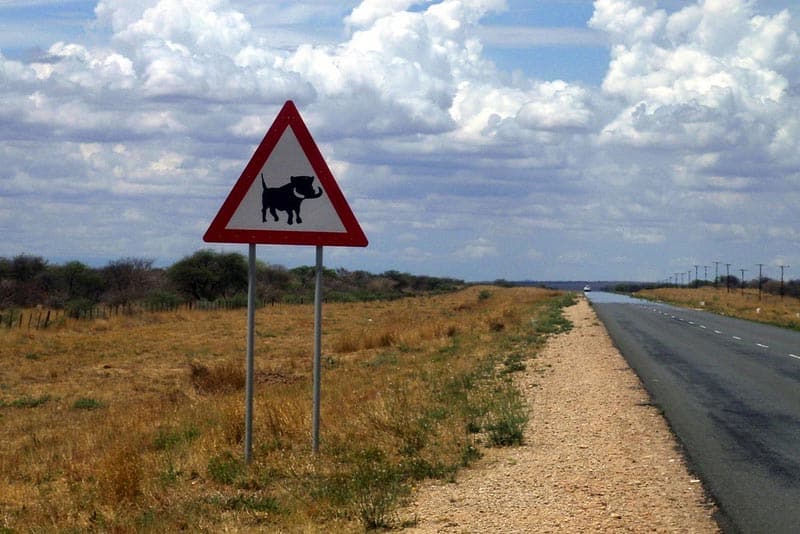 Personally, I crashed my rental car before I even left the lot, but that's a different story for a different day.
Once I got the hang of it, my Corolla and I were ready to head into the vast emptiness of Namibia.
What? A Corolla isn't exactly what you think of when you hear, 'African Safari'
Be that as it may, I can tell you:
It was a trusty little steed that never let me down, and
It was definitely cheaper than a 4×4, and I like cheap
That little compact-car and I went 40 mph sideways on gravel roads while blasting Coheed & Cambria, with precipitous cliffs on both sides. We weren't sat upon by a rogue bull elephant, and I'm still here to tell the tale.
But when I go back, I'm definitely going to do it a little differently. Here's how you should do it when you go on your own Safari in Namibia:
Tips for a safari in Namibia
Get a group of friends together and all head there in the Southern Hemisphere's winter.
Wildlife viewing in Etosha – Namibia's National Park – is best in the winter when water is scarce so animals flock to man-made watering holes.
Rent a truck with pop-up tents on top, and camp your way across the country. The trucks are tall enough that the only thing you need to worry about is giraffes – the elephants tend to stay away from them.
Camping is available at guest-farms all over the country, and is also possible in Etosha itself. It's fun, it's cheap, and because of Namibia's German colonial heritage, there' no shortage of proper brews to share around the campfire.
If you want to make your safari dreams a reality, there's no better way to go than Namibia.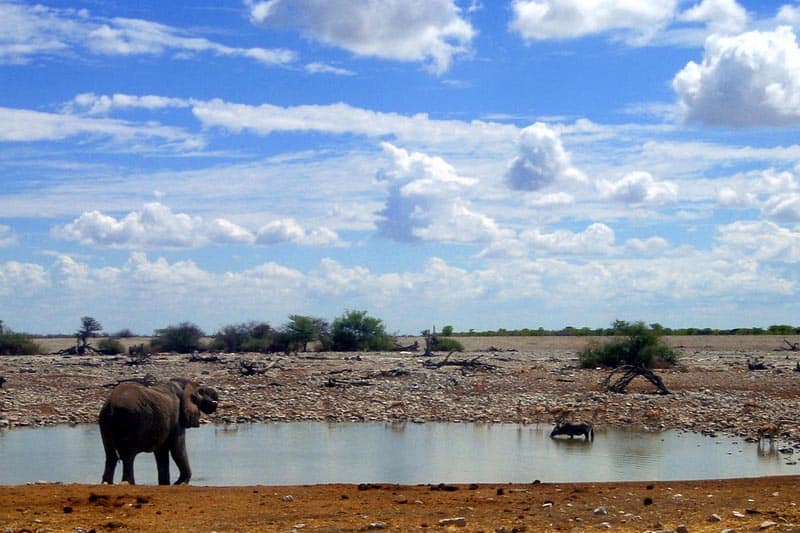 They've taken a decidedly different approach to sharing their resources with the world – instead of charging thousands of dollars per vehicle to enter a park (which is why you often see those safari trucks with stadium-style seating), they'll charge you only a few dollars to get past Etosha's gate.
Even as my wife Becki and I are preparing for our Round The World trip, in many ways I'm still dreaming of Namibia – the sights, sounds, colors and wonderful people are still dancing in my head.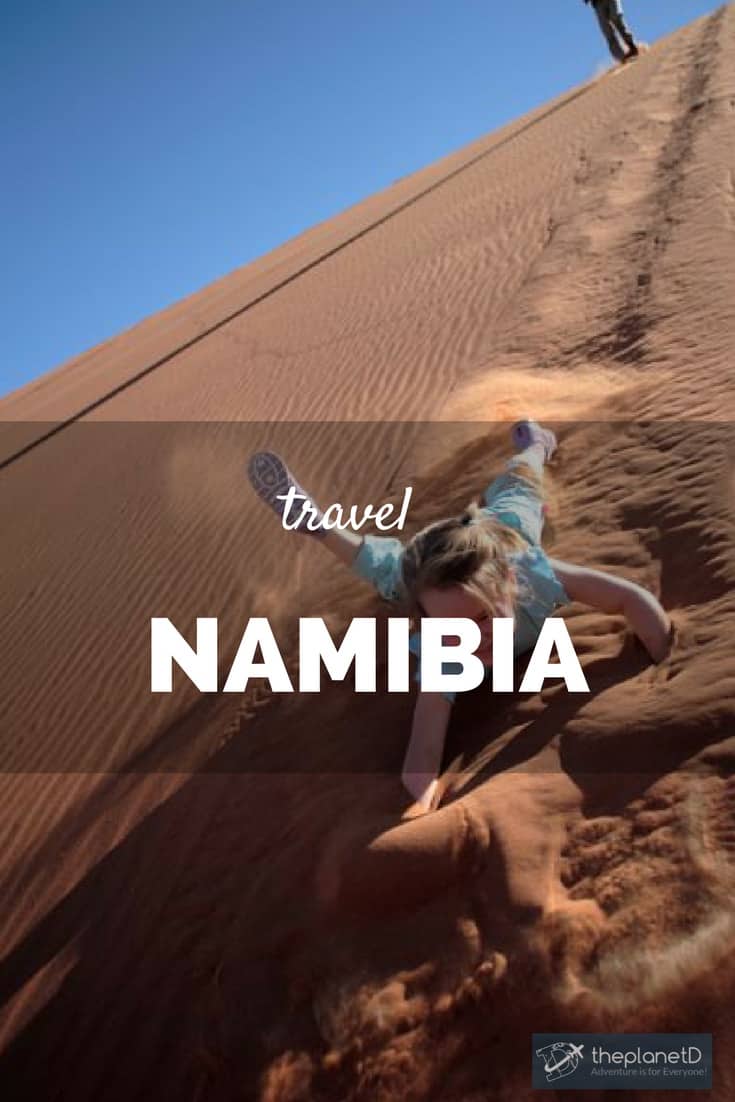 It was that trip, that "indie-safari," that I felt allowed me to finally call myself a traveler. I learned from that trip, was touched by it, and was changed by it. I can't wait to hear about the trip that changed you.
Andy is the less-cute half of Andy and Becki, the blogging duo that together run Discover with Andy – a travel blog with stories from around the world. They're getting ready for extended travel and are leaving their home state of Wisconsin in October, 2013.
Follow along with them as the adventure unfolds!
You Might Also Enjoy