Two weeks before visiting Egypt we read an article about the White Desert in Egypt and decided we had to go there! I am glad we did because it was one of the most fascinating destinations we've ever visited!
Located in the Farafra depression in western Egypt, the White Desert tour takes you through the Baharia Oasis and Black Desert before spending the night among massive chalky white rock formations.
White Desert

Adventure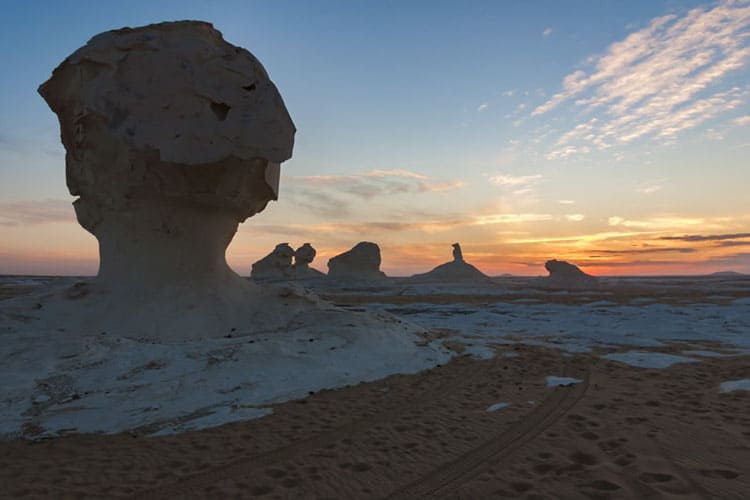 We were staying at the Dahab Hostel in Cairo expecting to pay a lot for a tour to the White Desert, but they offered us a trip for a great deal. The Three day trip took us from Cairo to the White desert and included transportation, meals and camping Bedouin Style in the desert. There was also a visit to the hot springs and a 4X4 ride in the sand dunes that we won't soon forget. It turned out to be a great trip.
The White Desert National Park is a protected area that spans 300 square kilometers. Located just 5 hours from Cairo, this is an amazing trip to add to any Egypt itinerary. Read more: 20 Exciting Things to do in Egypt – Plus A Few Fun Facts
Driving to the Bahariya Oasis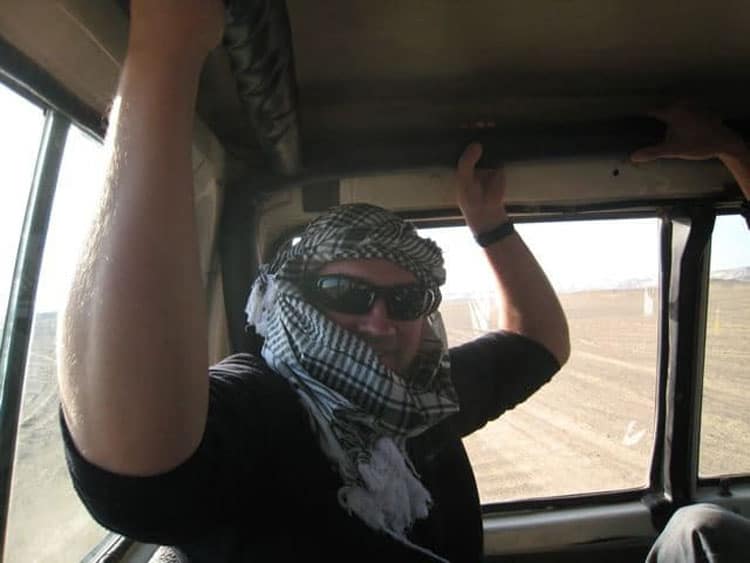 It was an early morning wake up call, and we hopped on our coach for the 5-hour ride into the desert. The White Desert is located about 500 km west of Cairo, taking us far off the beaten path.
I knew that Egypt was a dry country, but I didn't realize just how much of it is desert. The entire country is sand, sand and more sand. After a long and bumpy drive, we made it to the Bahariya Oasis by 2:30 in the afternoon.
Bahariya Oasis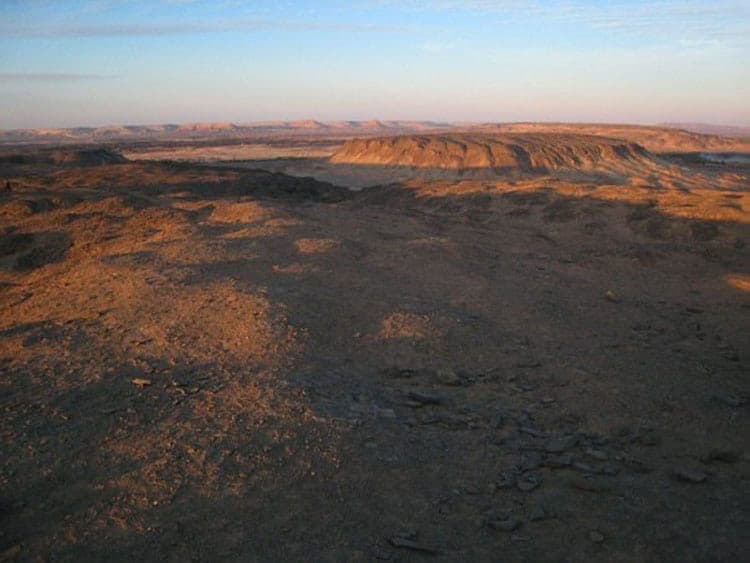 The Bahariya Oasis is one of the most accessible Oasis in Egypt. And it was the very first Oasis we had ever visited in our lives.
Our driver took us on a tour where we tasted some olives and bought some dates for the road. Our lunch was a traditional Bedouin meal of red sauce and potato, with rice, pita, and sweet tea. That gave us the energy needed to set off for our White Desert Tour at sunset. There was still a big day ahead.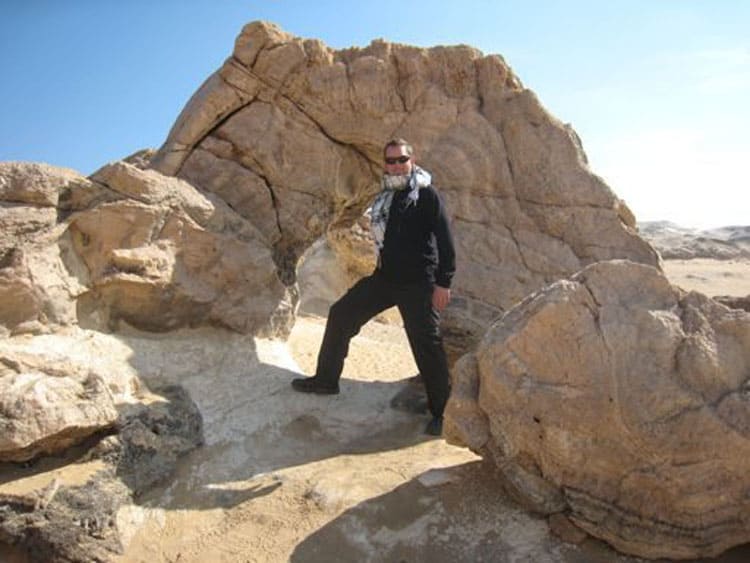 Our drive was one beautiful scene after another as we took in the views of sand dunes and high cliffs of layered sedimentary rocks. We stopped at a salt lake where we looked at crystal formations. This area was once a sea bed and the crystals are fossils eroding over thousands of years.
Black Desert Egypt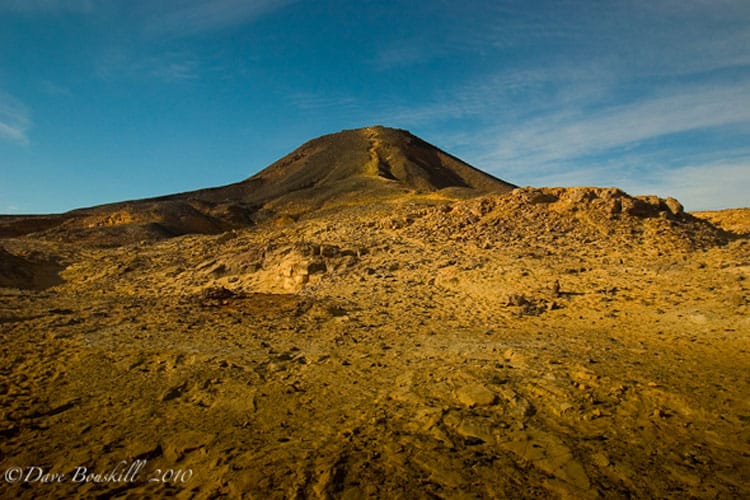 Before reaching the White Desert, we had a stop at the Black Desert. Sahra al-Suda, consists of mounds of black mountains are a stark contrast from the light and sandy deserts we are used to.
During our trip, we climbed a high peak overlooking the amazing desert vista. Black pebbles blanket the mounds caused by an ancient volcanic eruption and erosion in the mountains covered the sand. The entire desert was turned into an ominous dark shade.
On to the White Desert
The views were astounding, giving us some of our best pictures of Egypt, but it was time to move forward. We carried on through a couple of security checkpoints and after a few more bumps and a final checkpoint gate, we entered the white terrain that looked as if a blanket of snow had landed on the ground.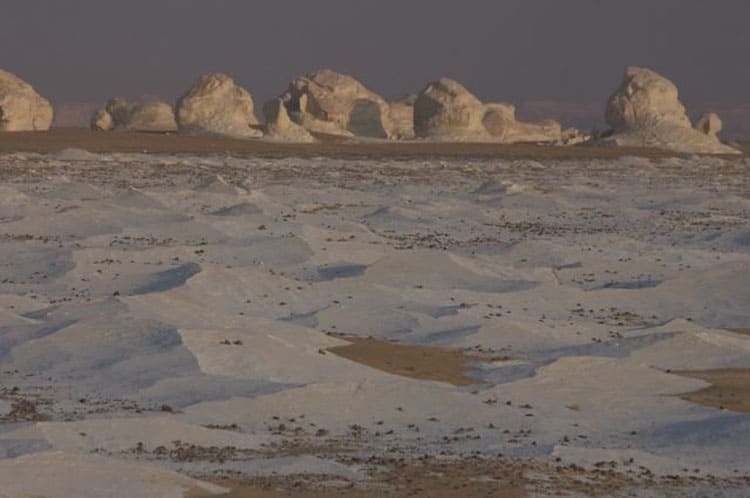 White monoliths jutted out of the landscape, but nothing compared to our final destination.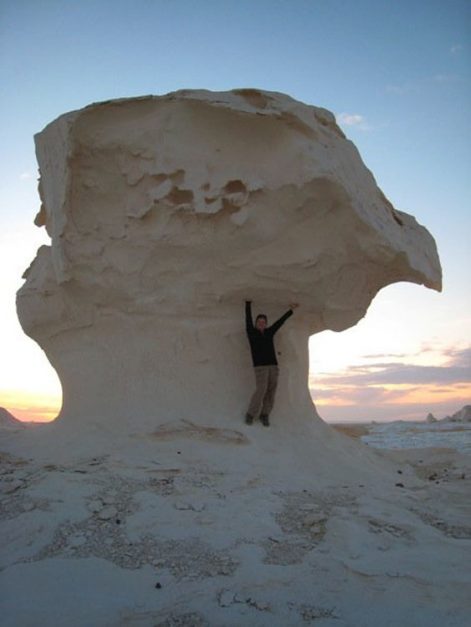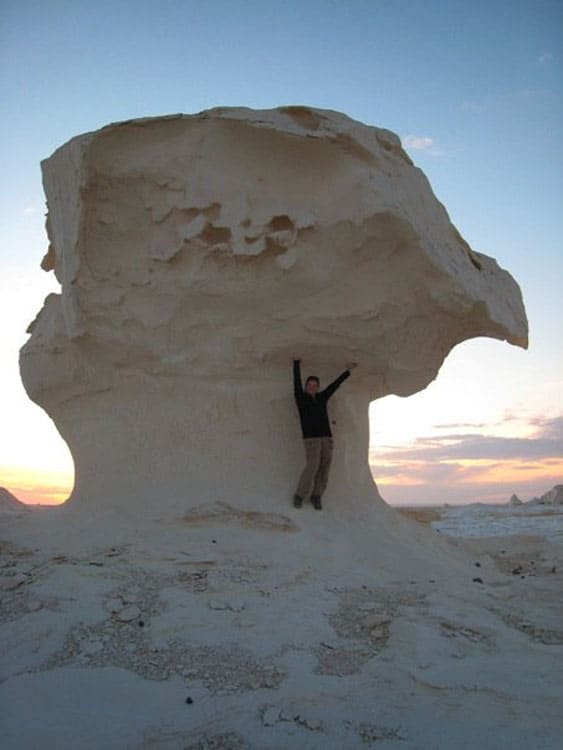 Our campsite was surrounded by the most amazing rock formations I have ever seen resembling mushrooms, camels and hawks. These pure white and smooth shapes were scattered throughout the area.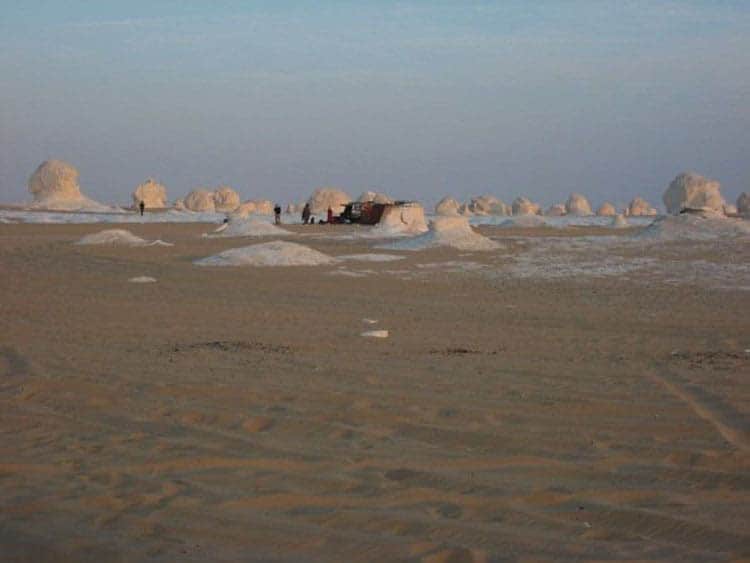 The White Desert was formed by erosion over hundreds of years. Much like the hoodoos of Drumheller in Alberta, they are tall formations with caps on top.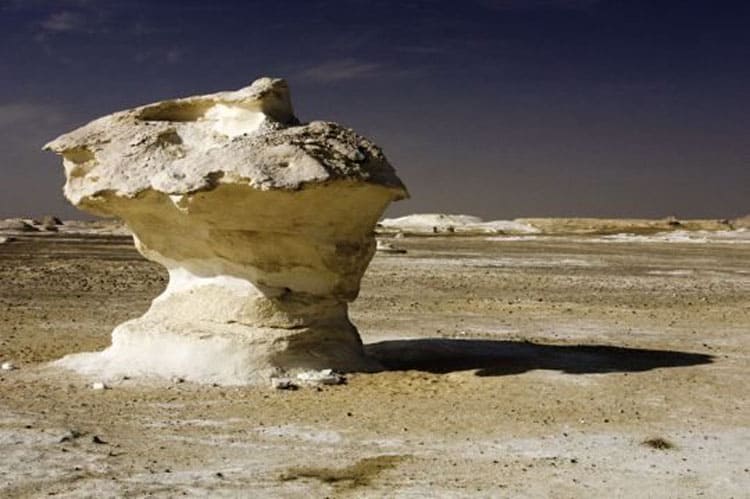 The calcium boulders have been shaped into peculiar formations thanks to sandstorms. We were surprised to see that when we touched the rock, it was actually chalk.
Sunset over the White Desert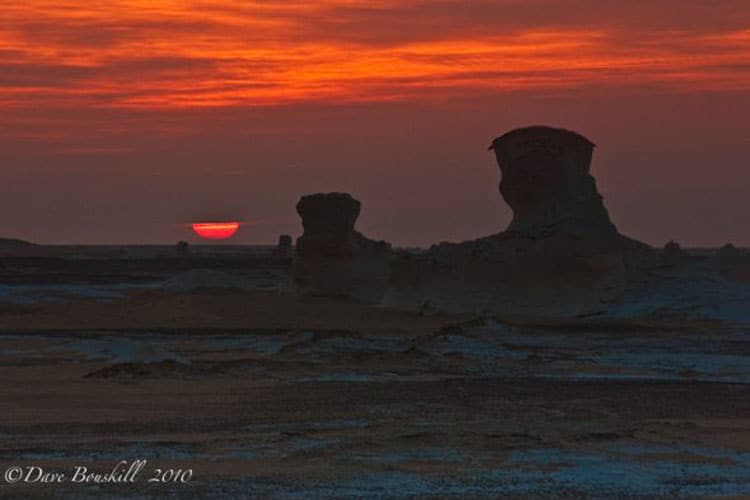 We climbed atop of one of the Twin Peaks formations and watched the sun go down. The sunsets in the desert truly are some of the most breathtaking on earth.
All this time, our guides were preparing dinner and putting our camp together. We didn't have to lift a finger. It was our time to enjoy the views and appreciate the beautiful landscape surrounding us.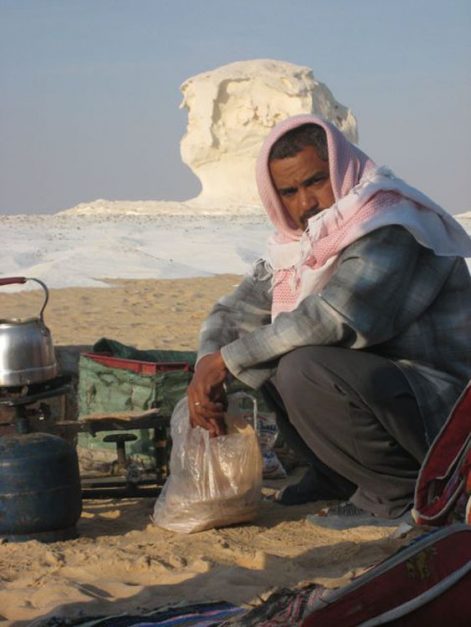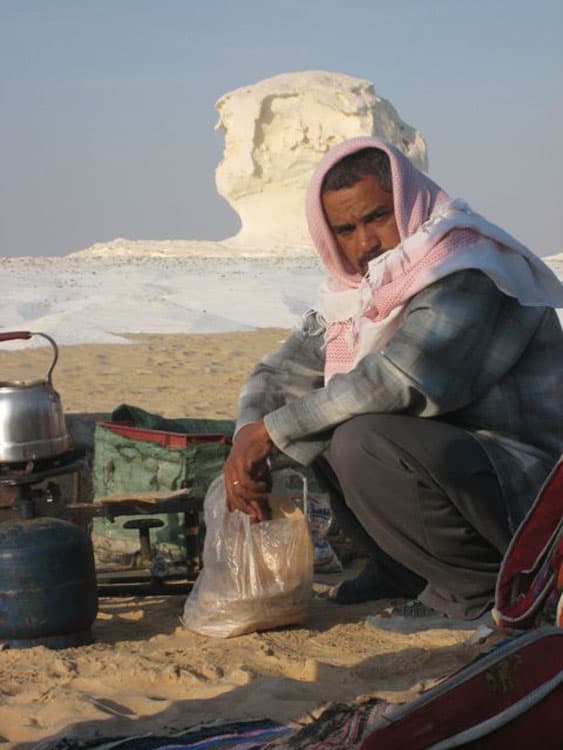 Once the sun had set we made our way back to camp, and it was nice to have a warm fire to sit beside until dinner was served.
Bedouin Dinner
We ate red sauce and potato with rice plus the added bonus of a delicious fire-roasted chicken and hot tea. At this point, I did wish that we brought some whiskey to keep us warm.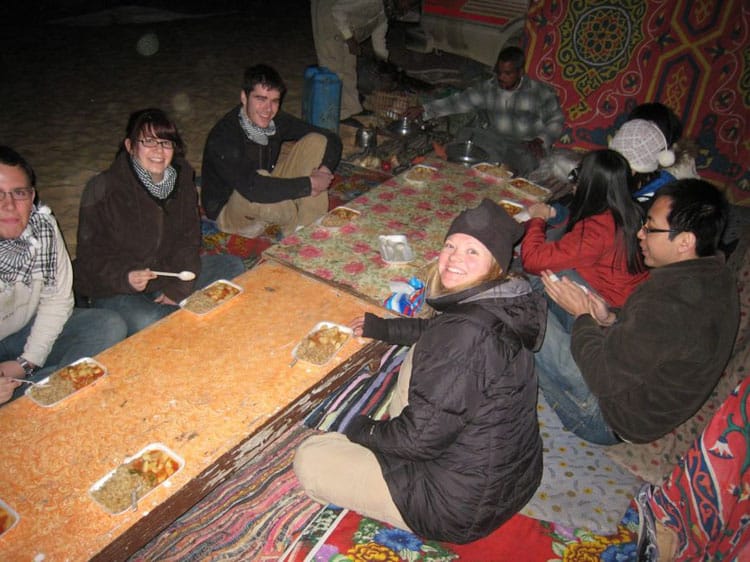 Once dinner was served, it seemed that our guides were done with us. Their work was done and we were on our own. But that gave us some time to explore and admire the views. It was an early night as we were chilled to the bone.
I'm glad we packed our down jackets and Dave's headscarf that he bought at the Bahariya Oasis came in handy that night.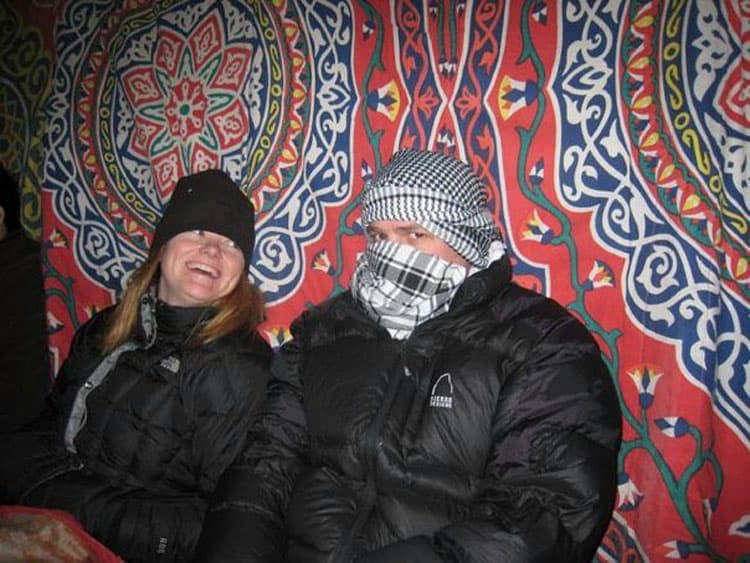 Surprisingly, it wasn't a bad sleep in the middle of the freezing desert. Heavy blankets and sleeping bags kept us fairly warm until a nose, ear or hand popped out from underneath the covers. We now know why though head scarfs are so important!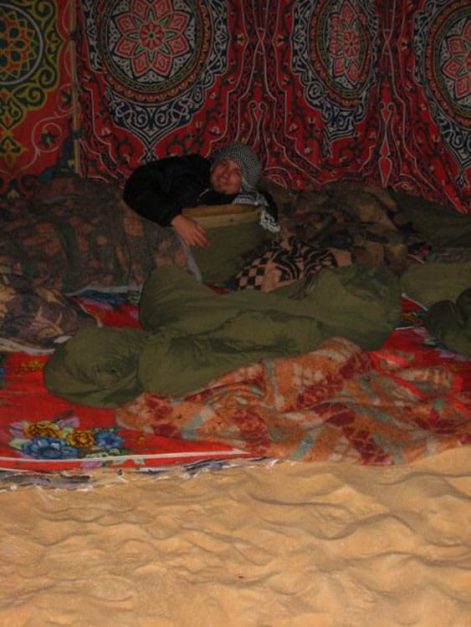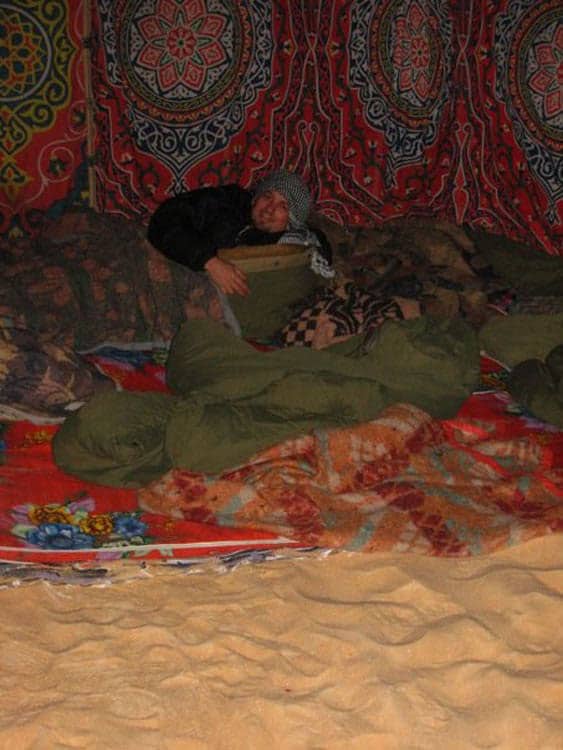 But to fall asleep under a clear desert sky while being entertained by shooting stars made it all worthwhile.
Sunrise in the White Desert
We all awoke cold and achy in the dark to witness the sun rise over the white stones. We didn't spend too much time in the desert after the sun came up so after a bit more exploring, a quick breakfast, and one last view of the breathtaking site, we were back in the 4X4s for our drive back to Bahariya.
Drive Back to Bahariya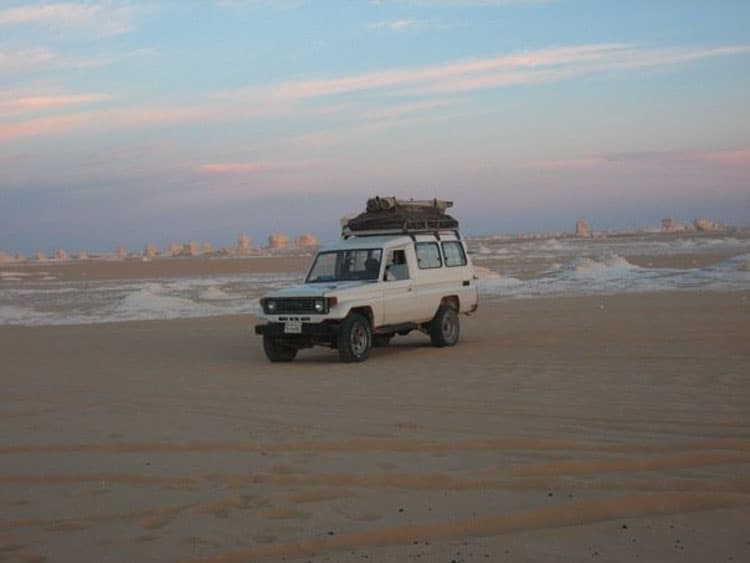 Our driver was insane, but a lot of fun. He had a brilliant smile and kind eyes and gave us a thrill as we raced through the dunes. At one point we became stuck on a steep incline and I was sure that we were going to roll. After what seemed like forever, he finally figured out his path, and we went tearing off again.
The ride was long and full of excitement as people were tossed about and sometimes hitting their heads on the roof. I thought Peru was scary and we were strapped into a dune buggy, this was crazy sitting in the back of a 4X4 with no seat belts.
Hot Springs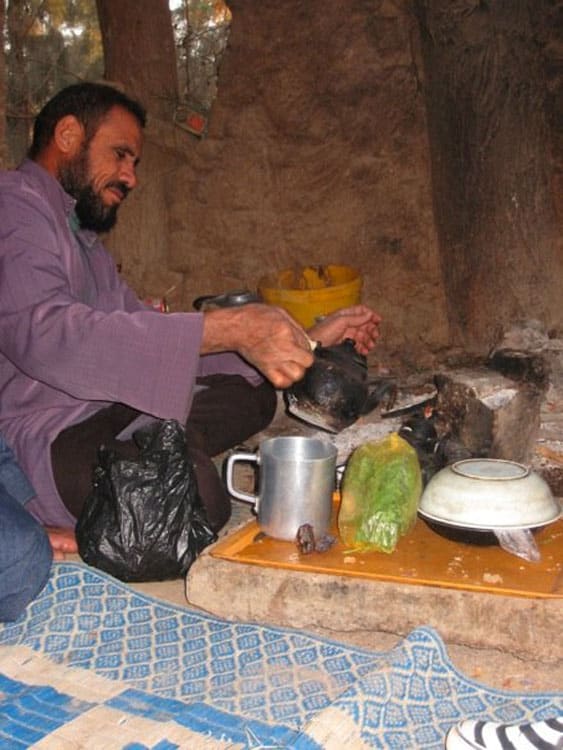 We made it safe and sound though, laughing from the adrenaline rush and ready to relax in the springs. The Bahariya Oasis has several hot springs and the spring that you visit depends on the tour you take.
We didn't love our hot springs stop, so instead we joined some locals for fresh dates. The Oasis is a lush land good for cultivating olives, grapes and mangoes. There's no shortage of food to purchase from local vendors.
After some tea with the gatekeeper and ate some fresh dates, while one of the drivers fixed his front tire. Then it was back to the 4X4 stopping to climb a mountain, seeing some more sights and then back to Cairo in time for dinner.
Read more About Egypt Travel