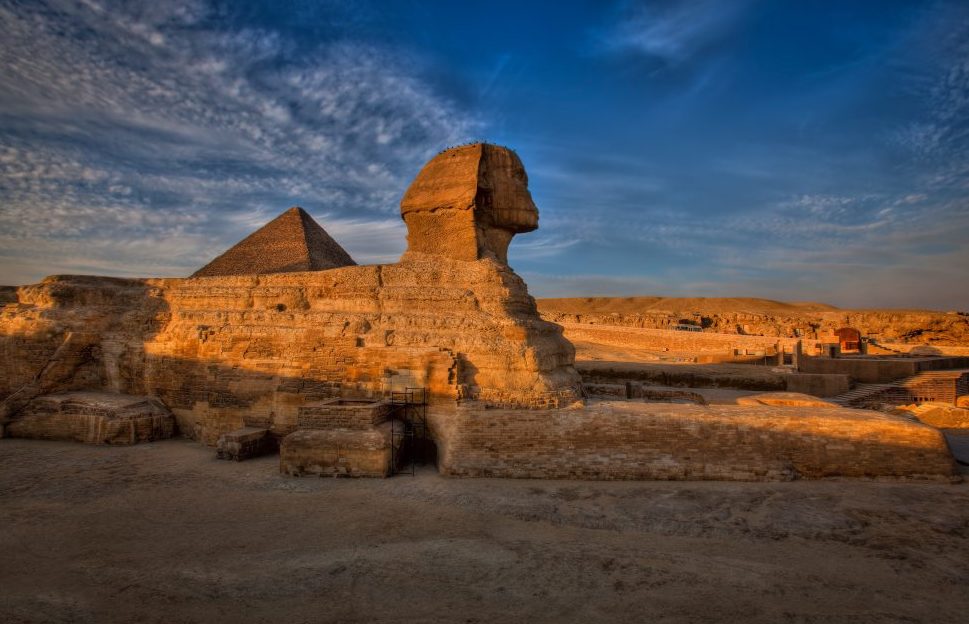 Egypt. The Land of the Pharaohs and one of the world's greatest civilizations, with its temples, hieroglyphs, mummies, and pyramids.
It is filled with iconic landmarks and remarkable landscapes. It has a rich history, strong culture and it boasts world-class diving, incredible beaches, and exciting nightlife.
Egypt really does have it all.
This Egypt travel guide will help you plan your next vacation.
Fast Facts
Egyptian power voltage is 220 V 50Hz; Plug C & F
The Egyptian currency is the Egyptian pound and is around 7 EGP to 1 USD
Egyptian laws towards alcohol are quite liberal, except for the month of Ramadan when alcohol is strictly forbidden
Egypt has a reasonably modern telephone service including three GSM mobile service providers: Mobinil, Vodafone and Etisalat. It is possible to purchase tourist mobile phone lines for your trip, which usually will cost around 30 EGP.
Random fact: More than 90% of Egypt consists of desertt
SIM Cards: You can get a local sim card from Vodafone or Orange in Cairo. We suggest getting a SIM card at the airport when you arrive.
If you are traveling for a short time, we use KnowRoaming International SIM for all our travels.
Readers Receive a 30% Discount with our promo code DDSave30. You can order here and have it delivered or find out more at our post.
Budgeting
Accommodation
Food
Transportation
Getting to Egypt
Flights: You can check for the best flights to Egypt on Skyscanner.
Transportation:
Buses:
Taxis:
Car Rental:
Uber:
Packing Tips
Egypt has a hot desert climate that is generally dry.
The most moderate temperatures can be found near the thin coastal strip in the north and November through March are considered the most comfortable months to travel.
Although temperatures can reach up to 40 degree Celsius travelers must remember that Egypt is a rather conservative country and therefore it is wise to pack accordingly.
Avoid packing skirts or shorts – instead invest in a good pair of long pants made from a breathable fabric like linen.
Scarves or a light sweater – short sleeve tops and sleeveless tops are acceptable for women visiting tourist areas, however it is recommended that travelers carry around a scarf or light sweater to cover up when traveling to and from tourist destinations.
Protection from the sun – the sun can get extremely hot in the summer months so make sure to pack sunscreen, a sturdy had and a good pair of sunglasses.
Walking shoes – Egypt is a sightseeing country and travelers do a lot of walking. Make sure you bring a comfortable pair of shoes that you have already broken in and leave the flip flops at home.
See our packing tips: packing list for smart travel.
When to Go
Things to Do
Adventure
5 Egyptian Adventures You Don't Want to Miss – from the Luxor Temple to the Valley of the Kings, the PlanetD has got you covered on the top Egyptian excursions.
Scuba dive in the Red Sea – Egypt has some of the best diving in the world where avid scuba divers can get up close and personal with hammerhead sharks, colorful coral and wrecks.
Culture
Alexandria – the pyramids and tombs aren't the only ancient monuments in Egypt, the trolleys of Alexandria are one of the country's historical treasures, dating back to 1860.
What not to Miss
Places to Stay
Check out our favorite booking platforms Booking.com, Tripadvisor and Air B&B for the best deals on accommodation in Ireland.
Booking Resources
Whenever we travel to we make sure to start with these companies.
We have tried a lot of different ones over the years and all of these have consistently proven to be the best when it comes to offering great prices.
We have used every one of these personally and continue to do so.
Booking.com: This is our go site to when comparing prices for accommodation. It is usually the has the cheapest prices, not to mention you get free cancellation and you are guaranteed the best price.
Trip Advisor: What we like about Trip Advisor is that we can look at all the reviews and then book our accommodation.
Air BnB: Airbnb is the main search engine we use when we are looking for a home or apartment rental. It is the best way to stay in areas that offer a more local feel.
Skyscanner: This is the first place we check for flights. It consistently comes back with the cheapest and best options. It allows us to compare a lot of airlines to get the best price.
Hostelworld: With one of the largest databases of hostels in the world, Hostelworld is the go-to site when you are looking for budget accommodation.
Rome 2 Rio: If you want to see how to get somewhere by plane, train, bus, ferry or car Rome2Rio lays it all out for you as well as related costs. I love how they show it all to you on a Google Map and it works offline.
Get Your Guide: For all your day trip and city guide needs, we use Get Your Guide. It has the world's largest collection of things to do with more than 30,000 activities in 7500 destinations.
World Nomads Insurance: When traveling to Egypt you should always have travel insurance. We have found the best bang for your buck is by far World Nomads.
Related