About 2 weeks before we left Toronto, we read an article in Mountain Life Magazine about the White Desert in Egypt.
It looked like a fascinating place and we decided that we have to go there.
Traveling to the White Desert on a Budget
Our bike route however, didn't go near the place because it is situated in the centre of the country.
For sure this would be one expensive and long trip, so it was doubtful that we would make it there during the short time that we had before the race.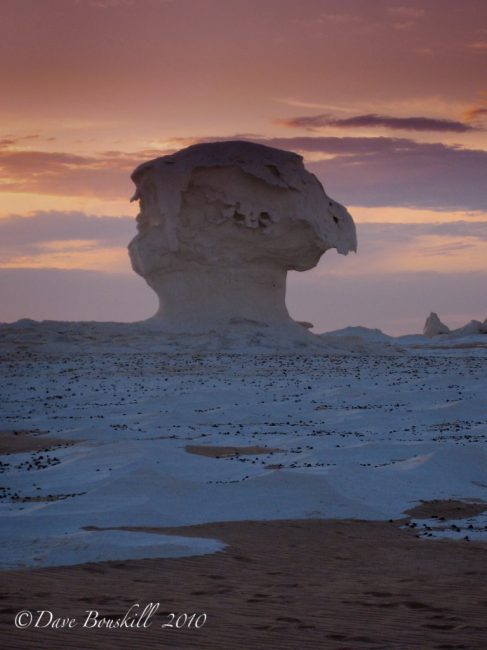 However, along Dahab Hostel who asked us if we would like to do a 3 day trip to the White Desert for a bargain price of 450e ($80) per person for 2 nights, 3 days,.
All meals and transfers were included plus camping in the White Desert.
We had a visit to the hot springs and a 4X4 ride in the sand dunes that we won't soon forget.
How could we pass it up?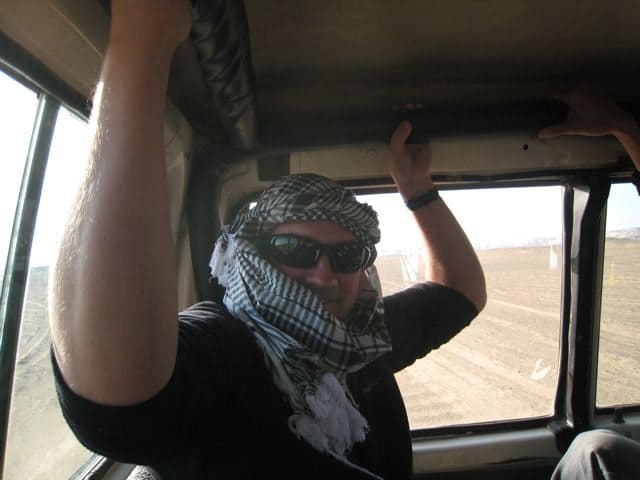 It turned out to be a great trip.
We hopped on our coach for the 5-hour ride into the desert.
I knew that Egypt was a dry country, but I didn't realize just how much of it is desert. The entire country (so far) is sand, sand and more sand.
Having a Traditional Bedouin Meal
We made it to Bahariya by 2:30 in the afternoon, we were fed a traditional Bedouin meal of red sauce and potato, with rice, pita and sweet tea. Delicious.
Then we were promptly off, right after the guys bought a Bedouin headdress.
We travelled through the black desert and climbed a high peak overlooking the amazing desert vista.
Black pebbles caused by erosion in the mountains covered the entire desert, turning it to an ominous dark shade.
We carried on through a couple of security checkpoints and once we passed through the second one, we instantly entered the white terrain that looked as if a blanket of snow had landed on the ground.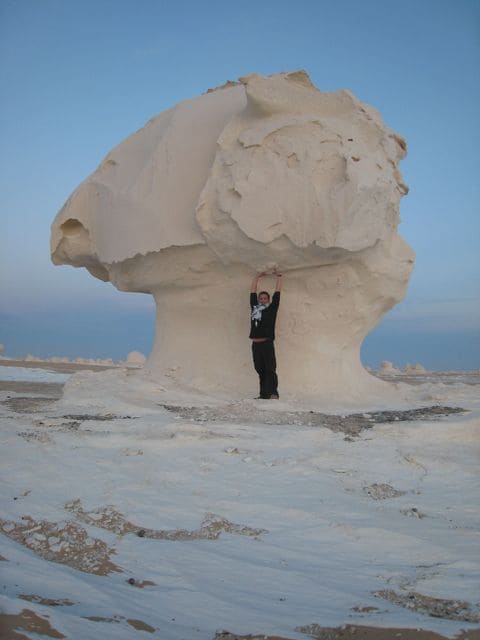 ––
White monoliths jutted out of the landscape, but nothing compared to our final destination.
Our campsite was surrounded by the most amazing rock formations I have ever seen resembling mushrooms, camels and hawks.
These pure white and smooth shapes were scattered throughout the area.
We were surprised to see that when we touched the rock, it was actually chalk.
We climbed atop one of the formations and watched the sun go down.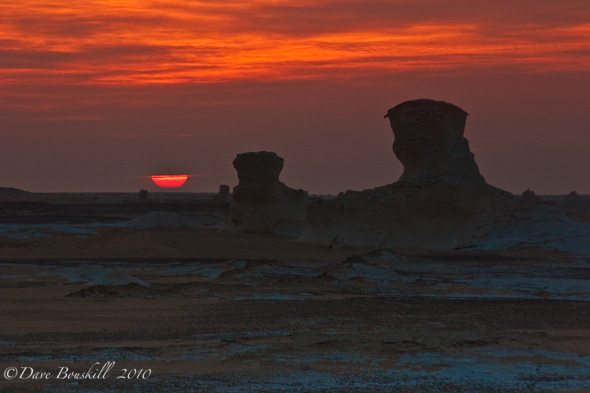 All this time, our guides were preparing dinner and putting our camp together.
Once the sun had set, it was nice to have a warm fire to sit beside until dinner was served at our Bedouin style camp.
All that was protecting us was 3 walls of material to block the wind, the front was open to the fire and our roofless shelter revealed the starry sky.
Awesome.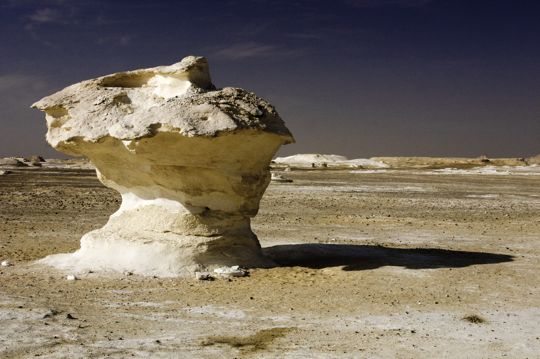 We ate our red sauce and potato with rice plus the added bonus of a delicious fire roasted chicken.
But that was the end of the hospitality.
Our guides were done with us, they sat by the fire drinking tea and smoking sheesha while we all sat around the table slowly chilling to the bone.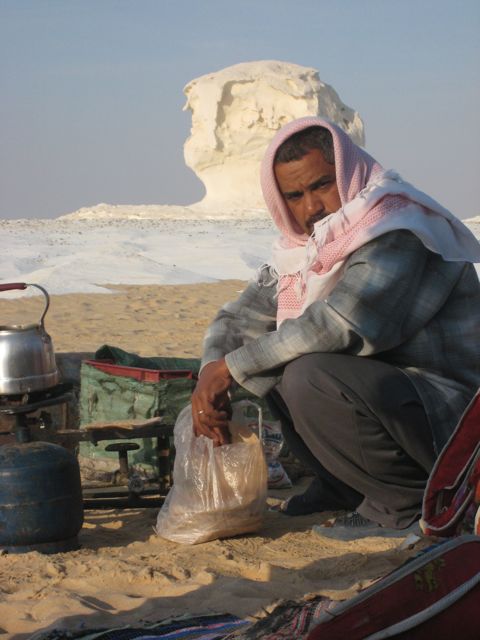 Getting Settled into Camp
More guides arrived and they had a grand old time drinking more tea and blocking us from the fire until finally we asked them for blankets so we could go to bed.
Surprisingly, it wasn't a bad sleep.
Heavy blankets and sleeping bags kept us fairly warm until a nose, ear or hand popped out from underneath the covers.
But to fall asleep under a clear desert sky while being entertained by shooting stars made it all worthwhile.
We all awoke cold and achy in the dark to witness the sun rise over the white stones. Beautiful.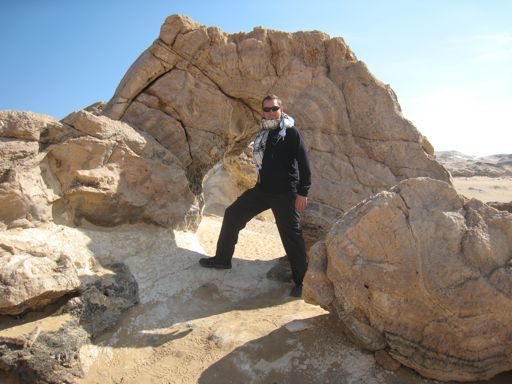 Drive Back to Bahariya
After a quick breakfast, we packed up camp and made our way back to Bahariya.
We stopped at sights along the way and by mid-afternoon, we were off 4X4ing in the desert on our way to the hot springs.
Our driver was insane, but a lot of fun.
He had a brilliant smile and kind eyes and gave us a thrill as we raced through the dunes.
At one point we became stuck on a steep incline and I was sure that we were going to roll.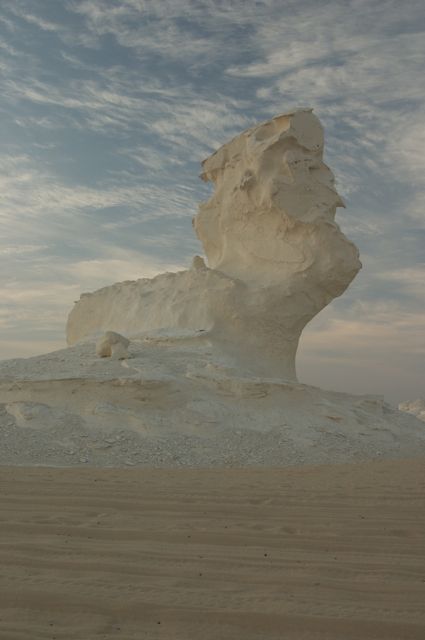 An Exciting Ride
After what seemed like forever, he finally figured out his path, and we went tearing off again.
The ride was long and full of excitement as people were tossed about and sometimes hitting their heads on the roof.
I thought Peru was scary and we were strapped into a dune buggy, this was crazy sitting in the back of a 4X4 with no seat belts.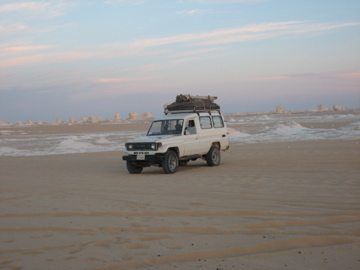 Hot Springs
We made it safe and sound though, laughing from the adrenaline rush and ready to relax in the springs.
That was not an option. It makes me laugh to think that this is actually an attraction.
A concrete vat with lukewarm water running through pipes into a dirty pool.
There was not a chance that any of us were going into that. Eww!
Instead, we had some tea with the gatekeeper and ate some fresh dates, while one of the drivers fixed his front tire.
On the Way Home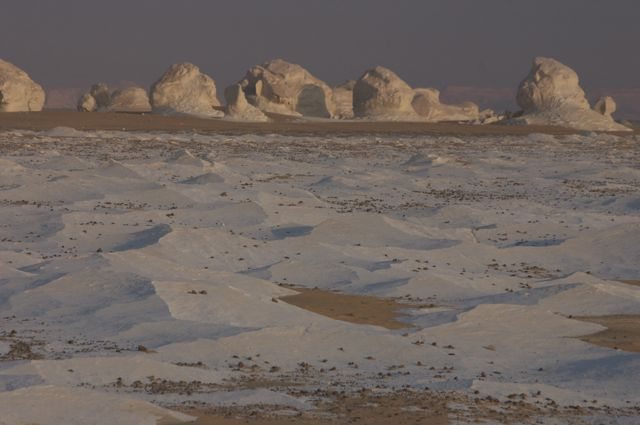 Then it was back to the 4X4 stopping to climb a mountain, seeing some more sights and then home in time for dinner.
Back in Cairo
It is now 3 days later and we are back in Cairo, sipping beer on the rooftop patio again working at our free wireless internet in Dahab Hostel.
Not bad for $6 a night.
Tomorrow we are off to several Plan Projects, bright and early.
Read More
The Unexpected Delights of Egypt by Keeping an Open Mind
Surprise Stop in Wadi Halfa, Sudan