Last week I wrote a guest post at thetravelexperta about Tikal. I started thinking about all of the amazing temples in Egypt and how I really haven't given them the proper posting that they deserve.
After all, Egypt houses the greatest monuments on earth. Its temples and pyramids are world famous and they are at the top of most people's dream destination to visit in their lifetime.
Great Temples, Monuments and The Pyramids of Egypt
Cairo is very much a mystical city that I am grateful to have had the chance to visit.  The entire time we were in Egypt, I felt as if time had frozen and I was visiting an ancient land. It was almost dreamlike to be in a place that I studied in school and that I had read so much about when I was young.
Now I was here, riding my bicycle along the banks of the Nile and my entire trip started right on the grounds of earths most famous wonder.
The Pyramids of Giza
The first destination on our agenda was the Pyramids of Giza. Built in 2500 BC, it is unfathomable how they have survived the desert and elements for over 4000 years let alone how they were built in the first place.
Our driver Iman, talked us into seeing them by camel and we were very happy that we chose that way to see the Pyramids.
We met our steeds at a small shop several blocks from the pyramids and made our way through the labyrinth of alleyways where we entered the grounds through the back door.
I highly recommend seeing the pyramids this way. We were away from all of the tour buses as we roamed the desert free and clear of crowds.  We stopped on a large dune and were easily talked into a tourist photo of us on a camel dressed in ornate gear.
Private Guide
It is a slight scam, so be prepared to just say no. Your guide will lead you to the area where camels await, and before you have a chance to even figure out what is going on they are putting robes and head dresses on you and leading you to be perched atop the camel.
We were only going to be at the great Pyramids of Giza once in our lives, so we splurged and gladly gave them our money when they asked for it.
We explored the pyramids for 3 hours as our guide told us various facts that we really didn't listen to. We were too overwhelmed with the fact that we were at these famous temples and we were riding a camel in the desert.
It was a moment in my life that I would have never thought possible years ago and now here I was walking in the footsteps of the ancient Pharaohs.
Valley of the Kings
Another popular place to witness temples and great monuments in Egypt is The Valley of the Kings. Located just outside of Luxor.
We took a tour bus this time, and I really wish that we hired a private taxi to take us there.  It is worth seeing, but as a part of a tour, the day was long and we were stuck exploring on a schedule and could have done without all of the stops at shops and gem stores.
The Valley of the Kings is a giant valley in the desert containing 63 tombs and chambers of Kings and Noblemen. The most famous being King Tut.
Note: Hide your camera's and Video cameras when entering Valley of the Kings or they will be confiscated
We had our camera's and video confiscated at the gates, so unfortunately we didn't take many shots of the Valley of the Kings. We didn't know that you are not allowed to take photo's and had our cameras prominently displayed around our necks like sitting ducks.
Many people hid their gear in their bags and under their clothes and were taking photo's regularly. I would have liked to have known that.
I would have followed the rules and not take photo's inside the chambers, but it would have been nice to have some better shots of this beautiful valley. Luckily our little snappy was tucked away.
King Tut's Tomb
We didn't go inside King Tuts Tomb, our guide said that it is not an impressive tomb compared to the others. We instead went into Rameses VI, Merneptah, and Rameses IV tembles.  The chambers are surprisingly large and airy. They have bright paintings on their walls depicting scenes from the book of the dead, and the book of caverns among others.
I was surprised how comfortable I felt inside they were almost cheerful.  They were large, bright and colourful giving a sense of peace.
Albeit, there aren't any sarcophagi left and all jewels and artifacts have either been looted in the past or moved to the Antiquities Museum.
Still a very impressive sight indeed.
Temple of Hatshepsut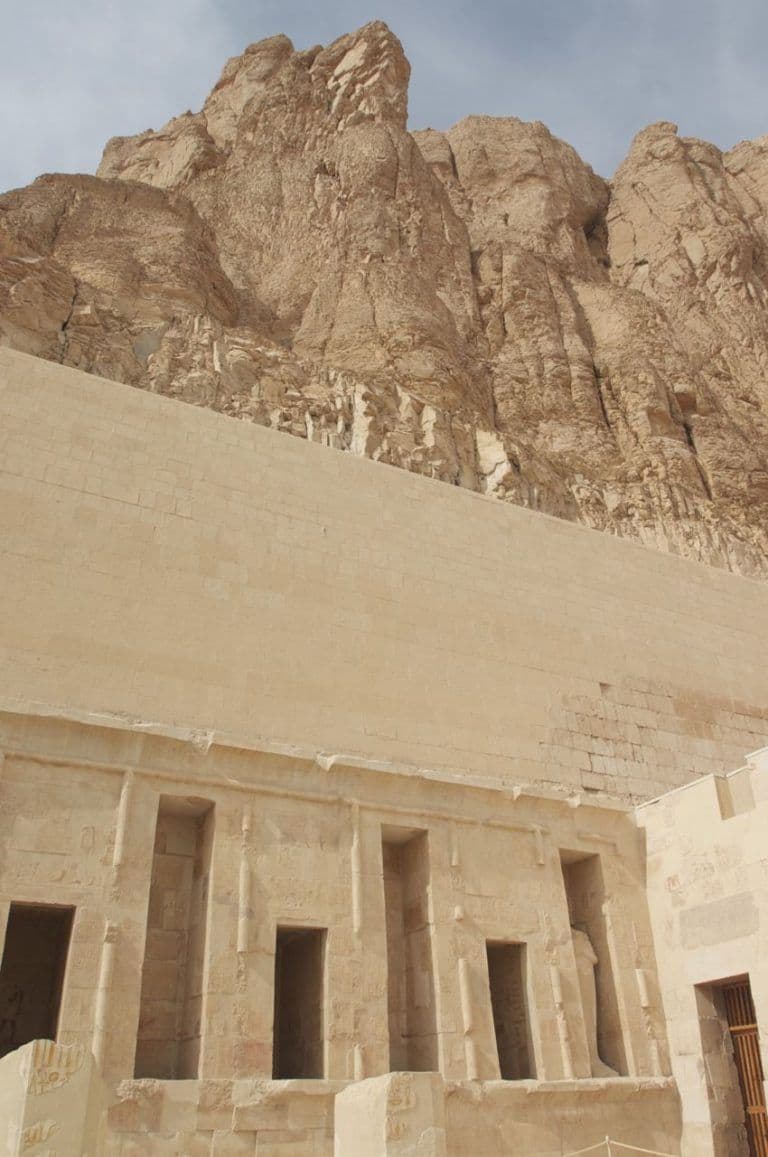 This was a surprising Temple that I didn't even know existed, but is a very popular destination.  Egypt was ahead of its time by thousands of years. They had female Kings and Hatshepsut was one of their most successful Pharoahs.  Ruling for 21 years.
Her Temple is another impressive piece of architecture. Known to be one of the most dramatically situated temples in the world, it is an awe inspiring sight.
Built into the side of a large cliff, it has three tiers leading out to the desert.  At one time it would have been filled with lush vegetation, but now it is dry and blends with the desert landscape.
It was here that a massacre occurred in 1997 killing 60 tourists. I didn't know this at the time that I visited. I remember the killings, but I never really placed where they happened. It now felt very peaceful and I think that tourism is back to normal.  It is an eerie thought however to think that right where we were standing, people were murdered doing the exact same thing we were doing. Just looking at an old temple and admiring its beauty.
Luxor Temple
While in Luxor, you cannot miss the Luxor Temple.  Located right in town on the Nile River, it is an impressive site. It is lit up at night for breathtaking photo opportunities.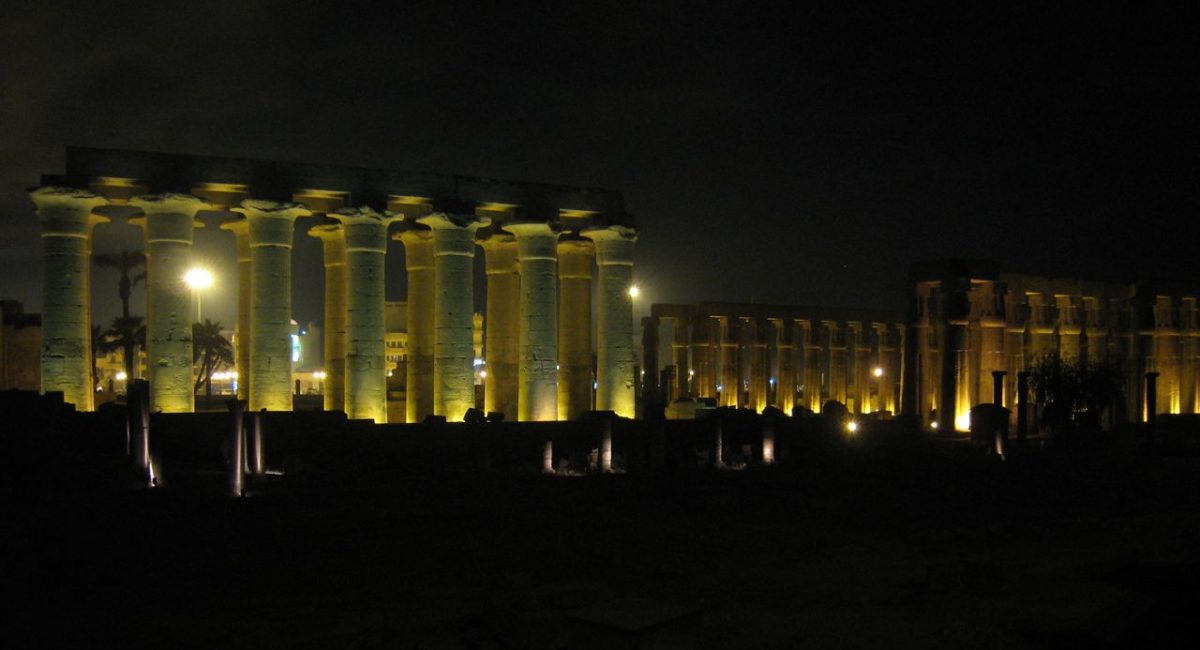 A little travel tip...the McDonald's right across the street has an incredible view of the temple, but not only that, has free wifi. So you can have lunch, update your blog and take in the sights all at once.
People will hate me for mentioning McDonalds and Temple together, but hey, you have to find wifi where and when you can.
Abu Simbel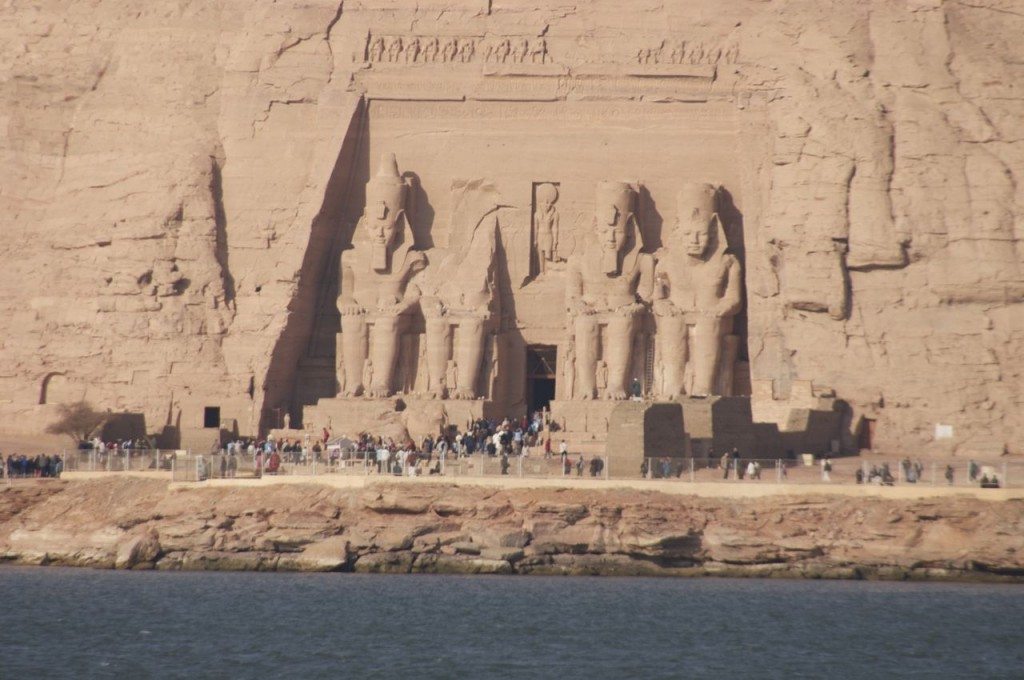 We were very lucky to see this temple on route to Sudan on Lake Nassar. This temple was originally built on lower ground. With the creation of the Aswan Dam, an enormous undertaking was initiated in the 1960's to move the ruins to higher ground to keep them from becoming submerged under lake Nassar.
They are now safe and sound. Four 20 metre statues representing Ramesses II stand guard over the banks of the lake.  Built around 1265 BC, three of the statues are still in relatively good shape.
You can take a tour from Luxor to see these temples up close and personal, I think that it is well worth the 280km travel from Luxor. Next to the pyramids, they are one of the most recognizable images of Egypt.
It is difficult to grasp just how ancient everything is in the country.  Everywhere we turned buildings were thousands of years old.  It is almost overwhelming to fathom.
Coming from such a young country like Canada, I am fascinated with living in history.  Every building, structure and monument has a story to tell.
Read More
The Red Pyramid of Egypt – Experience it Inside and Out
Egypt – A photographic journey