One of the top things that I just had to see when traveling to Laos, was the Pac Ou Caves.
I had seen an episode on Don't Forget Your Passport years earlier and I had wanted to go their ever since.
The Pac Ou Caves, Sacred Caves of Laos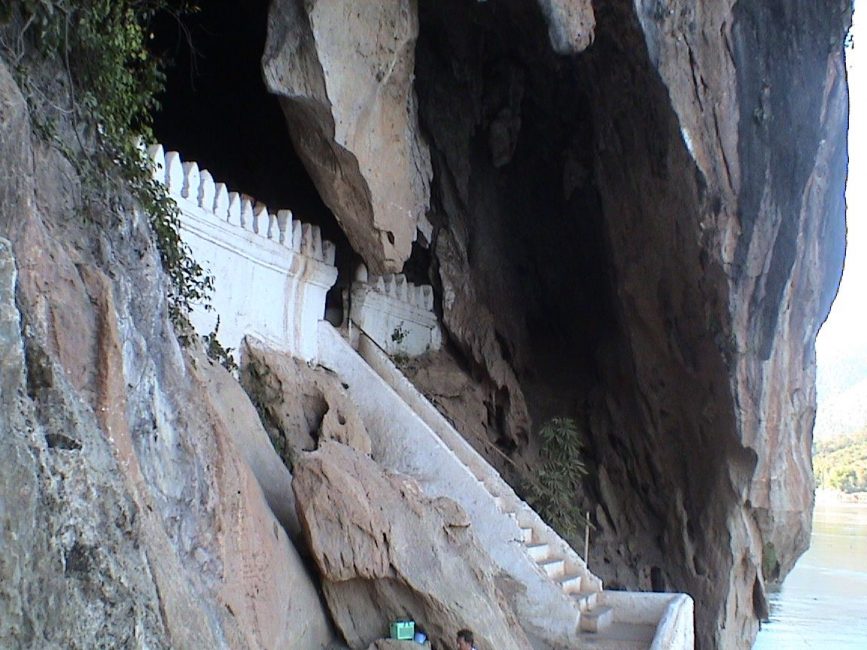 The Pac Ou Caves are a site worth seeing!
Located just 25 km outside of Luang Prabang, you can hire a boat to take you there for the day or take a Songthaew which is what Dave and I did.
The Pac Ou Caves are a sacred site located on the Mekong River.
It is loaded with thousands of Buddha statues and is still used as a place of worship. Every New Year people make a pilgrimage to the caves.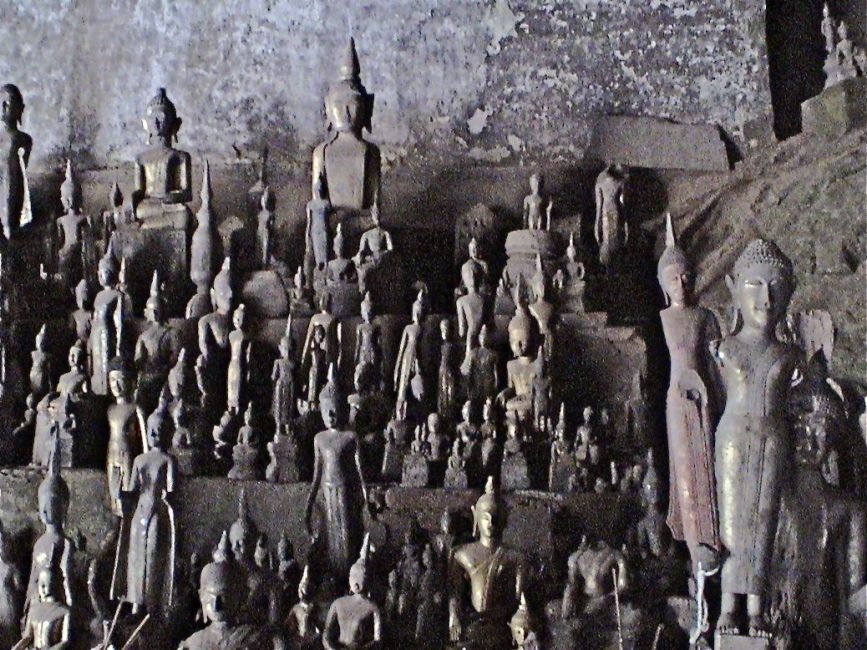 There are all sorts of different Buddhas but the majority are the standing tall Luang Prabang Buddha statues.
It is sensational. Approaching the caves from the opposite side of the river is a beautiful view.
The white stairs can be seen leading into the dark hole cut into the side of the limestone cliff.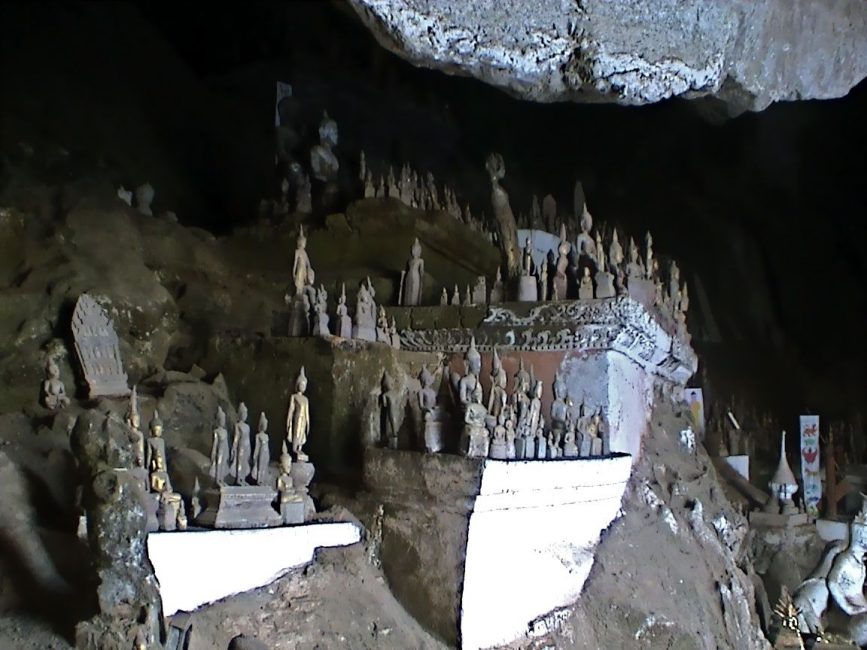 Two Levels
There are two levels to the Pac Ou caves Tham Ting the lower cave and Tham Pheung higher.
Tham Phum is dark but it is filled with more statues. We were wishing we brought our flashlight.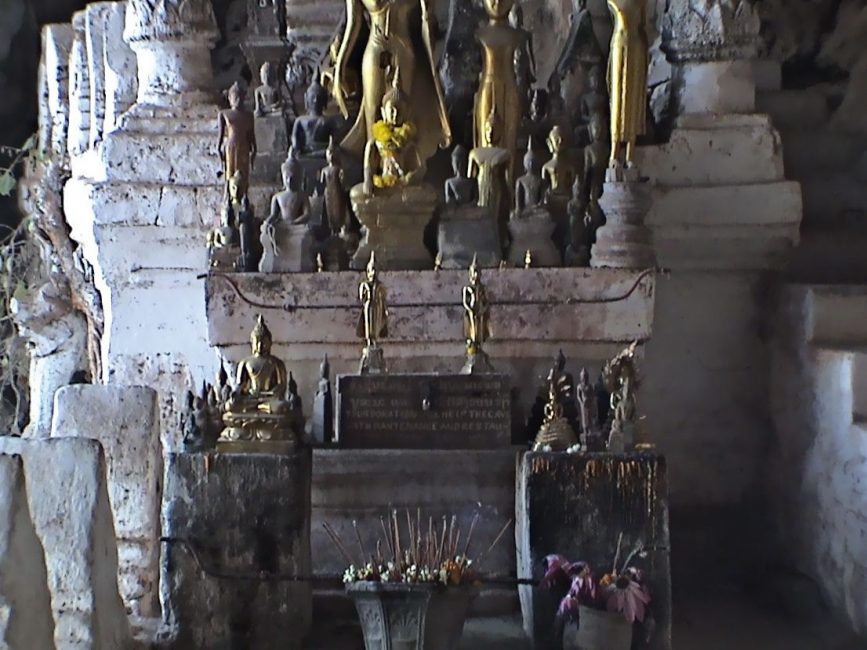 We were lucky when we visited, it wasn't very busy and we could take our time examining all of the thousand of statues.
The rest of our time was spent in Luang Prabang looking at the many temples of the area. We rented bicycles and rode along the Mekong River.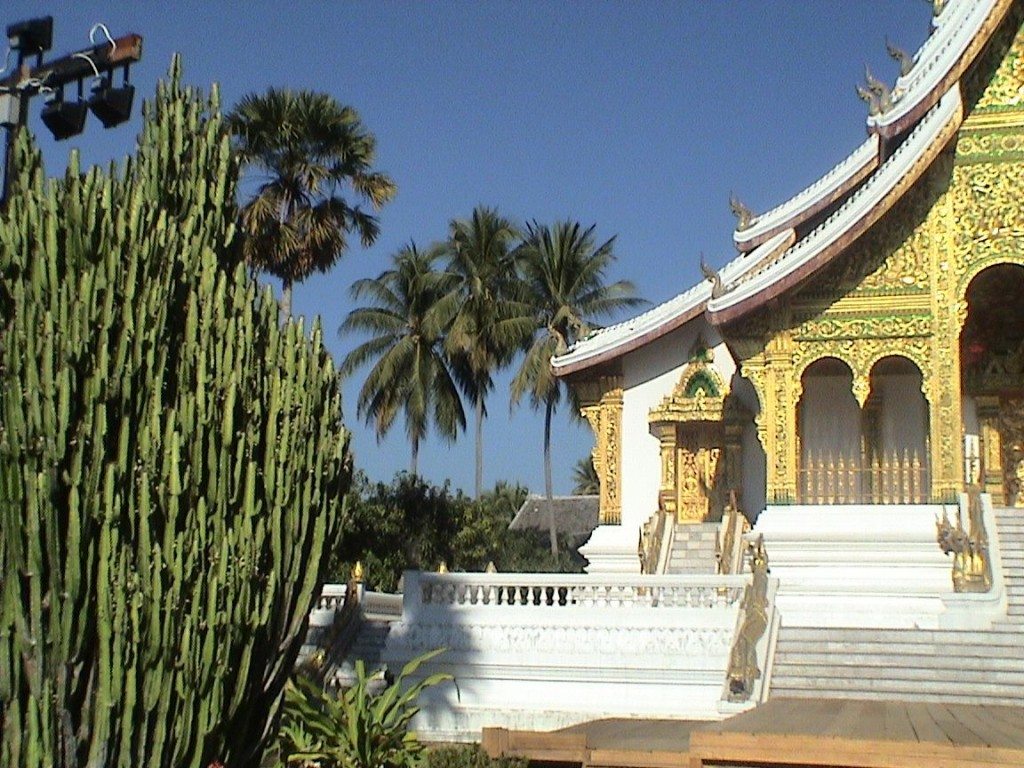 World Heritage Site
Being a world heritage sight, Luang Prabang is littered with temples. Most Notably Haw Kham, the former Royal Palace.
Each is beautiful and contain ornate tapestries, carvings and Buddha images.
We thoroughly enjoyed looking at each temple at our own pace riding our bikes from place to place.
There are coffee and pastry shops to stop for lunch, and we felt very civilized as we sipped our café latté while enjoying a croissant.
We were lucky to stumble into a temple at a time when Monks were playing their drums with great vigour and we sat, listened and watched for several minutes.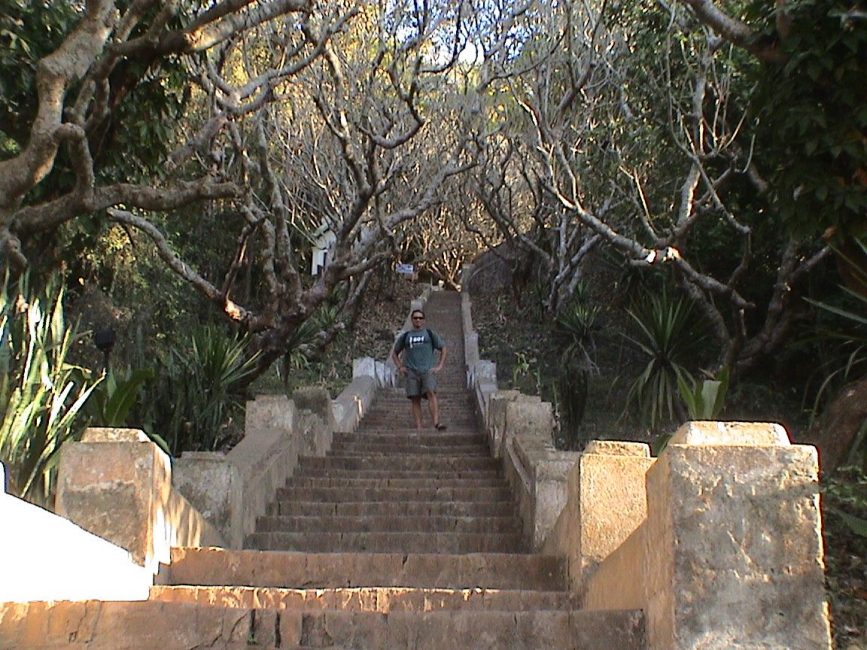 Phou Si
While in Luang Prabang, you must walk the steep hill to Phou Si.
It has a spectacular panoramic view of the area and the sunset is certainly one of the most beautiful I had ever seen.
We weren't overly impressed with the night market it was overpriced and very busy, but we bought something just the same and have enjoyed keeping it on our mantel.
So after 4 years of paying a meagre $20 for a great piece of art…Well, I guess we were being cheap when we said that the Night Market was expensive.
Read More
Vang Vieng, Beauty, and Relaxing in Laos
Sea Kayaking in Thailand and Island Camping with John Gray's Sea Canoe