Like all decisions of great consequence my plan to cycle around the world was made in a pub, beer in one hand, mini-atlas in the other. I was working as an emergency doctor in central London and struggled with the question of whether it was brave or stupid and ungrateful to say goodbye to it all, to my friends, to my family, to my country and to the job that I loved. Finally, I gave myself permission to ignore my doubts and to embark on an epic adventure – a five year bicycle tour across six continents.
Cycling Africa
Six months older, hairy face, eight thousand odd kilometers and several metric tons of Cadbury's Dairy Milk chocolate later I'd finally reached Cairo and it was here I was joined by Nyomi, a friend from England. Ahead of us lay a world of tropical heat, all manner of toothsome fauna and the prospect of less salubrious terrain, thousands of miles of Africa stretched out to the South and I couldn't wait to dive in. We set off together, a curious, grinning, two-person peloton, brimming with a heady sense of trepidation and adventure.
After a breezy jaunt along the Nile it was Ethiopia that was the first real test, a land brimming with both people and livestock and after two and a half thousand kilometers with barely an incline to test our quads, it was here that we spied our first mountains. It soon felt as though we were at sea and a vicious storm was brewing, the hills rolled in like great waves, each one more foreboding than the last. Every day gangs of children chased after us, chanting 'YOU! YOU! YOU!', demanding money, waving sticks, throwing stones and stealing from our bikes.
Read: Another Word for Home, My Night in the Slum
But I soon discovered that what Ethiopia takes, it also gives back. The same boisterous chancers would push us up the hills, tiny hands pressed against my racks and panniers, propelling me upwards for five or even ten kilometres. I realize that the image of a group of small, poor, exhausted, black African children pushing a white Englishman uphill on a bicycle is a disconcerting one. Some might say that it even has colonial undertones. It just wasn't like that, I promise. But despite the helping hands, Ethiopia's raucous children and lung-crunching climbs into the highlands had taken a toll and over Christmas I gorged myself, safe in the knowledge that I needed the calories. I had lost almost ten kilograms since Cairo and there's not an image more bleak or farcical than a grown man sporting baggy spandex.
Memories are made of moments and it was the people of Africa who made the most vivid and enduring ones. It was a trouble-free and scenic joyride through the verdant and undulating tea plantations of Uganda and Rwanda but the real life and color was in amongst the greenery, the roadside sparkled with bright eyes and winsome grins.
Read: Our Top 10 Fears of Cycling Africa
In Africa, things don't stay easy for long and anyone traversing the continent on two wheels will at some time become  immersed in the tropical wet season, in our case it caught up to us in Tanzania. Every day a portentous concrescence of black clouds gathered above and then unleashed a deluge the likes of which I had never seen before. The more horizontal the sheets of rain blasting the tarmac the more we retreated under ponchos and the sunnier our songs became. In the torrential bursts I bashed out an assortment of reggae classics.
Finally after 23,215 kilometers, 26 international boundaries, one year and four months on the road, over 250 days in Africa and a whopping puncture count, I rode into the Cape of Good Hope at the south-west tip of the African continent. I studied Belinda, my bicycle. She had scrappy ribbons of electrical tape holding together the handlebar grip, there were scratches on the frame and tie wraps sat where long lost pannier clips should be. She wore the marks and scrapes of those sixteen months on the road, and so did I. The contours of my legs had changed, I was thinner and my hairstyle was bordering on full blown mullet. But I had made it through lion country unmauled and let's face it, it's a good brag.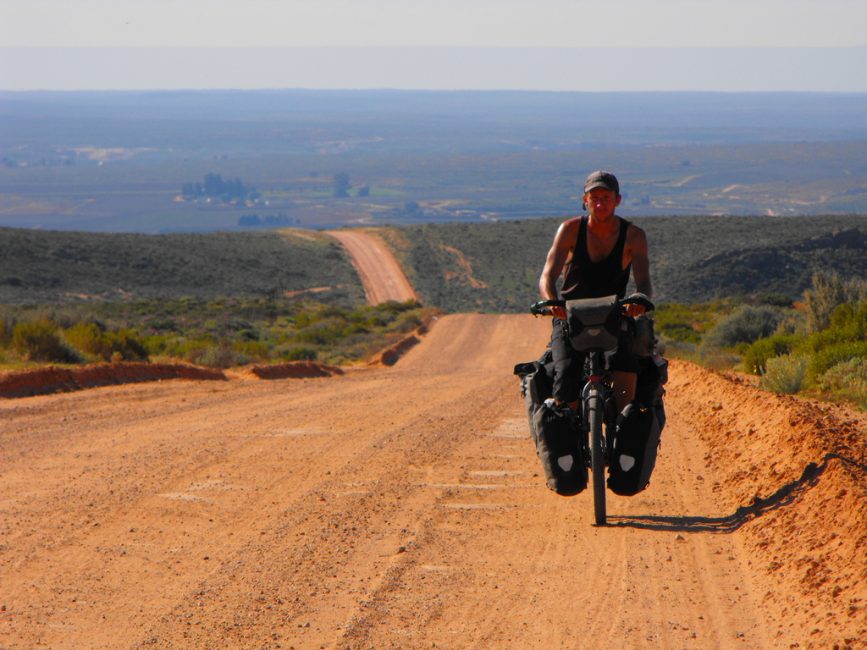 I relished my African adventure for many, many reasons. Living outside, plenty of exercise and all the unfamiliar faces and places conspired to make me feel more alive than ever before. Along the way my bedrooms were a curious and opportune mix. Aside from my roadside tent I slept in churches, derelict castles, schools, hospitals, police stations, on a crocodile farm and in the shed of a water buffalo. I reveled in the unpredictability of my new life, of often having no clue where I would be sleeping, the buzz of carrying everything I needed in my panniers and the freedom that I know I'll never have again. I am no longer caught up in the tide of rapid choices and consequences that inevitably comes with life in the city. It's a good feeling.
So I cycled through what I had been assured was the most frustrating, dangerous and incomprehensible continent on earth. I think I will remember Africa as the most life-affirming, the most human and the most surprising. And when people ask me 'what was the best bit?' I find it hard to answer. The best bits all involved people, but there are far too many to mention.
The adventure continues… I am currently pedaling through South America and en route to Alaska. Have a browse through my blog posts and if you dig it – become a follower http://www.cyclingthe6.blogspot.com.
For more information on my adventure visit Cycling the 6 and to sponsor me complete this challenge please visit http://www.justgiving.com/cyclingthe6. Every penny donated goes to the medical aid charity Merlin who work in areas affected by natural disaster, conflict and health system collapse.
Bio –
St Thomas' Hospital forecourt, London, the 5th of January 2010. Steve said cheerio to loved ones and then started pedaling – he will be pedaling for the next five years. Steve's lonely migration east began in Europe and then into Africa but will eventually see him travel by bicycle the length of six of the earth's continents, during which he will cycle a distance equivalent to twice the circumference of the earth. Some time in late 2014 Steve will return, probably sporting an ungodly amount of body hair and intermittently blurting out the insane ramblings of someone who has become more calf muscle than man. Follow him around the world – http://www.cyclingthe6.blogspot.com. Social media links – Facebook Page  Twitter   Flickr