I have received a couple of emails asking about what gear we took with us to cycle the Tour d'Afrique. I thought that I would post the information to let everyone know what we packed for our cycling trip through Africa.
Cycling Africa Gear List – Tour d'Afrique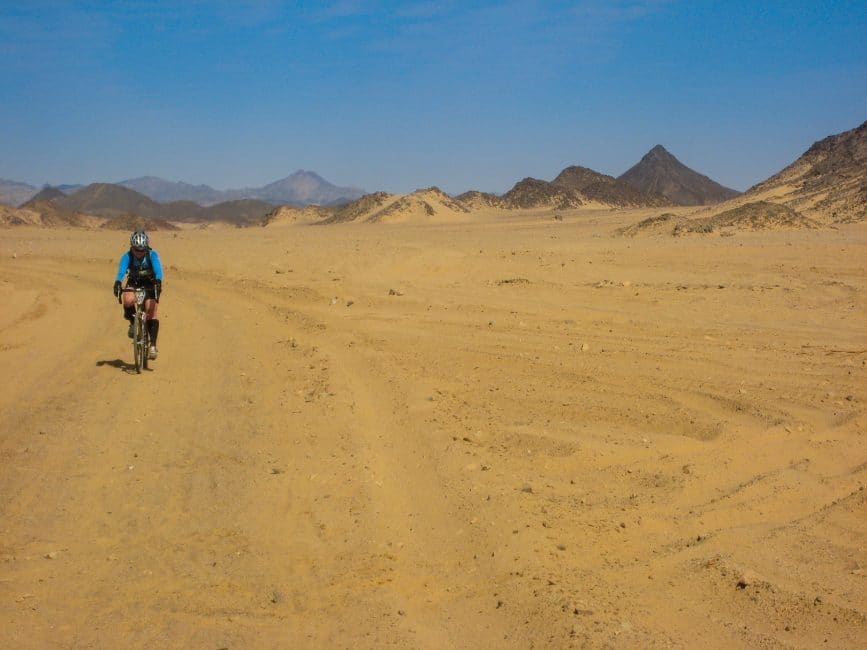 Here is a list of the gear we brought with us to cycle Africa, what we should have left behind and a review of our bikes.

Read: What it's Like to Cycle Ethiopia
Remember, this was a supported expedition and if we were to cycle Africa independently, we would take far less gear. Since we had trucks carrying our red boxes and all we had to carry was our water and snacks therefore we could bring far more than a solo rider. Plus, this was a race through Africa, so we had to have all the extra parts needed to change quickly. We were on the move each day riding 12,000 in a total of four months!

Bikes and Parts: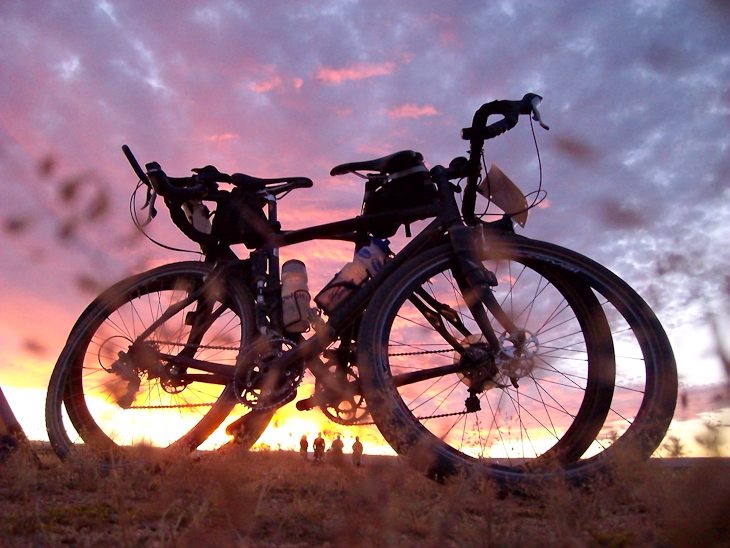 Specialized Tricross Expert Bike 
Cyclocross bikes are excellent bikes for cycling Africa.
Our Specialized Tricross Experts t could handle all sorts of terrain.
We only wish that we had a triple chainring and a suspension seat post.
We recommend going with the Tricross Comp.
It already has a triple chainring, and the lower model components are easier to replace and more durable.
Our bottom bracket was difficult to replace because it wasn't a common model and our rims were not suitable because they were only 24 spoke compared to the more durable 32 spoke.
Plus our rims were too deep making changing tires in a pinch difficult.
Otherwise, we think the Cyclocross is a way better option than a mountain bike.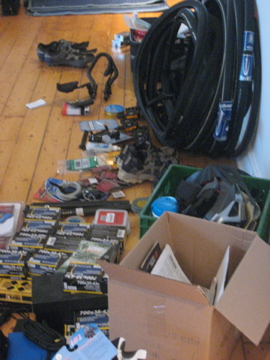 2 chains – We changed our chains twice. There was considerable chain stretch

cycling 12,000 km over the continent.

15 spokes – (5 of each size)when Dave broke his rim, they were needed to make the tire work for the next 7 days until we could get a new rim. We also lent a couple to people.
2 racing tires, 25c Schwalbe Marathon Plus – Excellent-12,000km, not one Flat
2 wide sand tires – 47c Schwalbe Marathon Plus
2 all terrain tires-didn't need these tires – We didn't need this 3rd set of tires. The 25 c racing tire and 47 c smooth sand tires are all you need.
14 tubes – (small and large sizes) – We used Schwalbe tires, and never had a flat. But other people had many flat tires, sometimes several per day. We did have trouble at the beginning changing tires because of our deep rims, short valves and very stiff tires. Therefore we had a lot of pinch flats while putting them on. (completely our fault.) we were happy to have extra tubes because we hate to patch. If we were cycling independently we would not have brought many tubes, we would have used our patches more, but we were worrying about speed.
1 set extra pedals – never used them
1 set extra cleats – needed them.
2 brake cables – Yes we changed these.
2 shifter cables – These were also changed and needed.
roll of cable housing – We changed housing during the tour as well.
extra rear cassette – Didn't use it.
extra front chain ring – Didn't need
bar tape – Oh Yes, needed it. A lot of it!
aerobars – Loved having them. Highly recommended for the flat countries of Africa.
1 extra seat – didn't need.
1 extra seat post – Dave changed his.
1 extra helmet – recommended, one guy split his helmet in a fall and needed a new one.

1 pair bike shoes – other people brought extra shoes and it seemed like a good idea. We lasted with only one, but if one was lost or ruined, we would have been in trouble.




What Gear we Should have packed for Africa

Extra Rim-Dave bent one and had to buy one off of a departing sectional rider
Extra Bottom Bracket-Many people had their bottom bracket go
Long valve inner tubes– we struggled with our deep rims and short valves when pumping up our tires.
Extra Tire Levers
Electrolite Supplements
Our own Gatorade
Our own chair

Camping and Gear for Africa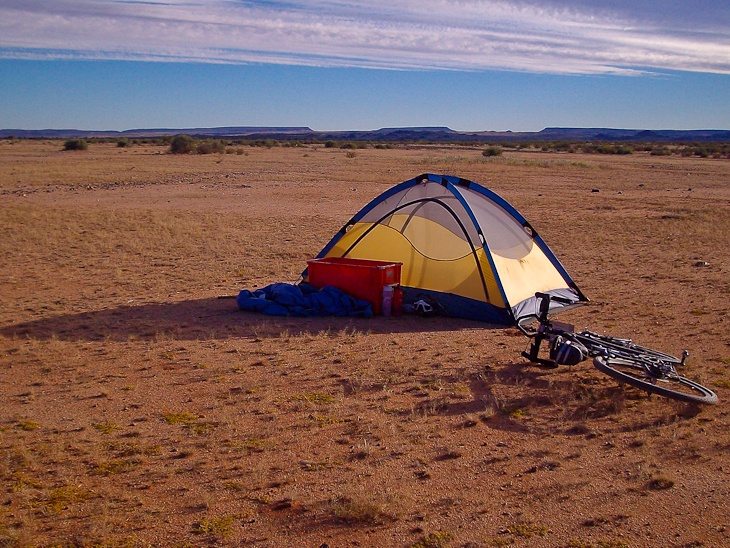 Other than the tent, everything is times 2

North Face Roadrunner II Tent-Excellent –  but small for 2 people, however, we're good in cozy places.
Z Rest Thermarest full size – Great for thorns, didn't have to worry about deflating. Inflatable Thermarests are not recommended for Africa.
Half Size inflatable thermarest for extra comfort-added that extra comfort.
3° Celcius down sleeping bags – could have used a warmer sleeping bag. I'd for for a minus -5.
silk sleeping bag liners – Could have taken them or left them. For warm nights, we preferred using our sarongs. 
Thermarest pillows-didn't need at all, we only used the fleece camping pillow case with our down jackets as filling.
fleece pillow case to stuff clothes in for extra comfort
Tek Towels small and large – only needed the large.
1 bowl, plate, fork, knife, spoon– didn't need the bowl, just used the mug.
1 cup and mug
headlamp-invaluable!
clothesline (pegless)–excellent. You can buy this anywhere we got it in Canadian Tire and we've put the Amazon link to the left. We didn't have to worry about losing pegs.
Electronics
2 Canon Digital elph camera – didn't stand up to the elements well. We recommend looking for a more durable camer

1- Canon 10D SLR digital camera-didn't need while riding, but used on day off and 2 weeks when we had to bypass Kenya.

1 -16-35 mm lense-same as above

1-28-300 mm lense-same as above

1- Canon HV 20 Video Camera

2-helmet cams-didn't use hardly at all. Waste of money.

1 Mac book pro computer-Loved having our computer with us!

1-portable hard drive-would have brought a flash drive memory stick instead.

1- solar charger – a must!

12v Chargers for all electronics – adapter needed for the solar charger, definitely needed.

Other valuable things to pack for cycling Africa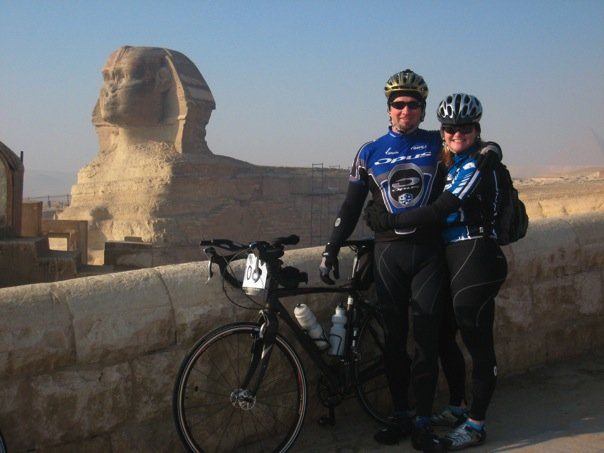 Arm warmers and Leg-warmers a must! – It is cold in the desert in the morning. 

Long Finger Gloves-needed

Hammer for Tent-definitely needed


Spade for toilet-We didn't have to run around looking for the shovel.

Cell Phone-bought a SIM card for each country we entered, and could text people at home anytime

Padding for handle bars-definitely needed for the corrugated roads in Ethiopia.

down jackets-I loved having these, we used them as pillows (stuffed in a travel size case) and needed for cold mornings in deserts.

Butt Butter – certainly helped avoid chafing.
Read Next: Tour d'Afrique, The Trip the Changed our Lives
You Might Also Enjoy