–Hussain has a story, almost 20 years in the making.
It is an extraordinary story and one that I was grateful to have him share with us.
Hussein is the manager of our guest house here in Udaipur.  We are staying at the Lakeshore Guest house south of the Hanuman Ghat overlooking the city and palace across the narrowest part of the lake.
He is a friendly man that loves to talk about life with his guests.  He likes his place to feel like home.  There are beds over looking the water with big pillows to lay on, tables and chairs are set up on the patio and relaxing music plays as people eat breakfast.
He has been leasing this property for 9 years and running the guest house while learning all about the hotel business.
A Dream Acheived
It is almost time for him to open his very own hotel across the road and we had the honour of having a first hand tour of the place.
Years ago, his father bought this piece of land for 40,000 rupees (900 US dollars).  He bought it because he liked the rock that sat upon the property and decided that he would like to build a house on it one day.
Hussain's father never did build that house, but for years Hussein lived in a small hut on the property as he took care of his cows.  He would also go down to the Ghats every day and talk to tourists at sunset.  His land is located close to the best view in Udaipur for sunsets so he would have had many tourists each day to say hello to.
He went to school for English Literature and loved to speak with all the visitors to Udaipur learning about their life and conversing in English.  He learned well and became a savvy businessman.
All the while he has been chipping away at the rock that his father loved so much and has been building his dream hotel.  With his own two hands he cut away this giant rock.  Pieces of the rock are piled high around the property and he is going to use them to build walls and the entranceway.  It is incredible to see the size that the stone was and how every day after cricket or school he would go back to his place and chip rock by hand.
He designed his hotel in his mind and modeled it after other fine hotels in the area.  He took the best that each had to offer and put them into his design.  He talked to tourists to see what they would like and he put in his own ideas of what he wanted out of a hotel.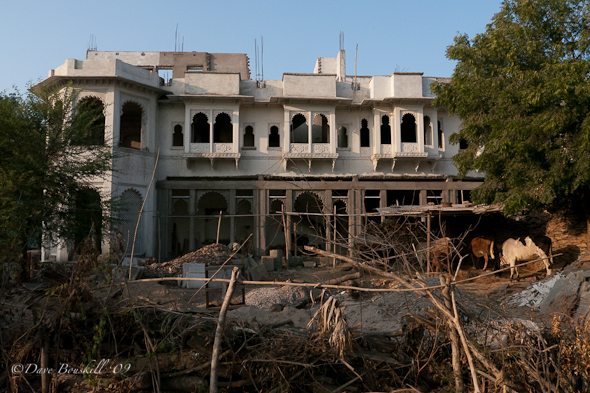 20 Years Later
For 20 years he had worked on improving his land.  He started working in hotels at reception and other jobs and finally, 9 years ago, he leased the Lakeshore Guest House.
It is right across from his property and during the day he heads over to his construction site to work on his dream.
He has started making a good living and can afford to hire contractors to build the structure.  He takes great pride in every detail and design that he has picked out by hand.
Handmade with Great Care
He has hired and artist to put flowers in concrete for his trim.  The artist works daily and each arch takes one week.  This is a feat for anyone, but this artist is 90 years old!  He works all day long only stopping to pray at the mosque 5 times a day.  He does beautiful work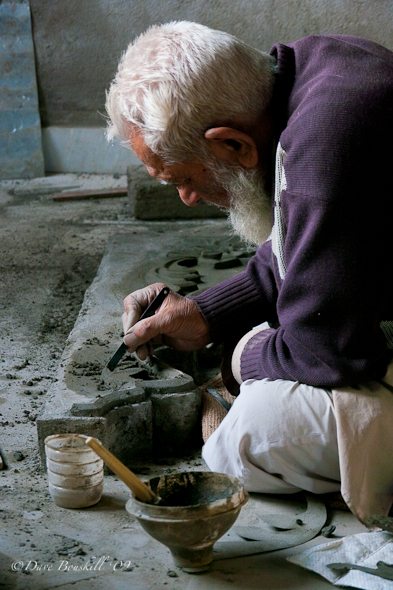 Hussain is proud that he has never taken out a loan and has built it all from nothing.   His story is proof that dreams can come true.  The hotel is magnificent.  It has a view to die for overlooking the lake, the City Palace and the Island Palace Hotel.  He has built high ceilings and several levels on high ground.  You can see everything.
It truly will be one of the best views in all of Udaipur.
He is close to opening and soon he will have 4 of the 20 rooms ready to go.  As we walked through the rooms, I noticed how it is like a palace fit for the Maharaja himself.  It is located on a hill and it not only has views of the city, but also the lake and mountains to the West.
He is working on the entrance now and as he shows us where the steps will lead to, we can see the giant rock that he had chipped away with great patience over the years.
Now he is about to build those steps from the pieces of rocks that he had cut by hand.
We wish Hussain all the best and hope that people flock to his hotel in the future. If you happen to find yourself in Udaipur next year, make your way to the Hanuman Ghat side of town and keep a look out for Paradise View Palace Hotel. (At least that is the working name of the hotel, it could change.)
Keep walking almost to the end of the road towards the pier for the perfect sunset looking back at the City Palace.  Before the pier walkway path, there is an entrance way to the 5 star resort Lela.  His hotel is just before their path.  You can't miss it, it is just across the road from the Ambrai restaurant.
I am sure that the hard work and love that Hussain has put in to his building every day will pay off.  He is an inspiration to us all.  If you want something bad enough, you will get it, even if it takes 20 years.