It's the moment we've been waiting for. The Summer Solstice is fast approaching and we're gearing up for our most amazing summer adventures in Ontario. 
Ontario Summer Adventures
We're doing some epic outdoor Ontario adventures where we'll be learning new skills and taking on new challenges. Fears will be conquered and elements will be faced. To kick start our summer adventures, we wanted to share a round up of everything we'll be doing. We want you to follow along on the blog and on Social Media at #DiscoverOn to see what we're up too. It's going to be excellent and here's a sneak peek!
#1 White Water Kayaking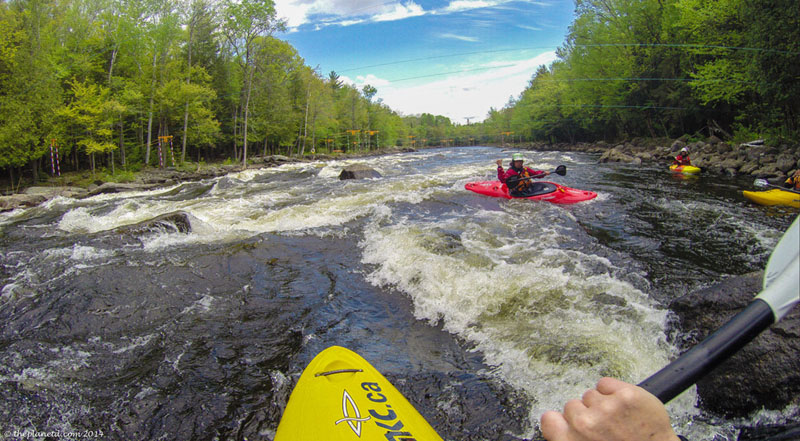 It's probably the only thing that Dave and I fear equally. Dave usually has nerves of steel, (I'm always a big old wimp) but when it comes to facing rapids with the strong possibility of flipping over in a tiny kayak, he feels a little bit of anxiety.
We've done kayaking all over the world, but never whitewater kayaking. Whenever we've had to show guides our wet exit before heading out on a kayaking excursion, we do it as quickly as possible and pray we'll never have to do one in a real situation. We'll do everything in our power to keep our kayak from flipping over.
Whitewater kayaking is all about flipping over and being able to handle the situation comfortable. We'll be learning the roll, and practicing the T-rescue. It's terrifying to think that we'll flip over in violent rapids and float underwater upside down while waiting for someone to come and rescue us.
My first instinct will always be to pull that "Oh shit strap" on my kayaking skirt and get the heck out of there. Will we overcome our fears? Find our next week when we write all about it during our time with the Madawaska Kanu Centre
#2 Moose Safari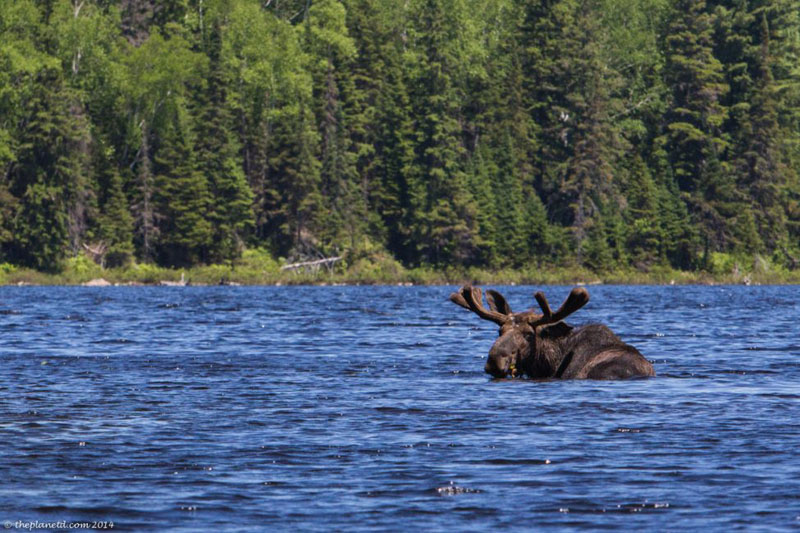 It's the quintessential Canadian experience. To go on a moose safari in Algonquin Provincial Park is a right of passage for most Canadians.
We'll be joining Voyageur Quest and renowned wildlife photographer Rob Stimpson on a moose safari like no other. Facing black flies and dense mosquitoes, we'll paddle out to a remote region of the park to view the nation's largest mammal in its natural habitat.
With Rob's skill and knowledge, we'll spot moms and calves eating in the marsh and we're hoping to have our first bull moose sighting ever! Exploring by canoe is the icing on the cake. There is nothing more Algonquin than canoe travel and camping in the park filled with wildlife is an adventure we'll not soon forget.
#3 Fly Fishing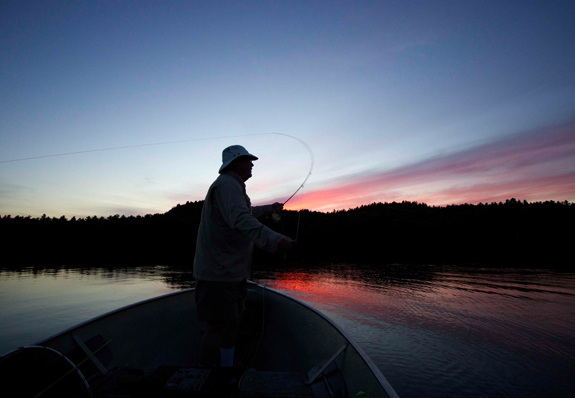 Haven't you always found the notion of fly fishing romantic? I can just see it now. In the future on a lazy Sunday afternoon, Dave and I will venture out to a quiet stream to cast our line and attempt to catch our evening dinner. How cool would it be to be a fly fishing couple?
Well, we're going to learn all about it from TV host Colin McKeon as we join him on his show for an episode of The New Fly Fisher.
That's going to be exciting enough, but once we take a couple of days to learn how to flick our wrist like Brad Pitt's …. in A River Runs Through It, we're flying into a remote fishing lodge in the North of Ontario. This is every guys dream here in Ontario people.
I think every Canadian man would be content living in a log cabin way up north catching fish and drinking beer. Well, it could be this Canadian woman's dream too! We'll let you know how it goes. What's even best about flyfishing? It's all catch and release.
#4 Caribou and Kayak on Lake Superior's North Shore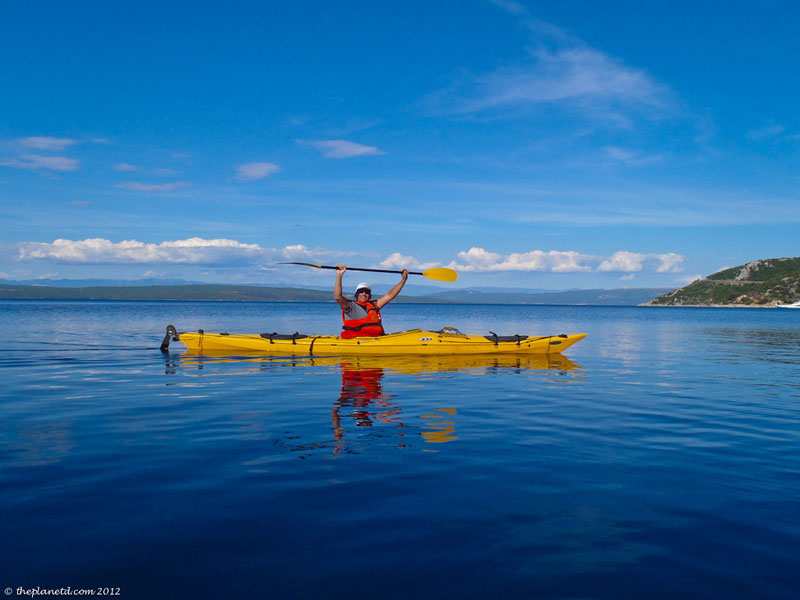 We've only been to the north of Lake Superior once and that was just this past winter when we hiked the Missinaibi Headwaters.
Now, we'll get the chance to explore it by kayak this summer as we take an epic trip out to the isolated Slate Islands. Not only is the scenery supposed to rival the East Coast of Canada or the Atlantic Coast of Ireland, The Slate Islands house the largest concentrations of wild Caribou in Canada!
We're guaranteed sightings and we cannot wait to see these majestic creatures in their natural habitat.
In Europe, Caribous are known as reindeer. We always thought you could only see Caribou in the rocky mountains or Alaska. People take trips to Scandinavia to see reindeer but we've got them right here in Ontario.
I hope we get the chance to see a lot of them. Caribou can reach speeds of 80 km per hour. Can you imagine how magnificent that will be?
Our Trip will be taken with Naturally Superior Adventures
#6 Epic Motorcycle Ride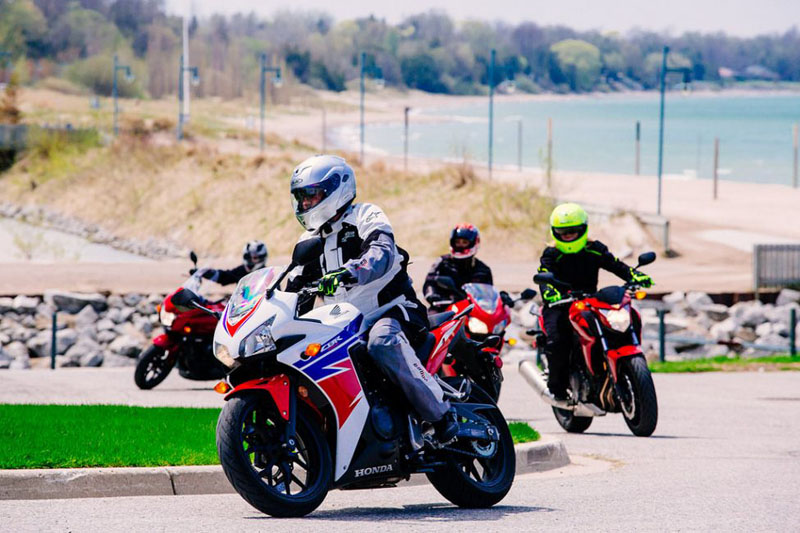 It's one of the top motorcycle rides in the world. Circumnavigating Lake Superior by motorcycle is the trip of a lifetime.
Lake Superior is the world's largest freshwater lake and during our 10-day tour around the magnificent coastline, we'll be crossing through the province of Ontario plus three US States. Wisconsin, Michigan and Minnesota.
As a couple who just passed our motorcycle test and have only been on bikes a total of 9 times, this is going to be the challenge of a lifetime.
Riding is exhausting and takes a lot of concentration. The north shore of Lake Superior is far removed from civilization so we'll be riding some challenging roads and facing some difficult conditions.
We've spoken to people who have been all around the world and they all agree, that the Lake Superior shoreline is one of the most stunning places on earth.
We can't wait to show it off! We've browsed the internet for photos and there is a great lack of images out there. We're planning on changing all that.
See what the rides all about at Ride Lake Superior 
#7 The Pukaskwa Coastal Trail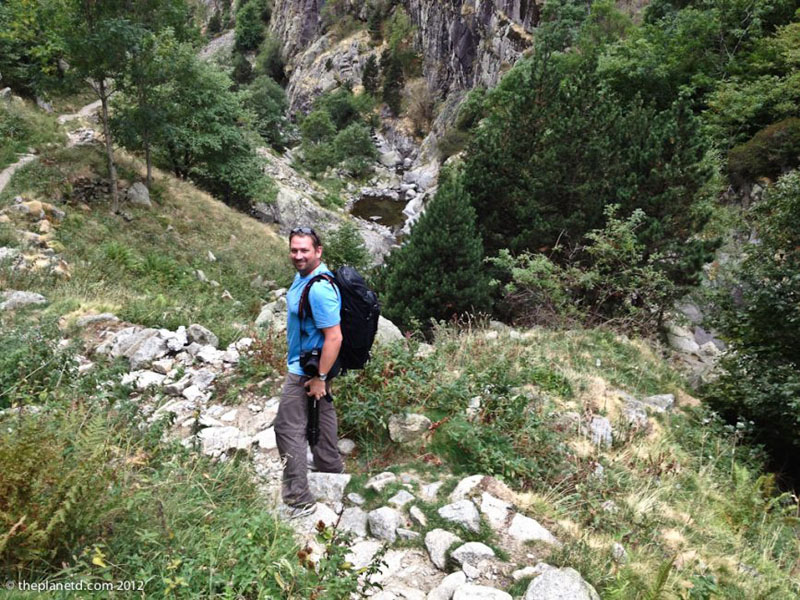 We've all heard of the West Coast Trail, but Ontario has a coastal trail of its own and it's crazy epic!
This 60 km trail into the backcountry on the North Shore of Lake Superior takes you way off the beaten path. Unlike the West Coast Trail, the chances of seeing anyone else is next to none.
We'll be joining Naturally Superior Adventures to hike 10 km a day while carrying our packs, sleeping bags and gear is going to be a challenge. But we're up for it and we cannot wait to explore this little-known region of Canada.
Once you've hiked the Pukaskwa, you have bragging rights for years to come. Only the true outdoor lovers know of this trail, but it won't be for long. I have a feeling this will become the premier hike in Canada in the coming years!
Read More
Fly in Lodges of Ontario – A Northern Rite of Passage
Pukaskwa Coastal Hike – Prep and Planning
The Best of the Lake Superior Circle Tour
You Might Also Enjoy