There are so many things to do in Niagara Falls. While you can see a lot in one day, it is worth spending two or three days exploring the Honeymoon Capital of the World. There is so much to do and you can always find new attractions opening every year in Niagara Falls.
Very Best Things to do in Niagara Falls
Dave and I have visited nearly every Niagara Attraction. We've been visiting Niagara Falls year after year since 1996 and it's our "go-to" getaway destination outside Toronto and one of the top places to visit in Ontario.
So I would consider us experts on things to do in Niagara Falls.
In this guide, we will cover
Niagara Falls Tours
You don't need to do a guided tour to Niagara Falls, it's easy to travel independently.
Niagara Falls has set up an excellent set of passes. Through Niagara Parks you can book the Niagara Falls Adventure Pass. It gives you entry to Journey Behind the Falls, Niagara's Fury, and the Butterfly Conservatory.
When you purchase an attractions pass, it gives you access to the WEGO people mover that takes you to all the major attractions.
Passes can be bought in advance at Get Your Guide where you can book a complete pass to attractions on both the US and Canada side of the falls.
Our personal favourite is the Niagara Falls Adventure Pass. It gets you into a lot of the "Wow" Niagara attractions like the Hornblower, Whitewater Walk, Whirlpool Aero car and Journey Behind the Falls.
You can also buy a Clifton Hill Fun Pass.
This is a great option when looking for things to do in Niagara Falls at night. It gives you access to many of the attractions in the Midway and on Clifton Hill like the Niagara SkyWheel, Movieland Wax Museum and the 6D Interactive adventure rides Wild West Coaster and Zombie Attack!
Getting Around Niagara Falls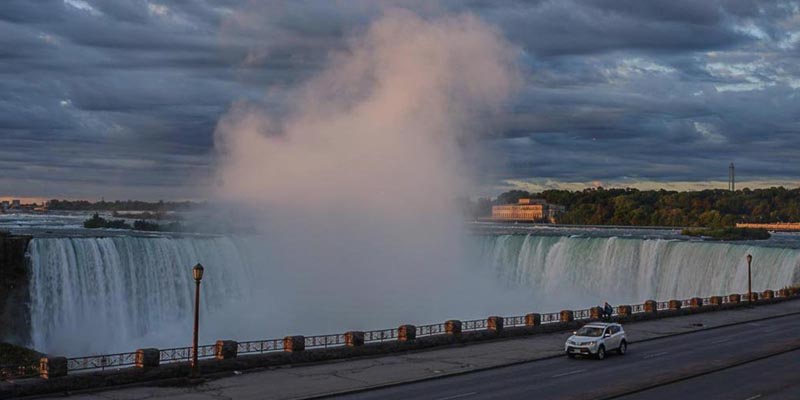 When visiting Niagara Falls, traveling by car is ideal, but if you are visiting from out of the country or taking a side trip from Toronto, you don't need a car.
If you buy any attraction pass, it gives you access to the WEGO Bus that hits up the major attractions.
You can also book wine tours out to Niagara on the Lake or tour buses from Niagara Falls.
Bicycle rentals are available and are an excellent way to see the area. Dave and I once rode bikes all the way to Niagara on the Lake from Niagara Falls to tour some wineries.
Getting to Niagara Falls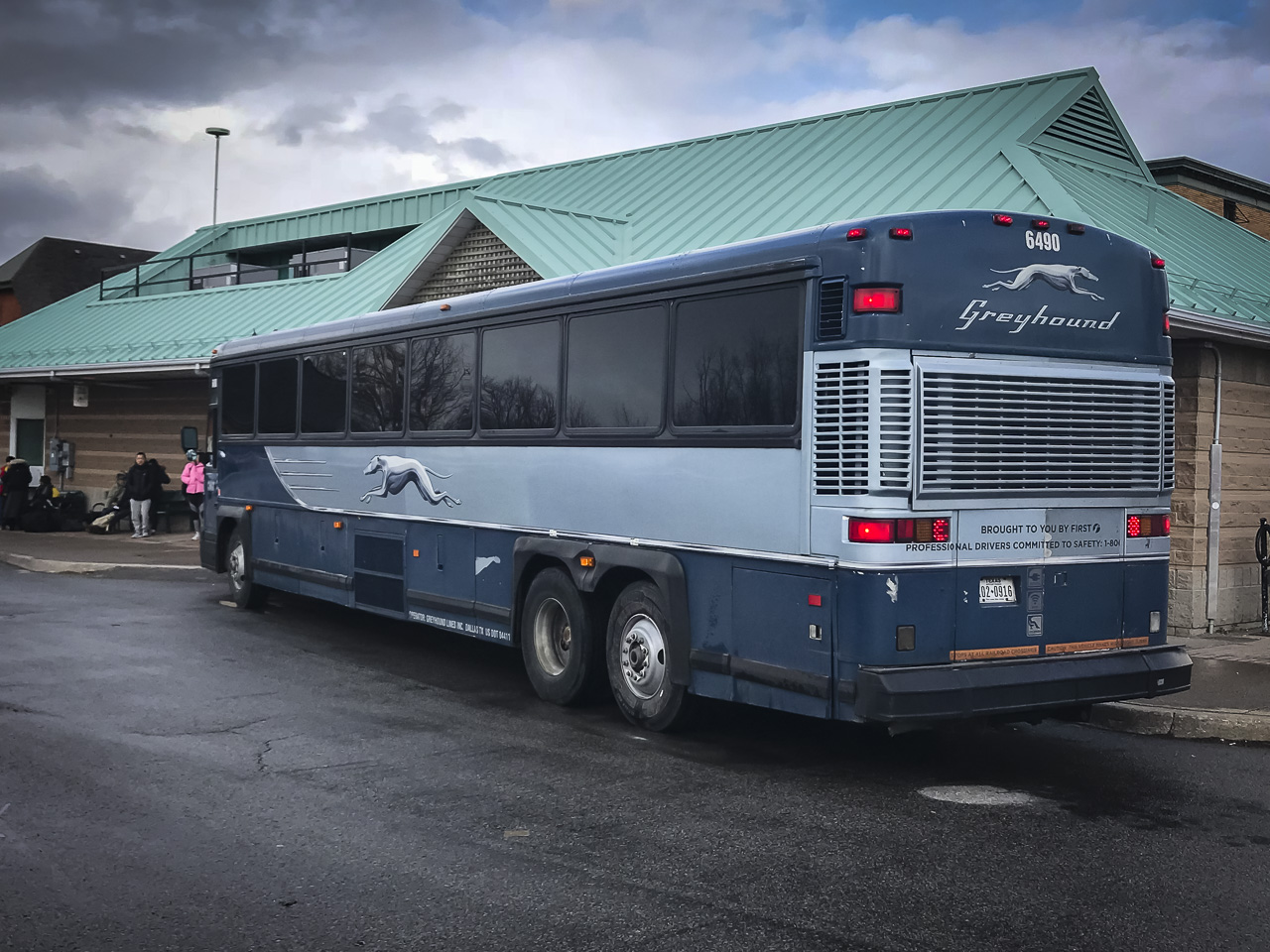 Buses operate from downtown Toronto and Buffalo, New York.
We recently took the bus from Toronto by booking through Busbud and it was quick and easy. The only downfall is it is about a 309 minute walk from the bus terminal to the Niagara Falls attractions.
Trains travel from New York City, Toronto and wait for it… Cleveland.
Best Things to do in Niagara Falls
1. Hornblower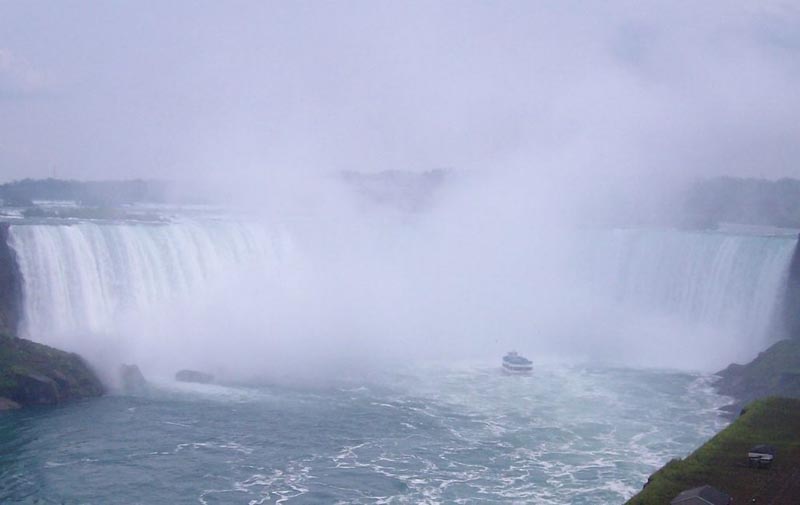 Formerly the Maid of the Mist, Hornblower is an oldie but a goody.
It is also the most famous attraction in Niagara Falls. It has been operating since 1846 shuttling people across to the US border.
In 1885 they started running as tourist attractions to take passengers to an up-close and personal view of the falls. It is another thrilling experience being so close to the falling water. The boat goes right inside the horseshoe and thundering water surrounds you.
Be prepared, you are going to get wet! But don't worry, they supply rain jackets.
Book the Hornblower in Advance with Get Your Guide – Skip the ticket booth and take the funicular to the dock.
2. Journey Behind the Falls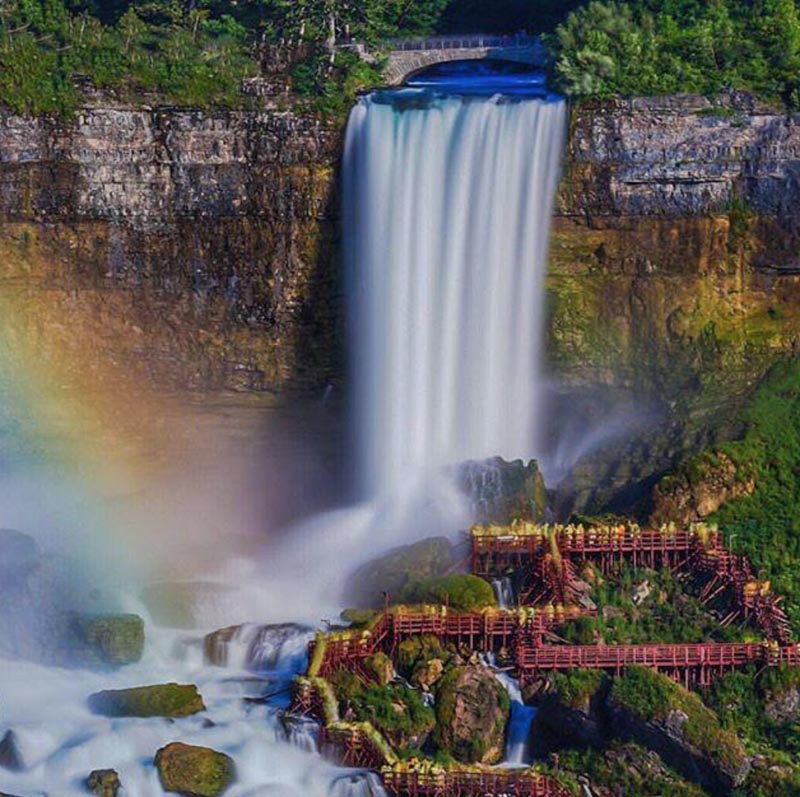 The Hornblower may be Niagara Falls most famous attraction but we love the Journey Behind the Falls even more!
You descent 125 feet from above the falls to the heart of the cascade. You then get to explore 130-year-old tunnels that weave behind the waterfalls.
Feel the power of the Niagara and hear the thunder.
After you explore behind the scenes, you come out to an observation deck right beside the falls where you'll get to see them first hand.
It's another attraction that's sure to get your clothes very wet!
3. Whirlpool Jetboat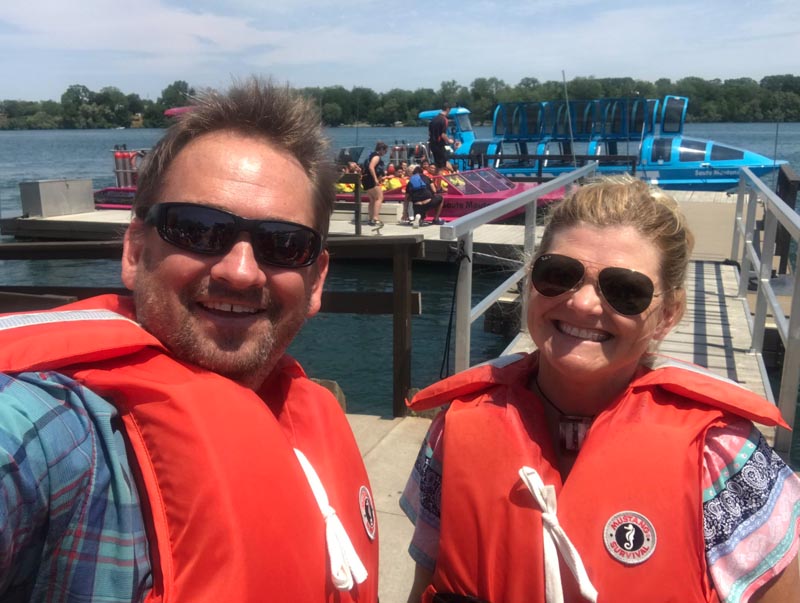 It may not be located directly in Niagara Falls, but you have to make the short trip to Niagara on the Lake for the Whirlpool Jetboat.
Just a short 10-minute drive up the Niagara Parkway from Niagara Falls, The Whirlpool Jetboat tour is five-star pure adrenaline.
Choose from getting wet or staying dry as you take a journey along the Niagara River to the Class 6 rapids of the whirlpool.
Anything that goes into the whirlpool won't come but this action-packed ride takes you right beside it.
Feel the power of the Niagara River as you cut through rapids with its triple turbo diesel water jet system for both propulsion and steering.
It's an adventure of a lifetime.
Book it here now.
4. Clifton Hill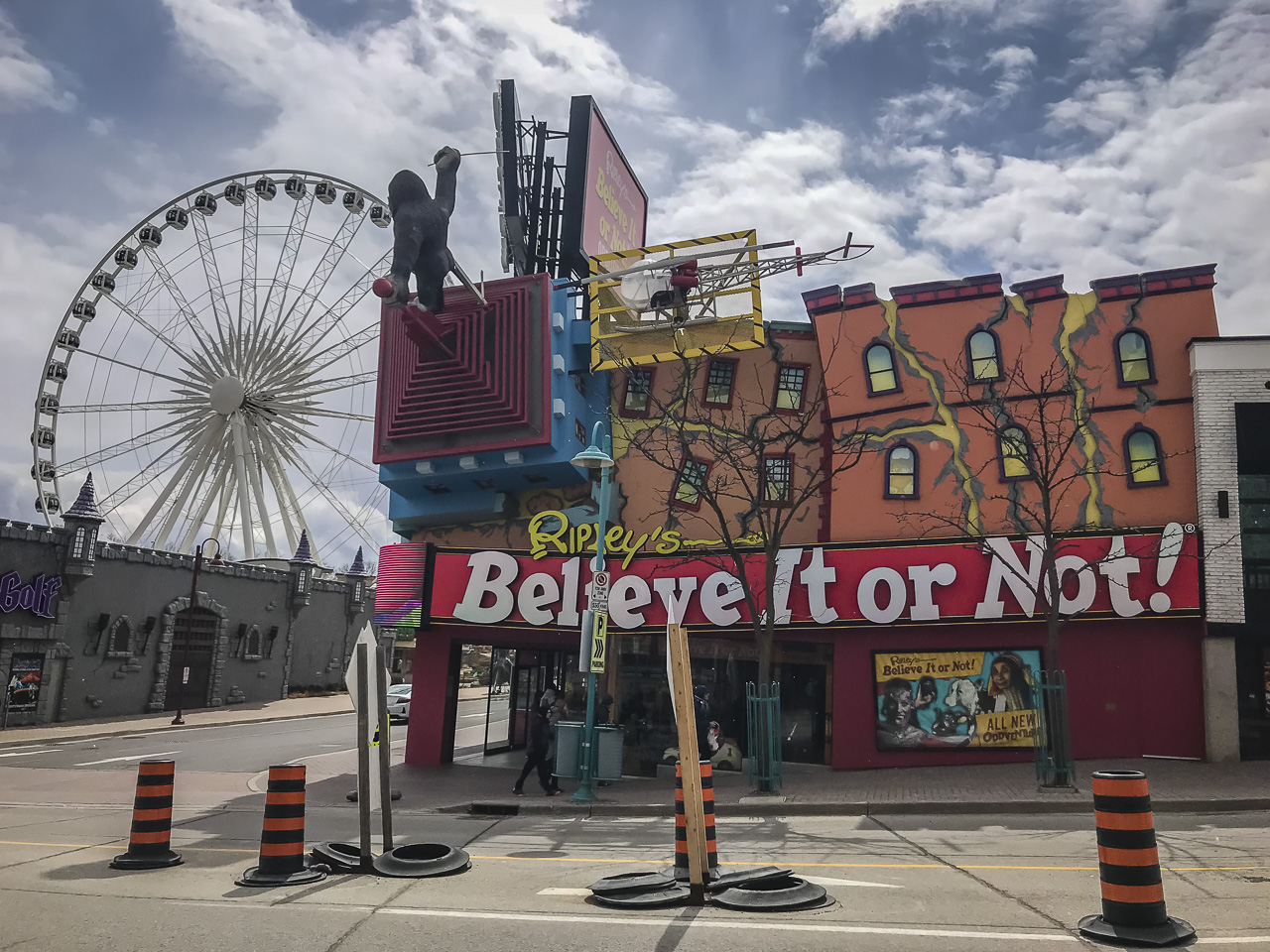 A visit to Niagara Falls would not be complete without visiting the cheesy shops and museums that line the streets.
Dracula's castle, Ripley's Believe it or Not, Wax Museums, Midways and haunted houses.
Clifton Hill is full of just enough kitsch.
You must go inside one of the haunted houses just for the fun of it. It's a throwback to the 70s.
5. Butterfly Conservatory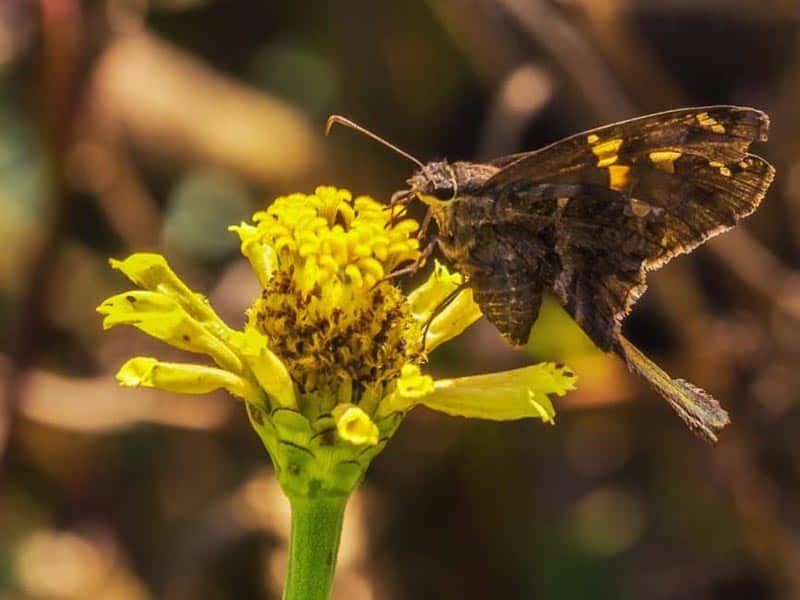 You wouldn't think that this would be an interesting attraction at Niagara, but the butterfly conservatory is a lot of fun.
Enter the climate-controlled rainforest and be surrounded by thousands of butterfly's flying through the air as you walk along the path.
Butterflies will actually land on you as you walk through.
6. Botanical Gardens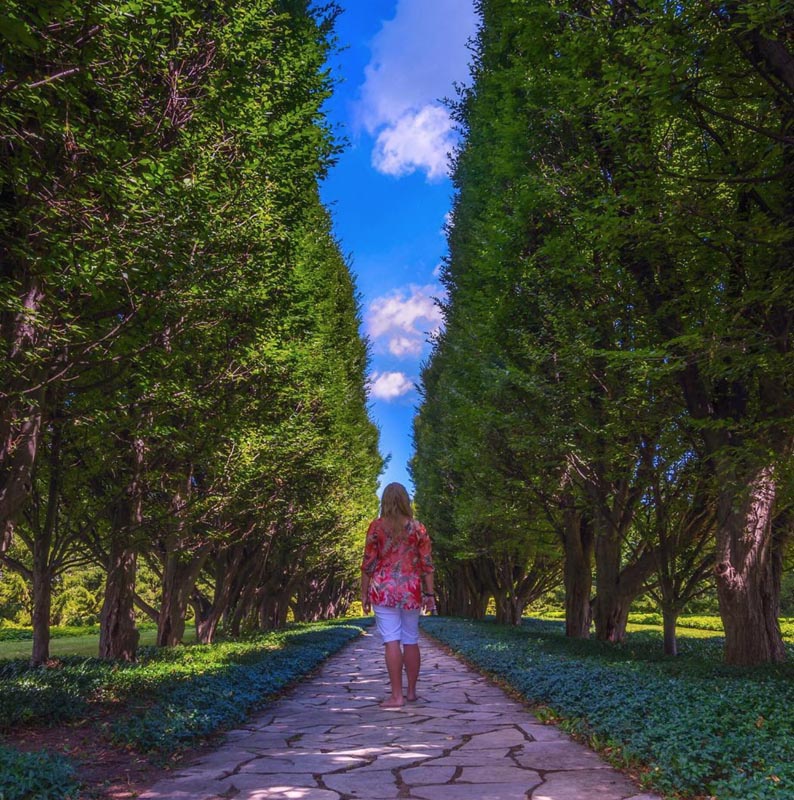 Dave and I have visited Niagara Falls countless times and it wasn't until two years ago that we finally stopped at the Botanical Gardens.
It's a quiet retreat and it is the perfect spot to capture some Instagram photographs.
It's funny that we'd never walked through the gardens because the Butterfly Conservatory is located in the same spot.
But in the past, we skipped the gardens and went straight to the butterflies.
Don't do what we did, take a stroll and see them all. It's beautiful.
The butterfly Conservatory is included in the Niagara Adventure Pass.
7. Fallsview Casino Resort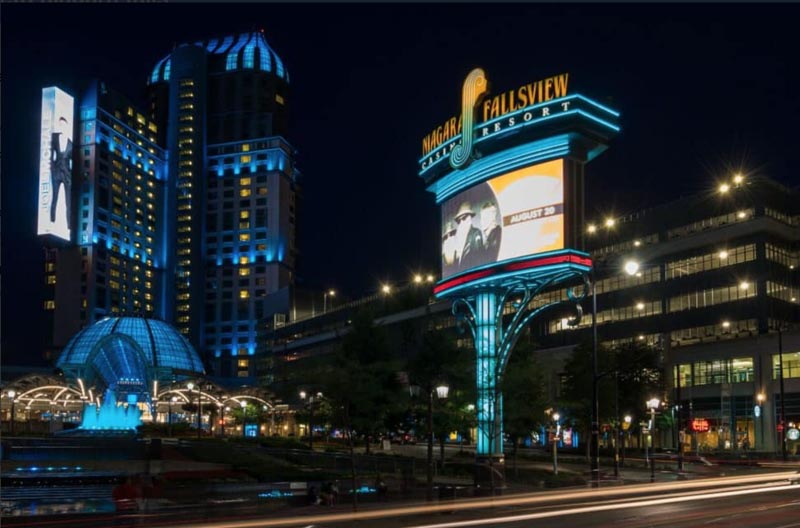 Fallsview has become a huge draw to Niagara Falls. We're not big on gambling, but the Fallsview Casino Resort is an excellent place to visit.
It's not just a casino, it's a resort complete international music acts and 5-star dining.
There's a shopping, five different restaurants, and two nightclubs.
8. Nightmares Fear Factory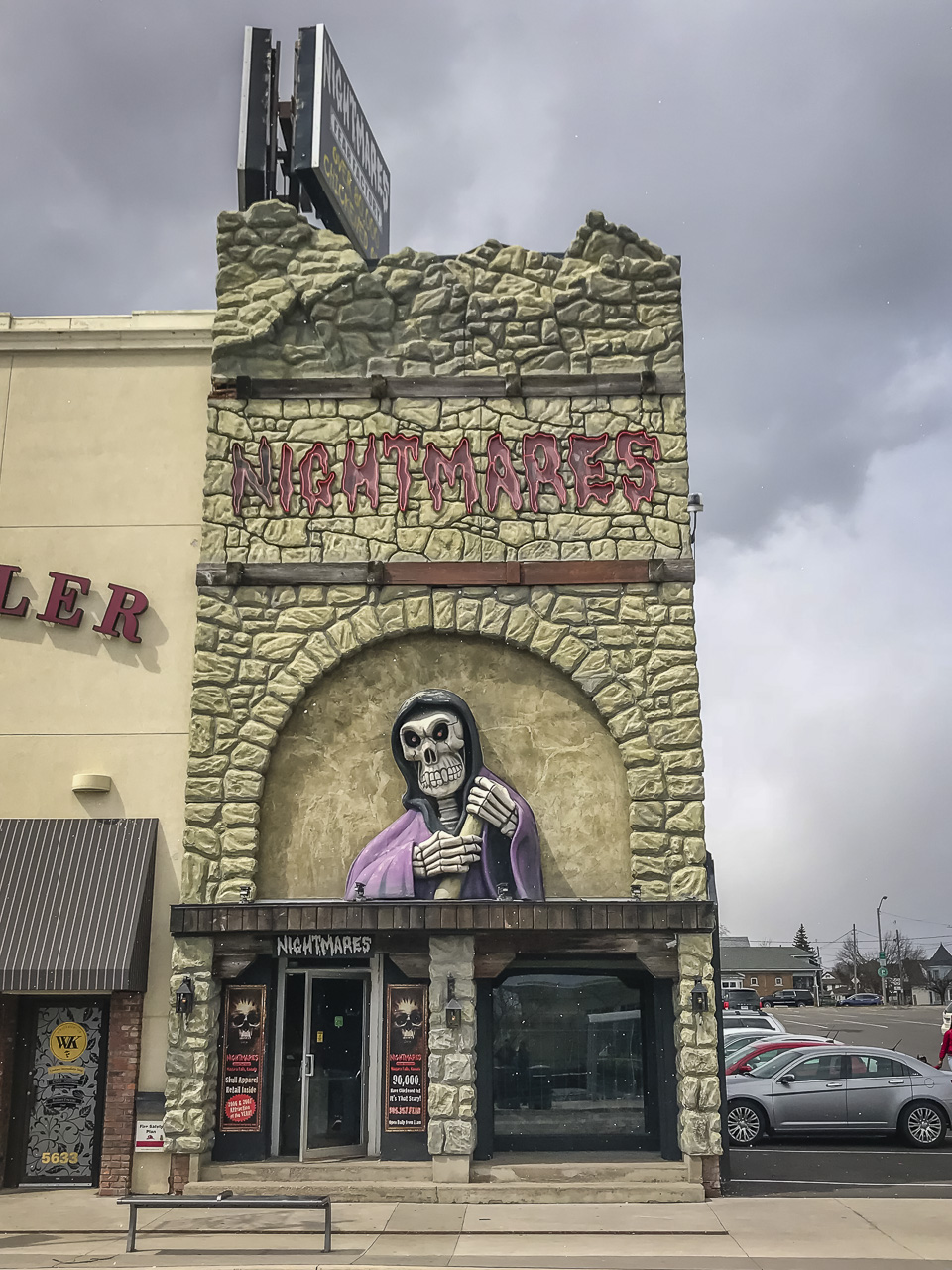 Want to get your blood pumping again? This is one scary haunted house.
Located at the top of Clifton Hill across from Ripley's Believe it or Not, Nightmares is a must for anyone that loves a good scare.
It is scary alright, legend has it that it was built on the site of an old coffin factory.
The proprietor was killed in a prank gone bad and has haunted the halls ever since.
If you become too scared inside the maze of nightmares you can chicken out.
Don't feel bad if you do, over 95,000 people have chickened out over the years.
9. Touring the Niagara Wine Region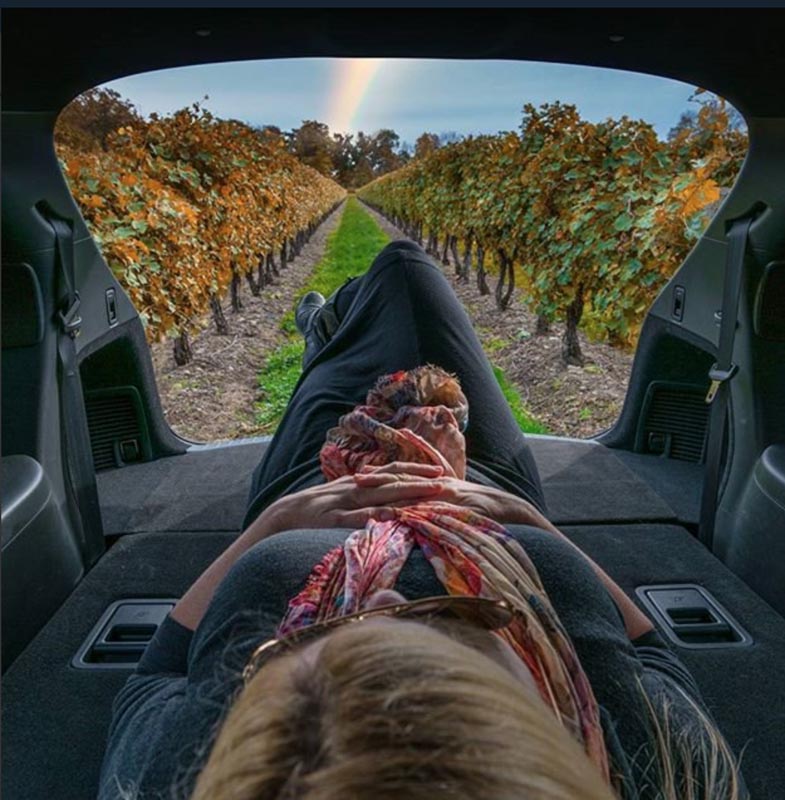 After all that excitement from the more adventurous attractions, take a tour of the wine region at Niagara on the Lake.
Only 15 minutes from Niagara Falls there are award-winning winery's waiting to be explored. You can hop on a bus from Niagara Falls and join a wine tour.
That's probably the easiest from the falls, but if you have a car or if you decide to stay in Niagara on the Lake, you can rent a bicycle and go on your own or join a bicycle tour.
There's limo tours, funky bus tours, horse tours and more to drink wine without having to drive.
Popular Niagara Wineries include: Peller Estates, Trius, Inniskillin, Two Sisters, Wayne Gretzkys', and Vineland Estates.
10. Niagara on the Lake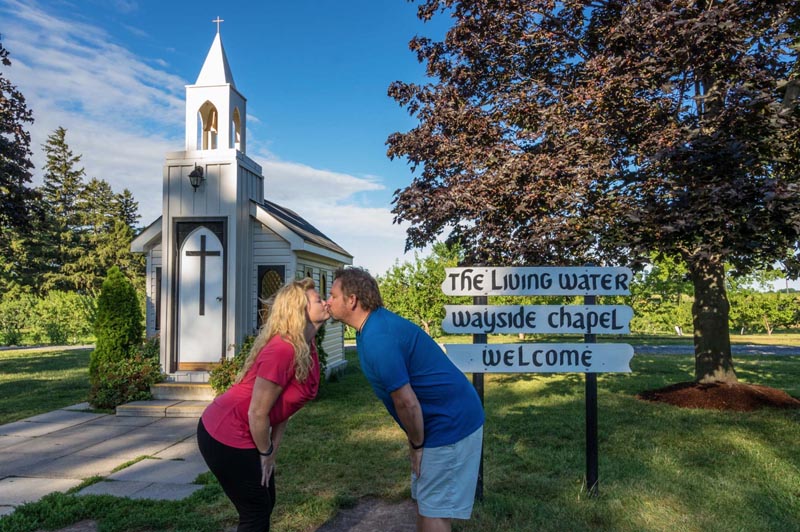 Speaking of Niagara on the Lake, this is a wonderful romantic town to visit.
I've already mentioned the Whirlpool Jetboat tour that leaves from here and the many wineries in the area.
But the town itself is worth visiting.
Stay in a bed and breakfast where you can dine in style at many fine dining restaurants and visit the historic heritage buildings.
The Shaw Festival attracts theatre lovers and if you love browsing shops and local artisans at work, this is the place for you.
If you are feeling romantic, take a horse-drawn carriage ride.
And the Fort George National Historic Site is located just outside of town.
11. Hike the Niagara Glen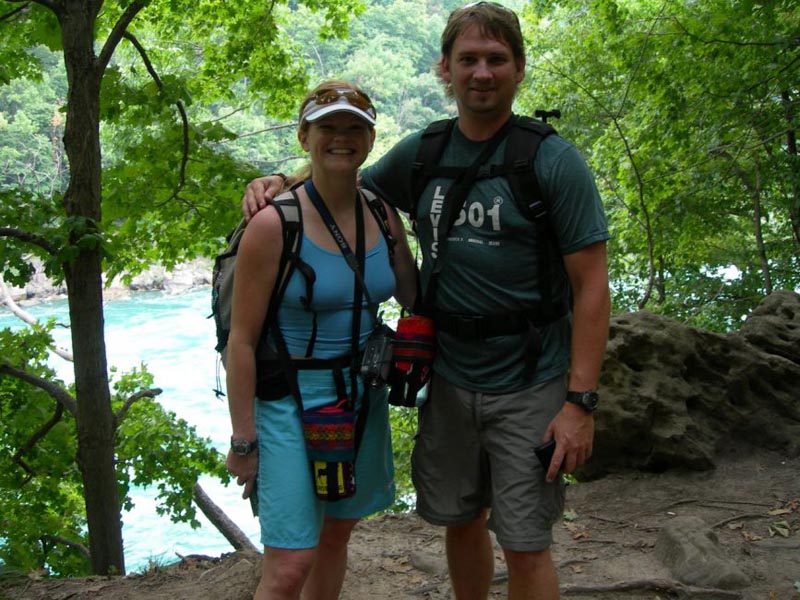 It's a great spot for a day hike located 8 km from the falls.
Excellent hiking trails and if you are into rock climbing there are great spots for bouldering.
Bring a crash mat and enjoy your climb over huge boulders. Or just take a stroll through the trails of Niagara Glen.
It overlooks the Whirlpool on the Niagara River.
Admission to Niagara Glen is free.
12. Fireworks and Falls at Night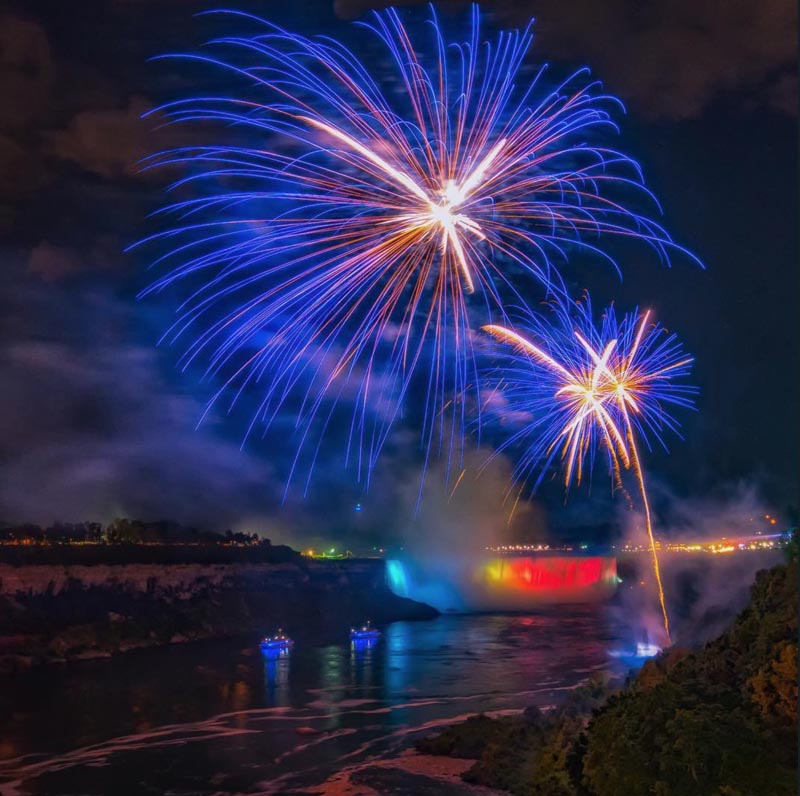 The Falls are lit up each night with colourful lights and most evenings in the summer have a fantastic fireworks display.
Make your way down to the falls when the sun goes down to watch. But be sure to get there early, it fills up and you need to scout your spot and stick to it.
Or choose one of the many restaurants that overlook the falls and eat a late dinner for a spectacular view.
13. Whirlpool AeroCar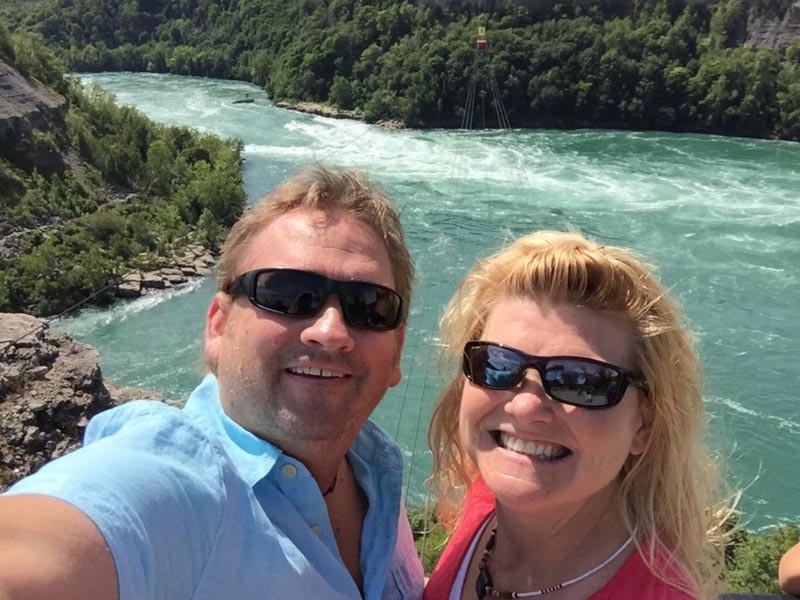 If you aren't up for taking a boat out to the whirlpool, you might be up for taking a cablecar over the Whirlpool.
Located between Niagara Falls and Niagara on the Lake, this is a really cool stop and easy to do.
14. Skylon Tower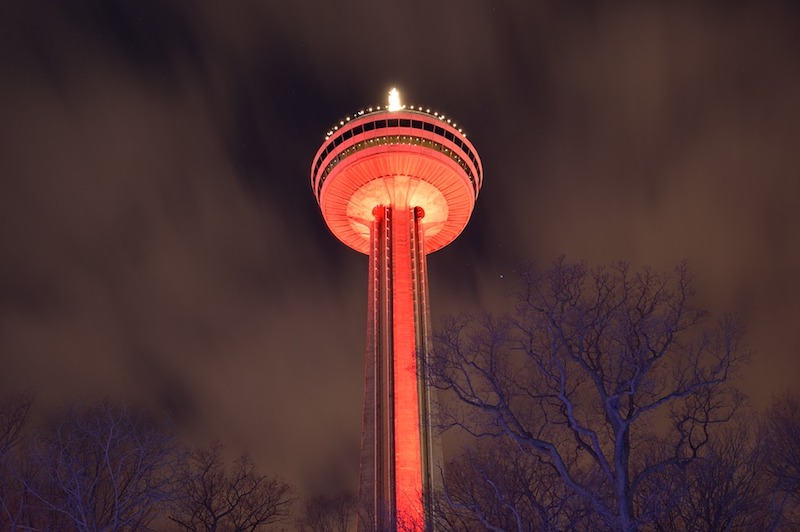 It's Niagara Falls mini version of Toronto's CN Tower.
A 52 Second ride takes you to the top of the Skylon Tower for views of the Falls, the Gorge and the surrounding area including Buffalo New York across the river.
While you are there, why not have dinner at the revolving restaurant.
15. Floral Clock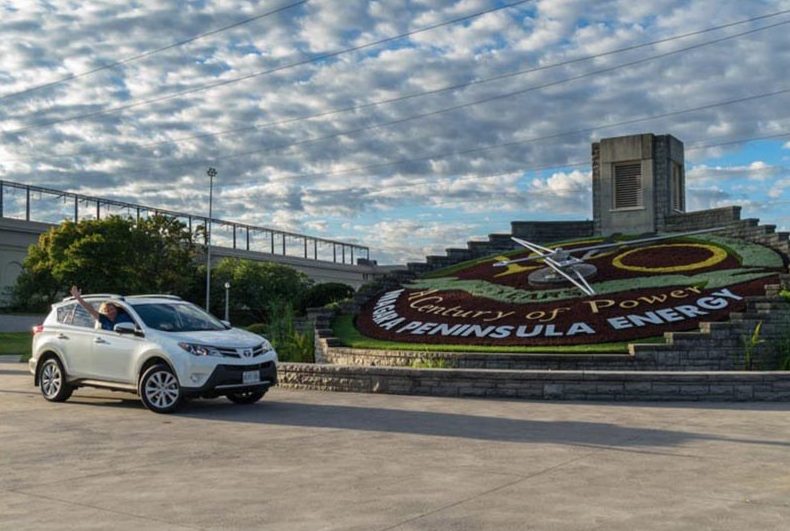 I never cared for the Floral Clock as a kid, but each time we return to Niagara Falls, we always take a quick trip to the clock. Psst, the WEGO bus stops here too.
It is powered by Ontario Hydro, which is fitting since Niagara Falls powers a lot of the Eastern Seaboard and it is the largest floral clock in the world.
16. Great Canadian Midway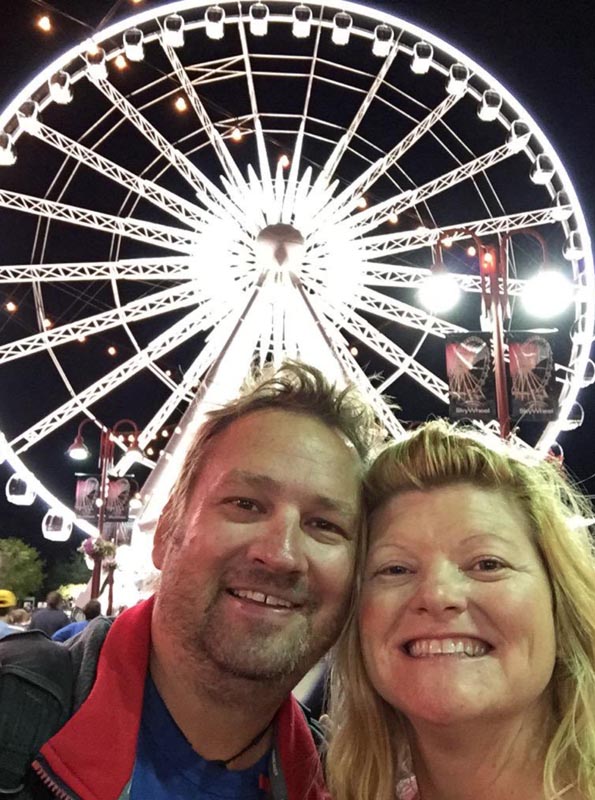 The Great Canadian Midway houses Canada's largest Sky Wheel.
It offers panoramic views of the falls.
The Midway is exactly what it says, it's like an amusement park midway with games, rides, and cotton on candy.
Where to Stay in Niagara Falls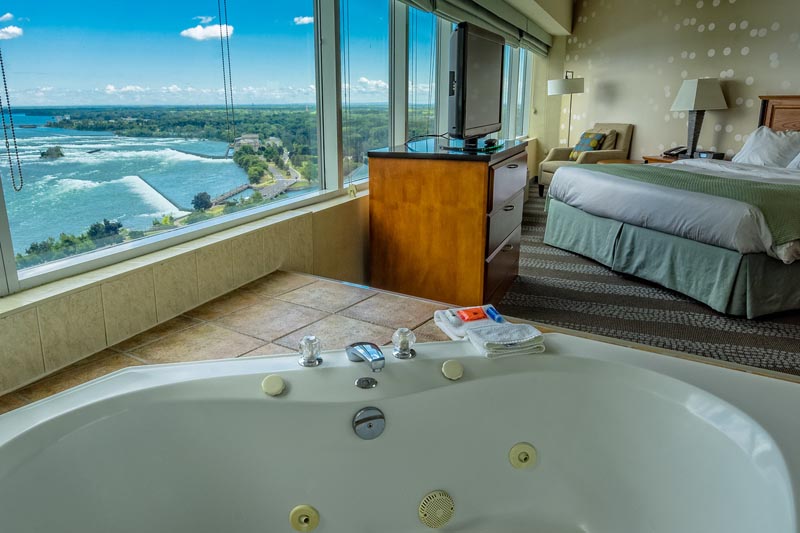 There are three main areas to stay in Niagara Falls.
The Fallsview area is located at the top of the falls around the Fallsview Casino, the Clifton Hill Hotels located down on the Niagara Parkway and near the Niagara Casino and Lundy's Lane.
1. Fallsview Tourist Area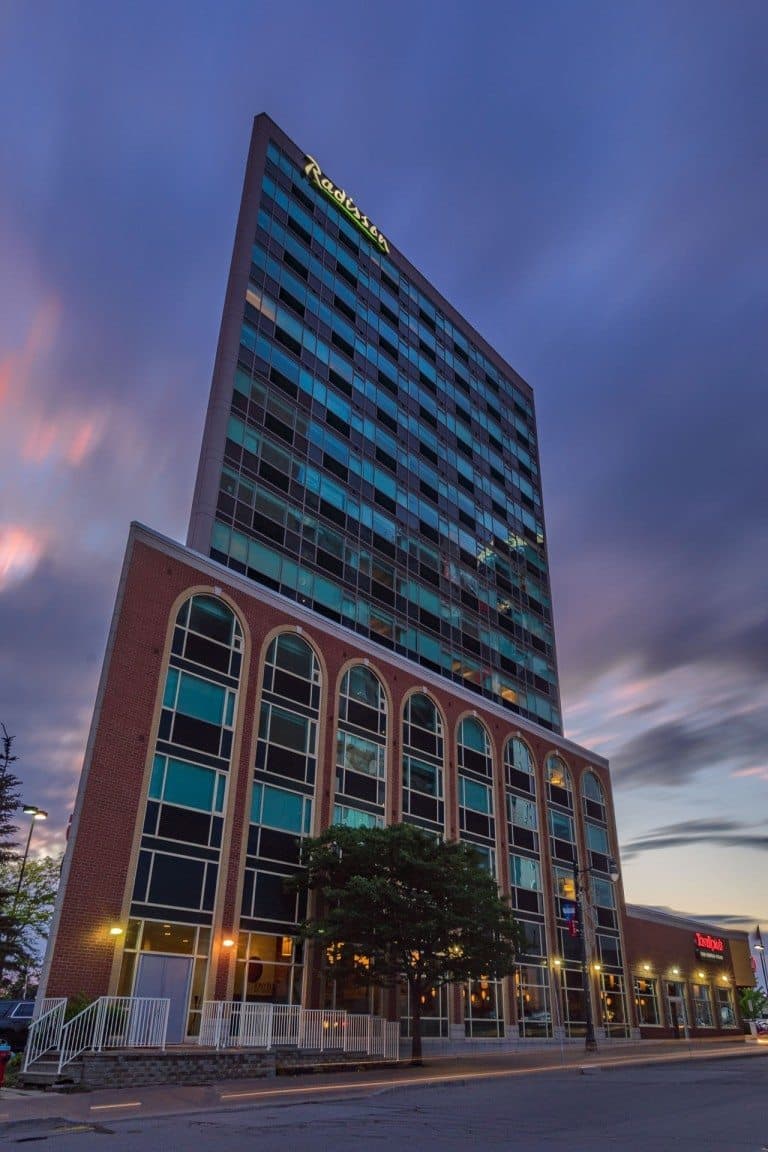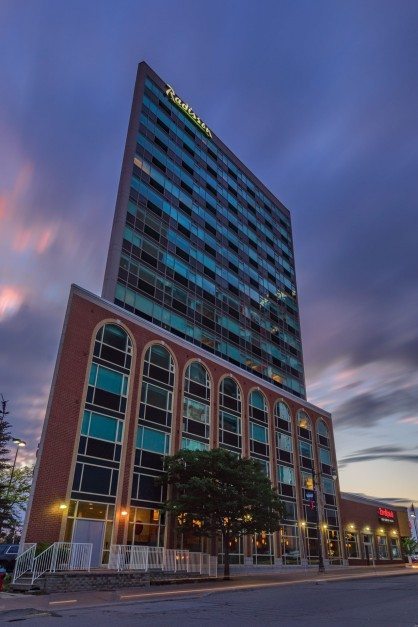 If you have the budget, our favourite area to stay in Niagara Falls is the Fallsview Area. Hotels here have epic views of the falls and it's the more upscale neighborhood of Niagara Falls.
2. Clifton Hill Tourist Strip
Clifton Hill was the first tourist area of Niagara Falls and it is probably the first place you'll go when you visit the city. It is the main tourist drag with all the souvenir shops.
You can find budget accommodation along the strip and behind the midway or you can stay on the Niagara Parkway overlooking the falls.
3. Lundy's Lane Neighborhood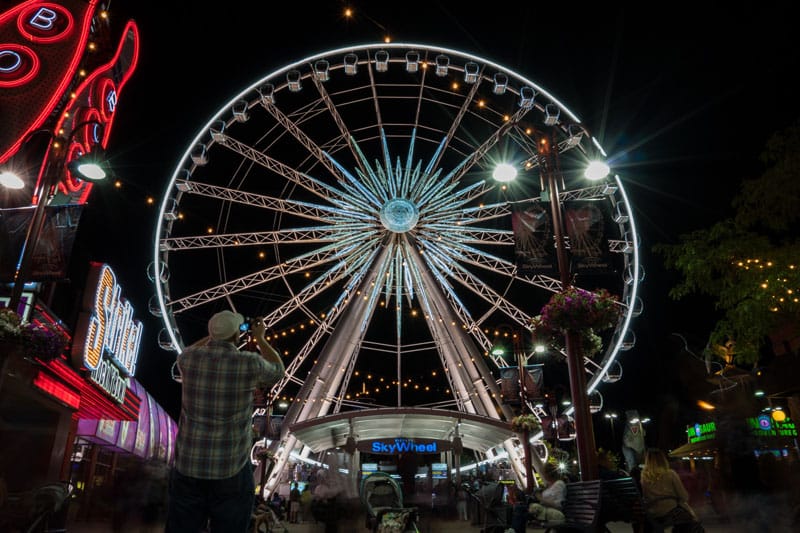 Located at the top of Clifton Hill, Lundy's Lane offers a lot of hotel choices. It's Niagara Falls longest street and when you get to the top of Clifton Hill at Ripley's Believe it or Not is Victoria Street which turns into Lundy's Lane.
Where to Eat in Niagara Falls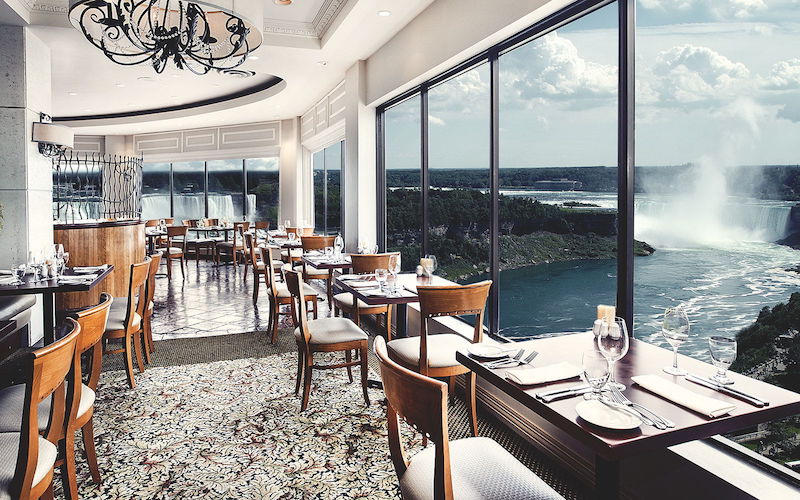 The Keg Fallsview – The Keg is a popular Canadian Steakhouse chain, but in Niagara Falls it takes it to a whole new level because of its view. I would say it has the best view of the falls out of all the places to eat in Niagara Falls and I dare to stay, I have yet to find a steak that I like better.
Brasa Brazilian Barbecue – Having sampled Brazilian Barbecue in Brazil, we can say that this restaurant gets it right in Niagara Falls. If you are into meat, you get all you can eat meat of all kinds and cuts. Here's a pro tip – don't fill up too much on the salad bar, you won't have room for the tender cuts and it's pricey so you'll want to get your money's worth.
Rainbow Room – Crown Plaza – Another one of the best views in Niagara Falls looking down the US falls towards the Horseshoe. It has an extensive wine list to go with the seasonal menu created by check Massimo Capra.
Napoli Restaurant and Pizzeria – This is a staple in Niagara Falls and when we're craving Italian, we head to Napoli. Located just outside the Fallsview tourist area, it's a short walk on Stanely street.
And these are our best Niagara Falls Travel Tips! Did we miss anything? Have any questions? Leave them in the comments below.
If you enjoyed all the things to do in Niagara Falls, save this post to Pinterest for future reference.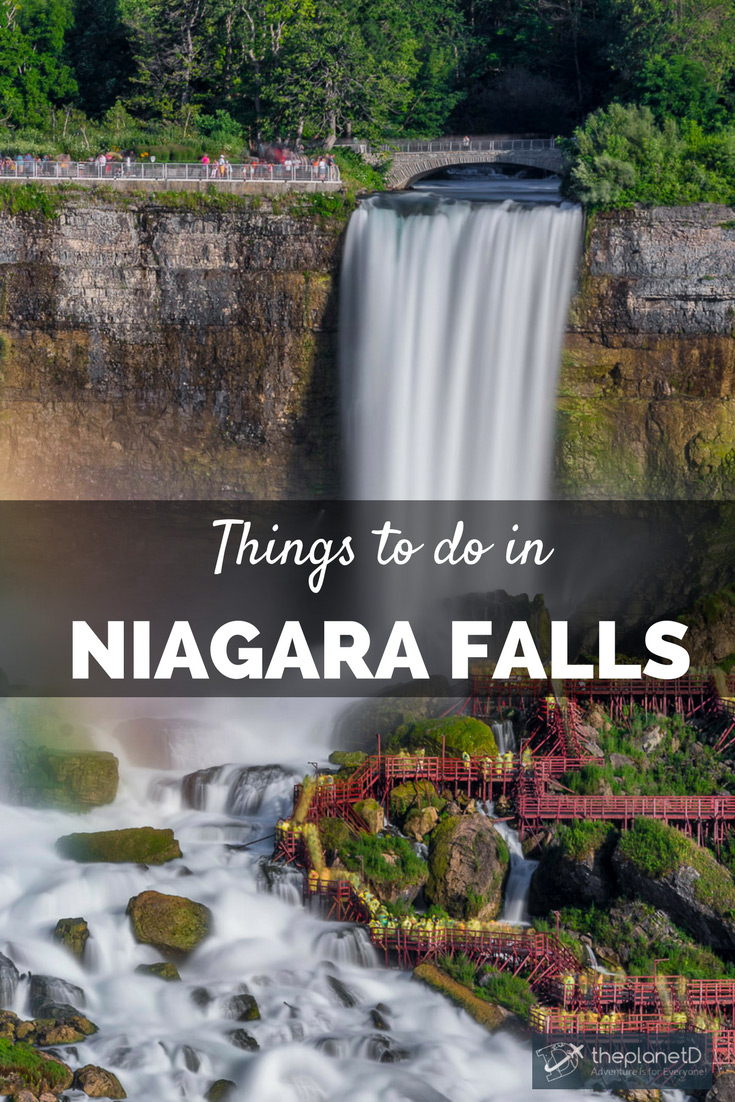 Read More: