We had booked a tour to Rainbow Mountain in Peru, the reputedly spectacular rock formation a few hours from Cusco.
It all began by waiting for a bus. 
There were six people in my party; a group of travelers who had met in Cusco, Peru's bustling tourist capital.
It was an adventure that anyone can do. Even people who are not avid hikers.
But there are some things you should know before you go. Here I round up everything you can expect when hiking Rainbow Mountain in Peru.
Rainbow Mountain in Peru - What to Expect
Search for the Cheapest Flights to Peru!
Just Enter Your Dates Below!
1. Cost and Pick up
Rainbow Mountain tours cost an average of 100 Soles ($30), from Cusco's innumerable travel agents.
We splashed out by spending 130 Soles ($40) to secure a local operator with a reliable reputation.
A bus was supposed to collect us from one of Cusco's narrow streets. After an hour of waiting on chilly cobbles, I began to fear there had been some mistake.
It was 3 am (tours to Rainbow Mountain leave early; it's a three-hour drive from Cusco).
Down the street, people were spilling out of bars and clubs and into taxis.
Cusco has a strange twilight-half crowd slumping home from a night out dancing, half trekkers waking early for a day of hiking. 
Eventually, the only person in our group with a thorough grasp of Spanish made a call to the Reliable Operator. 
It turned out the bus had got lost, on the way to find us.
So don't panic if you have to wait a bit for your pickup. It will come.
Love Hiking? Enjoy this roundup of the Best Hikes in South America
2. The Drive to Rainbow Mountain
The drive out from Cusco was a skitter across snaking mountain roads, under cover of blackness.
In total, there were about a dozen people in our Rainbow Mountain tour group; my party of six, plus some others the bus had picked up while failing to find us.
We were a mess of nationalities: English, American, Scottish, Dutch, Peruvian and French Canadian, crammed into a tiny bus, trying to snatch a little sleep while the vehicle jerked along. 
I managed a few minutes. I should have brought a travel pillow. 
Just as the sun was coming up, the bus stopped in a pokey little village snuggled in a mountain valley.
There, the thoroughly juddered passengers were herded into a hut by our tour guide-a perky woman with a bright red jacket and a floppy hat.
Around a wooden table, we were fed a hearty breakfast of scrambled eggs and fried bananas, while village sheepdogs begged for scraps. 
Tip: Be Prepared for a bumpy ride. This is not a bus built for comfort
3. Arrival
There were toilet facilities on hand, just outside the hut. 
That is, there was a hole in the ground with a tarpaulin wrapped around it. 
That kind of bathroom really is a luxury when you're on a mountain hike.  If you think you might need toilet paper, be sure to bring your own.
Toilet Tip: It is Mother Natures toilet so be sure to bring your own toilet paper
4. The Hike up Rainbow Mountain in Peru
Rainbow Mountain Facts:
The walk to and from Rainbow Mountain is a day-long stagger at over 14,000 feet, tracing a dirt path between looming peaks of green and startling red rock.

It's a gorgeous route, passing local villages built from stone and glittering mountain streams.

But the altitude is punishing--enough to turn even the sprightliest young athlete into a panting mess.

Don't even think about trying the trek until you've spent a few days getting used to the elevation of the Cusco region.
Get your Peru Travel Guide on Amazon
I may not be the sprightliest young athlete, but I made a decent panting mess; lagging behind my group to take pictures, while we clambered up the escalating path.
It's impossible to dress appropriately for Rainbow Mountain.
How to Dress for Rainbow Mountain
At times on the hike, the sun bears down with relentless intensity, bringing skin to the boil.
High altitude demands strong sunscreen, liberally applied.
But the slightest breeze brings temperatures dropping right back down to frigid, so it's important to have a jacket or two on hand. 
Our tour group was one of many making the ascent, part of a solid column of hikers, several kilometres long.
Tour guides trotted up and down the column with surprising speed, urging us forward.
The perky woman guiding my group kept shooting me desperate smiles and encouraging gestures; she badly wanted us to be the first party up to the top.  
I wasn't exactly in the mood to sprint. But a bright smile and a floppy hat is hard to argue with.
5. Alternatives to Hiking
For the truly exhausted, there was another option. Touts followed the column, gently selling horse rides up to the top for only 70 Soles per person.
70 Soles is a quite lot of money, especially when a lot of the horses look suspiciously like ponies.
And anyway, it would have felt like letting the mountain win.
Rainbow Mountain is a slab of shifting colours, pinks and greens and greys and yellows struck into a bank of rock protruding upward from the Earth. 
The famous rainbow hump is part of a whole stretch of coloured mountains, in shades of rose and blonde.
The climax of the Rainbow Mountain hike is a ridge overlooking the whole range, in all its spectacle. 
Read: What to do in Peru
6. At The Top of Rainbow Mountain
Our group was allowed 45 minutes at the top, struggling against buffeting winds as we tried to soak in every second of the view.  
While we were there, a column of llamas threaded by, herded by local villagers across the radiant mountain range and over the horizon.
See our Peru Travel Guide for All you need to know about Travel to Peru
It was like watching a set of cuddly toys trundle over the surface of Mars. 
If Rainbow Mountain had been in a European country, I couldn't help thinking, there would have been a cable car to the top.
There would have been a Starbucks at the peak. There would have been a bus back down, and a nice hotel at the bottom.
There would have been a toilet that wasn't just a hole.
The Backpacker Code
Backpackers can be freaks for punishment. There is an urge to say: "I did this the hardest way, and it was more authentic for the difficulty."
Sometimes it's an attitude that leads to silliness, like taking twenty-hour local buses to save a few pennies or eating local street food that you know will poison you.
Rainbow Mountain was an arduous clamber. I'm not sure it would have been that much less beautiful, with a nice hotel at the bottom and a cable-car to the peak.
But its beauty would have felt less earned.
And I never would have known that it was worth the climb.
Elliott Gresswell is a freelance writer and hopeless traveler. You can follow him at www.irreverentprogress.com follow him on Twitter at @tryingbrevity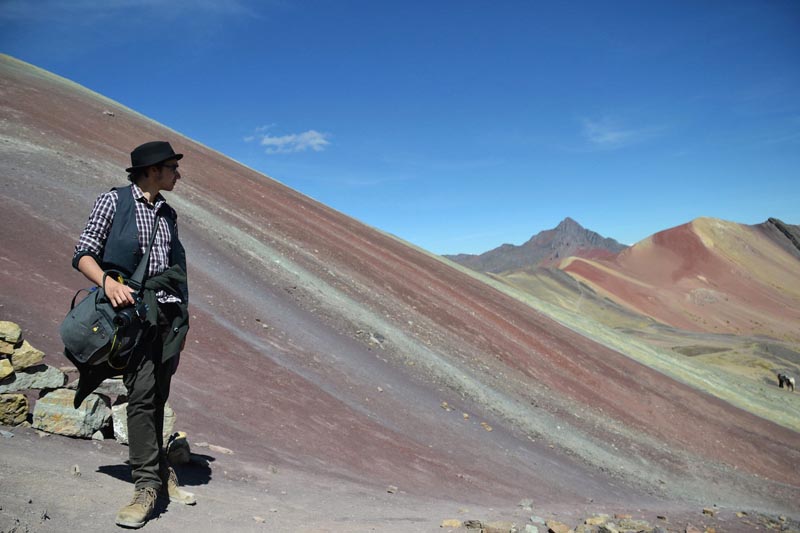 Read More
Be Transported to Peru, a Journey Down the Amazon in Photos
Machu Picchu - The Land of the Incas
Organized Tours vs Independent Travel
You Might Also Enjoy