Most people don't realize that Rainbow Mountain in Peru (also known as Vinicunca Mountain, Winikunka, Montaña de Siete Colores, and Montaña de Colores) was virtually undiscovered until 2015 and only started accepting day tours in 2016.
When we first visited South America back in 2010 it hadn't even been discovered yet. But, since its uncovering (probably due to climate change), it has become a mecca for a lot of people who travel there on a full-day trip from Cusco.
Since this is so popular, we wanted to let you know what to expect when hiking Rainbow Mountain, help save you some money as well as let you know if it is worth it or not.
This post was originally written by Elliott Gresswell, but has since been updated and rewritten by Dave Bouskill
Rainbow Mountain in Peru – What to Expect
1. You have to take a tour from Cusco, Peru.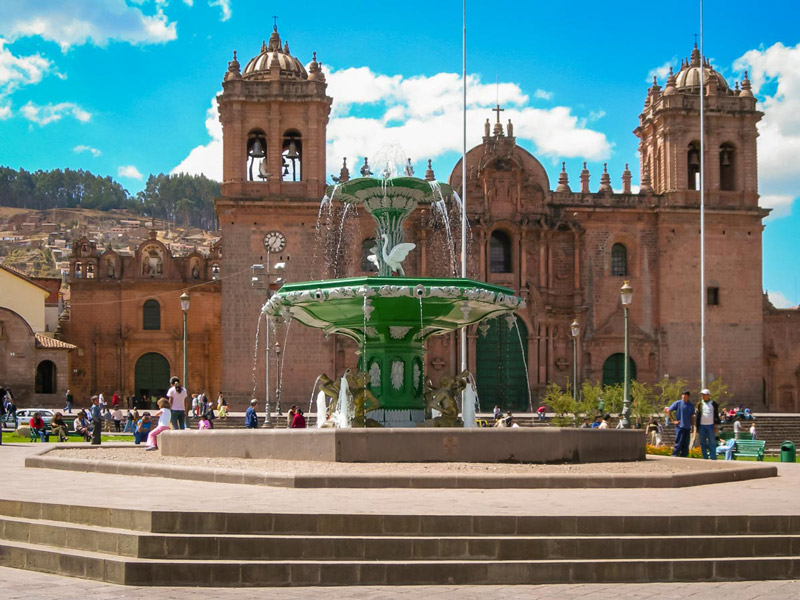 You used to be able to the trip to Rainbow Mountain independently but it involved a much longer hike.
They have since built a "road" that actually gets you much closer to the base so the hike is only 7km as opposed to 15km.
You may think that would shorten the time it takes to do the hike but be aware that it is a full-day tour that leaves from Cusco at 3am in the morning!
As it stands now, you can only visit Rainbow Mountain from Cusco and you have to be on a tour.
2. Check the Rainbow Mountain weather before you book.

Generally speaking, the best time to visit Rainbow Mountain is during the dry season which is March to November. That is when you are likely to have the best chance at good weather.
Regardless of what time of year you visit make sure to check the weather outlook.
There is nothing worse than spending 4-5 hours driving only to be greeted with a muddy mess that resembles nothing close to what you have seen in pictures.
If rain is predicted and you only have a little amount of time in the Cusco area then I would suggest skipping it altogether.
3. Should you pre-book your tour?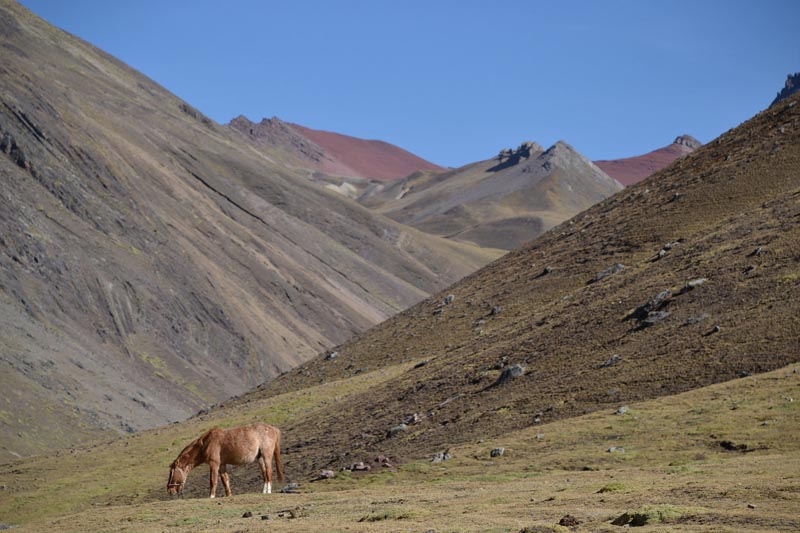 This really depends on how much you like having done for you before you arrive. If you are like us and don't want to bother going to the travel agents in Cusco to book it then, by all means, book your day trip beforehand.
You pay a little bit more, but you will have the peace of mind that it is all done for you.
If you book when you arrive then make sure to check the reviews of tour operators before you lay out any cash. The cheapest is not always the best.
We splashed out by spending 70 Soles ($20) to secure a local operator with a reliable reputation.
4. What does the full-day Rainbow Mountain itinerary look like?
It is a long day, so be prepared for more driving than hiking.
3 am Pick up at hosel or pick up point. Some tours leave earlier and some leave later. Just remember, the later you leave the bigger the crowds at the mountain.
Drive for 2 hours
Hearty breakfast stop in a local village for about 45 minutes.
Drive for 1.5 hours to Rainbow Mountain.
Hike up to the viewpoint. Usually 2 hours depending on your level of physical fitness.
Stay at the viewpoint for 45 minutes and snap photos.
Hike down to bus which takes about an hour.
Drive back to Cusco with a lunch stop.
5. The Drive to Rainbow Mountain is long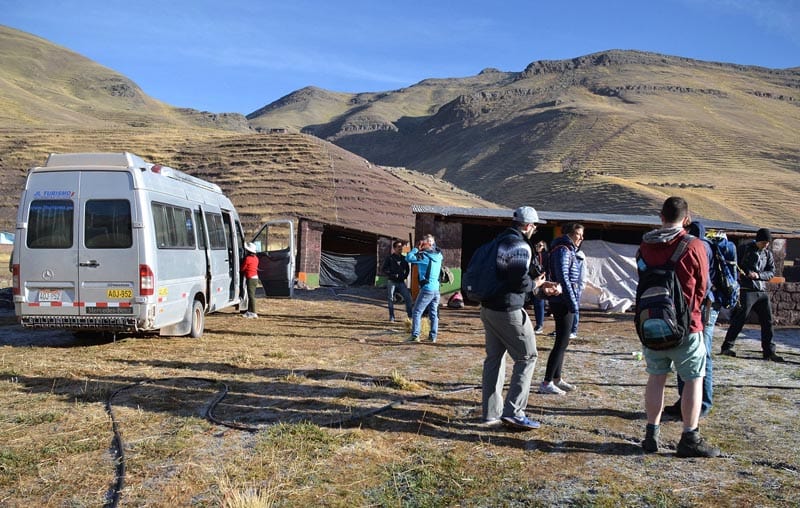 First-hand accounts by guest author Elliott Gresswell
The drive out from Cusco was a skitter across snaking mountain roads, under cover of blackness.
In total, there were about a dozen people in our Rainbow Mountain tour group; my party of six, plus some others the bus had picked up while failing to find us.
We were a mess of nationalities: English, American, Scottish, Dutch, Peruvian and French Canadian, crammed into a tiny bus, trying to snatch a little sleep while the vehicle jerked along.
I managed a few minutes. I should have brought a travel pillow.
Just as the sun was coming up, the bus stopped in a pokey little village snuggled in the red valley.
There, the thoroughly juddered passengers were herded into a hut by our tour guide – a perky woman with a bright red jacket and a floppy hat.
Around a wooden table, we were fed a hearty breakfast of scrambled eggs and fried bananas, while village sheepdogs begged for scraps.
Toilet Tip: It is Mother Natures toilet so be sure to bring your own toilet paper
6. The Altitude is no joke!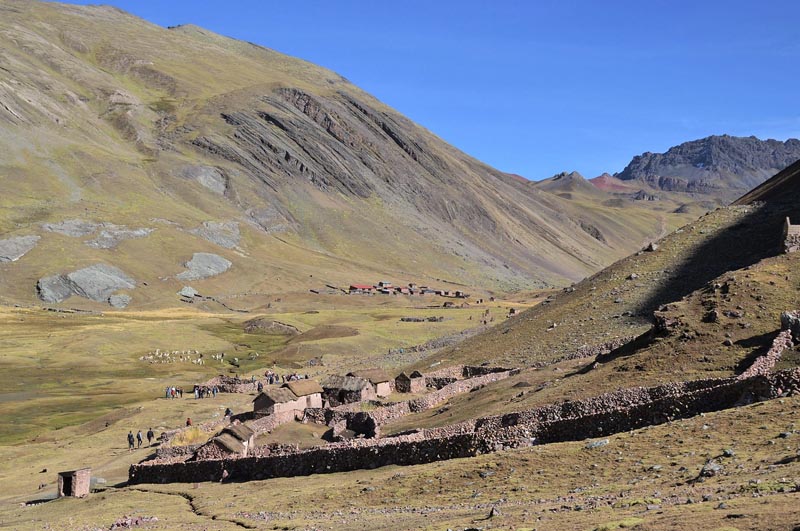 Some of the best advice I can give you is to be prepared for the altitude. The viewpoint sits at 17060 feet (5200 meters) above sea level and you start the hike at around 4200m.
To put that in perspective, the summit of Mount Kilimanjaro, the highest peak in Africa, is 19340 feet (5895 m) above sea level. So you WILL be affected by the altitude.
My recommendation is to not attempt Rainbow Mountain until you have given yourself a few days to acclimatize and get used to the elevation in Cusco.
You will have a much better time and it will be a little easier if you are not fighting the effects of altitude sickness.
7. How hard is the hike up Rainbow Mountain?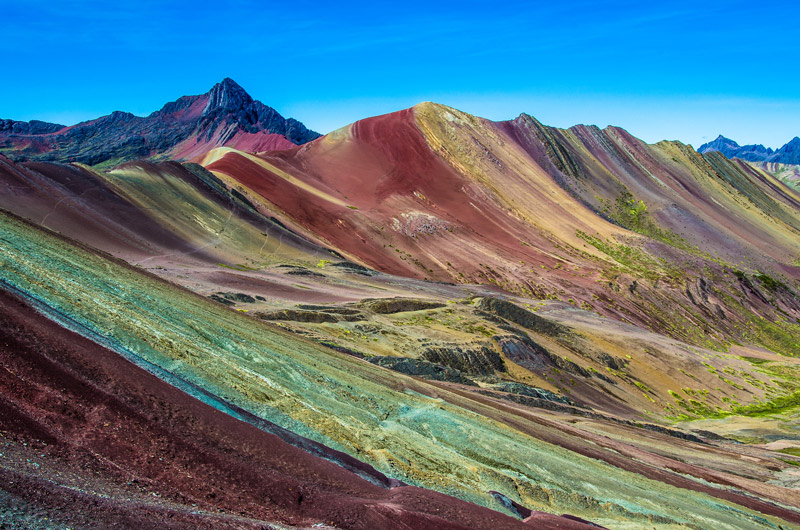 This certainly depends on 2 things; your fitness level and how acclimatized you are to the altitude.
If you are already acclimatized and in reasonably good shape it is not too difficult. Yes, you will be out of breath and tired, but most of the path up is relatively flat.
It isn't until you get to the last 300m that it gets quite steep. Here, you will want to take your time and go slowly. You will be breathing heavily, but the views are worth it.
Check out our most popular articles from Peru
I may not be the sprightliest young athlete, but I made a decent panting mess; lagging behind my group to take pictures, while we clambered up the escalating path.
Tour guides trotted up and down the column with surprising speed, urging us forward.
The perky woman guiding my group kept shooting me desperate smiles and encouraging gestures; she badly wanted us to be the first party up to the top.
The truth is that a lot of people really struggle on this hike. They don't follow the advice of #6 (acclimating to altitude) and they are not really in good shape.
I wasn't exactly in the mood to sprint. But a bright smile and a floppy hat are hard to argue with.
8. There is an alternative to hiking to the top of Rainbow Mountain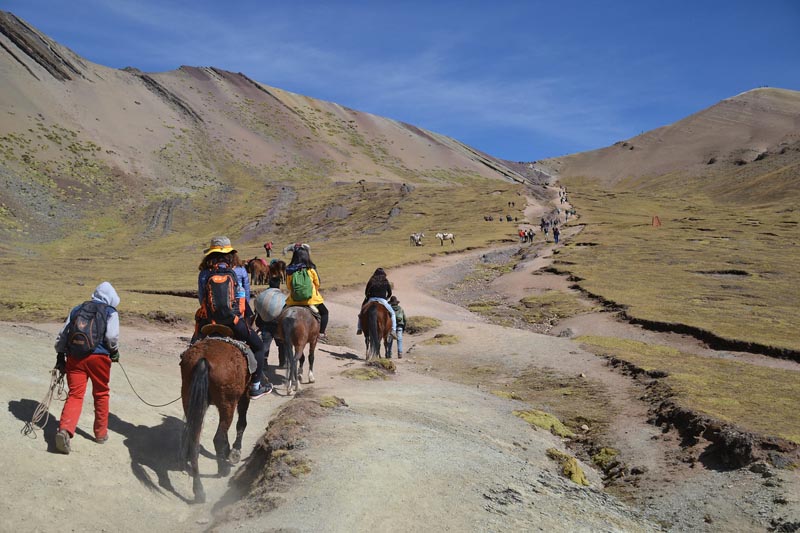 For the truly exhausted, there was another option. Touts followed the column, gently selling horse rides up to the top for only 70 Soles per person.
70 Soles is a quite lot of money, especially when a lot of the horses look suspiciously like ponies.
If you do decide to do this, please make sure that the horse you choose is a healthy one. I know this is the way the local indigenous community makes money, but it also our responsibility to make sure that it is being done in a humane way.
Read: Our Guide to Hiking Machu Picchu
9. How to Dress for Rainbow Mountain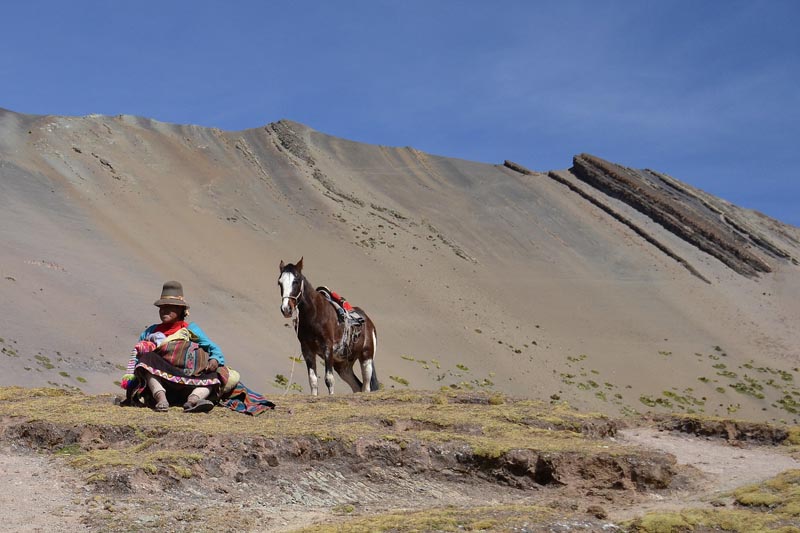 At times on the hike, the sun bears down with relentless intensity, bringing skin to the boil.
High altitude demands strong sunscreen, liberally applied.
But the slightest breeze brings temperatures dropping right back down to frigid, so it's important that you dress in layers.
Here are the essentials to bring with you:
Broken-in hiking boots or shoes. Flipflops won't cut it!
Windproof/waterproof jacket
A base layer that isn't cotton.
A wide-brimmed hat
Sunscreen
Waterbottle
A sweater or mid-layer to put on at the viewpoint
Being prepared for all kinds of weather is the key to enjoying this hike.
If you want more tips, make sure to read our guide to Layering for Cold weather.
10. At The Top of Rainbow Mountain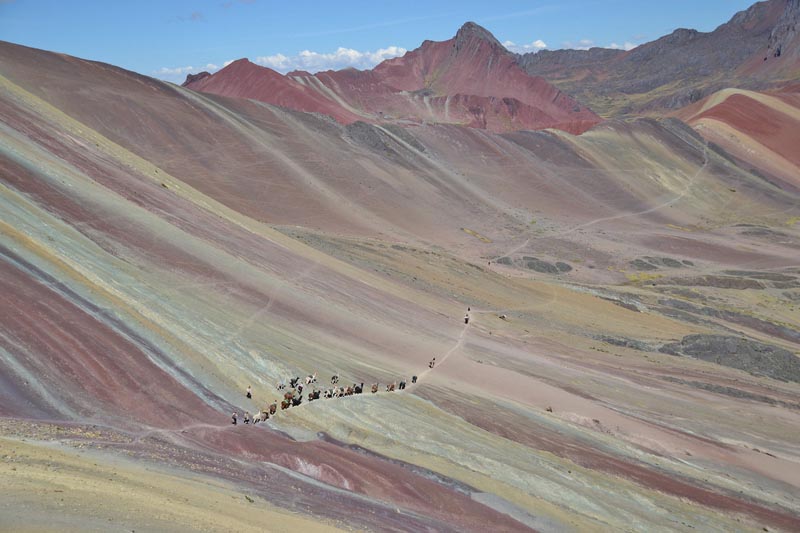 Rainbow Mountain is a slab of shifting colors, pinks and greens and greys and yellows struck into a bank of rock protruding upward from the Earth.
The famous rainbow hump is part of a whole stretch of colored mountains, in shades of rose and blonde.
The climax of the Rainbow Mountain hike is a ridge overlooking the whole range, in all its spectacle. Pair that with magnificent views over Ausangate Mountain and you see why we say it is worth the climb.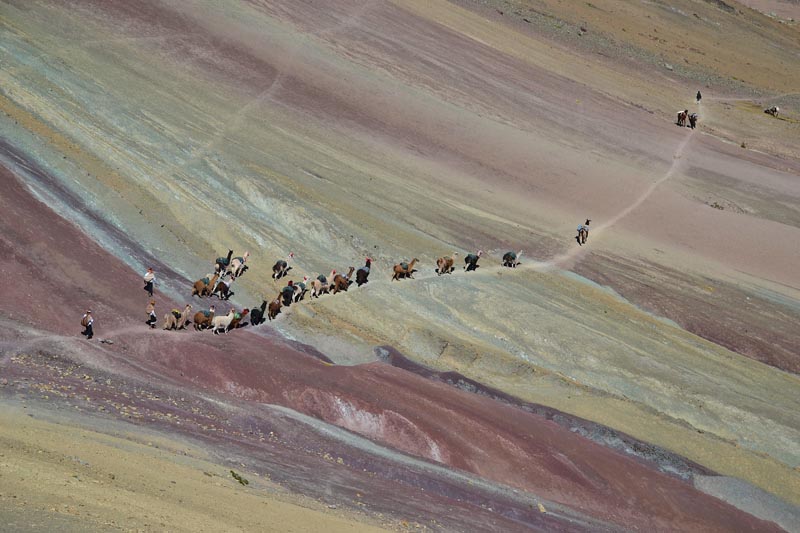 Our group was allowed 45 minutes at the top, struggling against buffeting winds as we tried to soak in every second of the view.
While we were there, a column of llamas and alpacas threaded by, herded by local villagers across the radiant mountain range and over the horizon.
It was like watching a set of cuddly toys trundle over the surface of Mars.
The hike back down was much easier and took us about 45 min to an hour.
See our Peru Travel Guide for All you need to know about Travel to Peru
11. The Verdict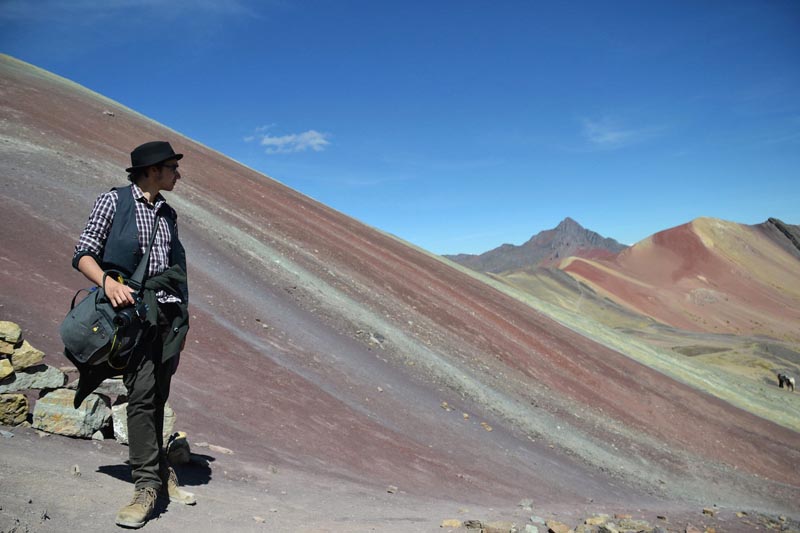 When all was said and done, I would say that it is definitely worth a day of your trip to Peru to visit Rainbow Mountain, especially if you are spending some time in the Cusco region.
It was an arduous clamber, but well worth the early wake-up call and a little physical punishment.
Overtourism on Rainbow Mountain Peru
Sadly, Rainbow Mountain is already seeing the effects of over-tourism. If you go, expect to share the mountain with up to 5000 people per day in high season.
Trekking during the offseason is highly recommended. But even then, 500 or more people will be on the mountain with you.
Author Bio
Elliott Gresswell is a freelance writer and hopeless traveler. You can follow him at www.irreverentprogress.com and follow him on Social Media at @tryingbrevity
Did you enjoy this post? Why not share it on Pinterest!