Dave and I were excited to hear from Antoine who wanted to share his experience exploring Iquitos, Peru. It was two years ago that Dave broke his back in the Amazon and spent 8 days in hospital there.
Needless to say, we didn't get to see a lot of the jungle city, so we are thrilled to have a fellow traveller share his experience in the Peruvian jungle city.
A Short Stay in Iquitos
Landing in Iquitos, the world's largest city that's inaccessible by road, is a feeling like no other.
As I craned my neck to look out the plane window, all I could see was green; the denseness of the Amazon jungle, which is the largest rainforest on the globe.
Then suddenly I could make it out – the weaving snake of the Amazon, the world's largest river, constantly breaking off into tributaries and stretching as far as the eye could see.
The jungle remained peacefully still on either side of the river. As we descended, I started to see a cluster of buildings on the edge of one of these banks. Soon I realized that this was the city of Iquitos, a bustling metropolis in the middle of the peaceful Amazon jungle.
Iquitos is definitely in an abnormal location; but it is exactly this that makes the city so special.
A civilization has just sprung up in the middle of nowhere, and now accommodates over 400,000 inhabitants.
While 'jungle life' in Iquitos is very prevalent, there's everything a modern society could need here; including museums, bars, restaurants and hotels housed in colonial style buildings.
Ever since I first heard about Iquitos, the mix of jungle and urban life is fascinated me and made me resolute to visit one day.
History of Iquitos
The history of Iquitos is just as interesting. It was a city created in the rubber boom due to its natural rubber wealth.
The creators of the city made use of the Amazon River to export their goods and built majestic colonial style houses – and thus the city was born.
For history fans, there's lots of historical Iquitos attractions such as the Museum of Historic Boats, which is located inside the Ayapua Steamship. It shows the significance of the boat in the rubber boom – as well as showcasing the dark side of the boom by detailing the Indigenous suffering.
Also present is the Amazonian Cultural Museum which boasts a collection of artifacts from the rainforest's Indigenous groups.
And finally the Iquitos Museum, which outlines 150 years of the city's history.
There's also colonial buildings to amble around which are now occupied by popular shops, restaurants and hotels.
Iquitos and the Rubber Boom
The Indigenous suffering during the rubber boom was devastating and it is important that no tourists to the city visit without being aware of it.
The natives of Peru and the Amazon went through great peril due to the rubber boom and European settlers, and it's vital to remember that they are the rightful owners of the land.
Luckily, today many of the tribes exist in harmony with modern settlers, with the Yaguas and Boras tribes even offering tourists the chance to visit their homes.
For me, this was a significant part of my visit to Iquitos. Learning the history and culture of native tribes in Peru helped me look at the country from a different perspective.
Natural Beauty of the Amazon
Of course, I can't write about Iquitos and not mention the overwhelming natural beauty that surrounds the city.
Lake Quistococha is one of my favorite places in South America; I love how relaxing the postcard-perfect beaches were and how the whole area moves at a slower pace of life.
The botanical gardens are absolutely stunning too, and the lake is only a short mototaxi ride away. The meeting of the waters is also located near Iquitos; where the blue waters of the Amazon meet the charcoal Nanay River.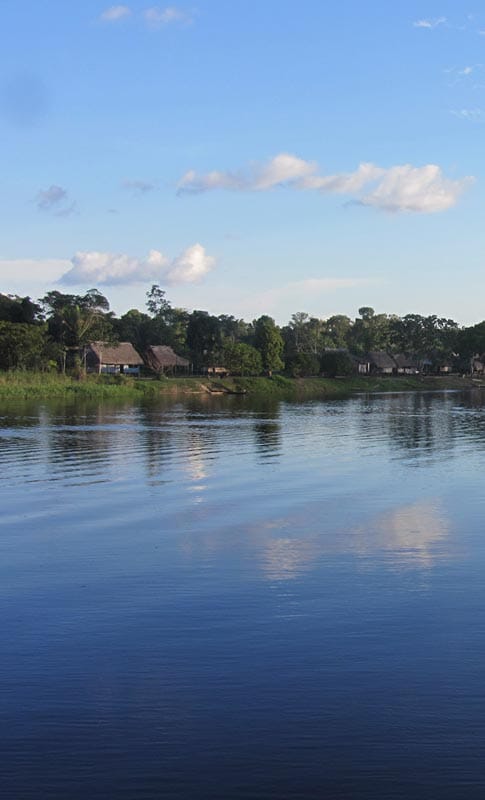 For some time, the waters run alongside each other in a picturesque setting. Also near to Iquitos is the floating village of Belen, which has thatched roofed homes on the river. The way the village works is really impressive and it certainly makes for some great pictures.
And although you'll no doubt be delving deeper into the Amazonian jungle from Iquitos, there's plenty of chances to see some amazing wildlife around the city.
Wildlife Sanctuaries
The Manatee Sanctuary is home to orphaned or injured manatees and it educates visitors about the marine species.
Monkey Island is a special sanctuary which is home to nine species of monkey.
The Pulpintuwasi Butterfly House is an orphanage for abandoned or injured wildlife as well as a conservation area for Amazonia's many ecosystems.
Further away from the city, there's lots of chances to spot pink river dolphins, which are found throughout Brazil, Ecuador and Peru. You will also have the chance to spy the Uakari Monkeys, who are unique-looking creatures with red bald heads.
See more of this journey from Iquitos at Traveling Life: Exploring the Amazon
The city atmosphere of Iquitos is uniquely distinct, which is reflected in both the food and the lives of civilians.
I had two favourite restaurants.
La Restaurante Fitzcarraldo serves local specialties such as Juane (chicken or egg wrapped in rice and cooked in a plant leaf) and fish straight from the river.
The floating Al Frio y Al Fuego is an amazing place to catch an Amazon sunset!
Charm of Iquitos
But the distinct vibe of the city is best appreciated by a walk around the waterfront markets; where all goods from food to artefacts made deep in the jungle are sold, or strolling along the Boulevard; which is a touristy area with many bars, restaurants and hotels but is also ever popular with locals.
And my favorite way to pass the evening was to watch the fountains in the Plaza de Armas, enjoying the lights of the Neo-Gothic Church illuminating the square and lazily people watching: seeing locals converse, children play and tourists laugh, all against the backdrop of the tropical Amazon jungle.
Practical information for visiting Iquitos
Best Places to Stay
Iquitos has very affordable accommodations.  Hostels go for as little as $14 per night and the luxury colonial hotel of La Casa Morey is around $120 with amenities like a swimming pool, court yard and concierge.
Budget – Green Track Hostel
A cheap and spacious hostel offering free WiFi and breakfast.
Mid-Range – Hotel Acosta
A clean and well-facilitated hostel with friendly staff and in a great location.
Luxury – La Casa Morey
A colonial style hotel with free breakfast, friendly staff and comfortable and clean suites, some with great views of the city.
Bars and Restaurants in Iquitos
Al Frio y Al Fuego
One of Iquitos' – and maybe Peru's – most unique dining spots, Al Frio y Al Fuego is a unique dining experience. A boat will take you to the restaurant and they serve a variety of cuisines. It's a fantastic spot to watch the sunset over the Amazon – and there's even a pool within the restaurant!
Amazon Bistro
Set inside an old colonial house, Amazon Bistro has a great atmosphere with fantastic food. It serves European cuisine, as well as some local specialties and is a fantastic spot for breakfast.
La Restaurante Fitzcarraldo
This restaurant offers some of the tastiest local fare in Iquitos and is popular both with locals and tourists to the city. Be sure to sample one of their delicious cocktails or a freshly pressed juice, as well as some local Amazonian dining options.
El Pardo
This is a must for any party animals visiting Iquitos! This al-fresco club makes the most of Iquitos' hot climate by being mostly open air. It's both a restaurant and a nightclub open until the small hours.
Arandu Bar
Rock-n-roll fans assemble! Arandu Bar is a great spot for listening to the genre and mingling with locals.
Café- Teatro Amauta
This is probably the best spot to visit for live Peruvian music; it draws in a great crowd most nights of the week and serves up delicious local beverages.
Jungle Tours in Iquitos
While there definitely are some fantastic things to see and do within Iquitos, the main beauty of and reason to visit the city is to spend some time in its great outdoors.
Jungle tours from Iquitos last two to five days and experience the very best of the Amazonian rainforest. Read about my trip from into the Amazon from Iquitos.
Many of these involve camping within the dense jungle itself and trekking, birdwatching and wildlife spotting during the day, but others consist of sleeping on a cruise boat or staying at eco-lodges on the edge of the jungle.
There's a variety of Iquitos based companies offering jungle tours and you're likely to find something that suits your tastes and budgets.
How to get to Iquitos
As there's no road to Iquitos, your only option for reaching the city is boat or plane.
The plane is definitely be best option – landing within the Amazonian jungle is an experience that you will remember for your lifetime. Four to five plans leave from Lima daily and they cost around $100.
Boats are another option, but these can take days and are not that much cheaper than flying. Plus, you don't get the amazing experience of descending into the jungle!
How to get around Iquitos
Due to the humidity and the unavailability of other sensible options, tuk tuks are the most popular way to get around Iquitos.
They are inexpensive and easy to hail on the street.
Health and Safety of Iquitos
Iquitos is generally a safe city. Like all cities, there are some bad guys and travelers should keep their wits about them, but generally Iquitos is easy to visit and stay safe.
Malaria is not a risk within the urban area of Iquitos, but can be problematic in the jungle.
If you are participating in a jungle tour it's a good idea to research any antimalarials you will need.
Dave and Deb suggest travel insurance as they needed an air ambulance flight out of Iquitos. Read about their reasons why you need travel insurance.
The best time to visit Iquitos
While great to visit any time of year, Iquitos is hottest during September, October and November. There is also a wet and dry season; although the dry season is never completely dry. The wetter season is between October and May and the driest period is normally around August and September.
Author Bio:
Antoine is a Canadian who currently resides in the Cayman Islands, but spends a great amount of time travelling and exploring the world; with last country count being at 45!
His goal is to eventually visit every country and show you overlooked attractions in each location.
Check out his blog at www.travelinglife.com or follow him on facebook 
---
Read Next:
What to Pack in Your First Aid Kit
An Amazon River Cruise from Iquitos
12 Ideas of What to do in Peru