We had been back in India a mere two days when we made our way to Punjab to witness the Golden Temple of Amritsar.
Golden Temple of Amritsar
Dave had only one place on his list of must sees in India, and the Golden Temple of Amritsar was the spot.
It lived up to the hype.
The Golden Temple is Sikhism's Holiest site and this temple welcomes all to enjoy its beauty and spirituality.
We awoke early after arriving in Amritsar late at night on the sleeper train from Delhi. Our hotel was only a 5 minute walk from the temple and as we donned our headscarves and checked our shoes we knew that we were about to enter something special.
Men and Women must cover their heads out of respect before entering the Golden Temple and like so many other Holy places, shoes must not be worn.  This temple has a little twist to walking barefoot however.  Before entering, we walk through a foot bath to ensure our feet are clean.
And then the Golden Temple of Amritsar hit us.
As we cross the foot bath, the shining temple appears before us.
Dave and I don't normally become excited over temples, but the Golden Temple is incredibly impressive and beautiful.  It is not a large temple, but it is stunning. Built in 1577, the temple's dome is gilded with 750 kg of pure gold.
The complex adds to its beauty.  A marble walkway surrounds the temple with milky white buildings protecting it on all four sides.
It is located in the centre of a moat, or the Holy Tank as it is known, and men and women bow in prayer towards its glory.
We had never felt so welcomed anywhere.
Shop Our Picks for India
Many people were happy to have us visit their shrine and to experience their way of life.
They stopped to take photos with us, talk to us and discuss the history of The Golden Temple.  Punjab is filled with some of India's wealthiest people and when they heard that we were from Canada, they talked of either how they are going there to study, how they have relatives living there or to our surprise, many were actually living in Canada and were back for a visit.
The conversations were not the usual "where are you from?" "what is your name?" exchanges we normally have. In Amritsar we engaged in full discussions about Sikhism, India and Canada.
In my humble opinion, I think the Sikh Religion is probably one of the least understood religions on the planet.
But we learned quite a bit during our time at the Golden Temple.
About the Golden Temple of Amritsar
Founded in the 15th century by Guru Nanak's frustration with the caste system and rituals of other religions, Sikhism was formed to be all inclusive.  Much of the religion is based on science and as people explained it to us, we began to understand its meaning.
Women have complete equality and can even be the head of the religion.  Unlike the Pope of Catholocism or Dalai Lama of Buddhism, a woman can lead the Sikhs.
That is if she is elected.
The Sikh religion is a democracy and anyone can rule it.  You don't have to be born or ordained as the head of the religion, you are elected to a committee and if people are not happy with your work, you may not be back during the next election.
The Sikhs are all inclusive and that shows nowhere more than at The Golden Temple.
You  Must Eat At the Golden Temple
There is no charge to enter the temple and they will even feed you for your efforts of coming to visit.  The Golden Temple feeds up to 100,000 people a day from the free kitchen run by volunteers. An amazing feat in its own right, but what is even more amazing is that this has been going for 450 years without missing one single day.
No matter what your position in life, everyone eats together on the floor.  You may find yourself sitting beside a Celebrity, Royalty or the President and they will be treated exactly the same.
The food is clean and delicious and the 450 years of practice is evident as they feed thousands of people at once in a matter of 10 minutes.  Dahl, chapati, ghee and aloo gobi are on the menu and cooked to perfection.
Once you are finished, you scoop up your stainless steel tray and take it to the wash station as the next wave of pilgrims file in.
It is a fascinating experience and one not to be missed.
It is easy to spend hours at the Golden Temple.
Located in the centre of the city of Amritsar, the complex is large and can be seen from everywhere.  As you walk around the marble walkway, the soothing song of the musicians and priests singing from the holy book plays from the loudspeakers.
Don't worry though, Sikhs don't believe in noise pollution, so the speakers are set at a comfortable volume and they are respectful of not having the sound travel far from the complex walls.
After a few hours, we finally made our way to the causeway that leads to the entrance of the Golden Temple.  The crowd was thick, but orderly.
That is until we finally made it to the entrance.  It was pushing and shoving from everywhere to get inside. And we couldn't understand the hurry since you are allowed to  spend as much time as you like.
The main level has musicians and holy men sitting in the middle.  They are in a constant state of playing and singing from sun up to sun down.  They take turns reciting in two hour intervals.  The book is on display under a white cloth and people throw money into the center as if their life depended on it.  Which in many cases, they probably feel that it does.
We walked up to the other two levels and spent time enjoying the view while others around us prayed and listened to the words.
It was peaceful and beautiful.
We made sure to revisit the temple at different times to enjoy its beauty and different energies at different times of the day.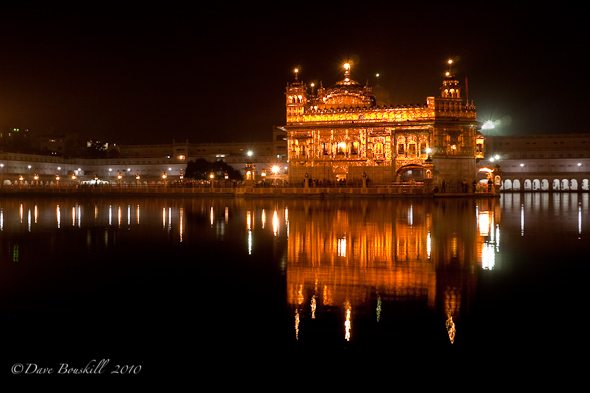 The Golden Temple at Night
Night time is not to be missed. The temple glistens under the lights and the mood is calm and quiet.
It is a sanctuary in this hectic land known as India and certainly our favorite destination of the country so far. If you are going to make the long trip to India, make sure to add The Golden Temple of Amritsar to your itinerary. We loved it more than the Taj Mahal. It was a more genuine experience, more of a pilgrimage site than a tourist destination. In our opinion, it is the number one must see temple in India.
While in Amritsar, Make sure to go to the India – Pakistan border for the most amazing border ceremony you'll ever see!
Read Next : Tips from an Indian Solo Female Traveler – How to Travel India