The adventure begins as we fly North to Sudbury to prepare for our 100km cross-country trek in January with Lure of the North. Being downtown allowed us the chance to sleep in a bit before catching our flight with Porter Airlines to Sudbury. It was our first time flying Porter and the rumours are true, it's great!
Lure of the North
We caught the very short ferry ride to Billy Bishop Airport and checked in. The Lounge felt like we were in a business class waiting area as we had large seats, complimentary coffee and nuts and even water and soft drinks. Man, all airports should be like this.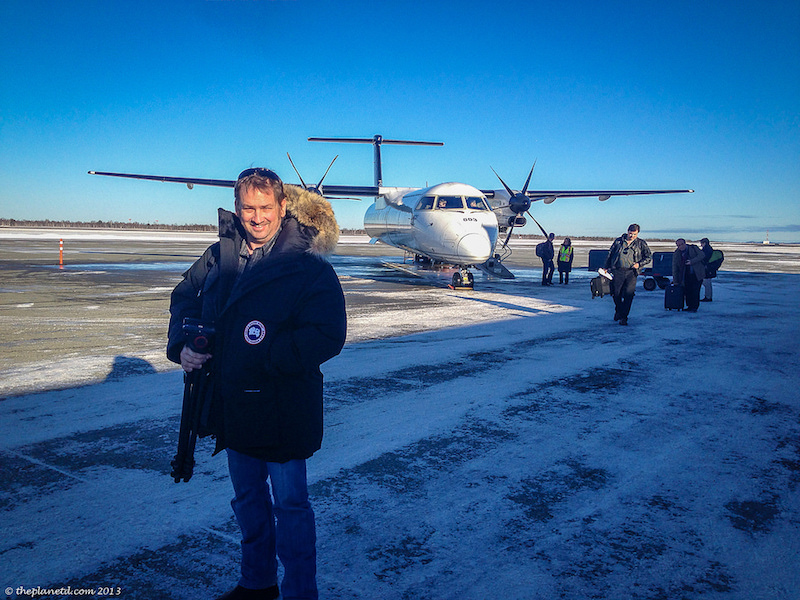 With Porter we were even fed breakfast. I haven't seen this kind of service in years. The flight was only about an hour, but we had coffee and juice and yogurt and a muffin served to us. As usual, I fell immediately asleep after eating and with what felt like about 5 minutes, we were on the ground and in Sudbury.
Sudbury Tourism
Sudbury Tourism greeted us with big smiles and hugs and we were off to explore the city. With places like Science North and the Big Nickel, Sudbury is definitely worth a visit. We've always wanted to see the Big Nickel ever since watching Joshua Jackson go on his cross Canada Road trip in the movie One Week.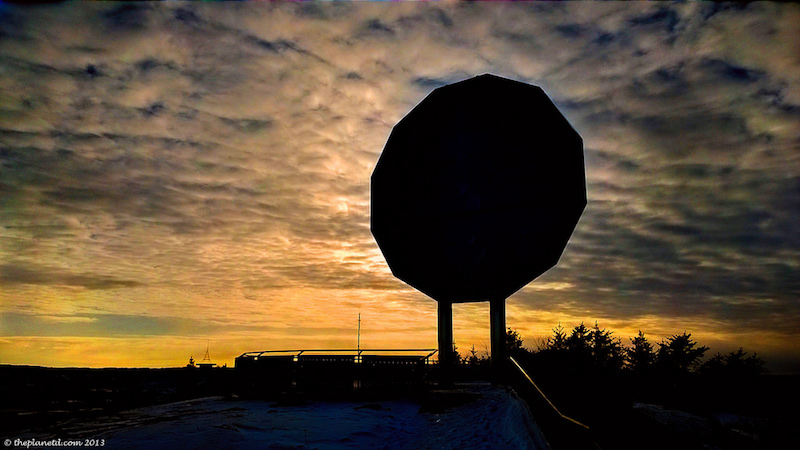 Experiencing the Lure of the North
After an amazing day with the folks of Sudbury it was time to get down to business and head over to Lure of the North. Owners Dave and Kie had spent the day with us, but we didn't get a chance to really bond with them until dinner at their place.
We'll be spending 11 days with them in January hiking over 100 km of frozen Canadian terrain and this weekend was not only a chance for us to make our traditional moccasins for the gruelling hike, but to also get to know the amazing couple we'll be traveling with. We instantly hit it off.
The Foremost Traditional Winter Camping Couple: Dave and Kielyn
Dave and Kie are winter camping experts. They've taken 40 day solo trips across the North of Canada, survived frozen temperatures and winter storms in Newfoundland and lead guided tours throughout Northern Ontario.
In January, we'll be joining them on their most epic expedition, The Misinabi Headwaters, Rail to Rail.
This weekend was about getting to know one another and taking their weekend workshop to make our own traditional moccasins. We stayed with them at their place. They have a very cool pagoda in their backyard where we spent the weekend.
It's actually a giant canvas tent that was heated by a wood stove. It's a pretty swank set up. We had a nice and cozy bed, stove top kettle, plenty of firewood and a table and chairs. It was minus 20 outside, but we were toasty warm inside.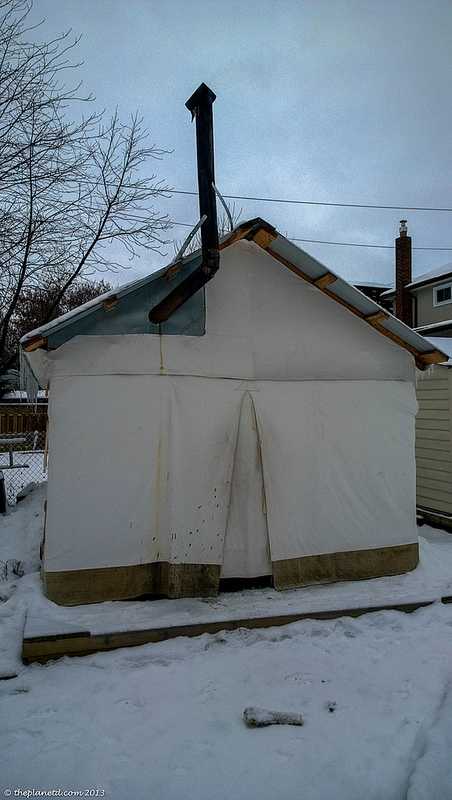 The tent is a more luxurious version of what we'll be camping in during our trek to remote Northern Ontario.
Learning About Winter Camping
Dave and Kei are all about using traditional methods of winter camping and instead of freezing in a small bivy sac or nylon tent, they pull canvas tents on sleds and set up a woodstove inside to keep us warm.
It's brilliant and it made me understand how the pioneers and early explorers managed to face the cold winters.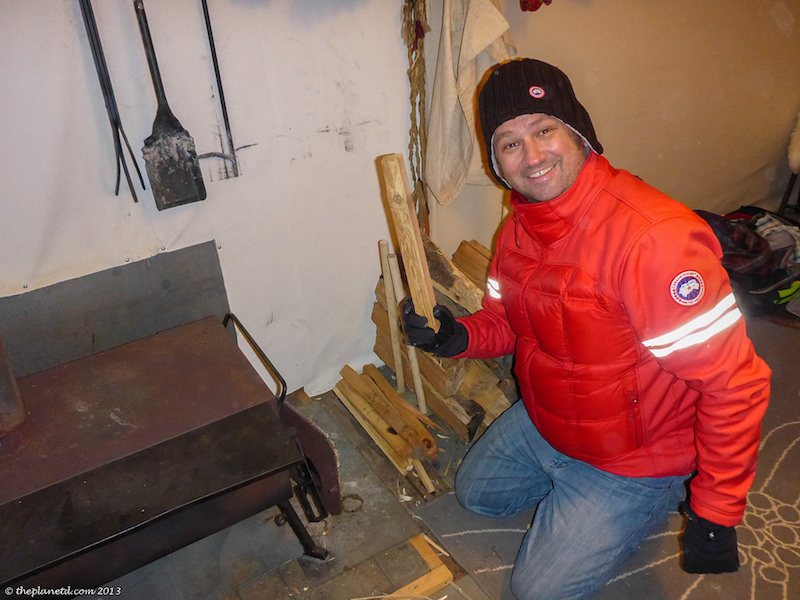 In the modern world we're all too busy worrying about traveling light because we carry everything on our backs. With traditional methods, it's about having everything you need packed on to a sled that you pull along in the snowshoe tracks that you make.
Out to Nature Chalet
After a fun game of Euker and good night's sleep we were up bright and early heading out to the Nature Chalet to begin our course. We didn't realize just how intense this project was. To make Moccasins by hand takes two full 8-hour days.
Our fingers were pricked, our minds were fried and our eyes were exhausted but we came away with a really sweet pair of boots.
Winter Can Be Comfortable.
I loved listening to Kie and Dave's vision of winter. These are two people who love the snow and love the cold. But most importantly, love adventure! After eight years of experimenting and learning about how to best survive the cold, they have developed a system that not only helps you survive the cold, but actually be comfortable in it.
The moccasins are breathable footwear that when layered properly, will keep your feet very warm. There's a reason that the Inuit and Aboriginal people of the North have worn this traditional boot for centuries. It works. Made with natural materials and fibres they are warm, breatheable and durable.
We trusted their recommendation and got the entire winter package of liners, three layers of socks and their snazzy lumberjack socks which are going to be my regular footwear all winter long. They're just so darn cozy!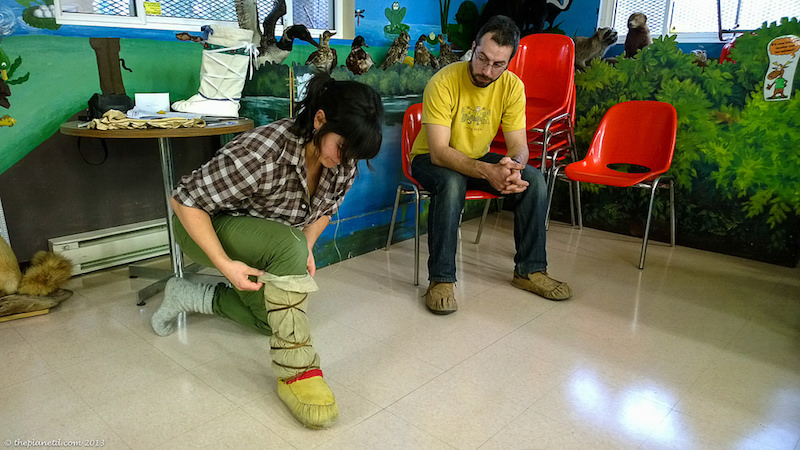 The Workshop
This isn't your usual, "we'll do all the work for you" type workshop. When it comes to making your own Moccasins with Lure of the North, you make the entire boot from scratch.
You take all your own measurements, choose and cut your own deerskin and sew every single detail. I couldn't believe that we actually mastered that pucker stitch and managed to make a good looking rounded toe.
They offer ribbon and fur for decoration and I loved the fact that Kie told us that they get their fur from old fur coats at value village or online.
No animal was harmed for their fur, the fur on our boots came from some grandmother's old coat made back in the 50's. (or maybe 60's or 70's 🙂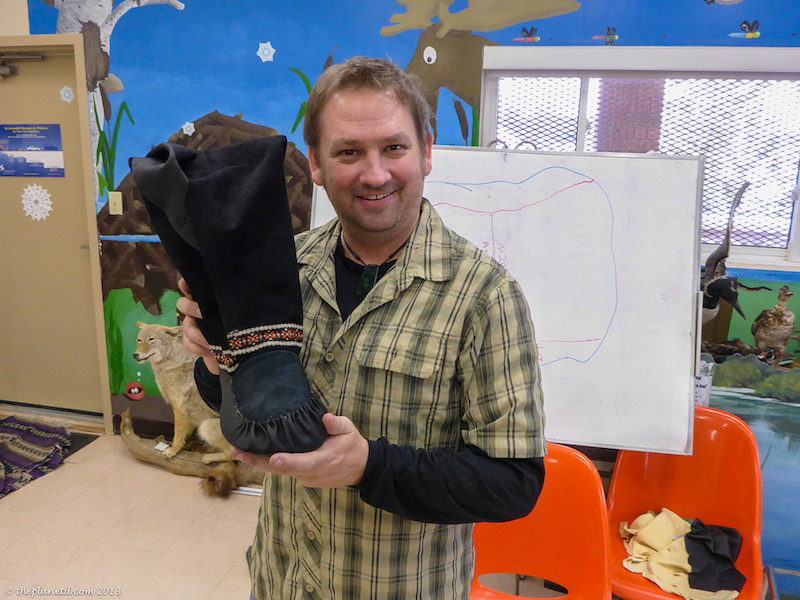 We stitched and sewed for a full day and had left in the dark evening with what was starting to resemble a Moccasin.
Use of Moccasins
We're going to be dogsledding at the beginning of January with Winterdance a couple of weeks before our trek with Lure of the North, and when we asked dogsled owner Hank (Itdarod and Yukon Quest competitor) what the best boots are to keep warm? He said "Moccasins."
We were totally stoked because we knew we'd have a shiny new pair that we made ourselves on hand for our 5 days of training with him. When we looked at photos from last year's Yukon Quest, we saw tons of boots looking exactly like the ones we made with Dave and Kie!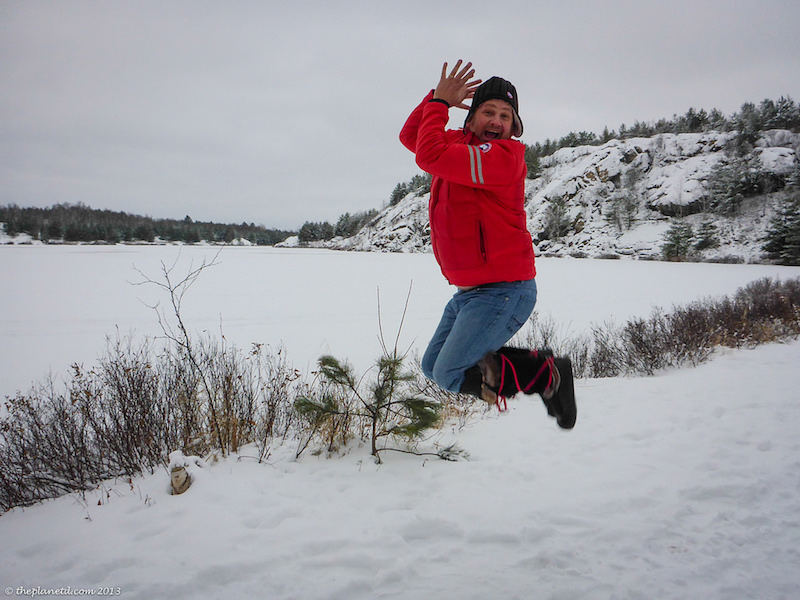 By the end of day two, our fingers were tender from being repeatedly poked with our leather needles, but at 5:00 when we all ran outside to take photos of our boots, they looked fantastic! I was especially pleased with Dave's design. He made moccasins that fit his personality and captured his fun for flare.
After an amazing weekend with Dave and Kielyn of Lure of the North, we came away with new friends and an excitement for what we have ahead. They are two very inspiring, focused people and we are honoured and humbled to get to know them. These are two true adventurers who face the elements, take on epic challenges and are willing to share their expertise with us all.
Our Lure of the North Adventure happens every January: Check out their website for more details.
---
Read More
6 Winter Layering Tips to Dress for the Deep Freeze
Expeditions are Glamorous in Retrospect
A Day in the Life – An Extreme Winter Expedition
8 Tips for Safe and Comfortable Winter Trekking
RSaveSave
SaveSave