We've been lucky enough to stumble upon some awesome festivals like Shilpgram in Udaipur India, Chinese New Year in Malaysia, A cremation ceremony in Bali and several other festivals around the world that we don't even know the names of. Seriously! We have happened upon thousands of people gathering for an event, and at times, we never even found out what we were celebrating!
Awesome Asian Festivals
There are three Asian Festivals that stand out in our minds and if you happen to be heading that way in the New Year, you can catch them all, one each month!
Thaipusam, Malaysia
January/February
The most shocking Festival we've ever seen, Thaipusam in Malaysia will make your jaw drop. Happening at the end of January or early February, Thaipusam attracts two million people to pay homage to the Lord Muruga. That sounds pretty tame doesn't it?
Well, Think Again. These worhshippers jam spikes through their cheeks, stab hooks in their backs and pull chariots and people with reigns attached to said hooks. Oh Yeah.
Witnessing Thaipusam Twice
We have had the luxury of witnessing Thaipusam twice in a lifetime. Once at the Batu Caves near Kuala Lumpur and another in Penang, Malaysia. The Batu Caves are far more intense and if you want to really feel overwhelmed I suggest going to that celebration starting at midnight on day one. Thousands of people walk from downtown to the caves 13 km away. It is here that they are put into a trance and pierced by a high priest before they begin their walk up the 272 steps to the impressive chamber of the Batu Caves.
Thaipusam is also celebrated in Mauritius and Singapore.
Holi, India
February/March
This Hindu Festival happens in the Spring where people throw coloured powders. It occurs at the end of February beginning of march. Burning away the Witch of the Winter. On the eve of Holi, bonfires are lit in the streets to cleanse the air of evil spirits.
Holi is a festive event.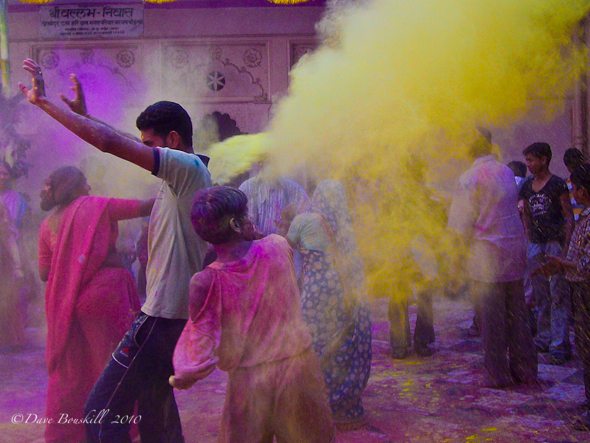 People dance in the streets, music rings through the air and people throw coloured powders at each other and passers by. It is a time for people to put aside all caste, creed and prejudice. The colours bring all of India together in the bond of love. When covered with powders everyone is equal for this one brief moment.
Try to celebrate it in Mathura, the Birthplace of Krishna. It is believed that the festival began with Krishna, so where else should you celebrate but the place most readily associated with him. However, there are several different stories regarding the origin of Holi. I can't get them straight even after talking with people and looking it up. This link explains Holi's different myths and legends quite well.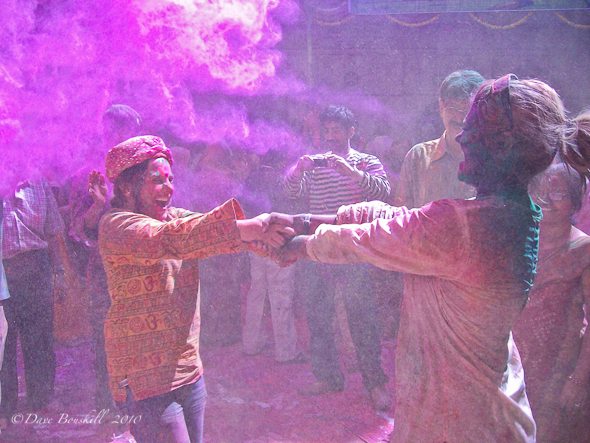 Instead, let's just say that Holi is a fun time where India gets to party and forget about what class they come from for a couple of days. It is also a time when they can target crazy foreigners that are nuts enough to join in! Look out if your not from India, they'll have a blast pelting you with coloured water, water balloons and handfuls of powder. You won't be able to stop smiling until you get home and try to wash off the sticky mess.
Holi is also celebrated in Pakistan, Nepal, Surinam, Fiji and Mauritius.
Songkran, Thailand
April
Celebrating the coming of Spring, Songkran is the world's largest water fight! Celebrated on the traditional Thail New Year is falls somewhere around mid April. It has turned into one big party where people line the streets throwing water at each other. People are armed with water guns and trucks drive through the festival route with giant barrels filled with ice water. Kids in the back scoop out bucket loads and throw them on innocent by standers.
Watch out if your a tourist, you are a prime target for the icy cold stuff.
It may be all fun and games now, but there is a religious element to Songkran. A Buddhist Holiday, Songkran takes place over 4 days. it is a time for households to cleanse their Buddhist statues with fragrant water. It is also a time to cleanse their house and start fresh for the New Year.
Chiang Mai in the North of Thailand is where Songkran is celebrated to the fullest and it is here that you will find thousands of people lined up along the moat of the Old City waiting to catch the barrage of people who make their way down for the festivities.
If your not in Thailand at this time but at one of the many surrounding countries, never fear, they celebrate them too! Cambodia, Laos, Myanmar and Yunnan in China celebrate Songkran too!
Have you witnessed an amazing, astonishing, shocking or fun festival? What is your favourite and did you participate? Let us know Now!