A few years ago we had the pleasure of meeting a tuk tuk driver in Cambodia named Khavi. He's the sort of guy that you love to be around. The kind of guy who is so nice, people might take advantage of him because he'd just roll along with it to avoid confrontation. When you meet him, you just want good things to happen for him and all bad to fade away. A guy so thoughtful (but as always in Cambodia) so unfortunate. He was a travel agent turned tuk-tuk driver when the business he worked for folded. He says 'tuk tuk driver' with his head hung very low.
The Tuk Tuk Driver's Plight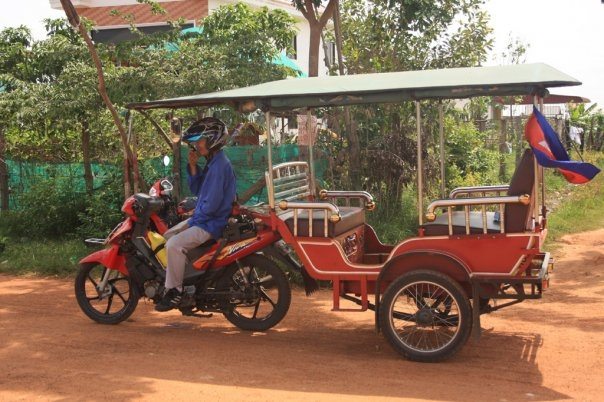 For the most part tuk tuk drivers in Asia are extremely poor and tend to be very dishonest with travelers when it comes to deciding on a fair price for a ride around the city in their tuk tuk. As annoying as the drivers tend to be when you're at the airport with your bag weighing you down, standing in sweltering heat, bartering down ridiculously high prices for a ride to your hotel, I never stopped to think about the daily grind for a driver and what life is for them. Khavi changed all that for me. An extremely intelligent man. Great English. Stuck in a system of corruption.
One hot and humid afternoon after Khavi drove us around Phnom Penh for the day we sat in his tuk tuk and talked about life in Cambodia, the genocide, his family, his worries, what life is like day to day, corruption, education… everything. I was amazed at his strength and honesty. He never complained and never wanted Rhys or I to feel pity for him. He never asked for money, it was just friends talking with friends. Khavi spoke about his worries to support his two little girls and his wife. Life is very expensive for someone making $10.00/day. School cost $3.00/ day and was his highest priority for his girls. But, no money meant no school. His wife works long days selling vegetables in the local market, but only makes at most $2.50/day. Add up school, rent, food, and gas and the cost for his family is around $425.00 per month. Khavi & his wife make around $300-400 per month depending on tourists, luck, and the month. Doesn't exactly add up.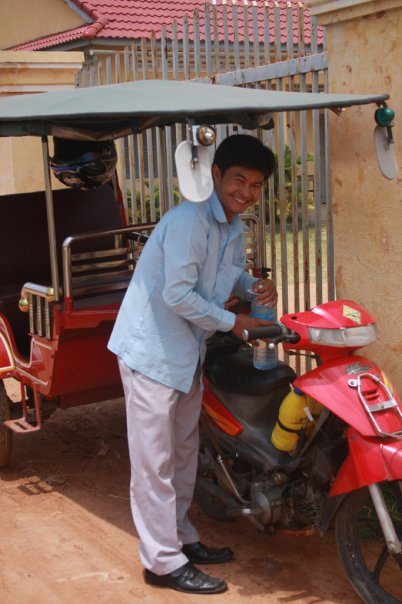 The Difficult Life of a Tuk Tuk Driver
We were staying at OK Guesthouse. Rhys and I noticed that tuk-tuk drivers seemed to flock to the guesthouse, lining the streets outside of the front door. We had a constant stream of drivers coming to us asking to make appointments to drive us around. Apparently, a select few of the drivers are allowed inside the guest house & work there. They work in hopes to make inital contact with guests and make appointments with them instead of other drivers. They do everything. Took our reservation. Showed us our room. Distributed room keys. Kept the books in order. Served us food. Took our money. Everything. At the time, Khavi swore us to secrecy, making us promise not to complain to the hotel owners, but he told us some days he works from 6am-10pm and makes NOTHING. If he has no one to drive, then he must come in and work all day and make NOTHING. There is no minimum wage in Cambodia, so companies are free to do as they please. They give the men working long 12-16 hour days, nothing. No food from the restaurant. No drinks. Only a slightly better chance at driving guests. We couldn't say anything, because then the Ok Guesthouse owners would simply walk out on the street and grab the first tuk-tuk driver they saw for a replacement. Heart breaking.
When our day with Khavi as our driver ended he thanked us over and over again for letting him drive us. In his exact words, "Thank you so much for giving me a job today, thank you so much." We didn't know what to say, he was the one doing us a favor. We asked him how much we owed & looking rather shy he told us to give him how much we thought he deserved. I was amazed. Most tuk tuk drivers take you for every penny they can squeeze out. Always asking for triple the price. Khavi is one of a kind, a bit of hope in a country plagued with corruption, a diamond in the rough.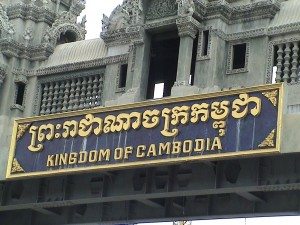 His lifelong dream was to open up his own tourist agency. He's a wonderful guide and knows Phnom Penh inside & out. It's Cambodia law that's stopping him. He studied English, he learned the facts about all the tourist sites, and then was told he could only be a tour guide if he paid a $1,200 fee. He saved every penny he could for 10 years & managed to save $5,000. He invested in land outside Siem Reap hoping the cost would double with growing tourism in the area. When we were there three years ago it had not happened yet. He had no choice but to keep driving and hope for the best.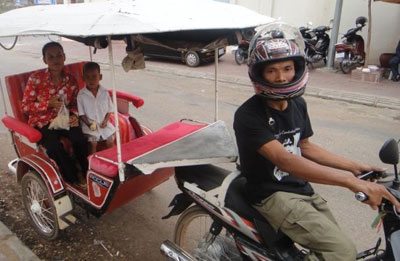 It makes me so HAPPY to write the following paragraph. This year Rhys and I had the lovely opportunity to go back to Phnom Penh and meet with Khavi again. A man who made me think about life and how I lived it everyday since the moment I met him. We kept in touch with FaceBook and were so happy to see how he was doing three years later. He picked us up at the bus station in a CAR and took us back to his very own guest house! The land he invested in outside of Siem Reap paid off, and he was able to make his dreams come true. Life had finally given him a break and the dice rolled in his favor. What was even better, his self-named Khavi Guesthouse is opened right next door to his old employer Ok Guesthouse!
We've come across so many people while traveling in Asia and living in Vietnam that deserve a break out of life. People that are so kind hearted, you can only wish the best for them. To see Khavi happily booking and managing tours out of his own guest house gave us both a surge of inspiration. Not all of Asia is full of sad stories and tales of poverty and corruption. If you wait around long enough you can find that diamond in the rough and you're own source for hope and inspiration in a country that has been ravaged with heartache.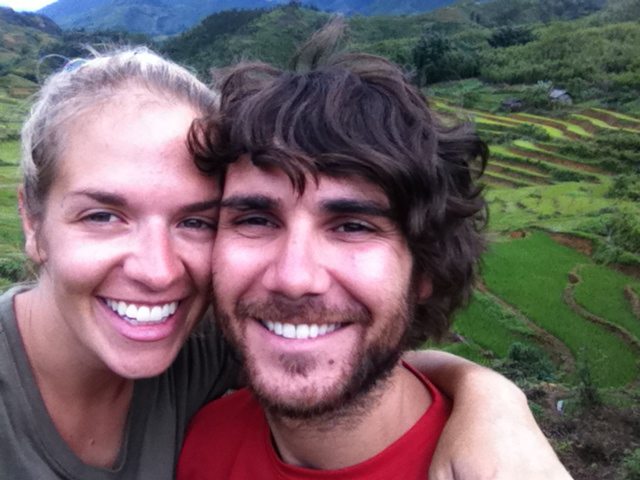 Nicky & Rhys
Bio: Nicky & Rhys left their homes in May 2009 with a one way ticket to Bangkok & have been traveling and teaching their way through Asia since. They have worked in Vietnam & South Korea, and are currently spending their summer traveling in Europe and America.
Blog: 2nomads1narrative.com
Twitter: 2_nomads
Facebook:
We've had the privilege of meeting our own inspirational tuk tuk driver during our travels around the world. Meet Ajith from Sri Lanka and read his inspirational story.