It started off as an afterthought. We were planning our Ontario adventures in Toronto on a cold winter's day.
As we brainstormed ideas around the table with the Northern partnerships director and coordinator (Chris Milner and Steve Bruno), the topic of motorcycles came up.
Our summer was currently consisting of many manually powered adventures such as white water kayaking, canoeing, and hiking, but what about seeing Northern Ontario using some motor power to circumnavigate Lake Superior?
Motorcycle Lake Superior
Dave and I talked about how we've been considering a couple of motorcycle trips around the world and what better place to start than with Lake Superior; one of the most epic rides in Canada!
"You ride motorcycles right?" Chris Milner asked
"Not yet" We said. "But that is exactly what makes this perfect!"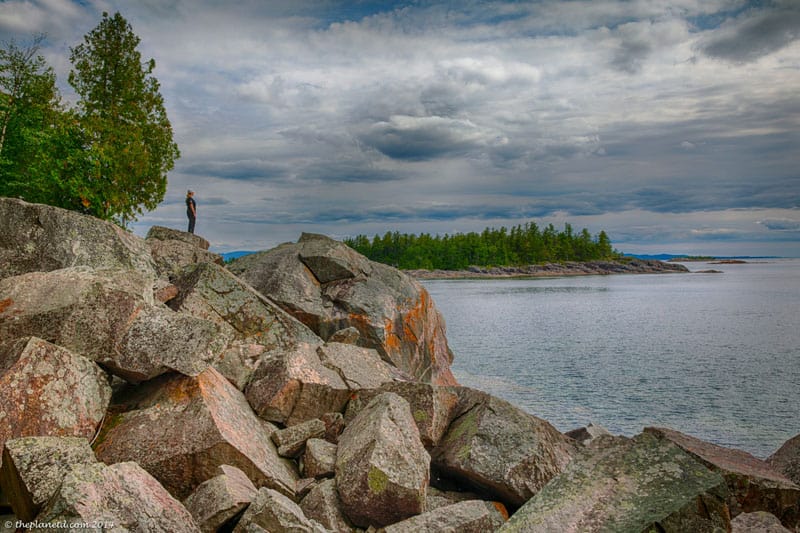 Always Taking the Long Way Around
We've always taken on long epic adventures that we aren't quite qualified for.
We cycled the continent of Africa after making a New Year's Resolution, and we decided to do the Mongol Rally on a whim during a travel blogging conference with a person we just met.
Learning to ride a motorcycle over the course of a summer and taking on a 2500 km ride at the end of it, would not only fit perfectly with our motto "Adventure is for Everyone,"
It would show people that you can take on a new hobby or sport any time in life and that riding a motorcycle isn't the big bad scary thing that we all thought it was.
Learning to Ride a Motorcycle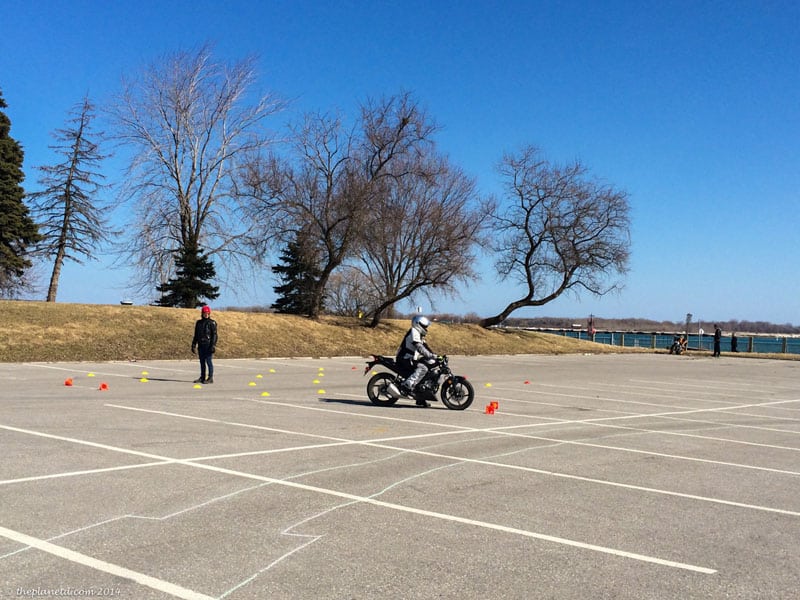 It started out with meeting the absolutely fantastic Ginny Allen of Motorsoul Riding School in Toronto. We had to learn to ride a motorcycle and get our license if this was going to work. She was up for the challenge of getting us ready for the road in a short amount of time.
Her weekend course took us through the paces of learning how to shift gears, do emergency stops and swerves, and learning how to stay safe. With 17-years of riding experience and instruction, we felt confident in her hands.
Ginny and her team were patient and informative. I was very worried about taking the test on the final day and was paralyzed with fear about failing. But when my nerves got the best of me, Ginny took me aside, gave me a pep talk and got me ready for the exam. Everyone reacts differently to taking tests.
I failed my drivers license at the age of 16 due to nerves and I was terrified of that happening again. It almost did, but I pulled it together for the final obstacles and passed! Dave had zero problems and few nerves, but was there for me to talk me through it. I don't know how I'd get through most things without Dave. He's fearless. (But not in that annoying sort of way that makes you feel bad about yourself for being afraid.)
To take a motorcycle course in the Toronto area visit Motorsoul Driving School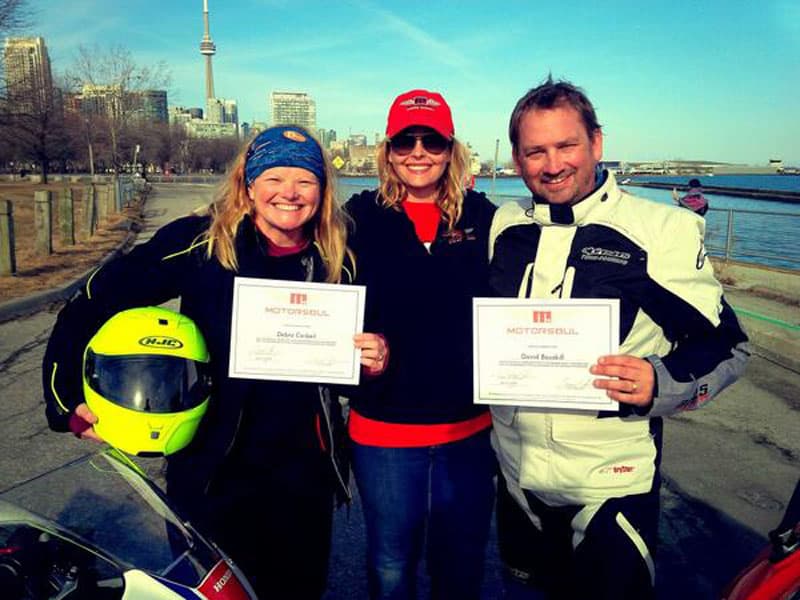 The Fears of Riding a Motorcycle
My sister in law Heather is a nurse. She calls motorbikes "Donor-cycles"
It's true, there are horror stories about serious motorcycle accidents killing and maiming people, but there are thousands of other cases where motorcyclists go through their entire riding career without a scratch. Taking the motorcycle course at Motorsoul helped us to learn about rider safety.
Plus wearing our body armour from Parts Canada helped us feel confident that if anything did happen, we'd be protected. We wore full face helmets, protective clothing from head to toe (including gloves and boots) and all had reinforced padding and armour to protect the tender spots like elbows and knees.
It's fun to dress up as motorcycle riders. You feel cool when you go in to eat and you're decked out in gear. You say to yourself, yeah, I'm that guy, I'm in the club.
If you keep focused on safety and follow the rules of the road, riding a motorcycle is completely safe.
Visit Parts Canada for all motorcycle gear.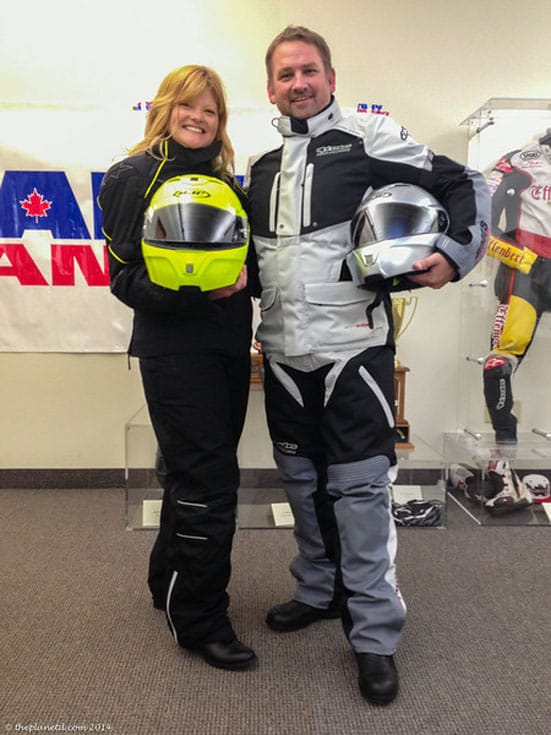 During our rides we rarely saw the idiot riders that race through the streets while weaving through traffic.
We rarely saw the numbskulls riding in shorts and flip flops with no protection from the pavement should they have the misfortune of having a collision.
Nope, most riders are smarter in today's world. They wear "all gear all the time" regardless of weather and heat. And most riders are staying safe while enjoying themselves.
Motorcycle Community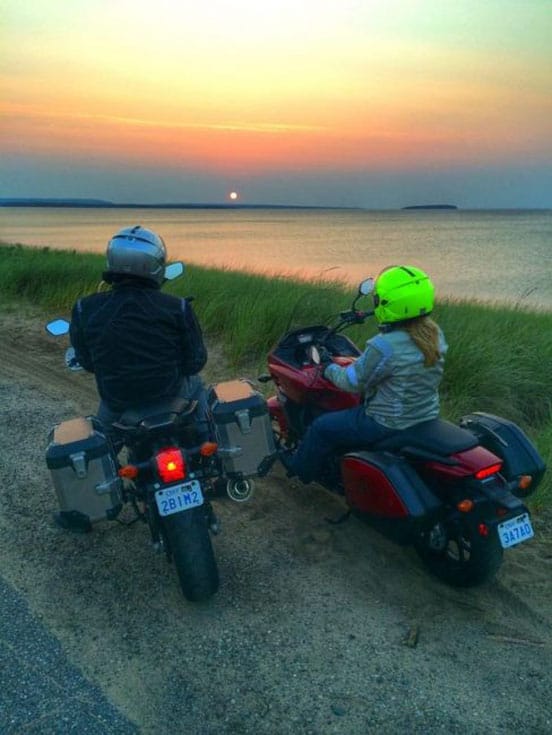 The community of motorcycle riders is changing. When out on the roads of Ontario, we saw older people going for leisurely rides on beautiful back roads. When passing other motorcyclists, we all waved at each other. When stopping for coffee, we all talked to each other.
Even when stopping on the side of the road or at a scenic lookout, we had conversations with fellow motorcycle enthusiasts.
It didn't matter what type of bike you were on, anyone would talk to everyone. It's a welcoming and friendly community.
I will admit, it helped that we had sweet bikes provided by Honda. An NC750x for Dave and the CTX 700 for Deb.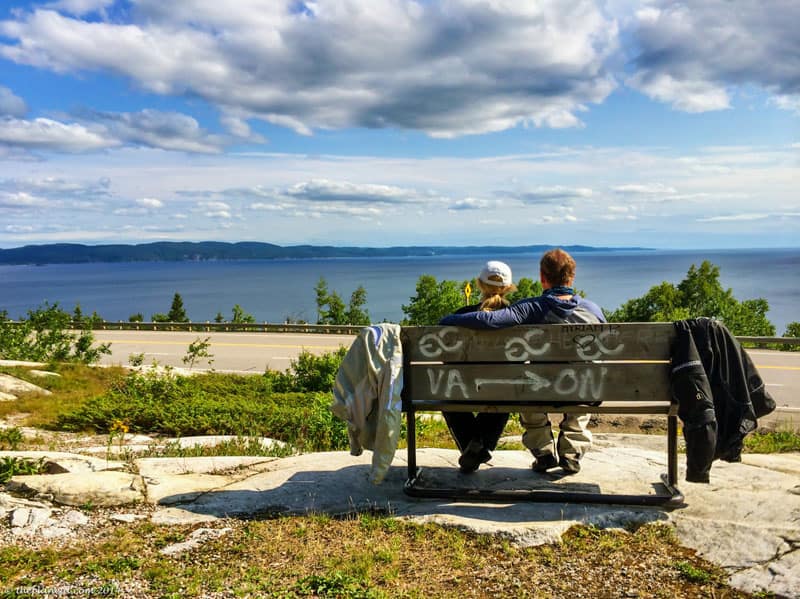 Practice Rides
We did two weekend practice rides this the summer. In total we were on bikes 9 times before tackling Lake Superior. Think about that? If we can ride a mere 9 times before taking an epic journey, surely you can too!
We did one four-day ride to Grey/Bruce County and another 3-day ride through Peterborough/Kawarthas. The extra two days were spent taking a dirt biking course at Trail Tours in the Ganaraska forest which was beyond fun and exciting!
Visit Trail Tours Dirt Bike for a day of dirt biking. You don't need experience!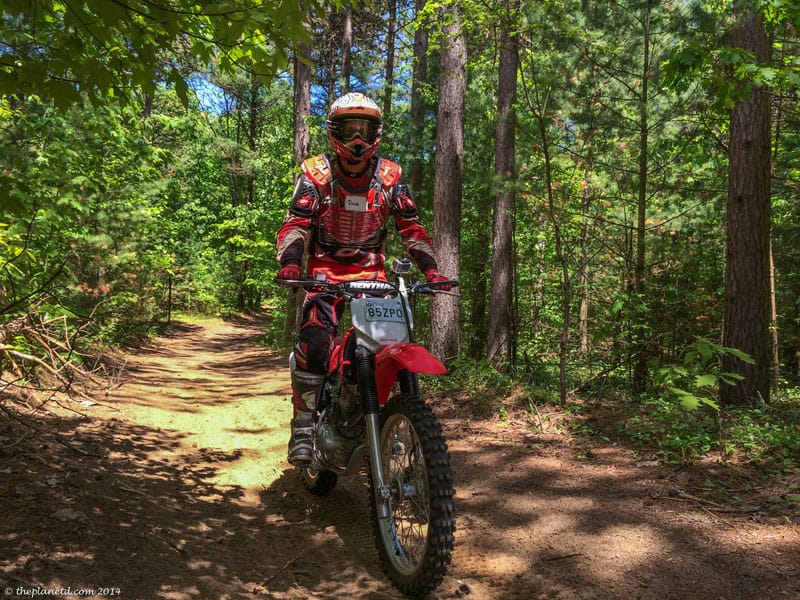 Riding a motorcycle in two short months
At first it was tough work getting comfortable on bikes. The weekend rides that were meant to help us gain comfort, were instead spent driving back and forth along roads so the camera crew could get shots of us riding.
Instead of learning to enjoy the bikes, we spent our times driving around in circles for the perfect shot. (ah, the trials and tribulations of being a travel blogger)
To a new rider, constantly having to make U-turns can be nerve racking. We dumped our bikes a few times and felt on edge a lot. We had barely mastered shifting and remembering to turn off our signals after making a turn, and here we were having to constantly make tight turns on busy highways.
There were many times during this experiment that we wondered what we had gotten ourselves into? But, by the end of each weekend, we felt a little more confident and a little more comfortable. In retrospect, all those U- turns probably helped make us better riders.
Note: For safety and comfort, we recommend you ride many more times than we did before you take off on a multi day adventure.
Conclusions
Even though we didn't get as much time on the bikes as we would have liked before riding around Lake Superior, it went off without a hitch. Thanks to Ginny's instruction and the help of Mike of What a Ride 247 on previous trips, we knew we could do it.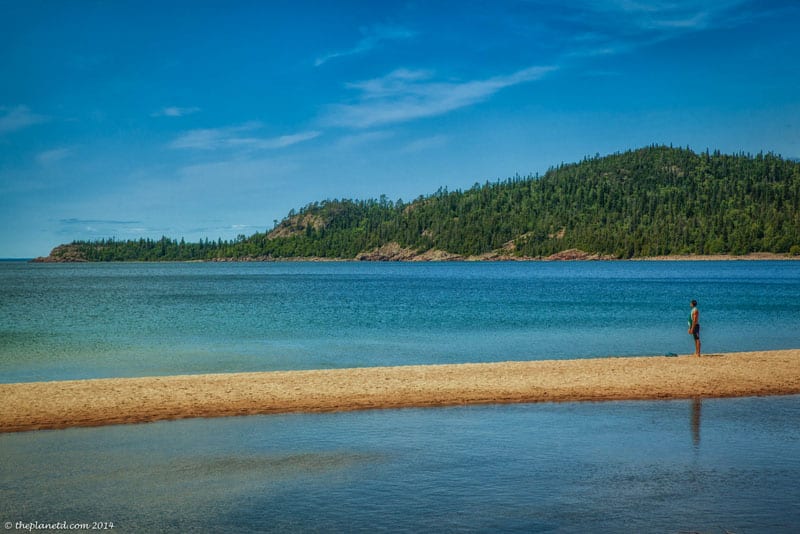 Long Rides Make you better motorcycle Riders
During the ride around Lake Superior, we definitely became better riders. A couple of days into it, we felt ourselves leaning into turns and enjoying the winding roads. When asked if we would mind doing a few drive by's, we had no problem with U-Turns.
We found that we could do it anywhere, no matter how narrow the road or uneven the ground.
When we first started the ride, we had a tough time keeping a constant speed. There is no cruise control on the bikes and they are very sensitive to touch. If you relaxed your hand, you'd slow down immediately. If you gave it gas, you'd speed up in an instant.
It was a challenge trying to keep it at a steady 80-100 km per hour. But in time, we were staying steady, feeling confident and turning off our signals lights after nearly every turn! It helped that we had communication devices to remind each other if we forgot!
Lake Superior
In the end, we loved riding around Lake Superior. It truly is beautiful and we can understand why people come from all around to ride it. The signs for the circle tour are well marked, the accommodation around the lake is biker friendly and there are hotels and B&B's to suit any budget or need.
To ride in Africa or South America, you may find unbearable heat. Lake Superior is far enough up North that you are comfortable being in motorcycle gear from head to toe. Other than a hot day or two on the South shore, we were cool and comfortable and enjoying the ride.
Plus, the roads are some of the best you'll ever see. There's some construction after Duluth in Minnesota and more between Wawa and Sault Ste Marie, but the roads themselves are smooth and well maintained.
The main reason this ride is so popular though would be the landscape. It changes throughout the drive from sandy shores that look like you could be in a beach town anywhere, to rocky cliffs reminding you of the seaside views of the Atlantic Coast.
There are times when you are riding down the highway and stare in awe at the view of rolling hills plunging into the world's largest fresh water lake.
It's a giant body of water that's the size of South Carolina and to circumnavigate it is a trip you will never forget. Some people travel around Lake Superior in 5-days, we did it in 8-days.
If you love exploring and traveling as much as we do though, we suggest taking your entire two-week vacation to truly experience all there is to see and do. It's epic and wonderful.
To read all about the Lake Superior Circle Tour, visit The Best of Lake Superior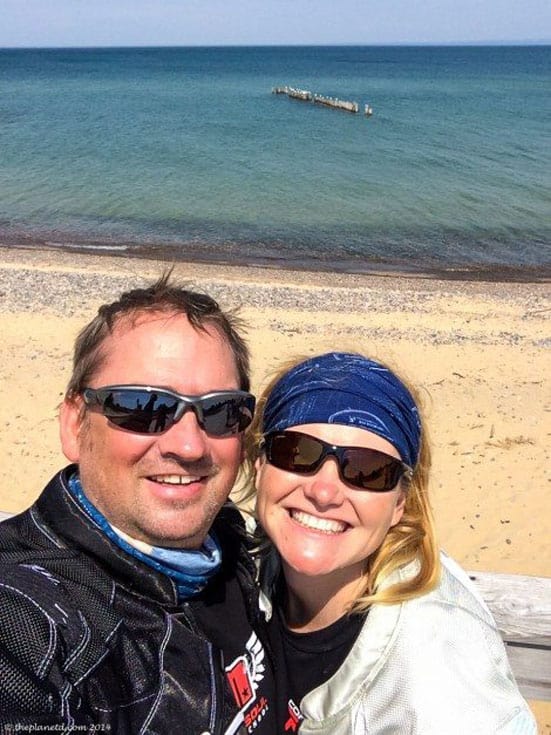 It's an accomplishment to realize a dream. Like many dreams there are ups and downs and twists and turns. Learning to ride a motorcycle was one of our most exciting adventures and we know that it will now change the way we do many of our travels.
This is just the beginning of our motorcycle journey. What a way to start off on one of the most epic routes on the planet. Ride Lake Superior is an adventure for any motorcycle enthusiast.
---
Read More
Fly in Lodges of Ontario – A Northern Rite of Passage
The Rare Woodland Caribou of the Slate Islands
SaveSave
You Might Also Enjoy