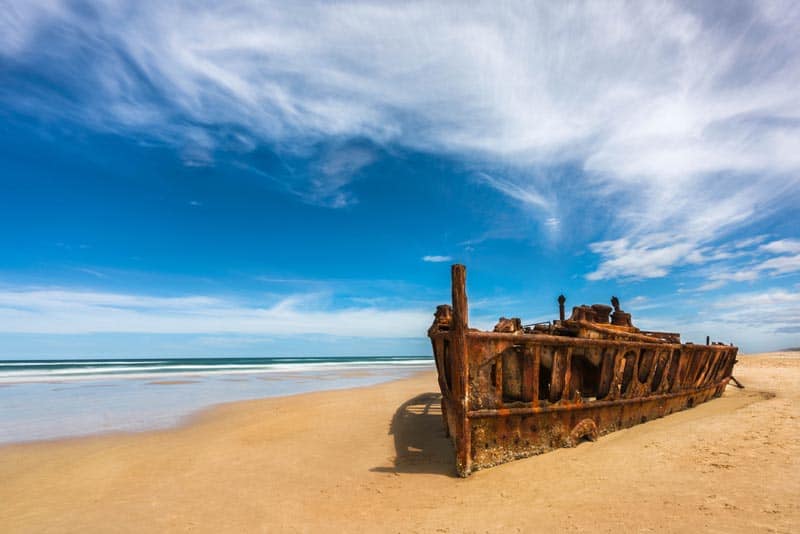 G'Day Mate! Known for its teeming natural and cultural treasures, The Land Down Under has the perfect something for every type of traveler.
There are so many great things to do in Australia.
Relax on the gorgeous beaches along its extensive coastline; embark on an exciting adventure, like going on on a walkabout.
Or try Great White Shark cage diving, or head on over to the cosmopolitan cities of Sydney and/or Melbourne to enjoy shopping, fine dining, and a budding art scene.
This Australia travel guide and list of things to do will help you plan your next vacation.
Fast Facts
The only problem with scouring through this Australia travel guide is that once you visit this massive island continent, you might not want to leave!
Australian power voltage is 230 V 50 Hz; Power sockets I
The local currency is the Australian Dollar (AUD) and is around 1.20 AUD to 1 USD
Kangaroo meat can be purchased from the supermarket, butcher and is available on restaurant menus as a leaner and healthier alternative to beef or lamb with a 1-2 percent fat content.
Bush fires are common in Australia from late spring to summer; during this period please observe simple safety precautions. Make sure to research risks before travelling and when camping, use only designated fireplaces, while also complying with road warning signs and fire bans.
The emergency services (police, fire, ambulance) number in Australia (equivalent to 911 in North America), is 000 (Zero-Zero-Zero)
You can rent a mobile phone from such providers as RebelFone, Vodafone Rental, Landwide and Cellhire.
In general, if you do not already have a GSM phone, it is less expensive to rent a phone for short stays.
Or you can pre-order a KnowRoaming SIM Card. Packages start at $3.99 per day for unlimited data. Readers Receive a 50% Discount with our promo code DDSave50.
You can order here and have it delivered or find out more at our post.
Vegemite, try some! This yeast spread has the same consistency as peanut butter and is an Australian food staple
Fun Fact: Australia's former Prime Minister held the Guinness World Record for beer chugging.
Safety Tips
Sun is the biggest factor for safety. Drink plenty of fluids, wear sunscreen or sun hats and stay covered up.
Beaches have a lot of rips and currents so always swim between the flags so lifeguards can see you.
Swimming on the beaches of Tropical Queensland can have a risk of Crocodiles Talk to locals and follow the signs.
Avoid swimming at mouths of rivers where crocodiles like to hang out.
Deadly stingers are a real threat at certain times of the year (Nov-April)
When bushwalking – wear long pants and high hiking boots to avoid snake bites
When driving through the outback make sure your vehicle is in good shape and have extra food and water.
Budgeting
Accommodation
Budget: Hostels in Australia typically go for $20 – $25 AUD per night. But hostels can go as high as $100 AUD per night for a double room. Wake Up Sydney is a popular hostel
You can get private rooms in other hostels for around $50 UAD
Mid Range – You can get budget hotels around Australia for $150 AUD. They typically have basic amenities but are clean and modern and include free WiFi.
High End – Australia has some beautiful luxury accommodation around the country. From rainforest retreats to coastal estates. Prices can go for thousands of dollars per night, but you can get a luxury hotel for $300-$500 AUD
Check out our favorite booking platforms Booking.com, Tripadvisor and Air B&B for the best deals on accommodation in Australia
Food
Food: Australia has a wide variety of eateries including fast food, but it is all pricey. The good news is you don't have to tip in Australia.
But expect to pay $20 a meal so budget at least $50 AUD for food per day in Australia.
Transportation
Getting to Australia: Australia's major airports are Sydney, Melbourne, Perth and Brisbane.
Airline fly direct from London, South East Asia and the West Coast of Canada and the United States – Vancouver and Los Angeles
Flights: You can check for the best flights to Australia on Skyscanner.
Compare Fares Below
Getting Around Australia
Australia is a huge country and getting around can take time. We flew between states to get from one city to another with Virgin, Air New Zealand and Quantas.
Buses: Buses are a cheap way to travel between cities. Greyhound is the main busline. But be prepared for long journeys.
Taxis: Taxis start at $4.00 AUD depending on the city. (ranges from $3.50 – $5.00) and then charge 1.50 to $3.00 depending on the city. check out NUMBEO for up to date fares.
Car Rental: Car rentals are the best option for traveling around Australia. Campervans and Caravanning is still a very popular way to explore the continent.
Prices for car rentals start at $25 per day and can go up to $100 per day for a premium car.
We've used VroomVroomVroom when traveling Australia.
You can also compare prices here
Uber: We have used Uber in Australia and it is an excellent option.
Places to Stay
Packing Tips
Due to the sheer size of the continent, the weather in Australia varies significantly depending on where you want to travel.
Northern states experience warm weather year-round while the southern states experience cooler winters.
Australia is also one of the driest continents on the earth with an average annual rainfall of fewer than 600 millimeters.
Remember that Australia's seasons are opposite to those in the northern hemisphere!
Pack sunscreen – Australian sun is very strong. Always wear a shirt, hat, sunglasses, and SPF 30+ sunscreen lotion, even on cloudy days.
Layers – When traveling to different climates remember that layering is the key to effortlessly transitioning from cold to hot climates or vice versa.
Bug spray – mosquitoes and sand gnats are a nuisance that can be prevented with bug spray and a handy mosquito net. If you visit the Outback, the latter is a must-have. Ticks are also common in the wilderness and, should you be bitten, a pair of tweezers will enable you to remove the pest from your skin.
First Aid Kit – You may be traveling to remote areas, so have a good stocked first aid kit
Hiking Gear – for travelers heading up to the Northern Territory, consider packing hiking shoes/trainers, a hat and a water bottle. Also, pack clothes that you don't mind getting dirty (due to the red dirt of the desert) and avoid packing light colors.
See our packing tips for travel for all travel gear, camera gear and clothing we pack for travel.
See our packing tips: packing tipsl.
When to Go
Australia has reasonable weather all year round. It is a large country though, so you want to check out each place region by region.
Some part of Australia have tropical or Mediterranean climates, while others are desert and temporal. Northern states are typically warm year-round with two seasons: wet or dry.

Southern states have cooler winters.

Australia seasons are the opposite of North America and Europe:
December to February: summer. March to May: autumn; June to August: winter; and September to November: spring.
We always suggest traveling during shoulder season for cheaper prices and fewer crowds.
Queensland
Queensland has two seasons, wet and dry. Wet runs from Nov-April and Dry is May-Oct
Queensland is split up between two climates the Tropical North and Temporal Queensland.
The wet season is hot and humid and you can expect tropical thunderstorms and even hurricanes. That said, we traveled to Queensland in Feb and had mostly sunny skies with just short, intense rains each day.
There are far fewer tourists during the rainy season and we found our travels to be very pleasant. See all the things to do in Brisbane
The dry season is still hot but there is less humidity: 28 degrees Celcius, (84 Fahrenheit) but nights are cooler.
Swimming is better at this time of year with less chance of crocodiles and jellyfish.
Crowds are much worse and rates are higher. So it is a trade-off.
South Australia
This is the driest state in the country and it is very large.
The hottest and driest months are during the summer in Jan-Feb
Late Feb-March is the best time to visit the Capital City of Adelaide
Adelaide has wet winters.
Summer and high season here is Dec – Feb with an average temperature of 28 degrees Celcius, (84 Fahrenheit)
Spring and Autumn are best for shoulder season March-May and Sept – November, temperatures are pleasant and there are fewer crowds
March-May is another great shoulder season travel time with temperatures dropping in 15 degrees Celcius (60 Fahrenheit)
South Australia has a large portion of the outback in its borders and travel in shoulder season is much more pleasant than the hot summers
New South Wales, Sydney
Sydney typically sees 340 sunny days a year, so you can't go wrong anytime.
Summer and high season here is Dec – Feb with an average temperature of 28 degrees Celcius, (84 Fahrenheit)
Spring and Autumn are best for shoulder season March-May and Sept – November, temperatures are pleasant and there are fewer crowds
March-May is another great shoulder season travel time with temperatures dropping in 15 degrees Celcius (60 Fahrenheit)
South Australia has a large portion of the outback in its borders and travel in shoulder season is much more pleasant than the hot summers
Victoria
Melbourne possibly has the most changeable weather in Australia.
March-May is the best time to visit with a lot of festivals going on. It's shoulder season right after summer.
Sept – Nov is second best. Temperatures are more moderate at these times of the year.
Dec-Feb is summer and is peak season in Victoria. Temperatures are hot and the crowds are dense. Imagine having to jockey for a position to see the twelve apostles. That said, we visited Victoria in January and by doing the Great Ocean Walk, we avoided all crowds as we hiked the coast for four days.
Go during shoulder season and you'll be happier.
June – August – unlike other cities in Australia – Melbourne is cold and dreary during the winter months.
Ayers Rock
Ayers Rock is a popular stop on the tourist trail. It's at the top end of Australia and season are a bit different here. Ayers Rock
Wet season: October to April
Dry Season: May to September
Winter can fall below freezing at night and summer can go above 100 degrees Fahrenheit.
Things to Do
Adventure
Take a Helicopter Ride over the Great Barrier Reef – A flight over the reef gives you the opportunity to appreciate just how massive this system is.
Paddle Board in the Oldest Rainforest on Earth – What better way to spend an afternoon than a lazy float along the river?
Take Flight on a Hot Air Balloon – Step back in time and fly high in the sky as you take in sunrise over the Gold Coast. As you fly over farmland and wide open spaces you'll spy kangaroos and finish off with a champagne breakfast at a local vineyard.
Attend Hollywood Stunt Academy – The academy is run by martial arts expert Colin Handley. He caught the eye of Chuck Norris and was invited to Hollywood to work as a stuntman. After working on over 100 TV and movie projects he came back to Australia and opened his very own Stunt Academy!
Go White Water Rafting – Just 20 minutes outside of Cairns is the Barron River, where travellers can go on quite the white water rafting experience.
Swim with some Great Whites – jump into the water with some of the most magestical creatures of the ocean world.
Take a Dolphin Swim in Shark Country – get up close and personal with the dolphins of Baird Bay, but don't stray to far from the guide!
Take the Ultimate Scuba Adventure – explore this underwater paradise by joining one of the many dive expeditions that explore the reef system on a daily basis. From snorkeling near the safety of a pontoon on the inner reefs to extreme exposed ocean diving out at Osprey Reef, there's something for everyone to enjoy.
Culture
Go on a Walkabout – Learn about the culture and traditions of the Kuku Yalanji people as you walk through the world's oldest rainforest, the Daintree Rainforest of Queensland, Australia.
DYI Winemaking – A tour through Barossa valley will take you through gorgeous countryside to visit wineries such as Wolf Blass, Lehmanns and the Penfolds just to name a few. Stop for a taste test at Penfolds and why not try to blend your own wine?
What not to Miss
Escape Civilisation – Australians rave about Maria Island. Located off Tasmania's east coast, the beautiful island has something to offer everyone from sweeping bays to isolated beaches and quiet lagoons, it is an unspoiled gem.
Have a Wildlife Encounter on Kangaroo Island – take a safari tour through Kangaroo Island – spot most of the wildlife that makes Australia so unique, visit the most beautiful beach in all of Australia (Vivonne Beach) and explore some the island's many wildlife sanctuaries.
Fly to Flinders to Witness Wilpena Pound – enjoy the beauty of Wilpena Pound, a giant amphitheater of raised rock circling through 80 square kilometers of the Flinders Ranges.
Tour Company Suggestions
Adventure Bay Charters; Kangaroo Island Wilderness Tours
Booking Resources
Whenever we travel to we make sure to start with these companies.
We have tried a lot of different ones over the years and all of these have consistently proven to be the best when it comes to offering great prices.
We have used every one of these personally and continue to do so.
Booking.com: This is our go site to when comparing prices for accommodation. It is usually the has the cheapest prices, not to mention you get free cancellation and you are guaranteed the best price.
Trip Advisor: What we like about Trip Advisor is that we can look at all the reviews and then book our accommodation.
Air BnB: Airbnb is the main search engine we use when we are looking for a home or apartment rental. It is the best way to stay in areas that offer a more local feel.
Skyscanner: This is the first place we check for flights. It consistently comes back with the cheapest and best options. It allows us to compare a lot of airlines to get the best price.
Hostelworld: With one of the largest databases of hostels in the world, Hostelworld is the go-to site when you are looking for budget accommodation.
Rome 2 Rio: If you want to see how to get somewhere by plane, train, bus, ferry or car Rome2Rio lays it all out for you as well as related costs. I love how they show it all to you on a Google Map and it works offline.
Get Your Guide: For all your day trip and city guide needs, we use Get Your Guide. It has the world's largest collection of things to do with more than 30,000 activities in 7500 destinations.
World Nomads Insurance: When traveling you should always have travel insurance. We do.
Related