It is said that Melbourne is the coolest city in Australia. After visiting Melbourne we agree!
Melbourne has been named the most liveable city in the world and it is at the top of many peoples lists of places to visit in Australia too!
We had the chance to tour and explore some of city and these are a few of recommendations of what to do in Melbourne.
Things to do in Melbourne, Australia
Melbourne is a superb jumping off point for exploring the Great Ocean Road, Melbourne is a spot where you could spend days relaxing and enjoying the funky city vibe.
1. Queen Victoria Market Tour
Watch the video of our Victoria Market Tour on YouTube
I've never been one for market tours. We normally find them repetitive and a bit blasé, but the Queen Victoria Market Tour was anything but!
We had so much fun meeting the vendors at this historic market.
Taking the Queen Victoria Market Tour gave us insight into the history of the market (did you know it was built on a cemetery?) and allowed us to interact with the owners of shops while sampling their amazing foods like local cheese and honey, oysters, wine, beer, and chocolate.
You won't leave the market hungry that's for sure.
Everything is top quality here.
The Market is targetted to chefs and restaurants, so you only get the best.
Planning what to do in Melbourne: Visit the Victoria Market website
2. Hidden Secrets Lanes and Arcades Tour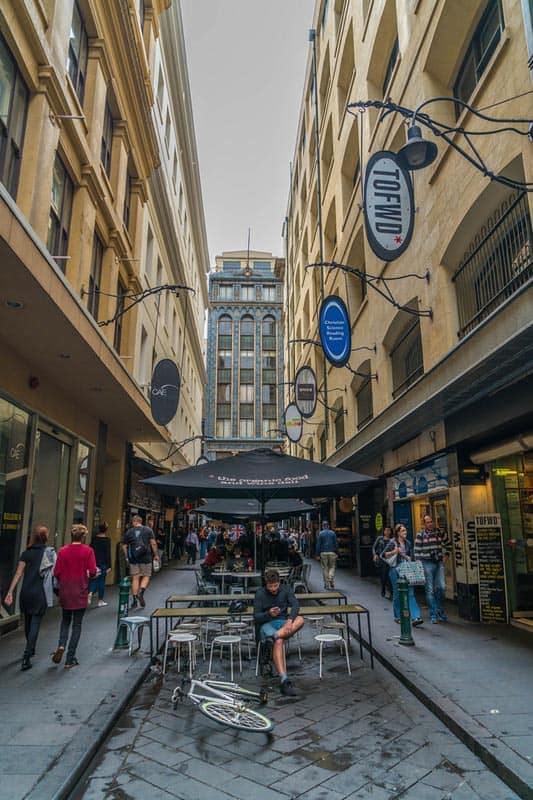 Hidden Secrets offers your choice of Melbourne city tours, check out their website for details
Melbourne is filled with narrow lanes and covered arcades. One can get lost exploring them all and you won't truly appreciate their meaning and history unless you take the Hidden Secrets Lanes and Arcades Tours.
This is the original lanes tour in Melbourne with more than a dozen year's experience.
Here you'll discover quirky cafés like Melbourne's smallest coffee shop, independent designers and specialty retailers.
Like the Queen Victoria Market Tour, you'll have the chance to talk with shop owners and explore the area in a more in depth way than you would wandering through the streets alone. I
t's an excellent way to get oriented to city and find out what to do in Melbourne for the rest of your trip!
3. Sunrise Hot Air Balloon Flight Over the City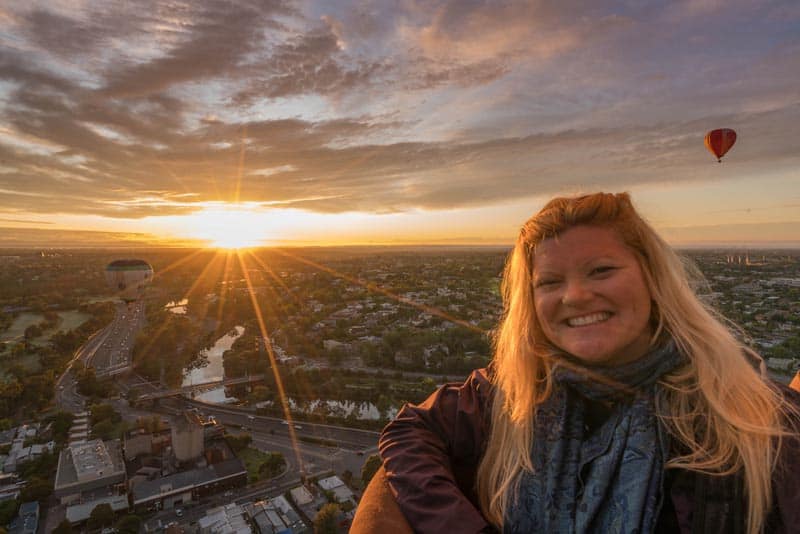 It's one of the few places on earth you can go hot air ballooning over a city. It's the largest urban centre of hot air ballooning and the trip is spectacular.
Make sure to give yourself a few days in Melbourne for this trip. Winds change constantly so flights could be cancelled at the last minute.
But you can get on the next day once weather improves like we did!
The morning starts at 4:00 am where your guide picks you up at your hotel before heading out to a field for take off.
It's all hands on deck so make sure to dress comfortably and remember, even though it's warm outside, it can still be brisk and cold in the sky. So wear layers.
The 45 minute flight takes you right over the city and gave us a birds eye view into the football, cricket and tennis stadiums.
The flight is followed by a champagne breakfast and you've already had the adventure of a lifetime before most people have even woken up.
To book your hot air balloon flight over Melbourne, visit Global Ballooning for bookings
4. Graffiti Lanes
The Hidden Secrets Lanes and Arcades Tour will give you a taste of the Graffiti lanes of Melbourne, but you must go back afterwards to really examine the art.
These lanes are dedicated to graffiti so artists aren't tagging around the city.
There is a lot of political and social commentary in the graffiti and you will most likely see an artist at work if you hang around long enough.
The two popular lanes are Hosier Lane and Union Lane.
Enjoy city tours? Check out our cool city tours of summer round up.
5. Eureka Sky Deck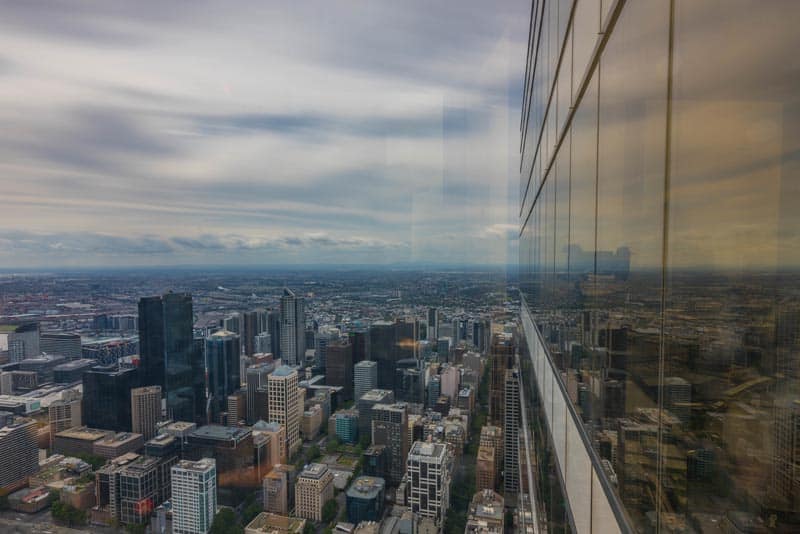 A city tour wouldn't be complete without going up to a high lookout. Like most international cities, Melbourne has its own high lookout at the Eureka Sky Deck.
It's a great view of the city and river, but it does have a unique feature that we have yet to see in other city view points.
The Edge is the world's only moving glass structure that moves out and dangles over the edge of the Sky Deck on the 88th floor.
Unlike Toronto's awesome glass floor which is free with entry, you have to pay $15 extra to enter the SkyDeck. We didn't find it to be worth the money, but if you have a fear of heights, you will definitely get the thrill you are looking for.
We had a young girl in the Sky Deck with us and she loved every minute of it. It is a neat idea to be locked in an elevator type room, moved out from the main building and then have the floors seem to fall away at your feet.
I was just expecting much much more.
For more information for what to do in Melbourne visit the Eureka Sky Deck website
6. Explore Federation Square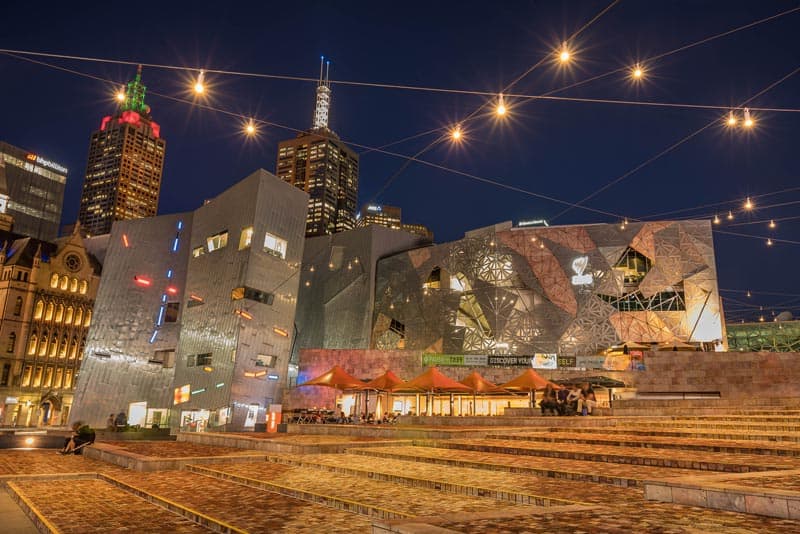 Federation Square is just about the coolest city square we've happened upon. Sure there are flashy squares in the world, but Federation Square has a lot going on.
Giant screens are set up for people to watch outdoor events. Pop up theatre performances take place in back alleyways and artists hang out on the street showing off their talents.
There are art galleries, restaurants, cafés and rooftop bars. Federation Square is the place to be.
We love our home town of Toronto, but while walking through Melbourne's Federations Square, Dave commented "Toronto's got nothing on this city."
Looking for more than just what to do in Melbourne? Visit Eight Great Things to do in Queensland
7. Day Trip to the Great Ocean Road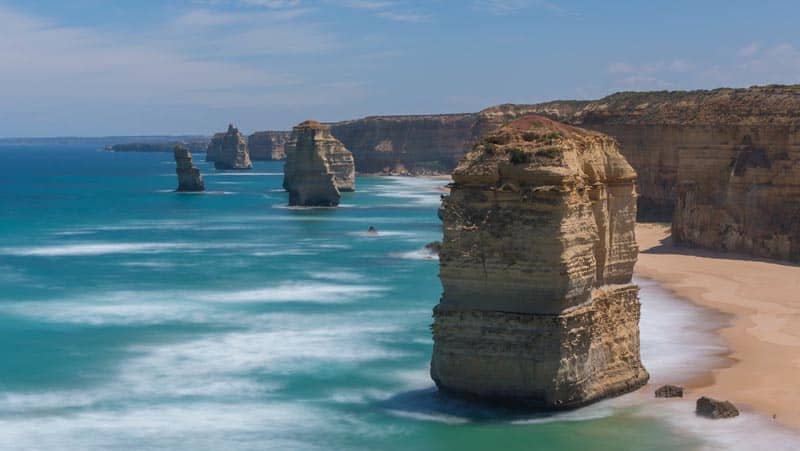 There is no doubt that The Great Ocean Road is Victoria State's premier attraction.
It's just a three hour drive from Melbourne and if you are visiting the city, it is a must visit. There are tours that happen daily, or you can rent a car to see the 12 Apostles.
The views are worth the hype, but we recommend giving yourself longer than a day to explore.
We took part in the four-day Great Ocean Walk to the 12 Apostles and it was magnificent. We'll be writing about it more in the coming weeks.
Visiting Victoria? Pick up your Lonely Planet Guide for more ideas of What to do in Melbourne.
8. Australian Open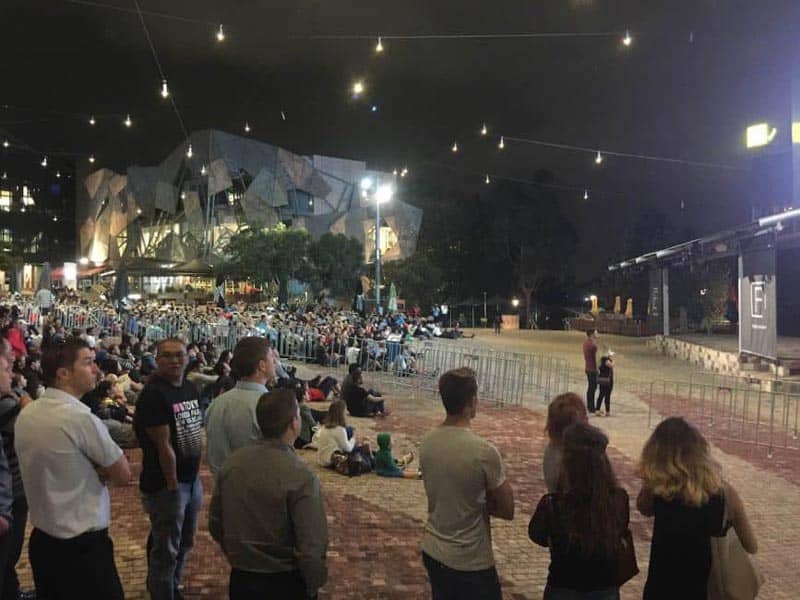 Melbourne is home to the Australian open and when it's going on (like it was when we were there) the city is bursting with energy.
Don't worry if you don't have tickets to the venue, big screens display every move of the event at Federation Square.
Every bar is playing each match and you may spy a player walking through the streets.
We didn't attend the Australian Open ourselves, but it was really cool to be there at the time it was going on.
South Australia is right next to Victoria, consider visiting this other beautiful state. Check out our photostory of South Australia where you can visit Kangaroo Island
9. Sunset Over the Yarra River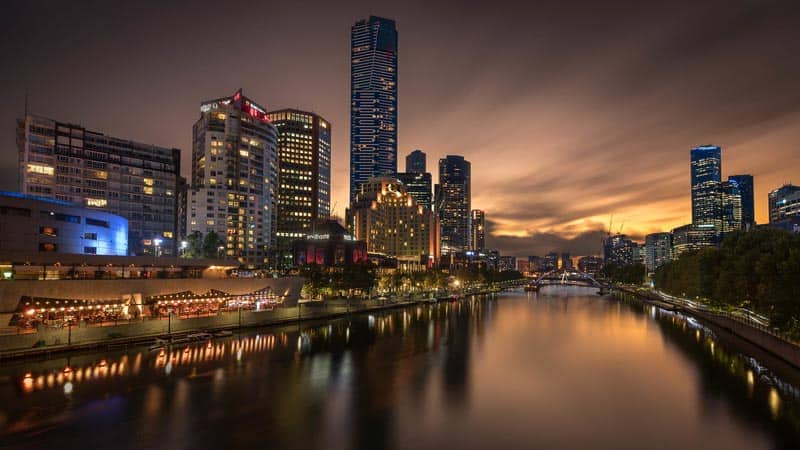 Take a Walk along one of the many bridges or book a sunset boat tour to watch the sun go down in Melbourne.
The city lights up to perfection as the sun goes down and you don't want to miss it while you are there.
There are many restaurants and bars along the river where you can catch a glimpse of sunset.
We enjoyed the view from the rooftop patio at Transit located just above Taxi Kitchen.
10. Eat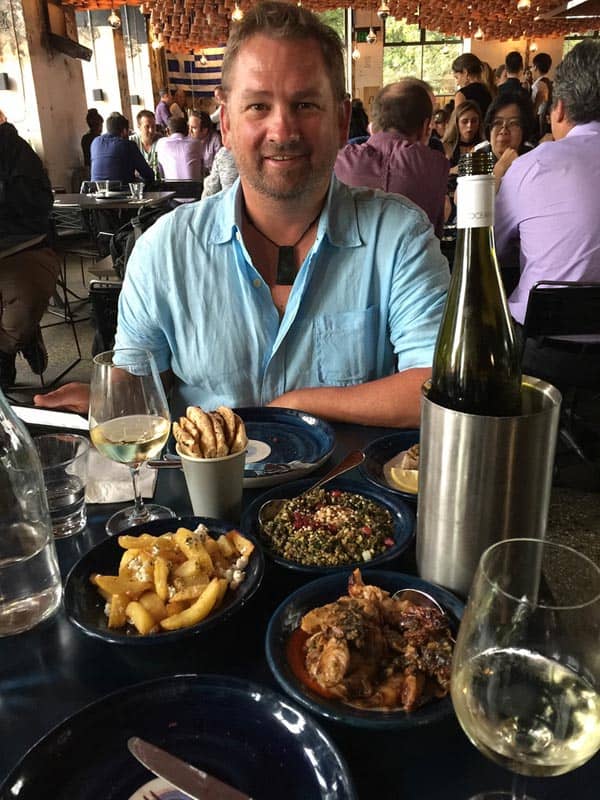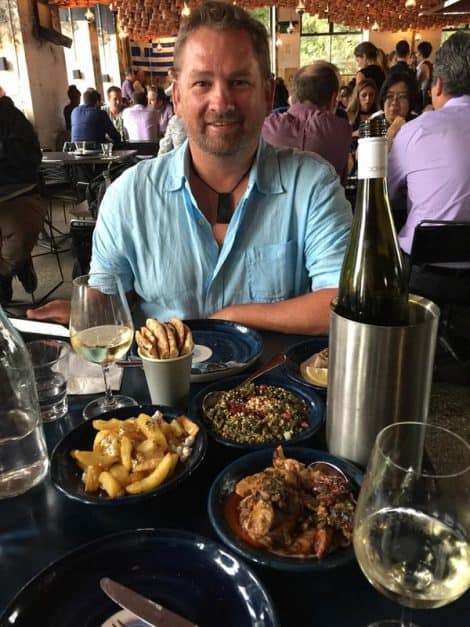 What to do in Melbourne? Eat of course. Melbourne is a Foodies paradise with restaurants to suit every taste.
You'll find most along the banks of the Yarra River offering selections of every culture and cuisine.
We loved the Asian Fusion menu at Taxi Kitchen, The Authentic Greek Cuisine of Gazi Restaurant and the stylish creations of Donovans on the Beach.
10. Spy Penguins at the Beach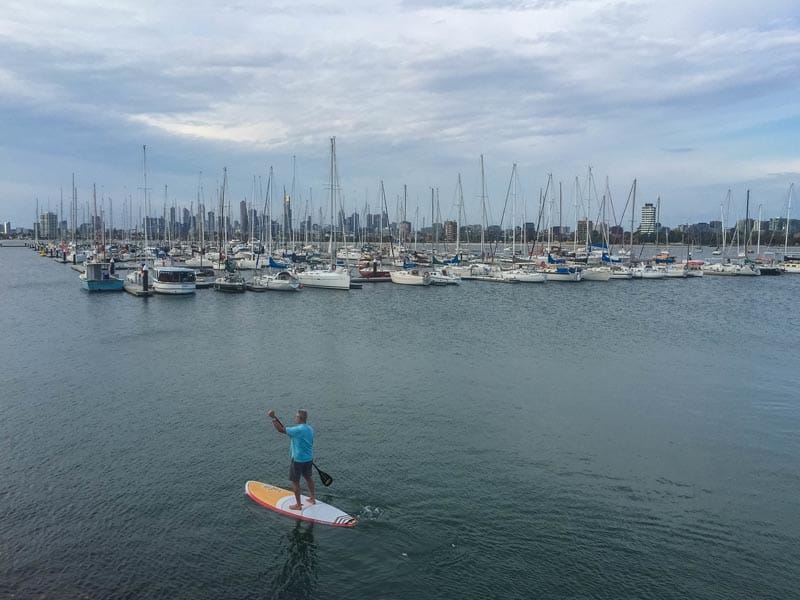 Speaking of the Beach, you must make your way down to St. Kilda Beach for some Stand-Up Paddle Boarding, walking along the boardwalk and penguin watching.
The Pier of St. Kilda Beach is a historic Edwardian building that has been renovated and is worth walking out along the long pier to view.
A colony of penguins lives out here as well so you may get lucky and spot one.
It was hot while we were there so the penguins were either staying cool under rocks (we spotted many a back and bottom) or out in the water somewhere hunting for food.
There was no doubt about it though, the smell was 100% that of a penguin colony.
Australia is known for its beaches, check out these mind-blowing photos of Queensland
11. Take the Free Tram
Melbourne has a unique feature where tourist and locals alike can take the free tram anywhere within the city circle of Melbourne.
It's easy to hop on and hop off and it will take you to the majority of places you want to go to in the city centre.
There are historic trams and newer trams, but both are free. If you want to try the complete loop for some city sightseeing, the tram takes 45 minutes to complete the loop.
12. Where to stay in Melbourne
We stayed at the Hotel Lindrum in the heart of Melbourne. It was walking distance to everything. It is one of Melbournes' most stylish boutique properties with excellent service and attention to detail.
Formerly the snooker hall of revered world billiard champion Walter Lindrum, the hotel has kept its billiard history roots.
There's a free billiard table in the lounge waiting for anyone to play it. It is chic, luxurious yet quaint enough that it doesn't feel like a big chain hotel. We highly recommend it.
For more affordable accommodation we also enjoyed our stay at the Travelodge on the South Bank.
Located next to the Eureka Sky Deck it is an excellent central location. Both hotels offer free wifi to guests.
Pin to Save this Melbourne travel guide to Pinterest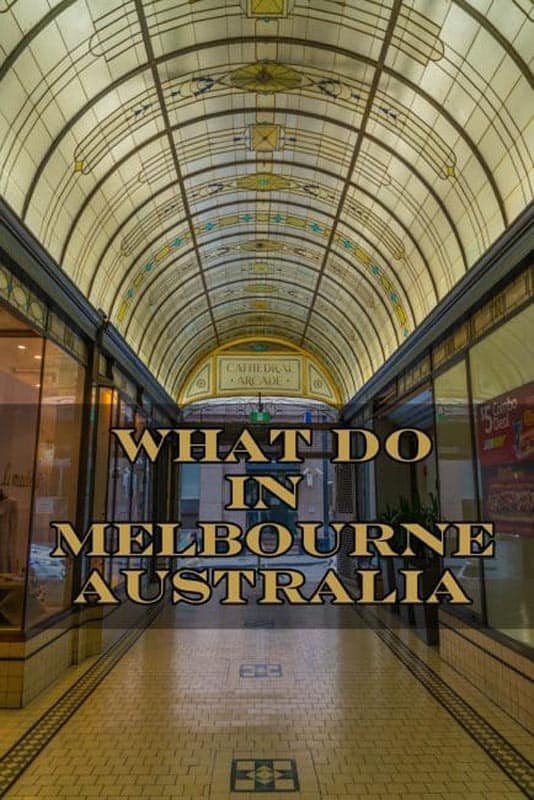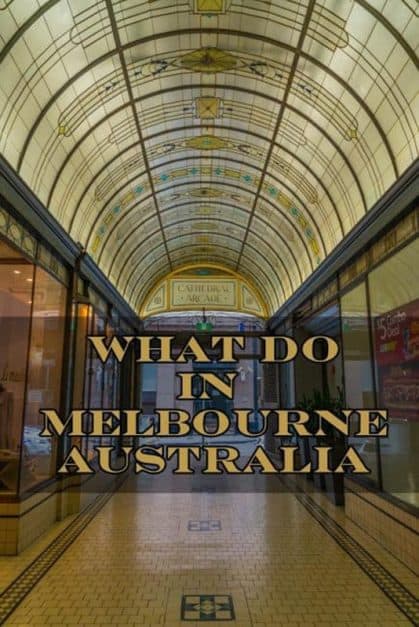 As you can see, there is no shortage of what do in Melbourne. It's a city that can keep tourist occupied for days.
Have you been to Melbourne?
Do you agree with us that it is the coolest city in Australia? We want to hear.
Read More:
Eight Great Things to do in Queensland
Our trip to Australia is in partnership with Tourism Australia and Air New Zealand. Air New Zealand offers daily flights from Canada to Australia. All opinions are our own.