Last year at this time we were about to set out on one of the toughest treks we've ever done in our lives. As we sit snuggling up by the fire while Dave nurses his injured back, we enjoyed reminiscing about our crazy winter trek through the -30 degree weather of the Arctic Headwaters.
We've climbed to the summit of Mount Kilimanjaro and gazed out over the Khumbu Ice Fields of Everest Base Camp, but the Missinaibi Winter Trek is one of the most challenging things we've ever faced. It's one thing to walk 100km, it's quite another to snowshoe across frozen lakes and rivers, through deep snow and slush, and to bushwhack your way through steep and overgrown portages. All this while pulling sleds filled with food and gear.
A Winter Trek to Remember – Mission Accomplished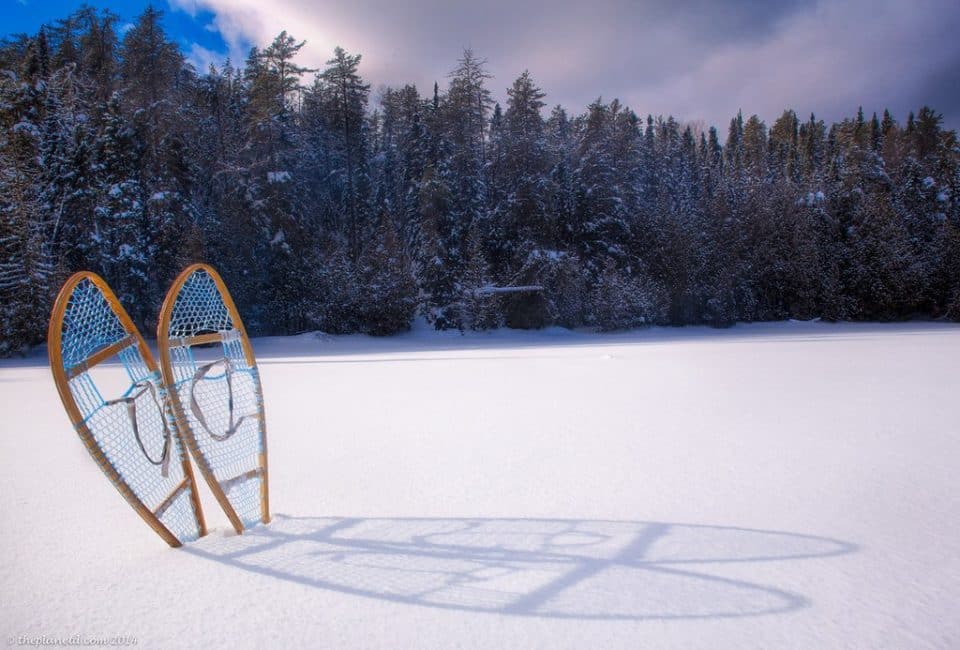 A Winter Trek to Remember
The long walks each day were tough, but the work really began when we got to camp each evening. It was a long winter trek each day, but it wasn't over once the walking ended. In fact, that's when the real work began.
For three hours we'd set up our sleeping quarters for the night by chopping down trees for firewood, chipping through metre thick ice, and stomping down snow all around the camp for a comfortable night's sleep. We slept on spruce boughs laid out in our canvas tent heated by a wood stove and chopped enough firewood to make through to morning.
Lure of the North
We couldn't have done any of this ourselves and thanks to guides Kielyn and Dave Marrone, we made it safely through one of the most gruelling, yet fulfilling travel experiences of our careers. Not many people run such a trip.
Taking an epic Northern Canadian Trek is a lot more involved than hiring a porter to carry your packs up to Everest Base Camp or up to the summit of Mount Kilimanjaro. While other treks around the world are a challenge, if you want real bragging rights, try this one.
Here you have to carry all your food in and out, all your gear and clothing and you have to find your own water for cooking. Even though we had the guide and safety of being with Dave and Kei, we still had to pull our weight and work hard to make it through each day.
Did we want to quit at times? Hell yeah! But we made it to the end, and it was such a thrill to be able to say that we walked across the elements in the footsteps of early fur traders and lived by traditional means in the Great Canadian wilderness in the dead of winter.
I know that no other trek will compare to the work and challenge of this one and completing it made us feel that we could accomplish anything. Put a challenge in front of us in the future and all we have to do is think about the Misinaibi Headwaters.
Read More
Expeditions are Glamorous in Retrospect