When deciding to go to Whistler, Canada for our latest adventure, we knew we'd be doing an active vacation, but we also wanted to showcase the romantic side of the destination as well. A winter holiday can be one of the most romantic settings for a holiday. What's better than getting cozy by the fire after a day of play in a winter wonderland?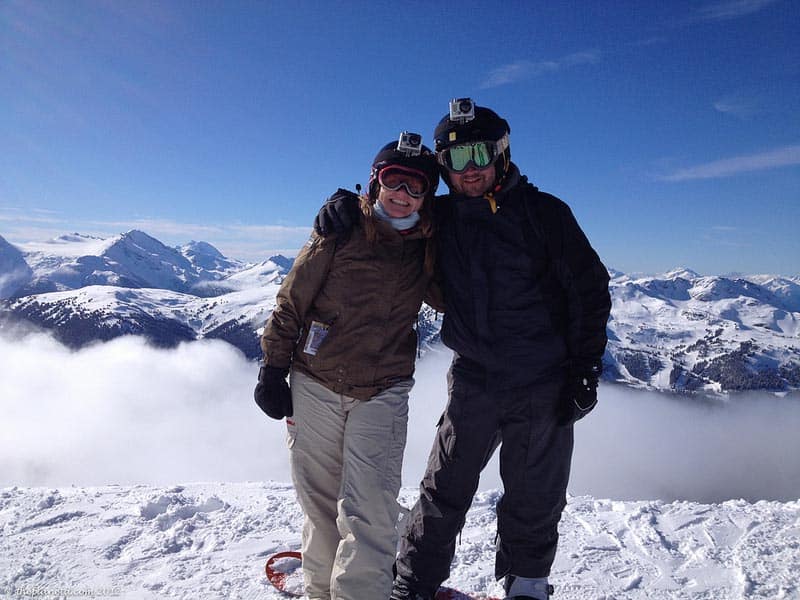 Romantic Whistler
Once you've finished whizzing down the world class slopes of Whistler Blackcomb, the romance begins at Whistler Village.  Start off with a Sleigh Ride through the grounds of the gorgeous Fairmont Chateau Whistler in the upper village. A shuttle bus will pick you up and take you to the Chalet where hot chocolate or hot apple cider is waiting for you by a camp fire.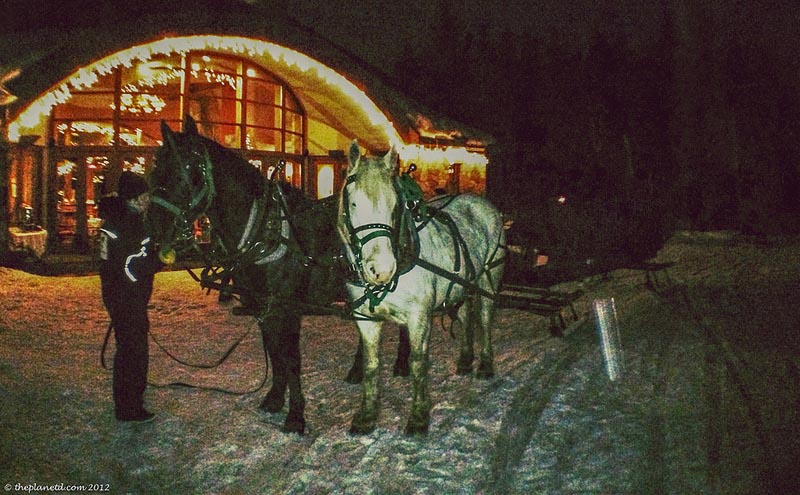 When the Clydesdale horses show up pulling a winter sleigh, it is like a dream. The ride takes you through a half hour trail of snow covered forests and high end lodges. You'll stay warm and comfortable with a fleece blanket keeping your warm or better yet, your honey's arm wrapped around your shoulder.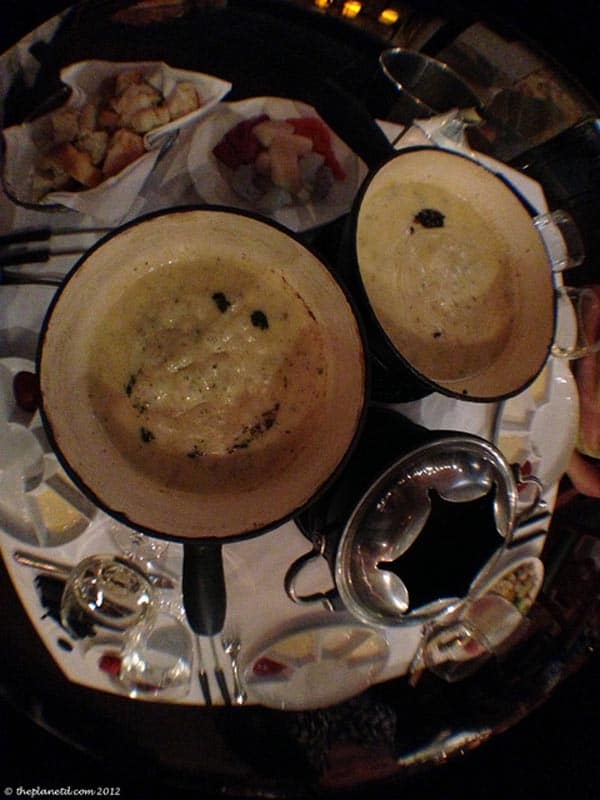 The half hour sleigh ride is only part of the romantic package.
Finish it off at the lodge while dining on a three course fondue by candlelight. Nothing brings couple's closer together than cheese and chocolate and here you'll get your fill of exactly what you need. The upper village is only a 10 minute walk from Whistler village so if you aren't staying at the Fairmont, you can easily take a romantic winter stroll back to your hotel, or you can use the many shuttles that go back and forth between the two areas.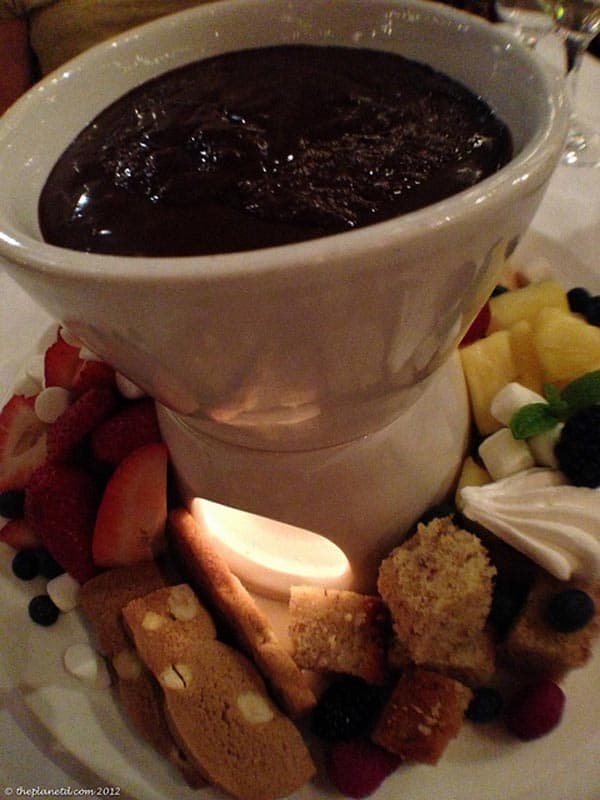 Another great option to getting into the romantic mood is a day at the spa. We've always wanted to go to a Scandinave Spa. There's one in Collingwood Ontario which we've yet to visit and even after many trips to Mont Tremblant we never managed to put a spa into our itinerary. While in Whistler, we were determined to experience the luxury and decadence of relaxing in the thermal baths in the middle of a forest.
Make sure to book a massage when you go to the spa. If you don't, you won't receive a robe and will have to walk around outside in the freezing cold with nothing but a towel.
Whistler Romance
We started off in the steam room and massaged our aching muscles for a while before heading out into the cold outdoor baths. I couldn't bring myself to plunge into the freezing water (see my aversion to taking the polar plunge in Antarctica) but Dave was in for the full experience. As I wimped out and sat in the quiet room watching the braver souls plunge into cold water, Dave joined in. Everyone looked cold and uncomfortable to me and I was happy to simply relax and enjoy a magazine sitting on the lounge chairs.
After a bit I joined Dave in the outdoor hot tub before heading to the sauna for some more hot therapy and relaxation. It certainly is an experience that takes away any stress that you have and it soothes your tired muscles after a day of skiing the Whistler Blackcomb epic slopes.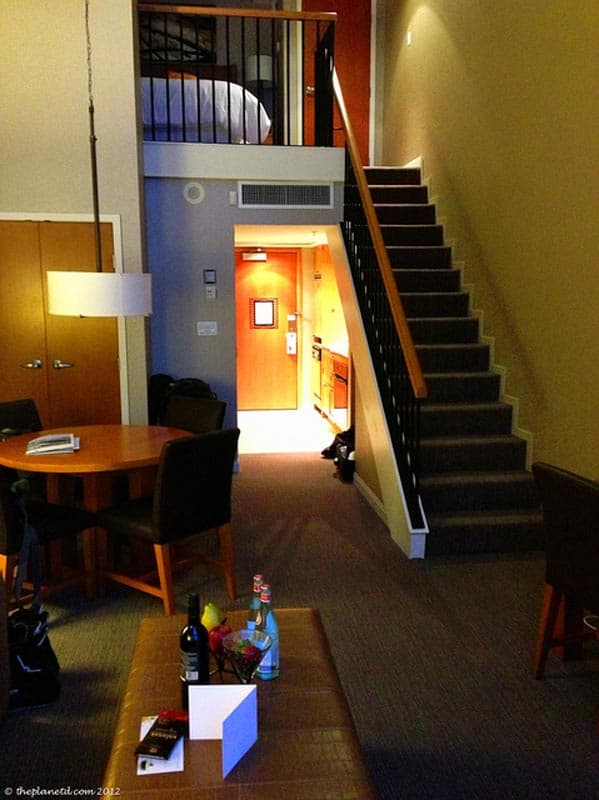 Something I highly recommend when going on a ski vacation is to book a chalet with a fireplace.
We stayed at the Westin Whistler which is all suite rooms, so we had a full kitchen and dining area as well as a fireplace and loft bedroom. We walked over to the village supermarket and liquor store and bought some wine and cheese and spent the night by the fire talking about our outstanding day on the hill and anticipating the rest of the holiday to come.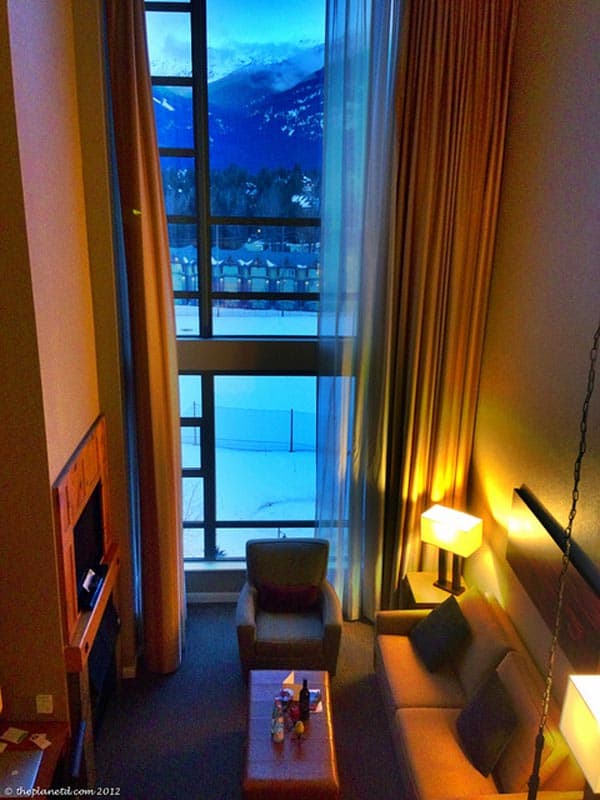 Adventure and Romance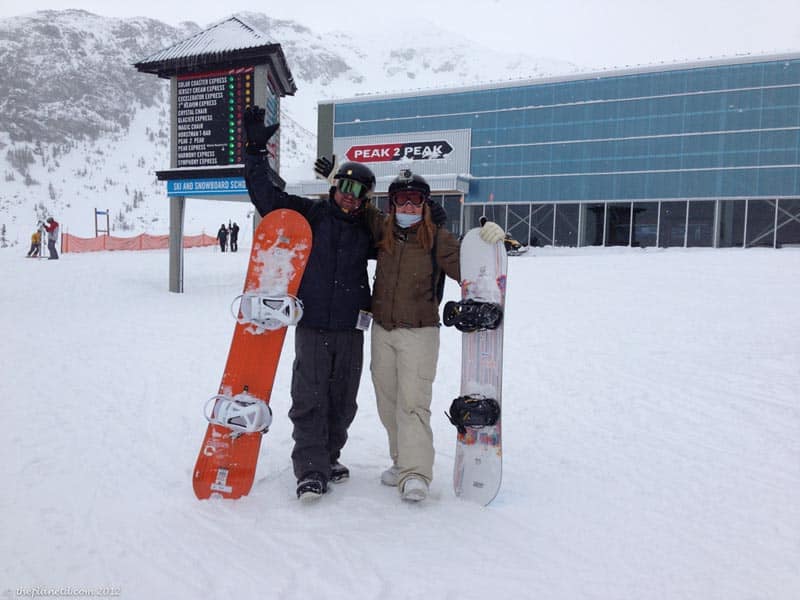 We talk a lot about adventure on our travel blog and the reason we think it is important is because adding adventure and excitement into our lives is what has kept our flame strong for the past 22 years.
When we push ourselves to the limits together and enjoy a good thrill, we draw closer with each event. Whistler was no exception. We played hard during the day as we followed each other down runs and carved our way through the snow. We laughed when we fell and we whooped and hollered when we made a sweet move. It's so much fun as a couple to do any activity together. Why not learn a new skill together and then put it to the test. Snowboarding is a great one to start with.
Apres Ski
Working out and fresh air motivates you to keep the action going and everyone's favourite event at ski resorts is Apres Ski. It's a tradition to sit outside on a patio and enjoy a drink or two with your fellow snow lovers. Skiiers and snowboarders are an active bunch and they'd rather enjoy each others company and keep the night alive rather than sitting on a couch watching TV. Their energy is contagious.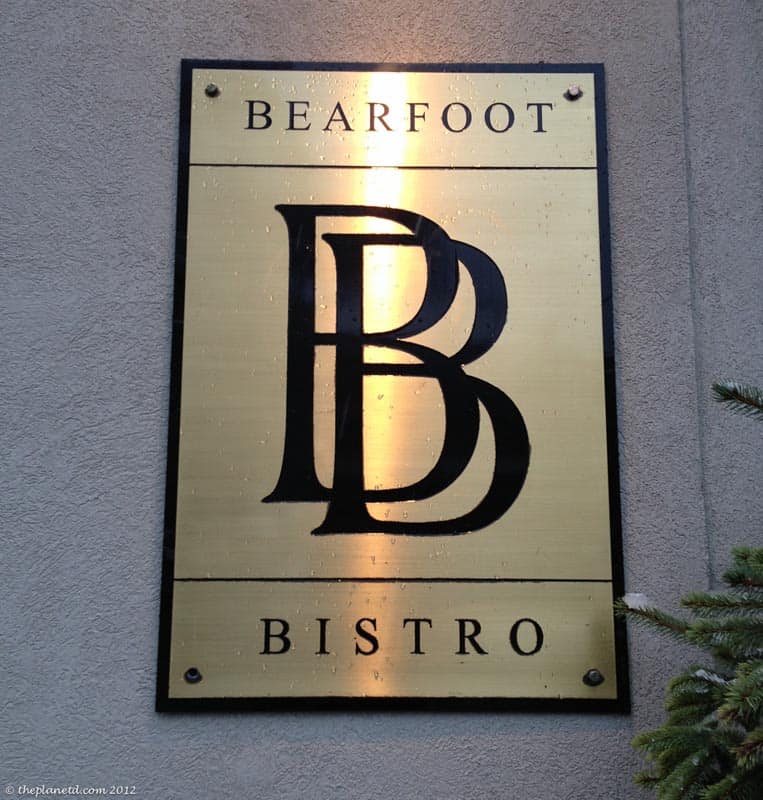 One of our favourite places for Apres Ski in Whistler was the Bearfoot Bistro.
For only $9.95 CAD (9.95 USD)  you can order a dozen oysters of your choice. That's an amazing bargain for the best known aphrodisiac in the world! Add a bottle of Moët & Chandon for only $35 and you will have your spouse or partner eating out of your hand. How romantic!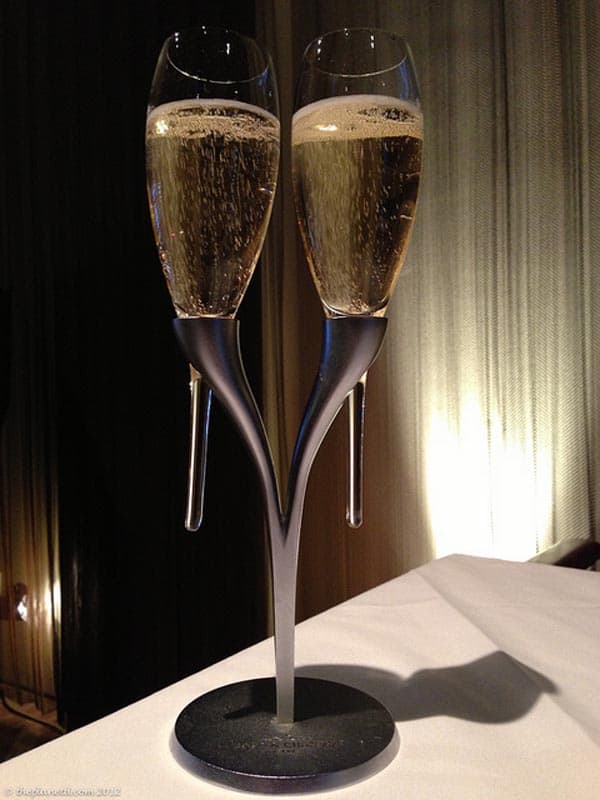 There are plenty of spas and fine dining restaurants in Whistler and plenty of places for a secluded hike or quiet evening. So for your next vacation, forget about a trip to the Caribbean, go to Whistler. Instead of being zombies baking on the beach day in day out, add some adventure to your trip. The excitement and energy you feel will put a spark back into your relationship. Drinking margaritas all day in Cancun will simply put you to sleep.
But snowboarding and skiing will inspire you to do something special with your evenings and reconnect with the one you love.
Read More:
You Might Also Enjoy