I didn't exactly believe them when the Flying Kiwi told me I would be piloting my own stunt plane in Abel Tasman, New Zealand. "You mean I am going to be a passenger and the pilot is going to fly right?"  "No, you are actually going to pilot your own plane turning yourself upside down and all around doing aerial acrobats 4000 feet above the ground."
Holy $*%#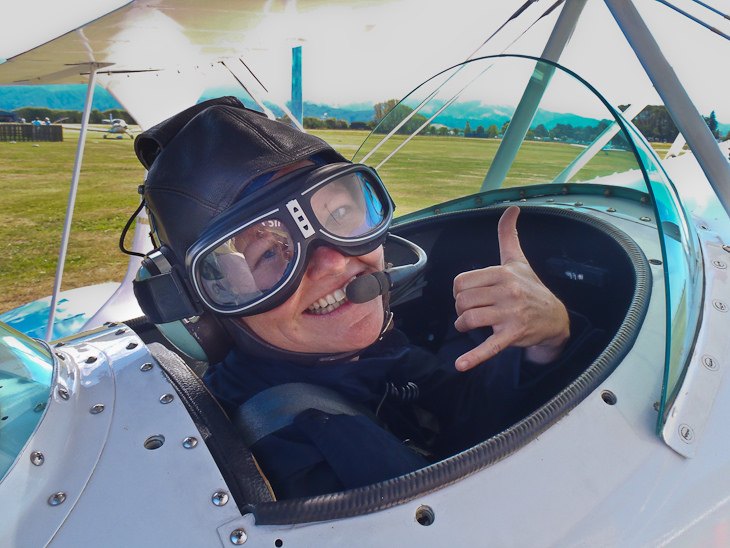 Pilot Stunt Plane New Zealand
Okay, if you say so.  Dave took off to jump out of a plane while I climbed into my flight suit to pilot my own stunt plane with U-Fly Extreme.
I won't tell a lie, my nerves were running high as the pilot Vincent gave me my instructions on how to fly this classic Pitts Special aircraft. This was not only my first flying lesson; it was my first aerial acrobat-flying lesson. We always say "If you are going to try something, don't try it half assed, go for it 100%.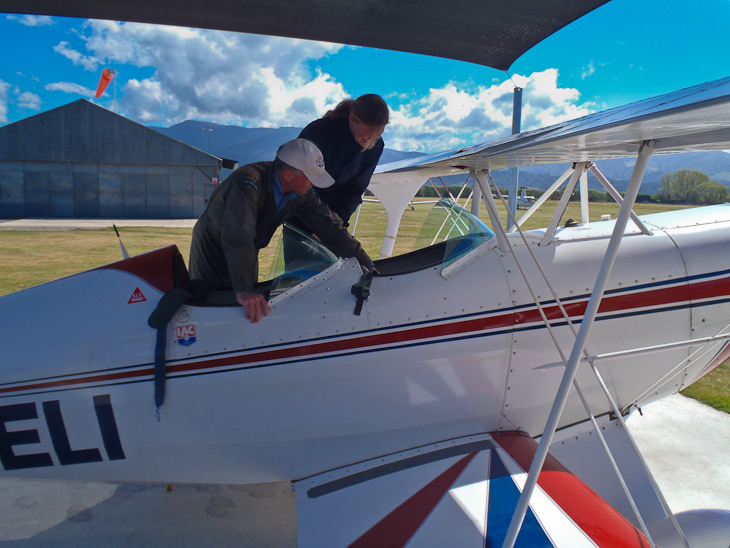 Run by Vincent and Allison, Pilot A Stunt Plane with U-Fly Extreme is a one of a kind operation for a once in a lifetime opportunity. They are a married couple that have years of experience of flight instruction and aerial acrobats and have yet to find anywhere offering the same service.  As you can imagine, it is quite difficult to franchise out a company that takes amateurs into the air to twirl around in the sky.
Check out The 15 Most Unique Things to do in New Zealand
Vincent says it is the simplest thing for him to teach people how to pilot a stunt plane and fly and flip through the air. But it is a very unique niche that is difficult to duplicate.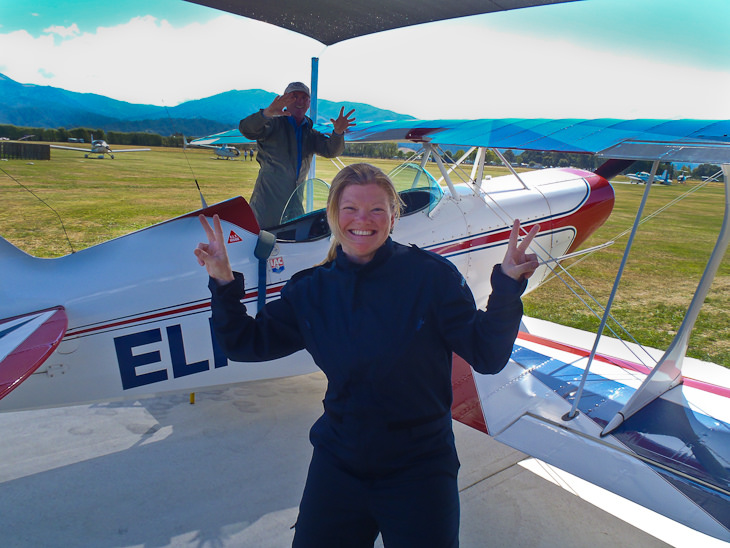 As soon as the engine starts and we taxi down the runway, I begin to relax. I feel confident in Vincent's capable hands and once we jut into the sky, he instantly puts me on the controls. Oh my God, I'm piloting a stunt plane!
We are climbing straight up into the air and he tells me to gently push the throttle left and right to get a feel of being in control of the plane.
The power feels incredible.
I know that he is there to take over if things go wrong, but he is confident enough to give me as much control as he can throughout the flight. During the video you can regularly see him lifting both hands in the air to prove I am in fact the pilot of this stunt plane. That it is indeed me rolling the plane.  He gives me instructions to keep on pulling right or up to keep the roll or spin going.
It is impossible to explain the feeling, but this video provided and edited by You Fly gives you a great idea of what you can expect.
Deb's Piloting a Stunt Plane
Flying a stunt plane is the coolest thing on earth and I am amazed that I don't feel nauseous. I feel quite comfortable actually and have the time of my life.
After my lesson is complete, Vincent takes over and spins and banks and turns upside down and all around to finish off the thrills. I can't take the smile off my face and enjoy the feeling of weightlessness. When we fly upside down, I can't believe it.  We're flying upside down people!
I've only seen this type of thing in the movies or at the Toronto International Air Show and here I am participating in a stunt plane flight and I am loving every minute of it.
After the flight I felt ready to take on the art of flying and Vincent set me up for a great photo op. He even made sure that I held on to my head gear like a true professional.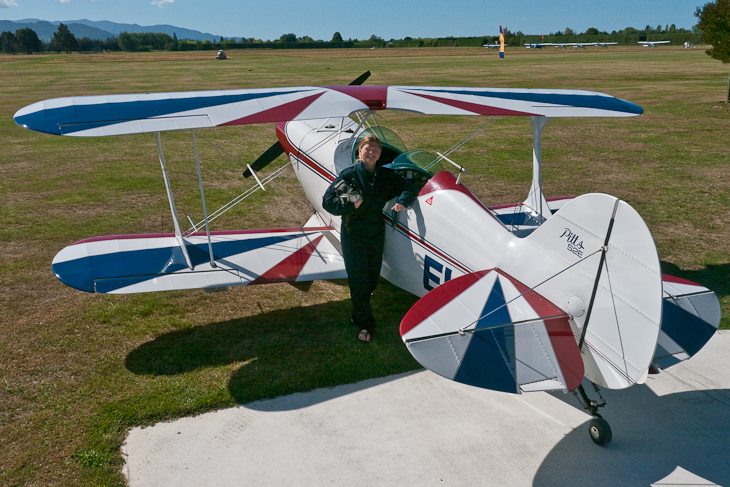 It was an absolutely amazing experience. Piloting a Stunt Plane with Vincent is New Zealand's best adventure. While people were jumping out of planes next door, I had my first certified flying lesson and had the opportunity to partake in Aerial Acrobats in a Stunt Airplane. How many people do you know that have done that?
U-Fly Extreme is located in the South Island of New Zealand in the Motueka in the Abel Tasman Area. This Trip was made possible by Flying Kiwi and courtesy of UFlyExtreme.
---
Read More
Affordable options with Air New Zealand to Australia
New Zealand's Flying Kiwi Experience
New Zealand with The Flying Kiwi
You Might Also Enjoy