I have wanted to skydive for years. When I first met Deb, I told her that I wanted to skydive and she said I wasn't allowed. It would freak her out too much to have me plunge to earth to my imminent demise.
That was 20 Years Ago
Now not only is Deb encouraging me to jump out of a plane, she is taking off to Fly a Stunt Plane while I jump out of a plane of my own.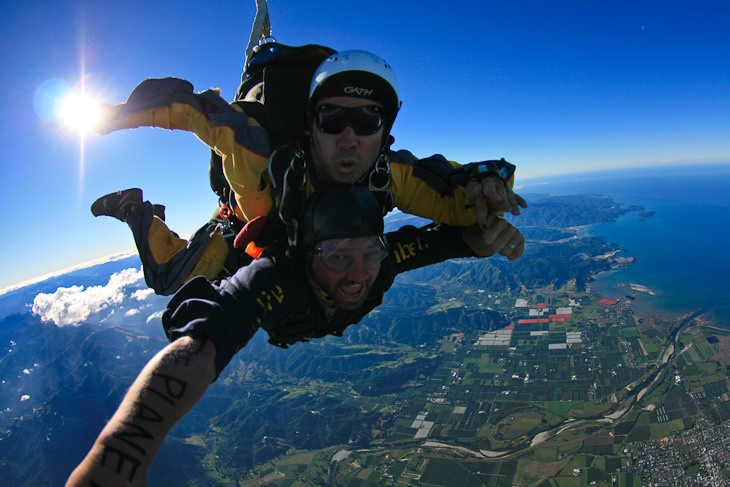 Skydive Abel Tasman
It was a quick smooch goodbye I was on my own with the rest of the Flying Kiwi Gang that were jumping today with Sky Dive Abel Tasman.
It is my first time skydiving. I have bungy jumped a couple of times but have never had the opportunity to jump out of a plane.  I always say, "If you're going to do something, you might as well go big or go home."
So today I chose to jump from the higher elevation of 16,500 feet. Skydive Abel Tasman is the only place in New Zealand that you can jump from so high. Abel Tasman is the place to do it because the scenery is outstanding and you can see both the North and South Island when you jump.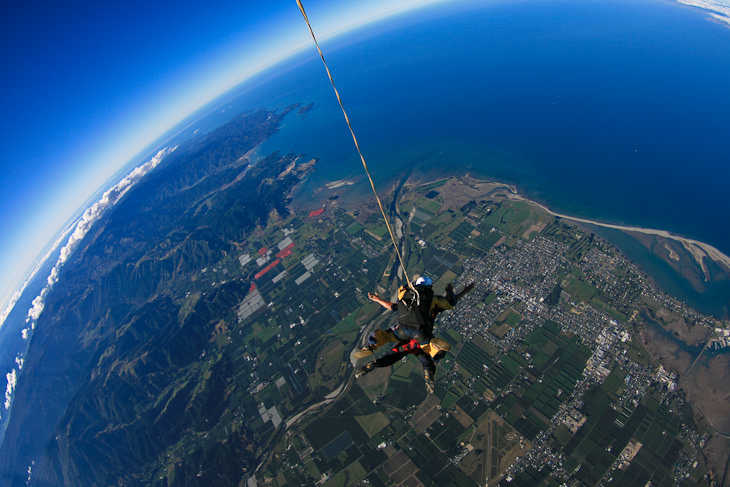 There was no briefing for this tandem Sky Dive.
All I had to do was wait my turn and get into my harness and wind suit.  It was a beautiful sunny day and I caught some rays as we went up in a plane two at a time.
6 People in total went up in each airplane, but most of us opted to buy our own cameraman to take photos and video. So with the instructors and cameraman and me we were a team of 3. There was one other skydiver in the plane with their team as well.
Here's the video of my jump!
[responsive-video identifier="s2U0utsoJw0″]
We took off and I was suddenly nervous.  I really couldn't take advantage of the 20-minute scenic flight over Abel Tasman National Park. All I could think about was the 80-second freefall that I was about to have.
At 13,000 feet the oxygen came out.  Only 3,500 feet to go and I would take part in my first jump. As I breathed my oxygen I started to calm down.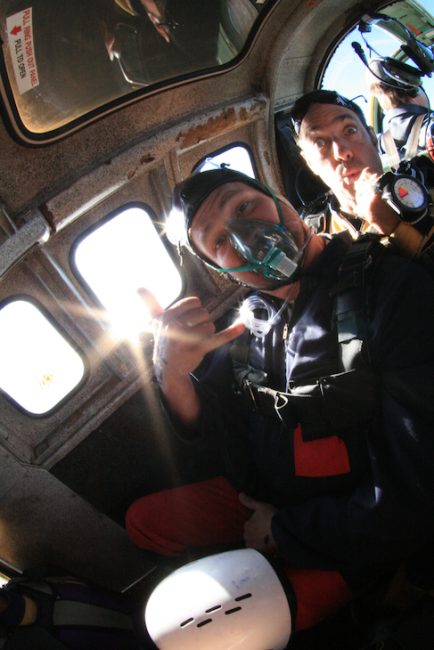 Halfway up the instructor clipped me to his harness and we were joined together for the final ascent. I could feel his heavy breathing and I wondered if everything was okay? It was now my turn.
We shimmied together to the edge of the plane where I was hung out of the door dangling only from my instructor's harness.
This was one of many adventures we did in New Zealand, Read the rest at the Most Unique Things to do in New Zealand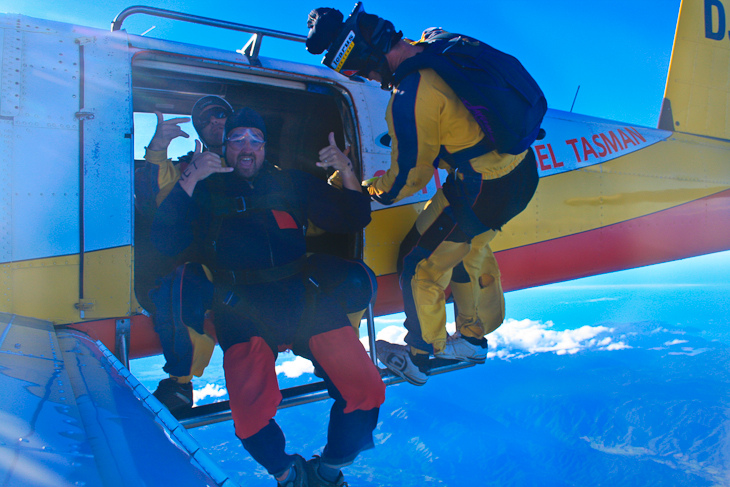 After a quick look at the cameras for a photo, I assumed the position of looking straight up with an arched back.
Time to jump!
It wasn't difficult to jump; it was more like being pushed gently by my instructor.
The first few seconds were chaos. It wasn't scary jumping, it was just disorienting.
We tumbled through the air and I didn't know which way was up. Before I knew it, we were stable and dropping to the ground.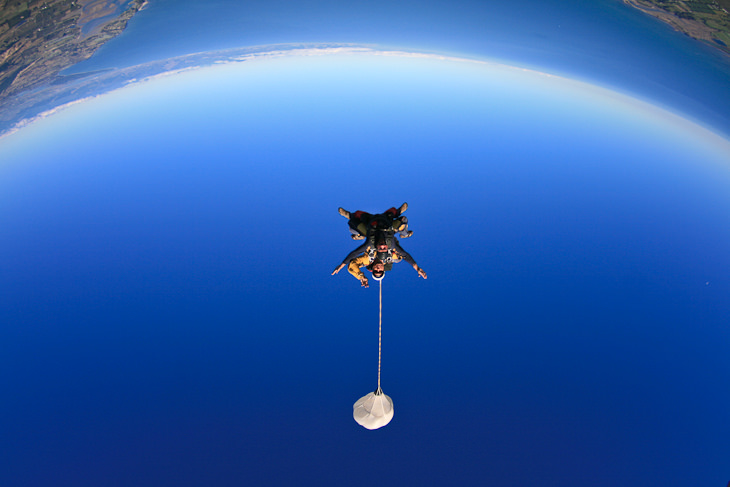 The Freefall
We now had about 70 seconds to kill. So what was one do during a freefall? When you have your own personal videographer, you ham it up for the camera.
I naturally wrote ThePlanetD.com on my arms along with my favourite New Zealand saying "Sweet As" to show off for the camera.
The cameraman and instructor played around to make sure to get the best shot. We even grabbed a hold of each other for a couple of seconds, which was pretty cool.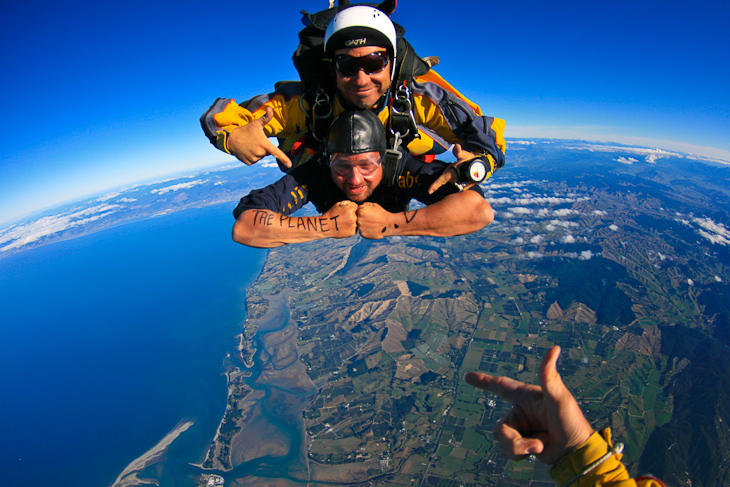 The freefall was a blast and surprised when they pulled the parachute we went up with a jolt.
It was all gravy from here.
He loosened off the buckles a bit to make the trip down more comfortable and we floated to the ground. Not gently to the ground though, we did some spirals and spins to have some fun before finally landing gracefully on the airfield.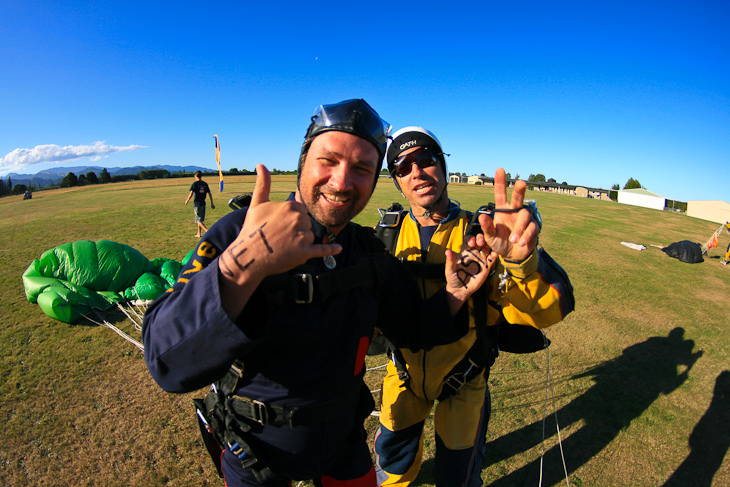 I will have to say that I enjoyed skydiving far more than bungy jumping. It is better value for your money and it is equally exciting without the stress of bungy jumping.
After my Queenstown bungy I felt that I didn't have the need to do another bungy jump. I have done a couple and that has satisfied my adrenaline factor.
However now that I have done some skydiving, I am ready to do some more!
The cost for a jump is $399 NZD
To hire your own camera man and receive video and photos you can get a package of $599 NZD
1 NZD = .70 USD and CAD
Skydive Abel Tasman is located in the South Island of New Zealand in the Motueka in the Abel Tasman Area.
This post is also a part of the #Blog4NZ effort going on with travel bloggers around the world uniting to show that New Zealand is open for business.
Read More
It's Aussie by Air New Zealand Time!
A Milford Sound Cruise – Your Afternoon Travel Coffee Break
How New Zealand Changed our Perspective on Life
You Might Also Enjoy