In 2008 Milford Sound was named the World's Top Travel Destination. And Rudyard Kipling called it the 8th Wonder of the World.
It is New Zealand's most famous tourist destination and we (Dave and Deb) think Milford Sound on New Zealand's South Island is simply marvellous.
Milford Sound Tour
We had been taking part in daily excursions during our Flying Kiwi tour through New Zealand for several days now, but many times we didn't see our fellow travelers until we were at the campground at night.
Often times it was just Dave and I or a mere handful of Flying Kiwi customers on each excursion.
However, when it came to the Milford Sound outing, everyone booked the day trip with Mitre Peak Cruises.
It was our first time getting to really chat with our fellow Flying Kiwi friends and the first time that we had the afternoon to simply relax and take in the view.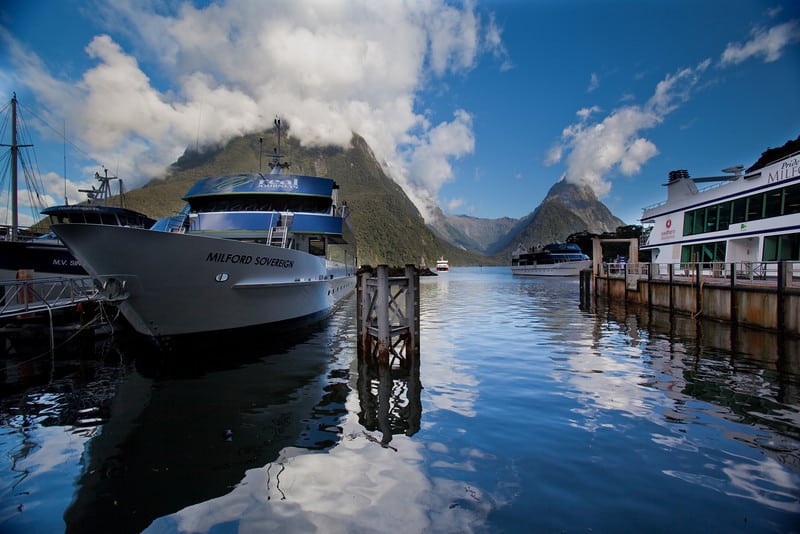 I am not going to lie; I hadn't heard about Milford Sound until I watched a video on Travel Dudes just a year and a half ago.
I hadn't done a lot of research on traveling to New Zealand so I didn't know exactly what destinations were popular in the country.
All I knew was that The Lord of the Rings and the Matrix were filmed here and that everyone loved to do extreme activities like bungy jumping. I also knew that one day I would like to go there for a visit.
After watching that video I started looking into New Zealand as a travel destination and decided that when we did go, Milford Sound would definitely be included in our itinerary.
Milford Sound Weather
Milford Sound has an annual rainfall of nearly 7 metres per year.
It rains nearly 200 days of the year and it is considered one of the wettest inhabited places in the world. Needless to say, we didn't have our hopes up for clear weather.
Luck Was on our Side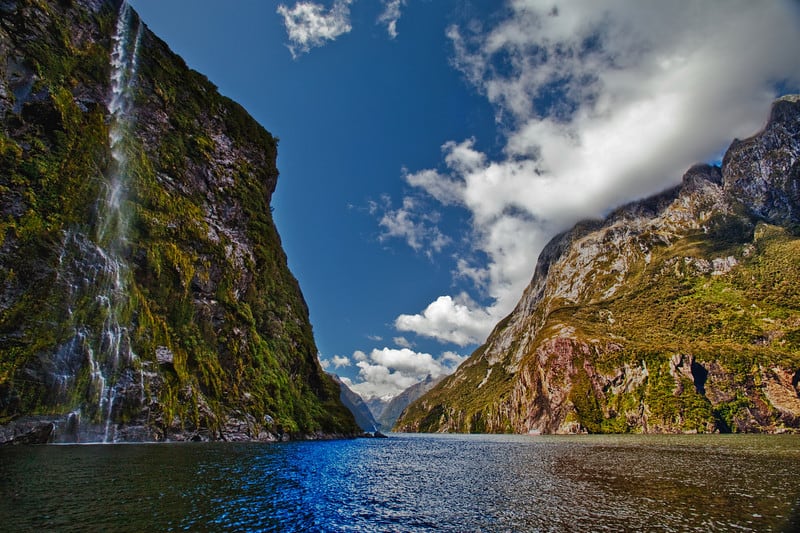 We expected a cool mist, spitting rain and fog during our visit to Milford Sound but instead the skies opened up after 6 days of previous rain. We enjoyed a warm and sunny day to enjoy our time on the water. And enjoy the views we did!
Milford Sound Sea Cliffs
Milford Sound has some of the highest sea cliffs in the world rising 1,200 meters above the water.
The sheer rock faces make for dramatic views as they rise up from the blue waters. The sky was a perfect blue with just enough clouds to decorate the scene.
I have seen similar landscapes before but never the perfect blends of colors.
Every day I am mesmerized by the deep blue skies of New Zealand. I have never seen such rich color in the air before.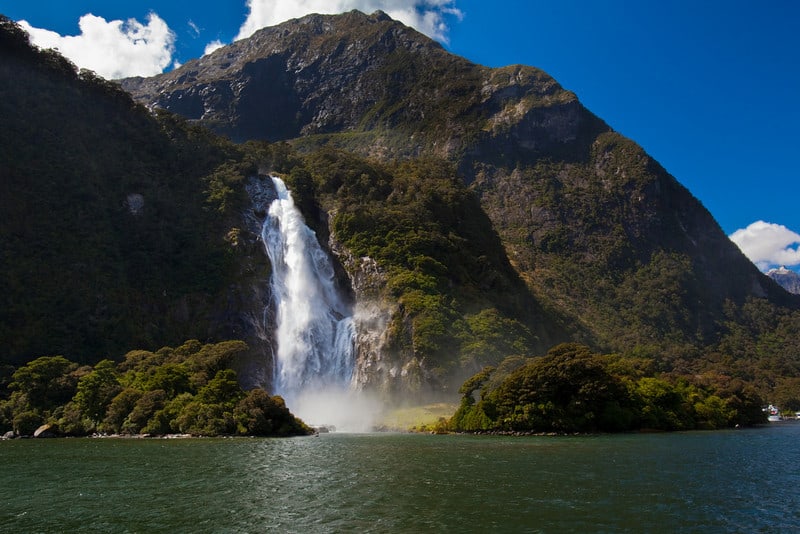 Because it had been raining for 6 days prior to our cruise, we had the advantage of enjoying the sunshine while witnessing spectacular cascading waterfalls surrounding us at every turn.
The captain drove the boat with great skill and brought the tip of the boat right up to the falls where we all received a super soaking.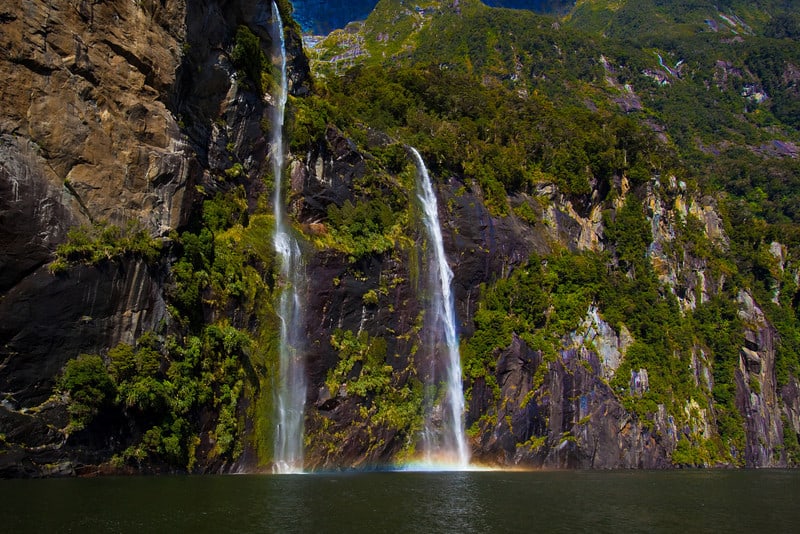 What we liked about Mitre Peak Cruises was how intimate the trip was.
The boat was large enough that people could walk around and not feel that they were tripping over each other, but small enough that we didn't feel we were on a cattle boat that was just trying to make a buck.
We enjoyed complimentary coffee and tea while warming up inside their comfortable cabin and then could go outside to enjoy the views from the upper deck, the back and front of the boat.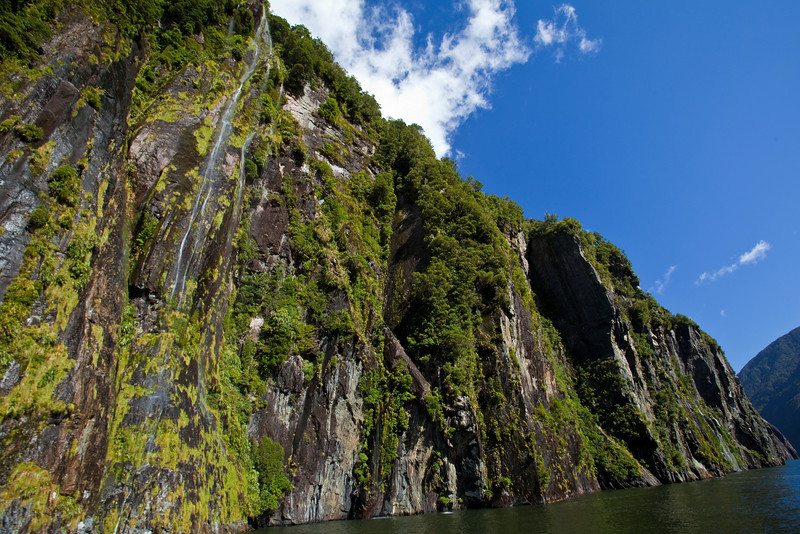 Milford Sound History
What we found interesting was how Milford Sound wasn't discovered until around 1812.
Captain Cook sailed right passed it years earlier because it's narrow opening didn't' give any indication of such a vast waterway.
Even after Captain John Grono discovered it, it wasn't properly explored until nearly the 20th century.
New Zealand really was one of the last frontiers.
It was quite exciting when we ventured out to the Tasman Sea.
Mitre Peak is the only tour that goes out of the bay this far and it is worth it.
How exciting to say that we have actually been on the Tasman Sea.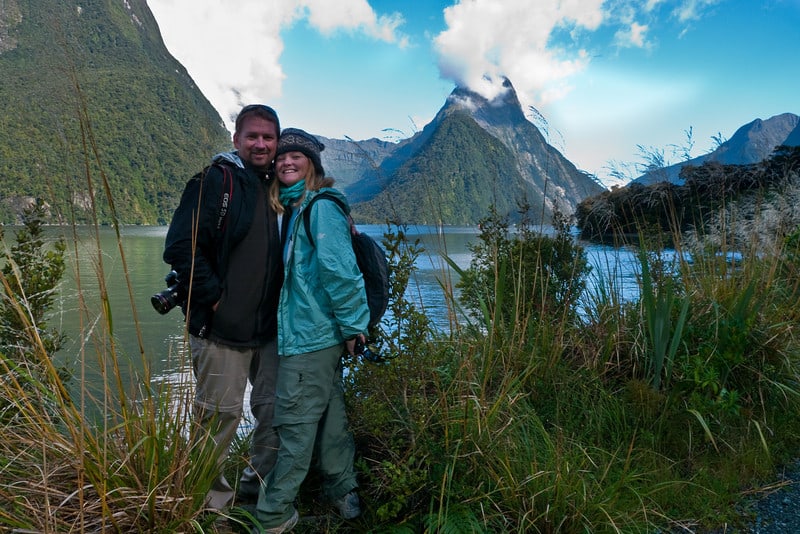 Wildlife and Scenery of Milford Sound
We not only witnessed spectacular waterfalls, glaciers, sea cliffs and overhangs during our two-hour cruise, but we also visited some fur seals basking in the sun and caught a penguin swimming in the water.
With a blend of wildlife, scenery, fun, and relaxation we can honestly say that everyone should add a Milford Sound scenic cruise to their New Zealand travel itinerary.
We enjoyed slowing down between our adrenaline adventures and loved looking out at one of the most beautiful locations on earth.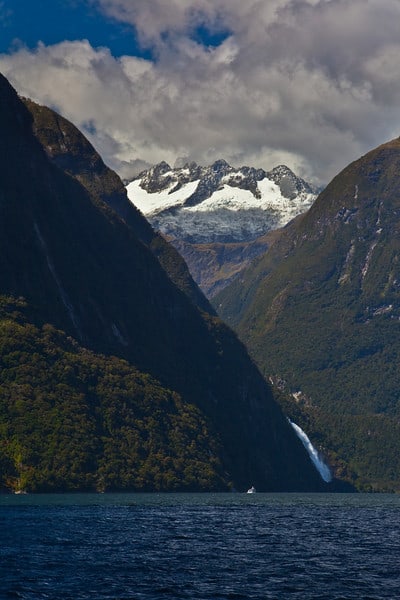 A Mitre Peak Cruise costs $68 NZD
1 NZD = .7 CAD & USD
1 NZD = .5 Euro and British Pounds
---
Read More:
15 Unique Things to do in New Zealand
Photo Journey Through Middle Earth
Taking Flight Over Milford Sound
Fox Glacier, New Zealand – A Dramatic Walk on the Wild Side