We were going to wait to study Yoga in the North at an Ashram.
It was supposed to just be a drop in class when we visited Swami Shiva Nand Jee's class on Patnem Beach.  We followed the painted fabric yoga signs to a tranquil hut behind Mountain Palms Restaurant.
Patnem Beach has Some Pretty Awesome Yoga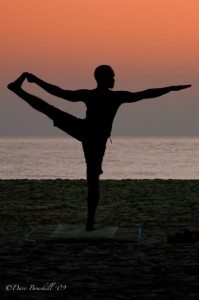 Three and a half bamboo thatched walls enclose a yoga studio.  Large beach mats lay over the sand with rows of yoga mats facing centre.
Swami Shivan Nand Jee
Many people are intimidated by the photos of our instructor pasted on the walls.  His body is contorted in all directions.  Legs over his head, postures where he is shaped like a pretzel.  He's not going to make us do that is he?
Swami Shivanand is a master of yoga.  We has won national competitions, he is a high priest and his Guru has sent him away to share is knowledge and message of peace.
Yoga is something that I have practiced on and off at home.  I always went to class for the workout though.  Bikrim (hot) Yoga has been my practice of choice.
The west has adopted and accepted yoga with open arms, but we have lost the spirituality along the way.   This is something that we are learning from Shivanand Jee.
What We Do
We are still getting a workout, our aching shoulders, backs and slimming waste lines as proof.  But now we are gaining insight into the meaning of Yoga.
Each class begins with a mantra.  The Swami's voice resonates as he chants Om followed by a song.  I don't know what he is saying, but he explains that it is a mantra to centre our bodies and relax our minds.
It certainly works.  Even when I haven't felt like attending class, the minute his mantra is over, my mind is clear and I am ready to work. It didn't feel as if we did much during our first class, but the next day our muscles were certainly feeling the burn.
Each day we perfrom our poses in sequence and each day he adds more advance asanas (postures) increasing the difficulty. Within one week, we are already feeling limber and calm.
We are performing shoulder stands and dropping our feet over our heads to the ground.  We can touch our toes and rest our heads almost to our knees and we can balance and pose with certain stability.
For two people that really neglected to take care of their bodies this past year, we are starting to see a semblance of our old selves again.
Western Yoga Teachers
There are other yoga studios nearby. They are all led by European and American instructors.  The are a great workout I am sure, but why would you come to India to learn from someone that you could see at home?
We are taking classes from a genuine Swami.  He talks to us about how meditation can improve life.  He says that while Yoga is important to keep your body fit and flexible, it is really used as preparation for meditation.
–
Meditation is more important than the yoga itself.
However, without yoga making a strong and healthy body, one will not be able to truly meditate.  The stronger you are, the deeper your meditation will become.
I have a long way to go with the meditation and breathing.  My personality is prone to worry and stress which has made my breathing tense and shallow.   I have a hard time letting go and not forcing out the air.  I try too hard and think too much.
Swami is working on this with me.  He tells me to follow Dave.  Dave is doing the breathing so well and relaxed.  I must take it slow making baby steps.
Dave is already following along to perfection. It is his laid back personality that has made him a master meditator in a short time.
Dave wasn't keen on practicing Yoga in India.  Yoga is not exactly adventure travel after all.  But now that we have taken our classes with the Swami, he suggests that we continue with practice all the way through India.
I think that is a splendid idea.
Read More
Holi Festival in India 2019: The World's Most Colorful Celebration
Top 7 Things To Do In Rishikesh, India