Whenever we have a sponsored trip, people always ask us if we are obligated to give a good review. The answer is a solid no.
New Zealand with The Flying Kiwi
Luckily for us, the companies that have approached us have always done their research and have been a perfect match for our travelling styles. And that is exactly what happened in New Zealand. We have had an easy time sharing our experiences with our readers because each trip has made sure to have an element of adventure, fun and excitement.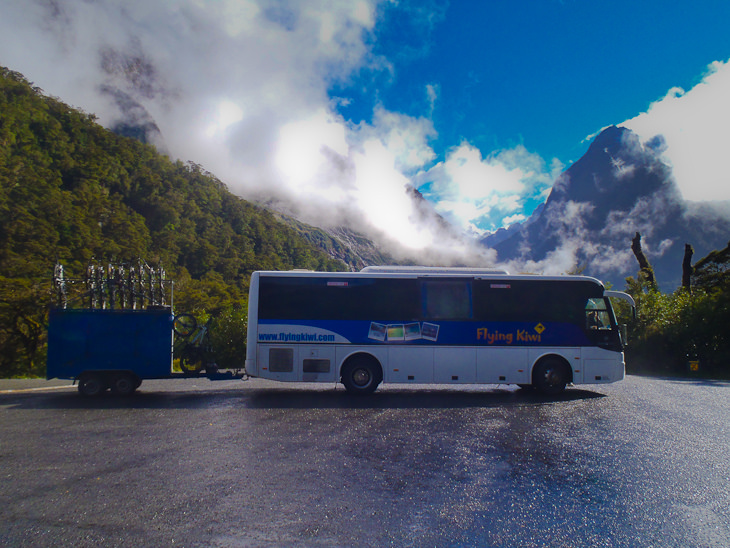 The Flying Kiwi is an adventure tour company that shows the best of what New Zealand's got. It involves camping and "roughing it" a little while getting up close and personal with the country's rugged landscape.
We love connecting with the outdoors and spent most nights sleeping in our tents by a beach or in a bush camp. We could have upgraded more often to a room, (as you do have that option) but what is the fun in that?
The Flying Kiwi is for people that like to travel like us. If you love an adventure an adventure is what you will get.
So How Did We Like the Flying Kiwi?
Our trip to New Zealand was a dream trip of a lifetime and we had a great time with the guides and people on the tour with us. As people that have travelled independently a lot in the past, we enjoyed having an itinerary planned for us where we didn't have to think or stress about what to do with each day.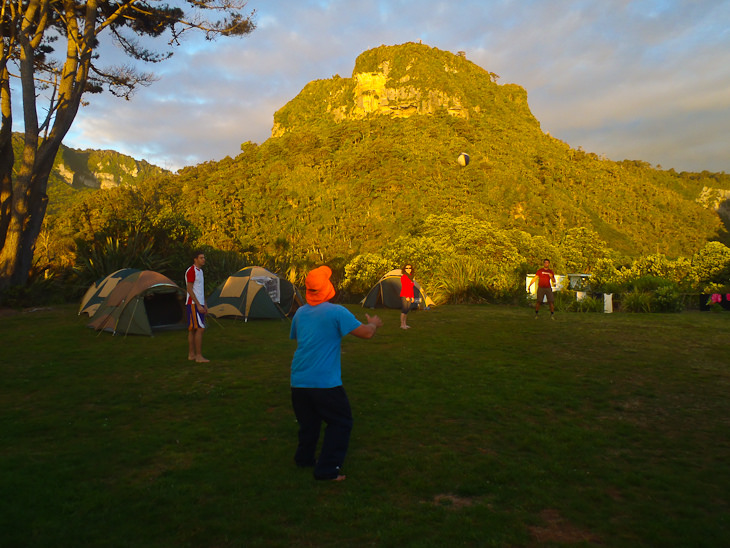 Taking a Flying Kiwi tour through New Zealand will give you a chance to sample all of the highlights of both islands in a relatively short amount of time. You will be driven to your destination each day by a skilled driver and not have to worry about navigating your way through New Zealand's winding roads. You get to sit back and relax while watching the magnificent scenery.
Limited Time to Travel
Let's face it, not everyone has months on end to travel the world and spend time taking it slow and easy in their destinations. Most people have jobs and families to go back to and they are on a limited schedule.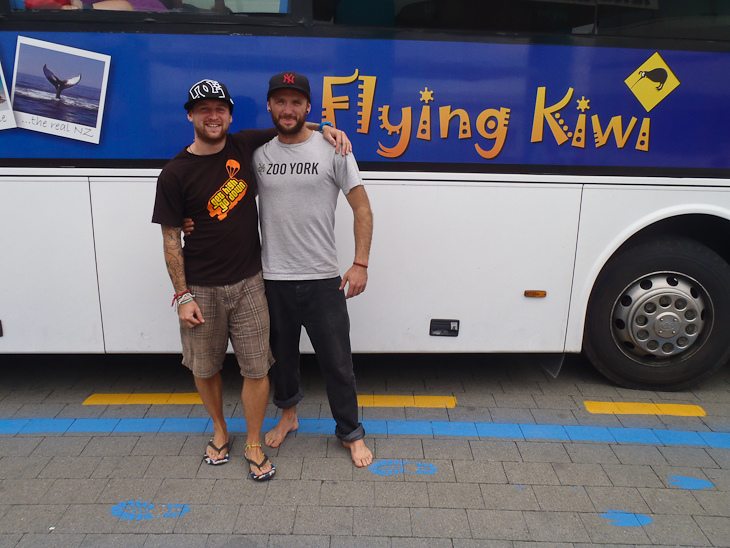 What is great about the Flying Kiwi is they have different itineraries for different lengths of time. If you only have a week or two, you can jump on the bus for that amount of time to check out the region that you want to explore.
If you have longer, you can buy the Ultimate Explorer tour that takes you around the North and South Islands in 27 days. If you have even longer than that, you can hop off anytime you want and catch the next bus 9-days later.
We Took the Ultimate Explorer Tour
During the tour we felt that things were a bit rushed, but when we came to the end of the tour we changed our minds and felt that it was just right. Sure, the schedule could be moved around a bit to spend an extra night in Queenstown and maybe a day in Taupo.
We hear they are redesigning the schedule for next season, but the length of the tour was perfect for us. After our 27 days on the bus, we felt that we got a taste of all of the best that New Zealand had to offer.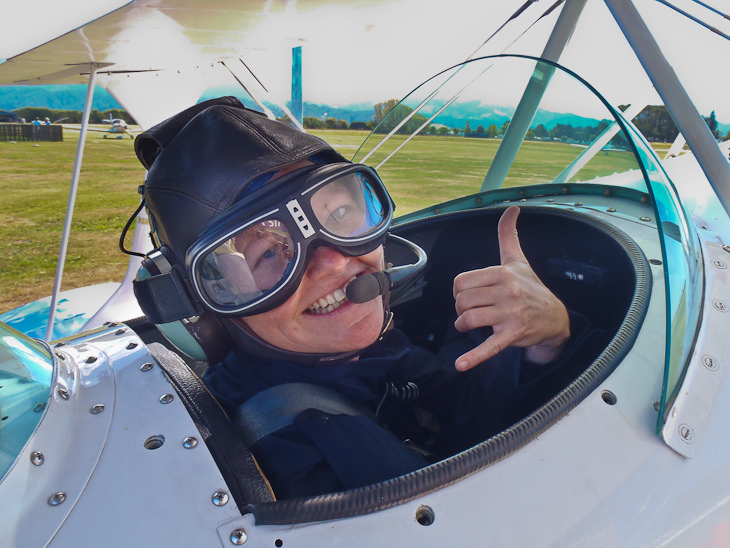 We had the opportunity to do many adventures from Flying Stunt Planes to Skydiving and bungy jumping to Paragliding. These activities are not included in the price of a Flying Kiwi tour, but most meals, accommodation and all transportation is included in the $3399 NZD fee. ($2657 USD) For a month of travel that is excellent value for the money.
Benefits of a Tour
We learned quickly that New Zealand is not the cheapest country on the planet to travel so not having to worry about food, transportation and accommodation will give you ample extra money to book a few of the dream extreme adventures that you always wanted to try but were too afraid to go for it.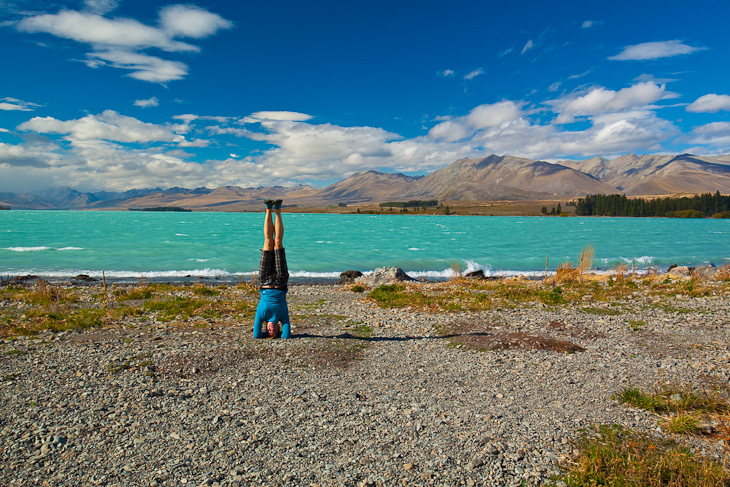 There is something about being in New Zealand that makes all inhibitions go away. If you thought you would never have had the desire to skydive or swim with dolphins, you will most likely change your mind the minute you step foot in the country.
The sense of adventure that everyone has is contagious and you just may find yourself abseiling into a cave or catching a wave.
One dear friend that we made on the bus was achieving a life list of what she wanted to do before the age of 50. One night she told us of how she could have easily gone on a luxury trip and done a conventional getaway like the rest of her friends that live on her upscale street, but what would be the fun in that?
She would be staying in the same generic 5 star hotel with the same generic lobby's and swimming pools. During her Flying Kiwi Adventure through NZ, she said that if there is one thing she can say to wrap it up is "I Had Fun."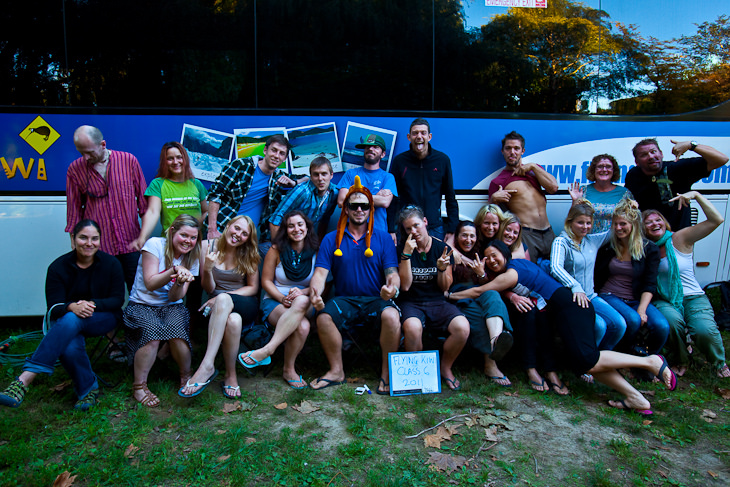 And that is the perfect way that we can wrap up our time with the great people at the Flying Kiwi, we had fun and we are taking away memories that will last us a lifetime.
So, are we obligated to give the Flying Kiwi a good review?
No Way, we aren't obligated to anyone. But we do give Flying Kiwi a Big Thumbs up!
We don't have an editor telling us what to do, we don't have advertisers telling us what we have to say. As Shane at the Flying Kiwi said to us, "All we can do here at Flying Kiwi is show you our tours and hope that it is good enough that you will want to write something good about it. He was right!
The Flying Kiwi, wasn't voted the best value tour company in National Geographic's "BEST ADVENTURE TRAVEL COMPANIES ON EARTH" for nothin'!
There are ups and downs to any form of travel. Being on a tour does limit your time and there were places that we would have liked to stay at longer, but if we really wanted to, we could have hopped off the bus for 9 days or we can always return to the place that we felt we didn't get enough time.
As it turned out, we had time after our tour and felt completely satisfied to simply relax. I guess we had enough time at each destination on our itinerary after all!
To book your Flying Kiwi tour check out Adventure Tours in New Zealand today!
Read More
A Local's Guide to The Best Things to do in Wanaka, New Zealand
What to Expect on a South Pacific Cruise