The Meteora monasteries of Greece will take your breath away.
Carved by wind and rain over thousands of years, Meteora's landscape is unique with massive stone spires reaching to the sky.
Atop dozens of magnificent rock monoliths are ancient monasteries dating back to the 9th century.
The hermit monks that first settled Meteora couldn't walk up stairs or over bridges to access the monasteries, they had to reach their secluded and safe retreat by scaling the walls with ropes and ladders reaching as high as 500 meters (1500 feet).
By the 14th century the community of Meteora grew to 24 monasteries suspended in the sky.
Meteora Monasteries of Greece
Monks would hoist themselves up the towering rocks by putting a basket on a rope and hand cranking the person up to safety. It was a life of solitude and reflection.
Today, six Meteora monasteries remain and tourists can visit them and this magical region whose name translates to "suspended in air. "
Visit Meteora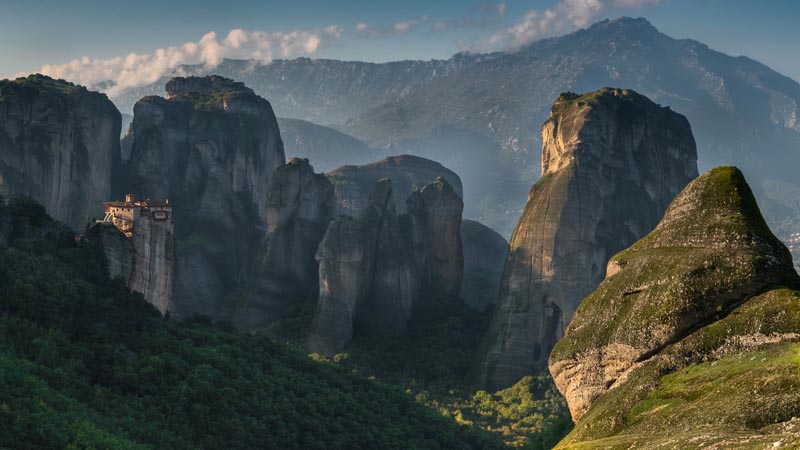 Visit Meteora Greece invited us to witness the majesty of Meteora and its Monasteries. Owner George is as passionate about Greece as he is his home right here among the monoliths.
It won't be long until travellers flock to see the stone forest in the centre of the country.
How long should you stay in Meteora to see the Monasteries?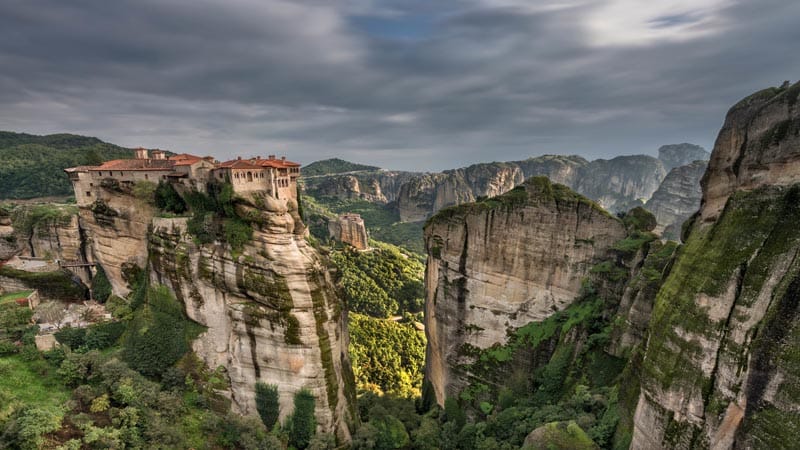 We recommend spending 4 Days to really experience Meteora.
Many people only take a day trip to view the monasteries from Athens, but we suggest four days to truly take in the awe-inspiring views.
You can hike through the monasteries and visit the chapels high in the sky all while enjoying the Greek hospitality of Meteora.
A UNESCO World Heritage Site, Meteora stand heads above other sites in Greece.
Meteora is Old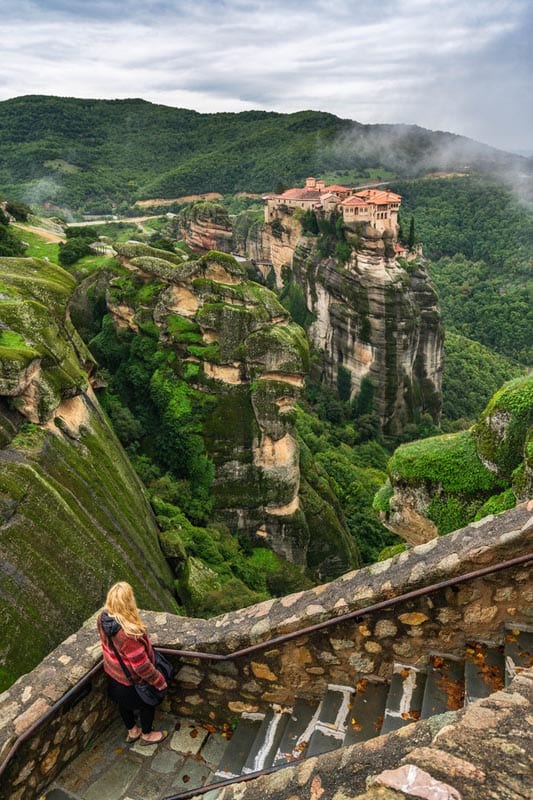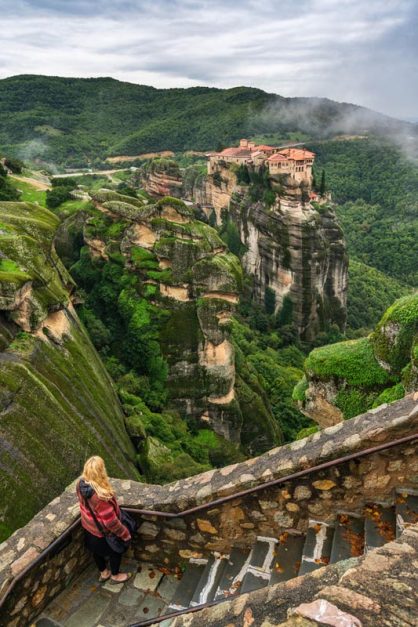 Meteora's surreal landscape houses the oldest known man-made structure on earth. Civilizations dates back 23,000 years in Meteora.
And you thought the Acropolis was old! This ancient land dates back to the Paleolithic and Neolithic eras.
Plus, rare species of birds and flowers can be found in the area causing the Greek Ministry of Environment to designated it a Natura 2000 Ecological Zone.
There are six remaining monasteries in Meteora and we explored them all.
The Great Meteoron Monastery takes you up steep steps (you no longer need to be winched up by hand) to explore the peaceful and picturesque grounds.
Time stands still in Meteora and the old kitchens look exactly as they did years ago.
When standing on top these magnificent rocks, one can understand why the monks chose here as their refuge.
Meteora feels like a little slice of heaven.
Discover the Monasteries with Visit Meteora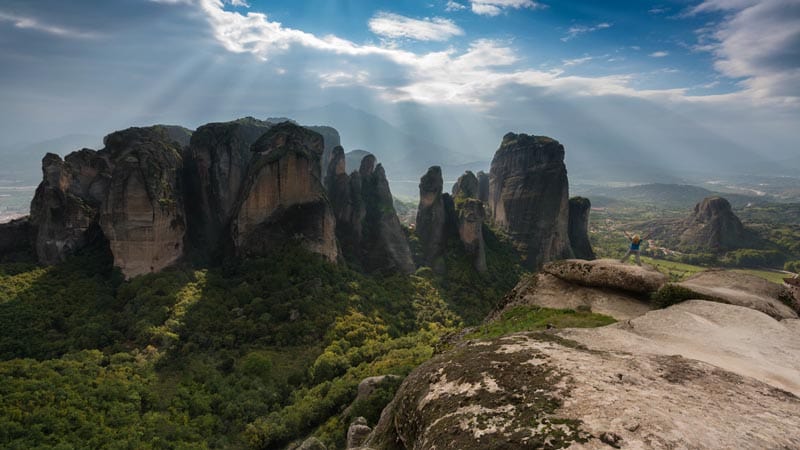 Visitors can explore all the six remaining monasteries.
A winding road connects the monasteries, but one of the most fascinating ways to tour the Meteora monasteries is to hike through the landscape.
You can hike with VisitMeteora and their professional local guides who tell interesting personal stories as well as in depth information of Meteora's history and culture.
See our Video: Hiking Meteora Monasteries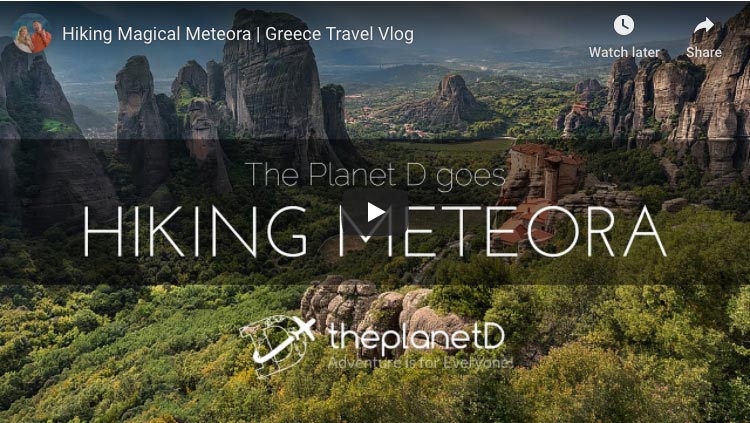 Subscribe to our YouTube Channel for new Travel Videos every Week
Each monastery contains holy relics, painted frescos, and historic manuscripts.
Photos are not allowed within the chapels, but you are allowed to take photographs of the grounds and other rooms inside the monasteries.
Hiking the Monasteries of Meteora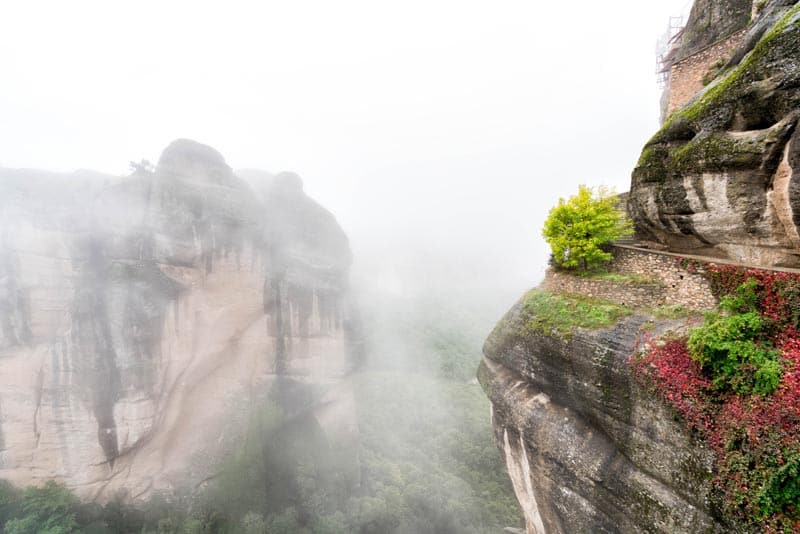 We took a guided hike to view the Meteora monasteries from below and we highly recommend it.
The hike offered unique views and perspectives of the monasteries of Meteora. It let us enjoy quiet moments in nature away from the tour busses and crowds.
There are some abandoned and ruined monasteries that you are not able to view from the road and there are different angles that cannot be caught from a tour bus.
We love to inspire people to get away from the organized tours to explore, and Meteora is the place to do that.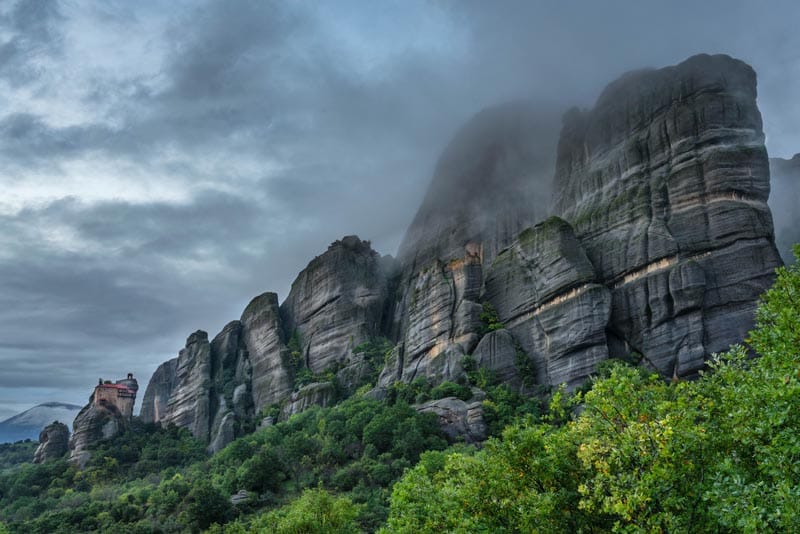 There are some abandoned and ruined monasteries that you are not able to view from the road and there are different angles that cannot be caught from a tour bus.
We love to inspire people to get out from the organized tours to explore, and Meteora is the place to do that.
Getting Around Meteora Greece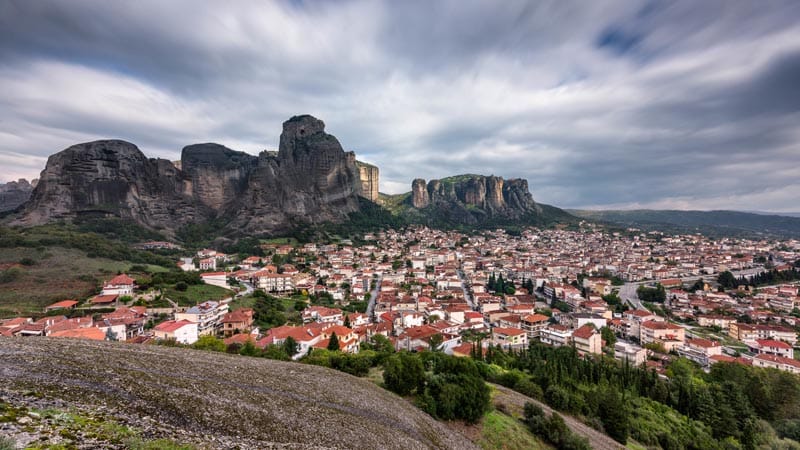 We recommend using a rental car or private guide to tour the Meteora monasteries and surrounding villages.
It is highly recommended to get out at sunrise and sunset for stunning moments free from crownds.
The tour buses from Athens have yet to arrive and you have uninterrupted views of this ancient landscape all to yourself.
Many of the rocks and cliffs are high, so be careful not to get so involved in the view that you fall off the ledge.
The drops are vertical and deadly.
What to do in Meteora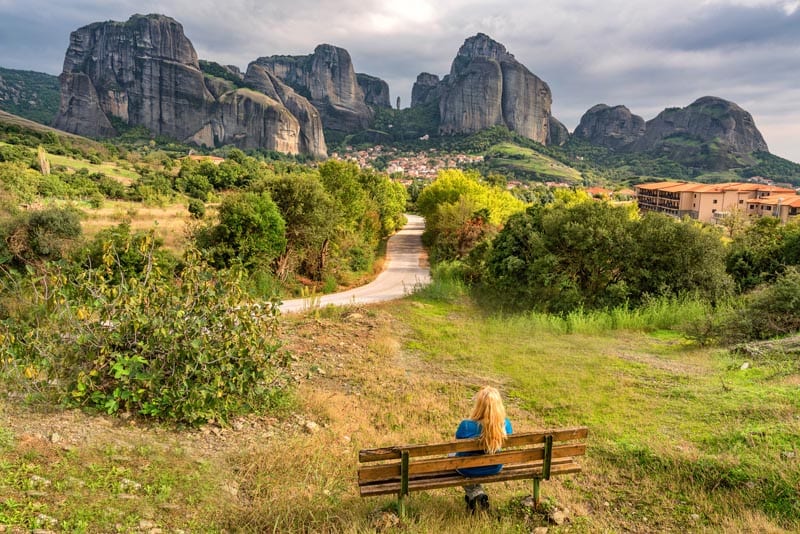 There are many other things to do in Meteora than just exploring the monasteries. There is a thriving community filled with friendly Greek traditions.
We danced to Greek musicians playing guitar at the Archontariki Restaurant and we ate countless incredible meals celebrating our favourite Greek cuisine.
We enjoyed beautiful views of the monoliths from Meteoron Panorama Restaurant as we savoured gastronomical delights.
Mushrooms are popular in Meteora. We ate a 6-course sampler meal served in every possible way.
Drinks and desserts were made from mushrooms.
You can book this experience at Neromilos Restaurant after a visit and tour of the fascinating Mushroom Museum.
Other recommended restaurants in Meteora:
Meteora Restaurant
Panelinion Restaurant
Paramithi Restaurant
Gardenia Restaurant
Palazzo Restaurant
Interested in Greek Cuisine? Read our Greek Food Guide to Zante.
Important Meteora Greece Information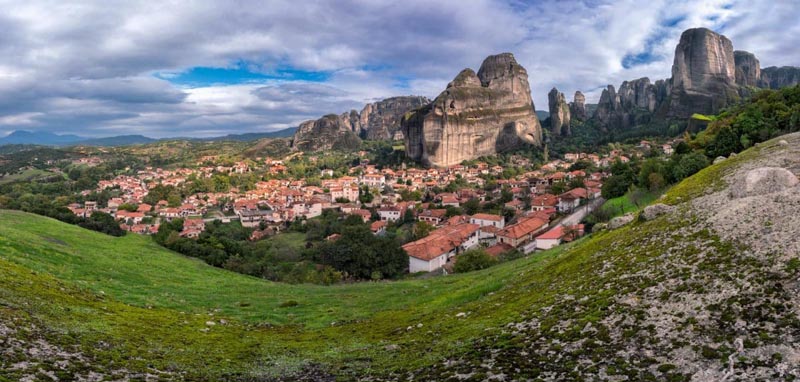 Book Meteora Monsatery tour with VisitMeteora
Travel around Greece by car is easy.
We had a rental car from AvisGreece – www.avis.gr that we booked in Athens at the airport. Rentals are affordable, and to truly explore the country, highly recommended.

A great start to your trip in Athens is at the Divani Meteora Hotel.
Stay at Divani Meteora Hotel . It is situated in the heart of the Meteora mountains right at the base of the massive Meteora Rocks.

It's located in the town of Kalabaka and is walking distance to many restaurants. It also has a pool, fine dining and bar.
Meteora in Pop Culture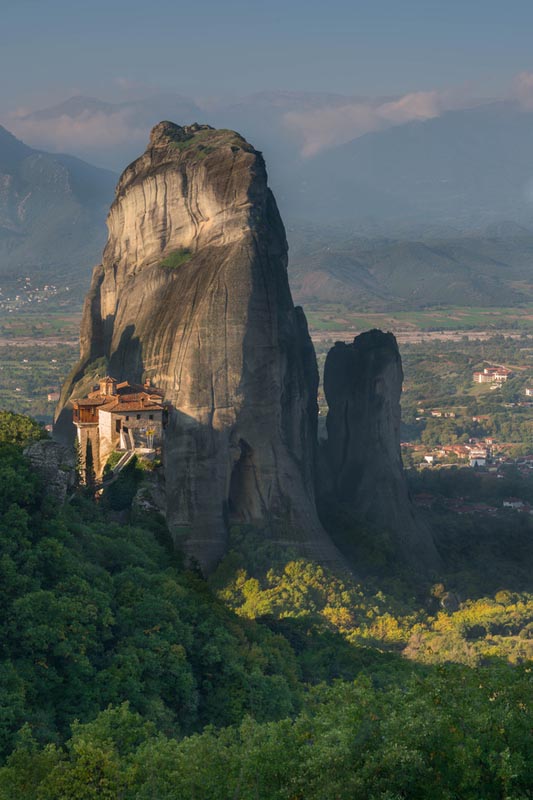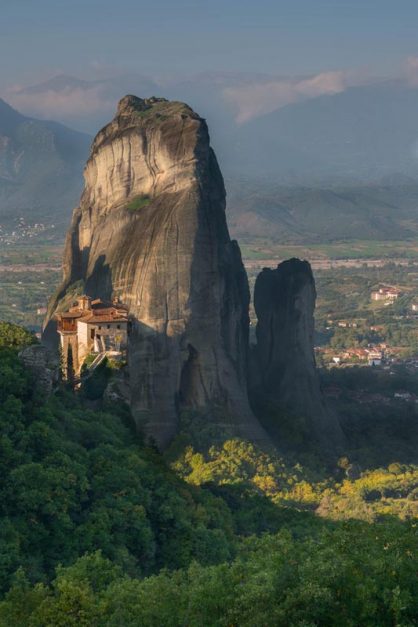 Two popular franchises featured Meteora. Game of Thrones and James Bond both shot in Meteora.
You'll recognize it as Eyrie castle in the sky on Game of Thrones (Remember the castle above the clouds where Tyrion had his cell in the sky?) and in scenes of For Your Eyes Only.
Meteora is a magical destination that everyone should visit when traveling to Greece.
We have witnessed similar landscapes in Yanghuo, China, Vietnam's Ha Long Bay and even Krabi Thailand.
But monasteries perched above stone pillars reaching to the sky took it to another level. There is a reason Meteora and its monasteries are growing in popularity, they are awe-inspiring.
Get there soon before the entire world finds out about this one of a kind destination.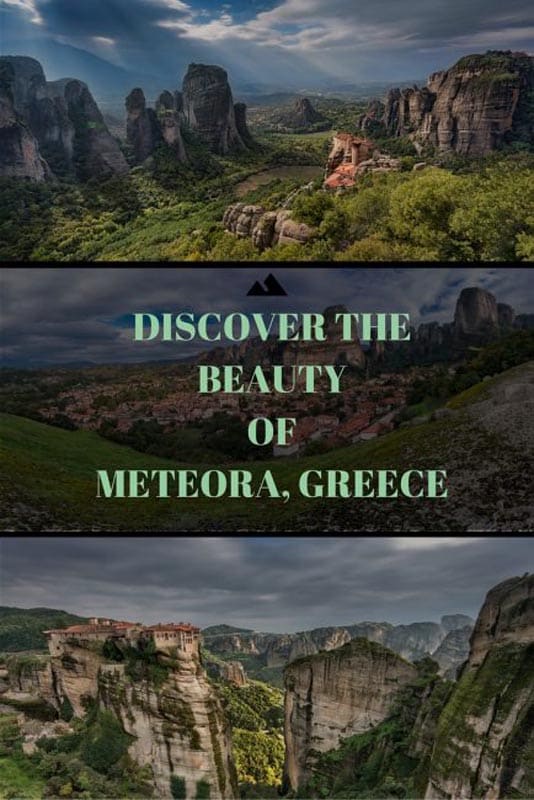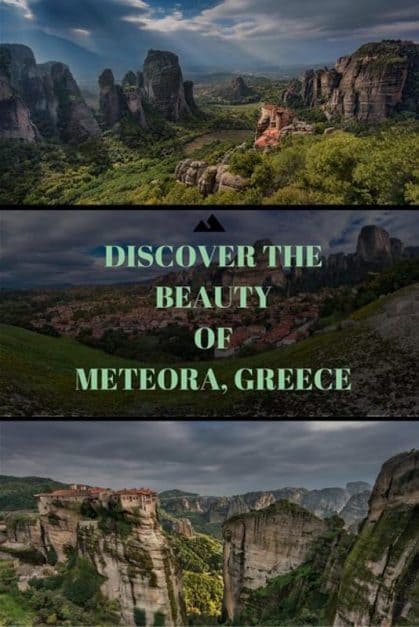 Read More:
Discover the Beauty of Costa Navarino, Greece
Introducing Pelion – A Greek Island Alternative
The Best Things to do in Santorini