When watching Mama Mia, I dreamed of the island paradise where Meryl Streep ran her crumbling hotel. "Where is this?" I asked myself.   It turns out Mama Mia was filmed in the Pelion region of Greece located a five hour's drive north of Athens.
Pelion Greece
I assumed Mama Mia was filmed in Crete or Santorini. I had pictured the film crew hanging out on Mykonos and Zante. I had never even heard of Pelion and yet,  it is a region of Greece that must be visited.
It's absolutely beautiful without the hoards of tourists that flock to the other islands and beaches.
Where is Pelion?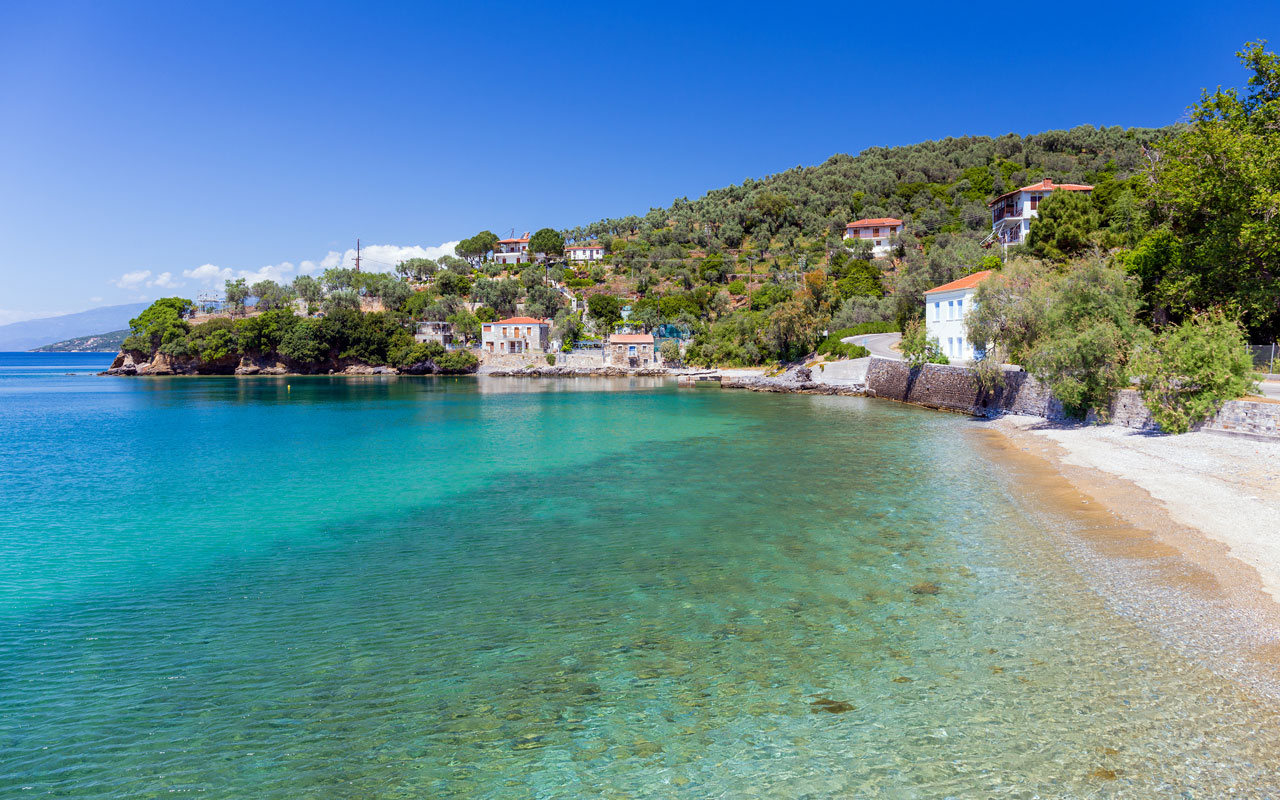 Pelion is a five-hour scenic drive from Athens.
It is located on the East Coast of Greece on the Agean Sea.
Pelion is a mountainous region with many things to do including scenic hikes, historic villages and beautiful beaches.
Drive from Athens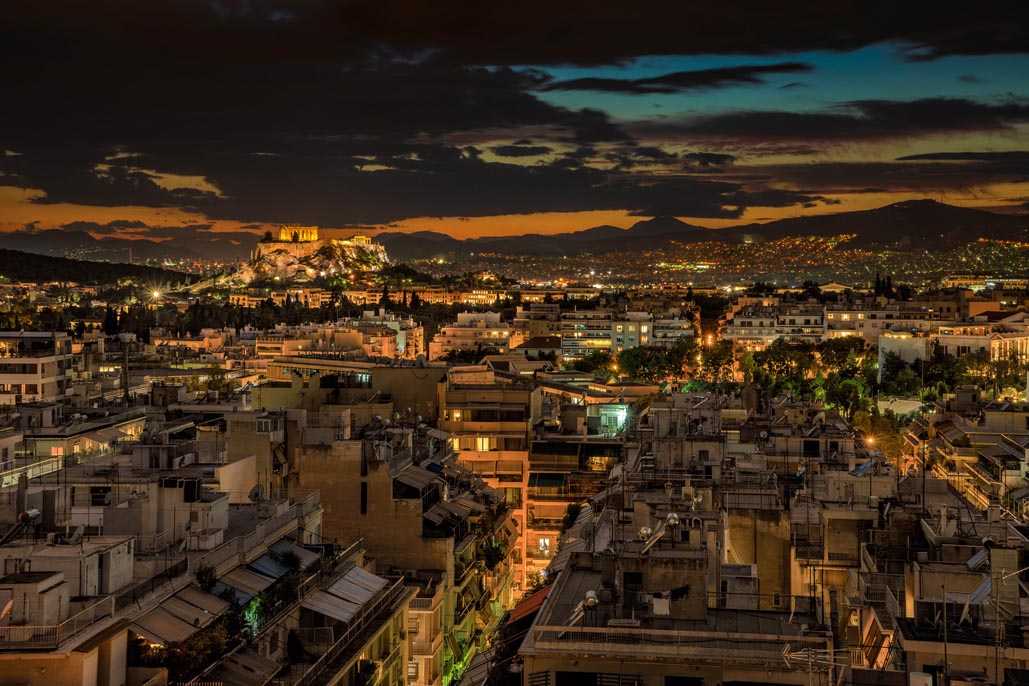 We picked up our Avis rental car from the airport, spent a night downtown Athens before beginning our road trip to Pelion.
The Athens Divani Hotel is located in a central neighborhood with a beautiful view of the Acropolis. It's a good place to make a base.
We then set out on our Greek road trip the following day.
If you haven't been to Athens before, we suggest staying for a couple of days. Check out our recommendations for
Greek Road Trip to Pelion
I loved driving up the coast of Greece.
Car rentals are affordable in Greece though and there is no better way to explore a country than by self-driving so we highly recommend renting a car and hitting the open road.
Check out Flights to Pelion with Skyscanner
There are no direct flights to Pelion from Athens but there are several direct flights to Volos from different hubs in Europe..
Volos is a beautiful city located just a short drive from Pelion.
About Pelion
It turns out Pelion is well known to European and Greek tourists, but North Americans tend to frequent the more popular Greek Islands I mentioned above.
It was near the end of the season so it was very quiet and relaxing. Yet it was sunny, warm and beautiful.
I'm glad we gave this area a try because we loved it.
Volos Greece - Jumping off Point to Pelion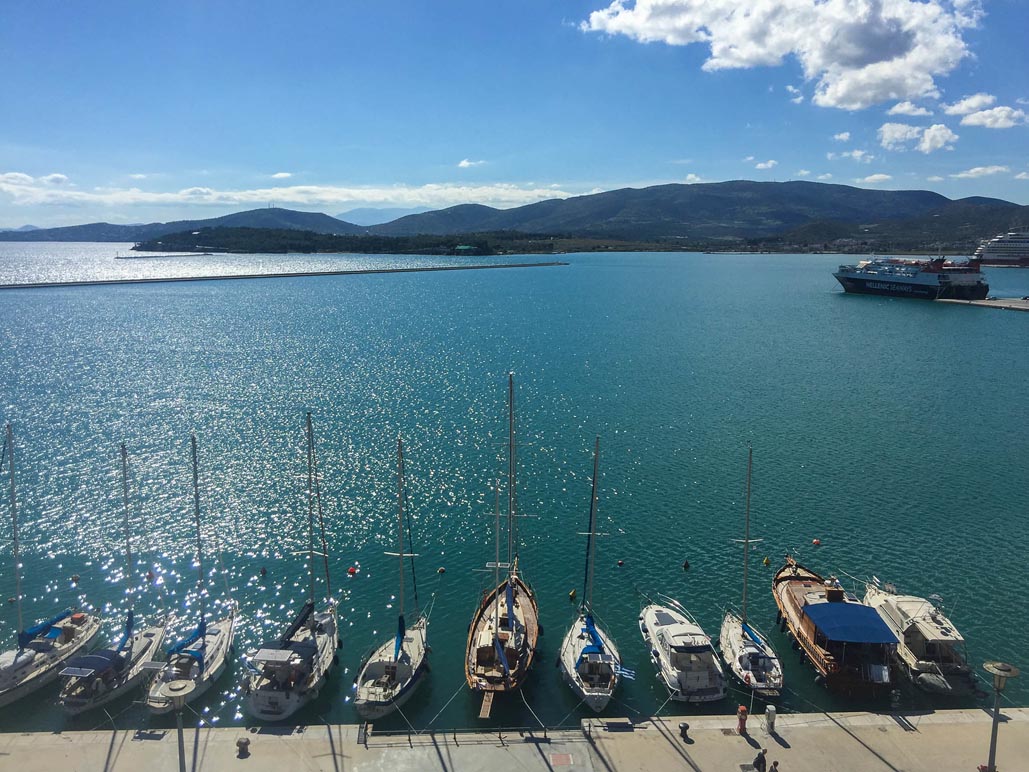 Our tour of Pelion began in the city of Volos.
Volos is a beautiful coastal city that is fast becoming a popular stop on the cruise route.
It's not nearly as crowded as the other Greek  ports so you will have the opportunity to get a true feeling of local Greek life.
Jason and the Argonauts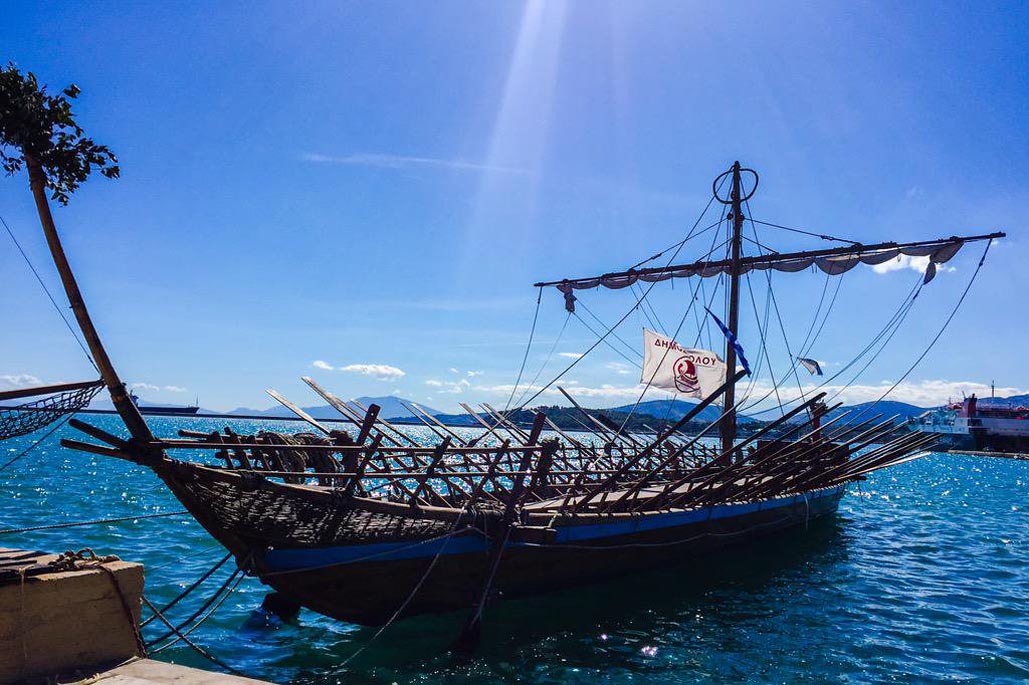 Fast Fact: Did you know that Volos was home to Jason and the Argonauts? If you love Greek Mythology, this is a must stop!
We stayed at the Domotel Xenia Volos which was located directly on the water.
It made for a great resort stay and home base to explore the area.
So where does Mama Mia fit in you ask?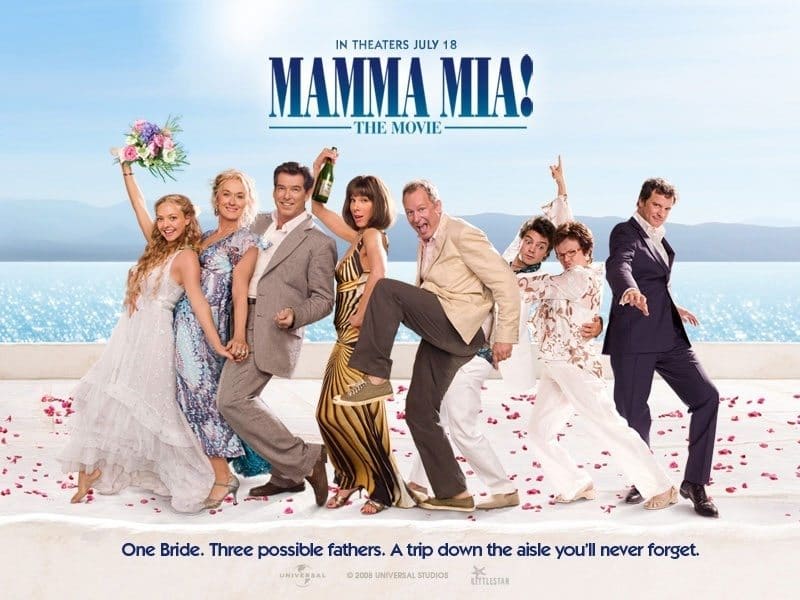 Well, it all starts up the mountains.
Pelion is considered one of Greece's most beautiful mountains and is a perfect spot for adventure lovers.
Our guide Dimitris of Discover Pelion was on hand to give us information about the area and his home and native land.
Like many companies in Greece, Discover Pelion is a family run business that offers unparalleled customer service.
Village of Kissos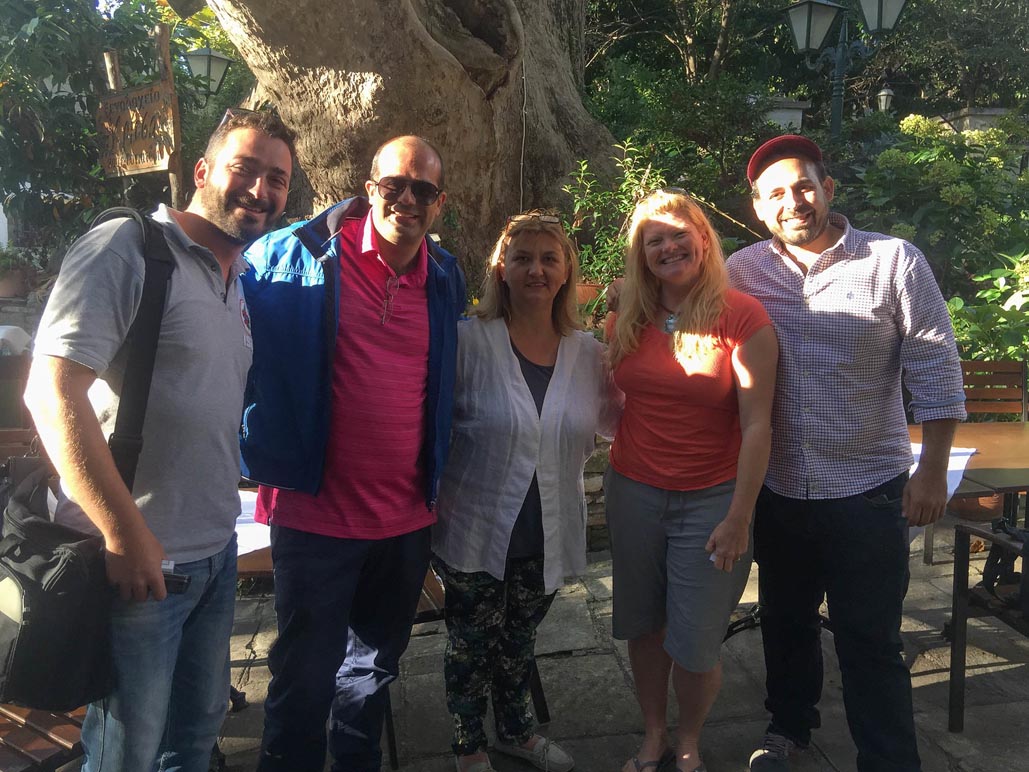 We started with a visit to the traditional village of Kissos located halfway up the mountain.
This picturesque village is located up the steep terraces of Mount Pelion and is worth a stroll along the cobbled streets to the square where you can peruse the basilica church of Agia Marina built in 1650.
Tsagkarada Village
As you continue to weave through the mountain road, the next stop takes you to Tsagkarada.
Each village of Pelion has a beautiful square housing ancient platan trees (plane tree) that grow wide creating a pleasant shaded area to enjoy food and drink.
One thing I love about Greece is the outdoor dining and we enjoyed a feast in Tsagkarada complete with Greek appetizers and main dishes
The Greeks are generous souls and the food keeps on coming until you can barely move.
Hiking in Pelion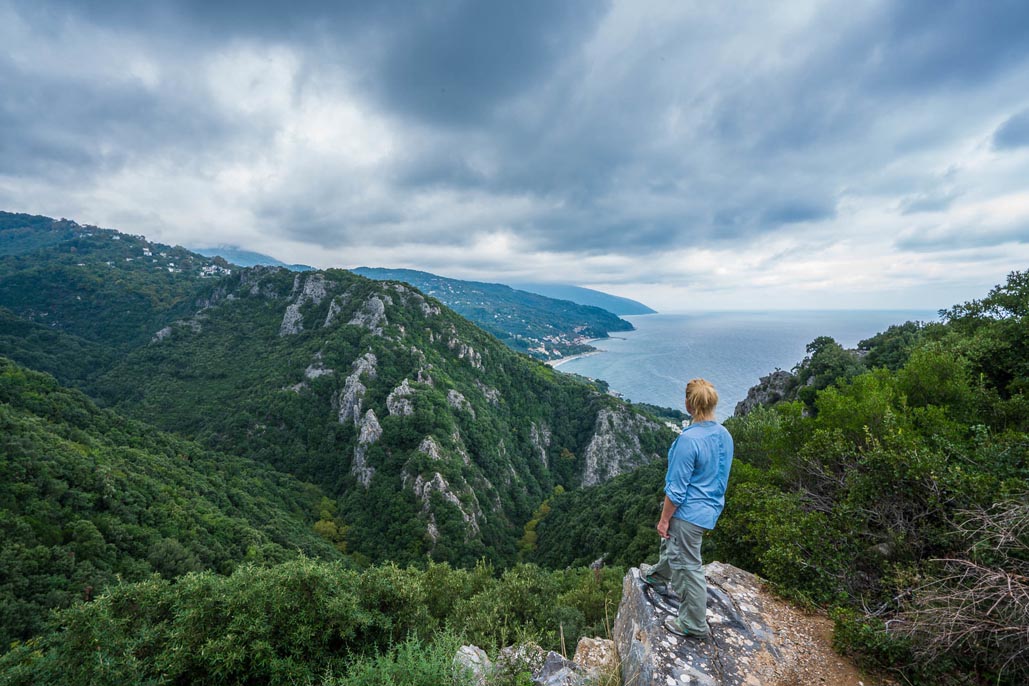 It's an easy hike down the path to the port of Dommouchari with magnificent views of the Aegean coast.
Pelion is famous for hiking and this hike doesn't disappoint.
When you get to the bottom along the coast, it all suddenly looks familiar.
Have I seen this picturesque harbor before? I think I recognize these painted blue buildings.
Sure enough, this is where Mama Mia took place.
You will recognize the scenes from the dock when Meryl Streep's friends arrive. Plus any other time the cast is down by the water.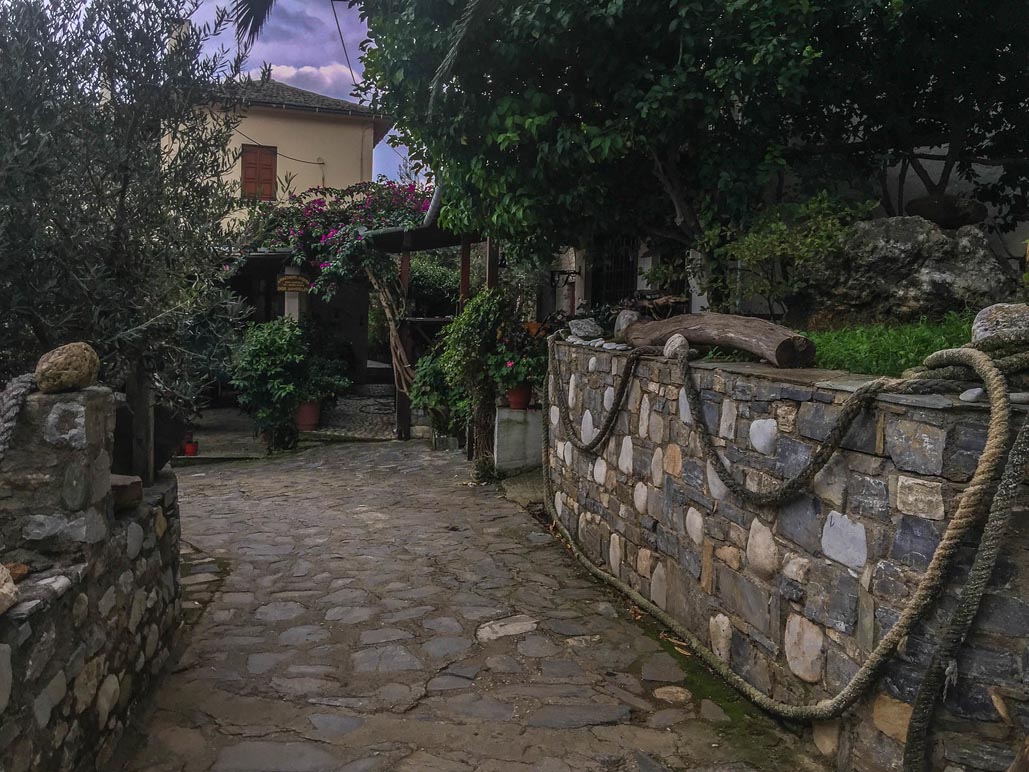 Dommouchari
Dommouchari is as picturesque as it is in the movies, and locals are capitalizing on the Mama Mia craze.
You can now get married just like Mama Mia in Dommouchari. And Dimitris of Visit Pelion will help you out with your wedding plans.
We took our own boat tour of the area and if the seas were calmer, we would have loved to kayak out to visit Fakistra Cave and the spring in Saint Athanasios.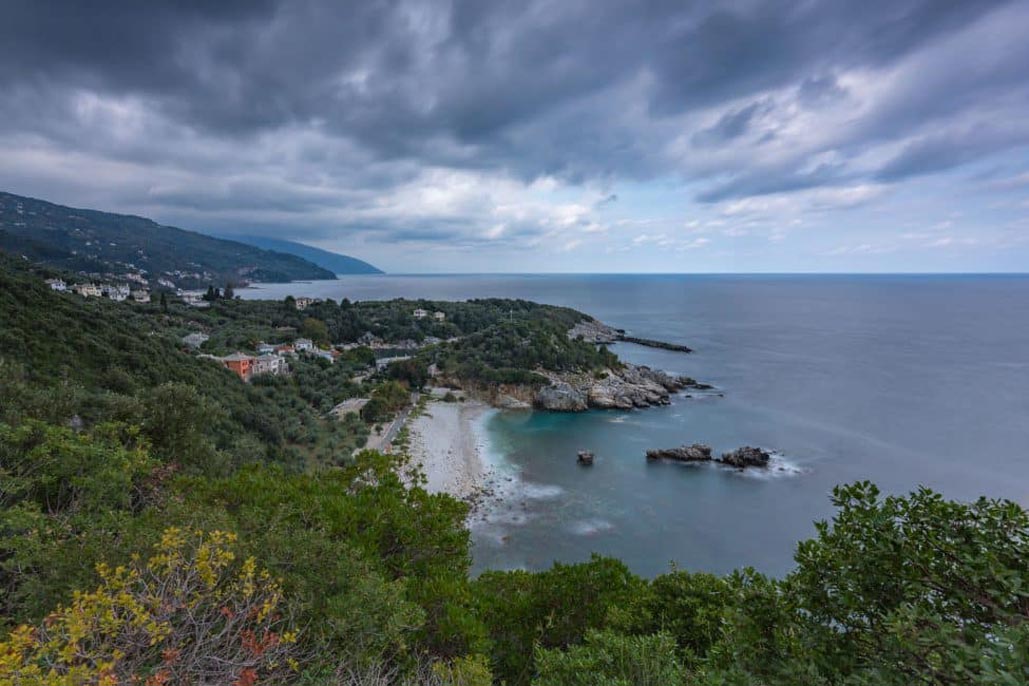 Damouchari is a typical Greek fishing village with an attractive beach, seaside cafés and guesthouses.
Since we were traveling with Discover Pelion, we had a trip already organized a ride back to our car in Tsangarada.
Shuttle Service for Tourists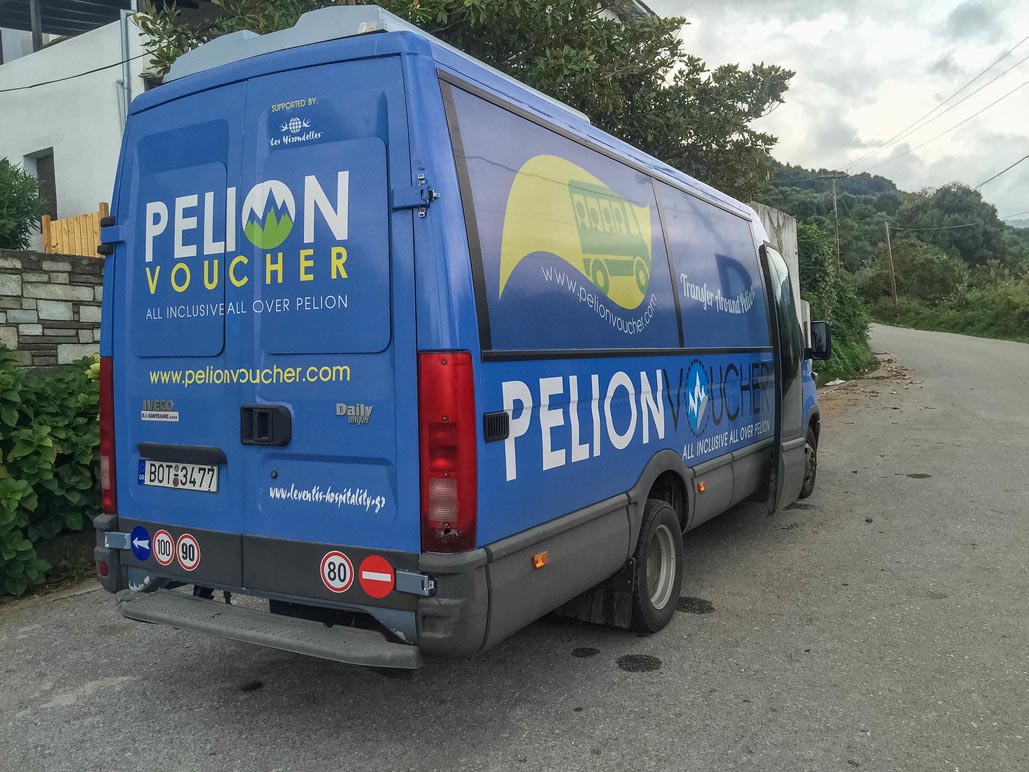 Dimitris and other local tour companies have put together a genius service for tourists.
Tour busses run from village to village giving rides back to different squares.
The villages of Pelion are quite spread out and if this service wasn't offered, the only way for tourists to get around would be to hire their own car, take pricey taxis, or stay put where they are.
We enjoyed the ride back taking in the stunning coastal views.
Things to do in Pelion
We didn'' go back to Volos after our trip to Damouchari and instead stayed in East Pelion to explore more of the mountain villages.
Our accommodation tonight was in a beautiful yoga retreat in Tsaragada overlooking the bay that remained our home base for the next two days.
Pelion was meant to be enjoyed outdoors.
Horseback Riding
A highlight for us was taking a ride on horseback through the countryside on horseback. There are several different route options and on one you can ride your horse all the way down to the beach.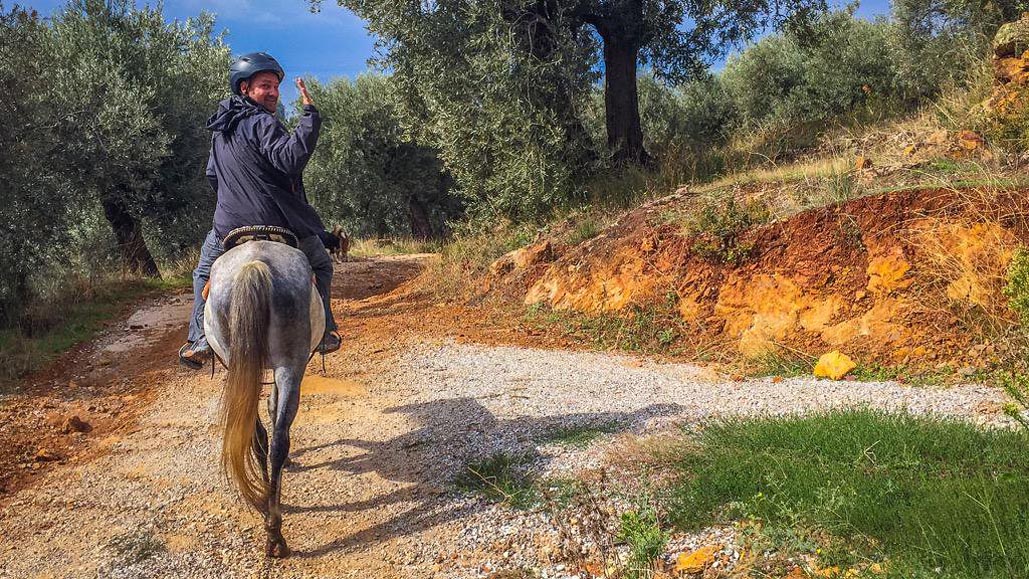 Discover Pelion can arrange the ride of your choice complete with pickup at your hotel.
Steam Train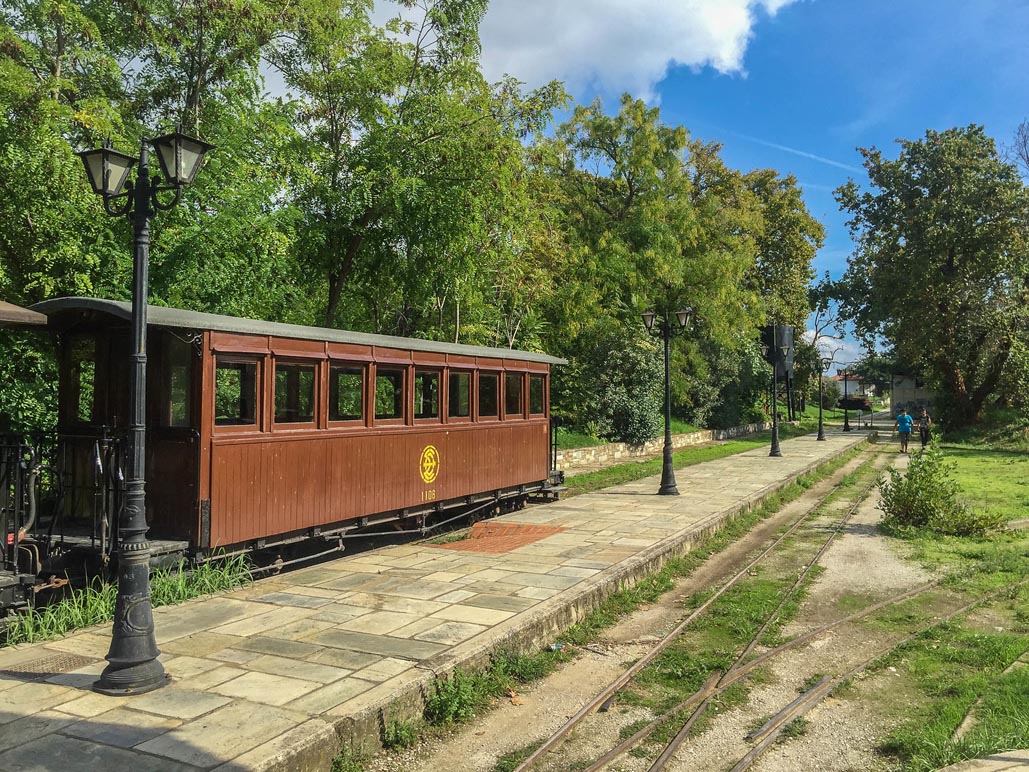 After our horseback ride, we made our way to Milies which is the end point of the steam train of Pelion.
The train runs through the summer up from Taxiarhe to Milies.
It's one of the narrowest lines in the world with the track running at only 60 cm wide.
Milies Village
Milies is yet another picturesque village with cobblestone streets and old museums. It houses one of the oldest libraries in Greece and a museum of folk art.
Pelion is a beautiful destination that gives visitors to Greece a glimpse into local life. While places like Crete and Santorini cater only to tourists, in Pelion you slow down and immerse in local living.
'Don't be surprised when you sit down at a restaurant and two complimentary shots of Tsipouro (Greek liquorice liquor) are placed on the table for you to savour.
You may also find yourself leaving with gifts of fruit preserves and dessert.
The people of Pelion are as generous as they are friendly.
So open yourself up to their hospitality, be prepared to explore and change your plans and you will come away with new friends and memories of a different Greece that still appreciates tradition, warmth and kindness.
Have you been to Pelion, How did you like it?
Planning your own trip to Pelion? Here are the important websites to help you get started. 
For more information on Pelion check out DiscoverPelion for guided tours and accommodation.
For car rentals in Greece visit Avis Greece Car Rentals pickup is downtown or at the airport. We suggest renting directly at the airport.
For accommodation in Tsaragada you must try the 12 Seasons Luxury Resort
For getting around Pelion, check out the Pelion Voucher Bus program. 
For your hotel stay in Volos visit the Xenia Volos located right no the water.
For your Hotel Stay in Athens try the Divani Athens
Special thanks to Visit Meteora for setting up our time in Pelion.
You Might Also Enjoy