So you've roughed it for the past two weeks trekking through the Himalayas. You went for days without a shower, you braved the cold and carried your heavy pack. Your legs burned as you climbed steep mountains and you suffered greatly at high altitudes. Now that you are back, it's time for a massage in Kathmandu. The Himalaya Retreat was just the ticket. 
Massage in Kathmandu – Himalaya Spa, the Perfect Post Trek Pamper
What better way to reward yourself after two weeks at altidute than to have a deep tissue massage in Kathmandu complete with steam bath, sauna and a pedicure to boot?
Dave and I love massages. When we travel, we pamper ourselves regularly after our adventures. We love to take part in strenuous activities, but we love recovering from an epic trek even more. Massages around the world are so cheap compared to Canada and we take advantage of the deals as much as we can.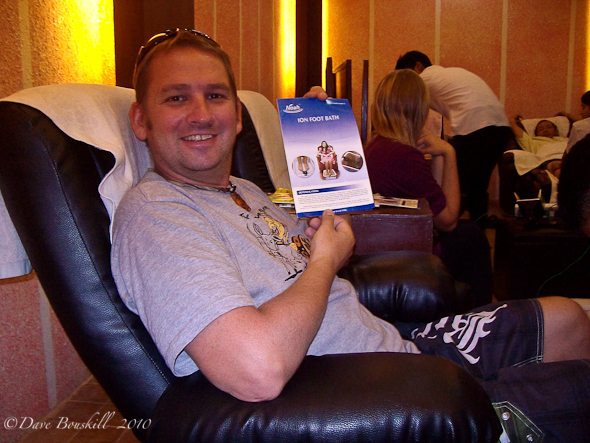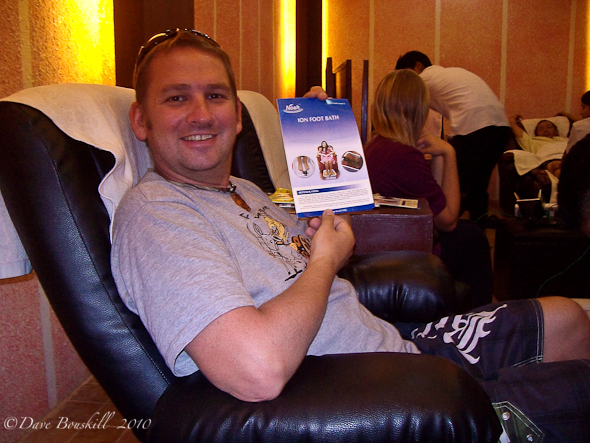 We always say to each other "This is what it is like to be rich. Rich people must always have a massage and they probably have steam baths and sauna's right in their house!" If I were rich, I would have a massage every other day.
Ah, to pretend to live life like the other half. I could get used to it.
The pollution in Kathmandu was killing us!
We both were feeling pretty ill during our time in Kathmandu. The pollution is out of control and we couldn't shake our coughs, our aches and our feelings of lethargy.
It was time for a pick me up and a message was just the ticket.
We saw signs advertising The Himalaya Retreat Spa everywhere and decided to check it out. A restaurant that we ate at the night before had a sign stating that a massage and sauna was on special for 1200 Rupees. Not a bad deal.
Great Deals for a Spa Day in Kathmandu
2 Hours of decadence for $16! Other places were advertising 1600 Rupees.
Unfortunately the restaurant had an old flyer and we found out that their rate was fixed at 1600. We hummed and hawed a bit after they informed us that 1200 Rupees was the old price, but we must have looked desperate because she decided to give us a discount.
We ended up paying 1250 Rupees each.  Anything is negotiable in Asia.
We opted for a shiatsu massage and steam bath.
This place offers Thai, Ayurveda and Shiatsu. We have tried the other two, so it was time for some deep muscle therapy with Shiatsu.
The spa is very clean and comfortable. The waiting area is elegant and tastefully decorated with leather sofa's, dark coffee tables, water cooler and magazines.
We changed into the flip flops, t-shirts and fisherman pants provided and they led us upstairs where two gentlemen pressed and kneaded away our aches and pains.
The hour went by quickly and we felt totally rejuvenated and ready for our steam bath.
It was heaven to relax in the hot steam feeling our lungs and sinuses clear. We stayed in for as long as possible until our fingers started to prune.
The great bonus at the Himalaya Retreat Spa is the hot showers. It was great to be able to rinse and wash after the bath in clean and comfort.  It is rare in countries like Nepal that you get the comforts of home, but we felt like we were at a spa that you would find in Canada.
There was even a scale in the dressing room where we could marvel at the weight we had lost on the Everest Base Camp trek.
We forgot where we were for a couple of hours and it was heavenly.
Once we finished, we stepped out into the bright sun and made our way to an overpriced coffee shop just to keep the decadence going.
We spent longer than we expected hanging out in Kathmandu. It was tough finding a reasonable flight out of Nepal that didn't go through India. We had already managed to make our way back to India after our trip to Sri Lanka, but with the new Visa rules, we didn't want to take the chance of not getting back in after spending the money on a flight.
So we had to look for an alternate route.
We finally found a flight out through Doha, Qatar but it wasn't leaving for almost a week. It wasn't enough time to go to Tibet and we had already done an epic trek and visited Pokhara for some shorter treks and mountain biking.
What else could we do?
We continued relaxing.
If any of you have read the 10 Things we Hate about Traveling, you will know that we really hate cracked heel.  We will be going to Europe very shortly and there is no way that I can be seen on the streets of Paris with Backpackers feet.
We enjoyed ourselves so much at the Himalaya Retreat Spa that we decided to go back for some more pampering.  Dave draws the line at a pedicure, but I talked him into trying the Ion Foot Bath while I had my toes and heels taken care of.
No Pedicure for me!
–If Dave wouldn't get a pedicure, at least he would have his feet soaking in hot water for 30 minutes pulling out the toxins that have built up in Central Asia.
We were warmly welcomed back and offered a 20% discount for being a return customer.  There was one more thing however and they needed our permission to continue.
It turns out there was a photo shoot going on and they wondered if we would mind being on camera.  What can I say, we do love attention and readily accepted the chance to be on TV and in their new pamphlets.
As we sat in our comfy chairs they snapped away taking photos.  We were such hams that they decided to interview us as well.  We have no idea where the interviews were airing, but I am sure they made it on T.V. because we gave the spa a glowing endorsement.
Back to the Ion Bath…
Dave was sure that he was going to get away with clear water.  20 minutes into the bath and it hadn't changed colour.  Apparently the more toxic you are, the darker the water turns.  He was feeling pretty confident and was mighty high on himself for being so pristine.  That is until the final five minutes.
The water turned a nasty orangey-brown and beige bubbles started to form.  Another woman was sitting across the room having some reflexology done and asked if Dave was a smoker.  "Nope" he replied. "That is what happens when you spend 3 months in India's pollution."  Yuck.
A young girl was having the ion bath done beside Dave and he was praying that hers would turn too.  Nobody wants to be the toxic leper sitting alone in the room.  He was happy to see that even the young teenager's water turned at least to a deep yellow.
I wanted to try it myself, but I am sure that I would be black.  I had been ill for months and one treatment wouldn't be enough to cure me. It would only be enough to make me depressed.
Instead, I had my toes painted with a bright coral nail polish, had my heels thoroughly buffed and cuticles trimmed to perfection.  I can now go home and my feet can face my family and friends with confidence and pride.
Time is winding down in Asia but we are heading to Paris next week. We found some great rates to Paris from this travel agency, Liberty Travel.  The adventures will continue in France but there may just be a little more pampering in the most romantic country on earth.
Read More: