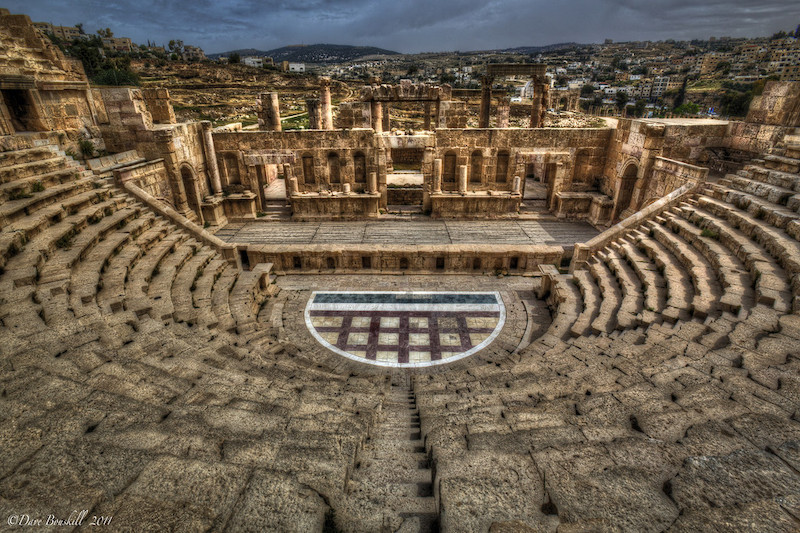 We have never been to a Roman ruin in Italy. I look forward to seeing the Colosseum one day, but in Jordan I got the next best thing. Jerash is considered the most well preserved Roman Ruins outside of Italy. It is also one of the busiest tourist sites in Jordan.
The Jerash Amphitheatre
It is located a mere 45 minutes from Amman and it is a main stop on the tour bus route. School groups visit this major historical city and every traveler makes sure to put Jerash on their Jordan itinerary. Jerash is overcrowded with people.
Our Guide Ali Thought Ahead Though
Dave and I have short attention spans when it comes to historical lessons during a guided tour. He wants to run around to take photographs and I want to run around and talk to the people. While I was loving the crowds, Dave was hating the people ruining his shots.
But like I said, Ali thought ahead. During our time at Jerash. Ali, rearranged it so that we could stay one step ahead of the masses of people.
See another famous site in Jordan – Petra, The Ancient City by Day
While I talked with everyone and some very energetic students, Dave was busy taking as many people free photos of ruins as he could. Ali was doing his best to tell us the history of Jerash but our eyes glaze over with each word. I admit, we frustrated him just a little bit.
I was always lagging behind to talk, Dave was always running ahead to photograph and Ali was stuck in the middle trying to keep us together, get out the facts on Jerash and keep the crowds to a minimum.
It's a tough job being our tour guide.
However, the payoff is well worth it. This shot of the amphitheater couldn't have happened at a more perfect time. There were no people thanks to Ali, the sun broke through the storm clouds just enough to light the stage, and Ali has the honour of being the featured player in this article and our undying gratitude for being so patient with us.
Read More