I bet you've probably checked most European destinations off your travel bucket list by now: the UK, France, Spain, Italy, Germany, Ireland, Austria, Switzerland… Have I missed any? Oh yeah! You should visit Portugal.
16 Reasons to Visit Portugal
Wait, don't tell me Portugal isn't even on your travel bucket list.
A country where you can spend the morning surfing awesome waves and the afternoon skiing down snowy slopes? A place that is home to hundreds of award-winning wines?
With centuries-old cities and castles? A country where you can hike up a 7,000ft tall peak? And where you can taste one of the world's best kept culinary secrets?
16 Unforgettable Reasons to Visit Portugal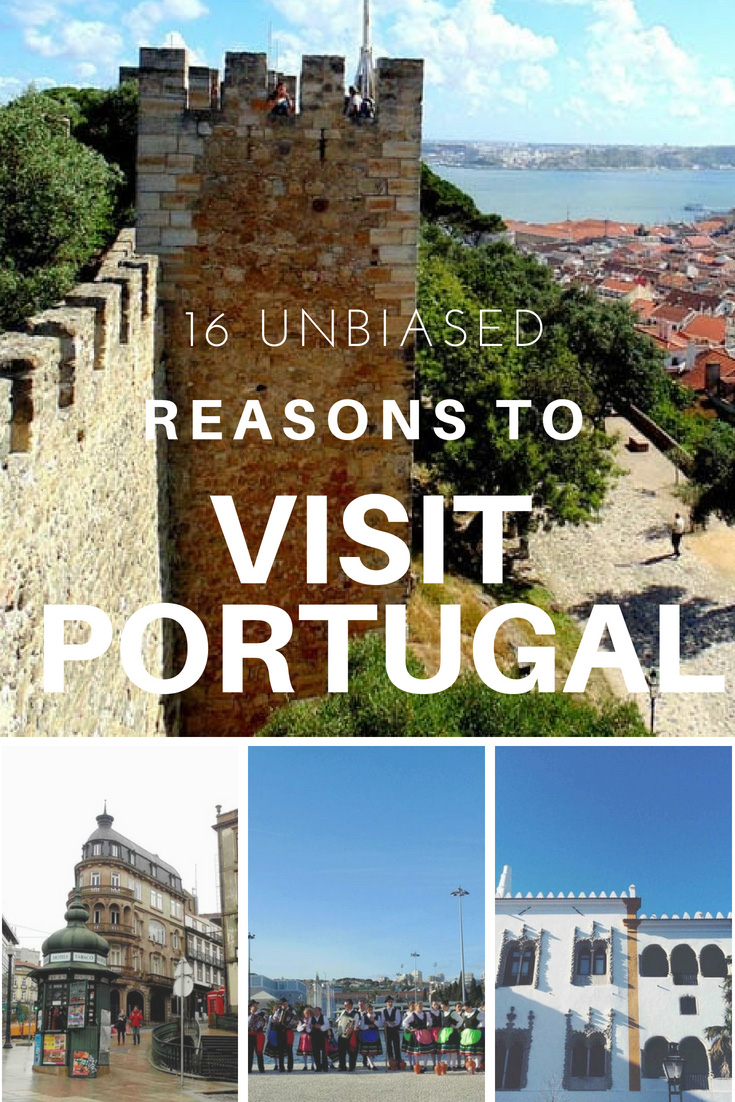 I bet it's hard to say to 'no' to all of that. But I mean, what do I know – I was only born there and all. Just in case you're not convinced yet though, allow me to change your mind with 16 (totally unbiased) reasons to visit Portugal and give it a chance this year:
1. The mouthwatering Pastéis de Nata
I'll be honest with you: we do food pretty well here in Portugal.
Our pastéis de nata arguably take the prize for our most delicious pastries.
Only five people in the entire world know the recipe for these scrumptious egg-cream tarts, so you'll want to enjoy these authentic treats in Lisbon.
ou'll find the best ones at Pastéis de Belém (in Belém) and at Manteigaria (in Largo do Camões).
Love trying different food? Read Why I travel for food and so should you. 
2. The picturesque town of Sintra
If you like your fairytales real, you'll absolutely love Sintra.
Quaint narrow alleyways, picturesque façades and glamorous palaces and gardens are just some of the things that make Sintra one of the most enchanting towns in Portugal.
Thinking of a Portugal visit? Check out Traveling Lisbon for Under 5 Euros a Day
3. There are too many ancient castles to count
Did you know that Portugal has had the same borders since the 11th century? That makes it one of the oldest countries in Europe.
Thankfully most of the history has been beautifully preserved.
That means today you can roam through centuries-old castles and historical sites all over the country.
Guimarães is where Portugal's first king was born, Coimbra is home to one of the oldest universities in the world, and, of course, who can forget the sweeping views from Castelo de São Jorge in Lisbon?
4. The Santos Festivities
Every year in June, Portugal's towns and cities come alive with festivities in celebration of three Catholic saints (we refer to these as the Popular Saints).
Parades, weddings, traditional street dances and fresh sardines fill the streets of Portugal for days on end.
The festivities start early in the evening and continue well until the night.
Going on a European Vacation? You'll want to read our Packing Tips for Europe
5. In fact, all Festivals
We really like our festivitals, okay?
As a historically Catholic country, we celebrate many saints year-round with lots of music, parades and (of course) great food. If you love festivities, it's yet another reason to visit Portugal.
In Tomar, locals have been giving thanks to the Holy Spirit since the 17th century at Festa dos Tabuleiros (Trays Festival).
During this festivity, which takes place every 4 years (the next will be in 2019), women parade through the town's main streets carrying half a kilo (1lb) of trays decorated with flowers and bread on their heads.
And we go all out on Carnaval as well.
The most impressive parades are in Torres Vedras and Sesimbra, where the processions feature some very interesting political satire.
6. The gorgeous beaches
Portugal has over 100 beaches and, no, not all of them are located in the Algarve.
All along the country's west coast, you'll find some of Portugal's most beautiful beaches like Comporta and Figueirinha.
Sure, the water here will be a little colder (you are, after all, bathing on the Atlantic Ocean).
But, at the end of the day, you'll be rewarded with a romantic pink-and-orange sunset right on the ocean.
7. The award-winning wine
Wine production is one of Portugal's most ancient traditions.
And Portuguese wine is becoming increasingly recognized worldwide for its exquisite flavor and rich quality. I
f you're a true wine enthusiast, you can explore the Douro Valley and the Alentejo region on a wine tour when you visit Portugal.
8. Portugal inspired J.K. Rowling – and it will inspire you too
True Harry Potter fans probably already know this, but Portugal was actually a great source of inspiration for J.K. Rowling while she was writing the earlier volumes of the magical saga.
Specifically, in Porto, the author spent many afternoons writing at Café Majestic and at Palácio de Cristal (Crystal Palace).
And if you visit the sumptuous Livraria Lello (Lello Bookstore) in the city, it might look eerily familiar to you: that's because this 100-year-old bookstore was Rowling's inspiration for creating the Hogwarts Library.
9. The great outdoors is great here too
Portugal is a small country, but you can enjoy just about every kind of outdoors activity here.
Ride the world-renowned waves in Ericeira, ski down the mountain hills at Serra da Estrela, or camp out under the stars at Parque Nacional do Gerês.
The volcanic islands of the Azores are also becoming an increasingly popular place to hike dramatic cliffs, discover stunning lakes and swim in natural pools.
10. One word: Fado
If you want to understand the heart of the Portuguese (and learn what saudade really means), head to a Fado house and listen to this melancholic music.
Sr. Vinho and Clube de Fado are just two great places in Lisbon where you can enjoy some delicious traditional Portugal cuisine accompanied by excellent Fado singers.
11. You can ride a gondola here too
Venice isn't the only city intertwined by pretty canals. On a smaller scale, the northern Portuguese city of Aveiro is also filled with picturesque waterways that you can discover on a relaxing gondola ride.
Read about our experience in Exploring the Canals of Venice
12. Everything about Madeira
Lava pools, charming villages and incredible scenic views are just some of the things that will make you fall in love with Madeira.
The fresh seafood (grilled limpets are the specialty here) that pair beautifully with a strong Madeira wine will make you want to stay forever.
13. You'll love our beers
Beer has a long history in Portugal. And there's a whole on-going national debate here pitting the two major breweries against each other (namely, Sagres and Superbock).
What better way to settle this dispute than to try them for yourself? (I'm sure you'll soon realize Superbock is the superior beer.)
Love Beer? Check out our visit to the Guinness Storehouse in Dublin
14. The nightlife lasts until morning
If there's one thing Portuguese people know how to do well (besides delicious food, obviously) it's partying. And there's a party scene for everyone in Portugal.
From Lisbon's street bars in Bairro Alto to the selective night clubs in Vilamoura, the party starts early and, well, ends early too (early the next day, that is).
15. The Instagram-ready design
Picture-perfect tiles (we like to call them azulejos) decorating picturesque façades and impressive designs on cobblestone streets (calçada, if you will) make Portugal one of the most picturesque places in the world.
Just about any town, village or city is ready to be immortalized on your Instagram feed (#nofilter).
Follow Ines on Instagram and check out us as well theplanetd 
16. We're just so cheap
Again and again, Portugal has been named one of the best budget destinations in Europe.
Basically, we do the whole European history and charm thing for half the price.
So whether you're choosing to stay in a city center hostel or a luxe hotel on Avenida da Liberdade, you'll get more out of your hard-earned pennies here.
Want to learn more about Budget Travel? Read How to Travel on a Budget
BONUS: The amazing people
Sure, Portugal is a beautiful country with great food, stunning scenery and lots of history. But what truly sets it apart (and what keeps travelers coming back for more) is the hospitality of the locals.
We love hosting people and making new friends: we'll make sure you're eating well (you're sure you don't want seconds?), go out of our way to show you around, and guarantee you have a fun time however you choose to spend your days here.
Bio:
Inês is a Portuguese travel blogger and writer with a very difficult name to pronounce in English (it's something like "eee"-"neige" (that's "snow" in French)).
She writes for and runs Atlas Enchanted, a travel website dedicated to inspiring the curious traveler in everyone. You can follow her latest (mis)adventures on Twitter and Instagram.
---
Read More:
7 Stunning Off The Beaten Track Places to Visit in Portugal
Lisbon Portugal for Under 5 Euros a Day
How to Make the Most of 3 Days in the Algarve
SaveSave
You Might Also Enjoy