Petra by night is something special that you should not miss when you travel to Jordan.
Seeing the ruins at night gave them a certain mystique that you do not get during the day. Y
ou really get the feeling that this is how the ancient spice caravan travelers must have seen it.
Stunning Petra by Night in Photos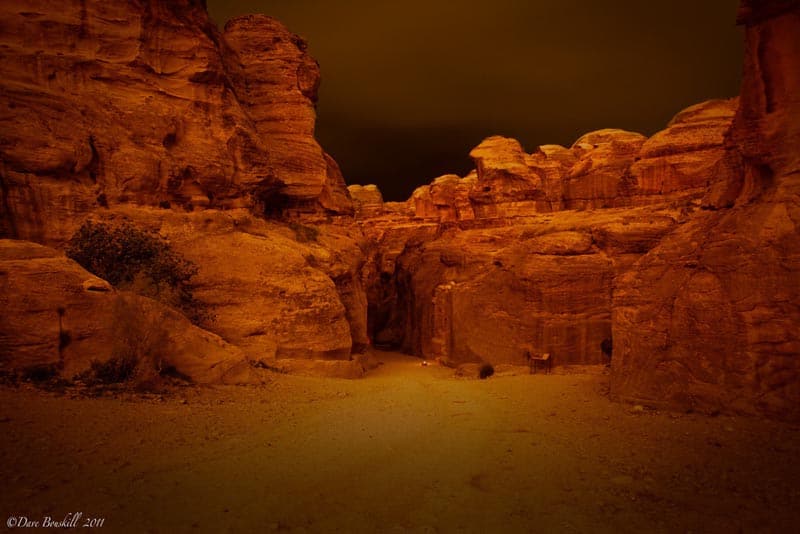 We walked through the Siq not knowing what to expect.
We hadn't really done a lot of research on Petra before visiting the ruins, so it was all a complete surprise to us as we followed the crowd to the Treasury.
See also – Petra Jordan, the Lost City by Day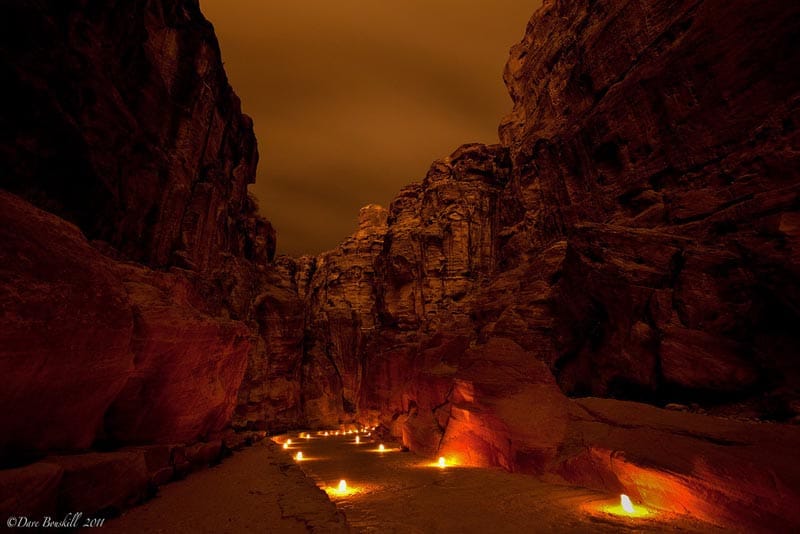 We imagined that we had stepped back in time. The stones that we were walking upon were the original stones of Petra and we were completely in awe of our surroundings.
As the twilight sun gave off a golden hugh, we could still make out the tops of the towering cliffs above.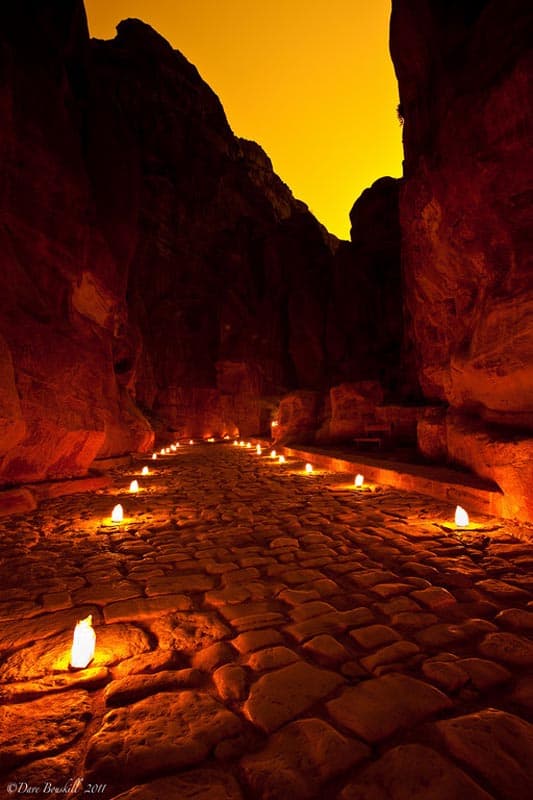 Candles placed in paper bags lit our path all the way through the siq of Petra.
This 2 km walk is an experience you will never forget. It feels as if you will never reach the Treasury, the most famous site of Petra, but when you do, the walk is worth the wait.
Each candle is hand lit to give an authentic experience transporting the visitor back centuries.
Also Read: Jerash, Welcome to Jordan's Roman City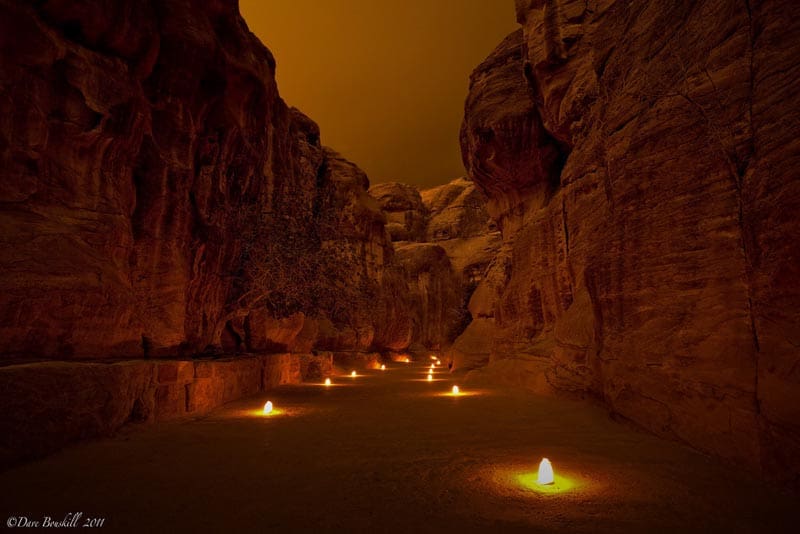 The ancient Nabatean City was the secret of Jordan and it wasn't discovered by the west until 1812.
Bedouins had used this place for centuries, but it lay hidden to outsiders until 200 years ago.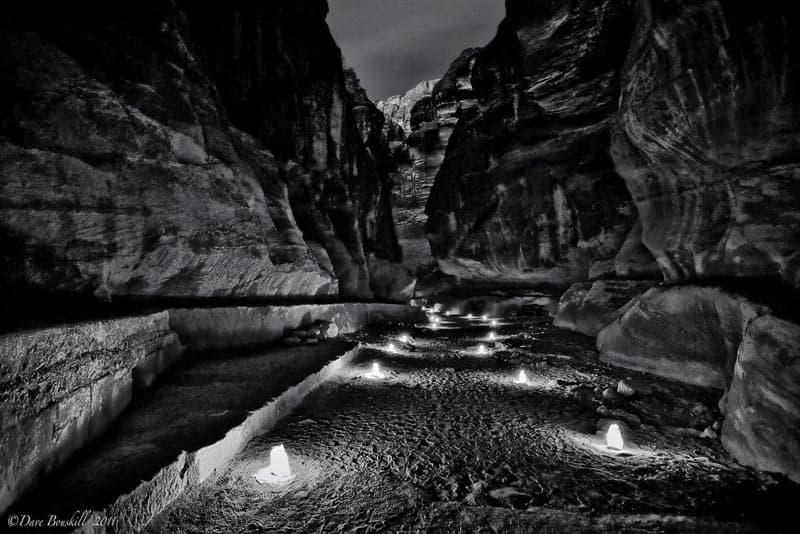 Petra will be celebrating its 200th anniversary in 2012 and it is a spectacular ancient city that is not to be missed.
Jordan tourism will be pulling out all the stops to make the event a special one. If you happen to go to Petra, make sure to witness it at night.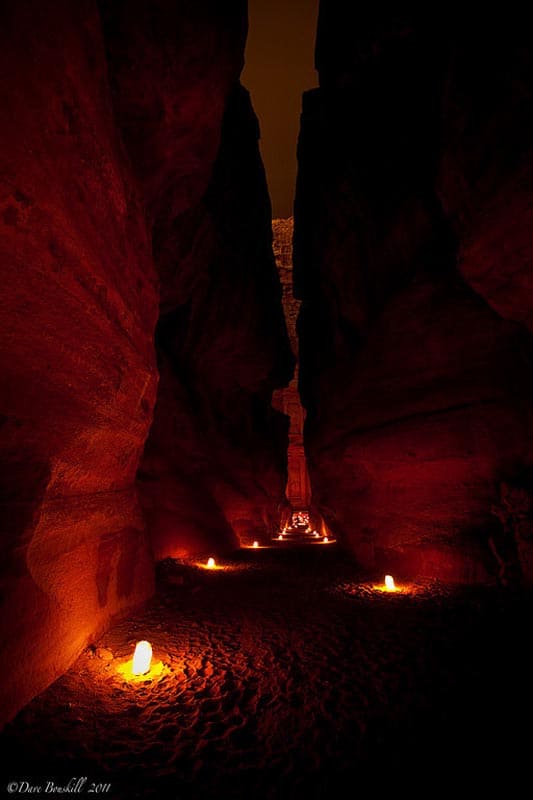 Once you reach the treasury, you are treated to people playing traditional Bedouin music. Men serve tea as you sit on matts.
Get there early to get to the front for the best photo opportunities and make sure to stick around after the crowds leave to capture the Treasury free of heads and shadows.
We lingered after the crowd left to capture an empty Petra, Treasury and Siq making for a stunning photo opportunity.
Petra by Night in Jordan is a truly magical experience. We captured these photos above by staying one step behind the crowd and one step ahead of the men taking down the candles.
To be alone in Petra in complete silence and darkness was magical. But dress warm, once the sun goes down in the desert of Jordan, things turn cold quickly!
Read More about Petra and Jordan:
Petra is the perfect destination for Romance, Check out Velvet Escape for your romantic Experience in Petra.