The magnificent Petra and The Blue Mosque of Amman, The Arabian Desert and Wadi Rum, the stomping grounds of Lawrence of Arabia himself, T.E. Lawrence. The mysterious Dead Sea and Red Sea Coast.
These are just some of the images that spring to mind when envisioning the Kingdom of Jordan.
In fact, Jordan has something for every type of traveler.
From high adventures like taking a hot air balloon over Wadi Rum or sleeping in the Desert having a Real Bedouin Experience to visiting the Kings auto museum.
Maybe you can try Smoking Sheesha for the First time or witness the Roman Ruins of Jerash and of course, you can't miss visiting the ancient ruins of Petra.
Visiting Jordan is an unforgettable experience and a definite addition to anyone's bucket list.
This Jordan travel guide will help you plan your next vacation.
Fast Facts
Jordanian power voltage is 230 V 50 Hz; Power sockets B, C, D, F, G & J
The local currency is the Jordanian dinar (JOD) and is around 0.70 JOD to 1 USD.
Stonefish have a habit of lying half-submerged in the sand, so wear something on your feet if you're walking into the sea. If stung by a stonefish, see a doctor immediately. Aqaba has an excellent hospital where cuts, bites and stings can be treated. Most importantly, it has decompression chambers for the 'bends'.
June and July may be months to avoid. Ramadan will mean that many shops and restaurants are closed; Eid will mean that hotels will be fully booked.
Most of the ecotourism projects operating in Jordan's Dana, Wadi Mujib and Ajlun nature reserves only operate between April and October.
It is recommended that given the current political situation, travellers stay away from the Syrian and Iraqi borders.
Budgeting
Accommodation
Budget – Budget hotels start at $30 per night. They may include a kitchenette, coffee/tea maker, and air conditioning.
Mid Range – Mid-range hotels start from $50. They provide free WI-FI, airport transfer, and free breakfast.
High End – High-end hotels start at around $200 per night and might include a private beach, private balcony, flat TV screen, pool, and a mini bar.
Check out our favorite booking platforms Booking.com, Tripadvisor and Air B&B for the best deals on accommodation in Jordan.
Food
Food:
Mansaf – It is a meat dish that is layered with paper-thin flatbread and piled with aromatic rice. The meal is embellished with toasted nuts and eaten with a tangy yogurt sauce.
Falafel – Crispy falafel balls are shaped from ground chickpeas and spices, these are popular street food staple across the Levant. People love it in their breakfast as well as midnight snacks.
Bedouin tea and coffee – Bedouin tents in the winding paths and steepest valleys invite trekkers and hikers for sweetened tea in tiny glasses. Tea is an important part of Bedouin culture.
Kunafa – This is a dessert dish topped with cream and tangy cheese. Often paired up with thick Turkish coffee.
Maqluba – This is a well-presented dish of rice with vegetables, chicken, and potatoes. Rice hides the lumps of meat and makes it more delicious.
Fresh juice – Olives, lemons, tender dates, and pomegranates are found in the countryside of Northern Jordan. Fresh juices are a heavenly drink in harvest seasons.
Roasted nuts – The scent of toasted nuts can be sensed all around the markets in the capital city. They are heated with sugar, salt and pungent spices in great metal tumblers.
Transportation
Getting to:
Flights: Many airlines fly directly to Jordan, such as Royal Jordanian flights, and British Airways flights fly directly from the United Kingdom. Queen Alia International Airport is the largest and main airport in the country, located 30 km south of the capital city, Amman.
You can check for the best flights to Jordan on Skyscanner.
Transportation:
Buses: One of the main routes from Aqaba to Amman costs about $13 for 4 hours ride.
Taxis/Uber: Uber launched in Jordan in April this year. The minimum base fare is as low as JD 1.50
Car Rental: You can rent a car for up to $45 per day, and if you are more than 25 years old, it costs less for you.
You can also compare prices here.
Places to Stay
Le Grand Amman – This hotel is located in a prime location of Amman City and is a walk away from Citadel, Roman Theatre, and many more shopping spots. It provides rooms with a pool view, city view and bridal suites too.
InterContinental Jordan – This is a well-established best business hotel in the area and provides equal luxury and leisure to travelers with its deluxe surroundings. It provides free breakfast and internet services. The room consists of a fireplace, mini bar, and many more facilities.
Grand Hyatt Amman – This hotel is 30 minutes from Queen Alia International Airport, and its location is the heart of Amman's business and diplomatic district.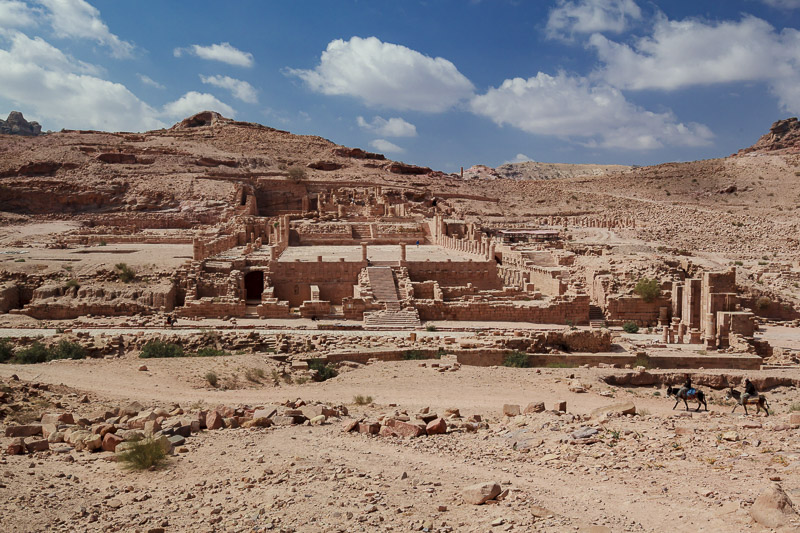 Packing Tips
Jordan may be a small country but it has a range of different climates; on the same January day you could be throwing snowballs in Ajloun or topping up your tan on the Red Sea beaches.
Dress conservatively. Jordan is a Muslim country, as a result women should be dressed conservatively (long pants, shirts with arms and shoulders covered) while men are recommended to keep their shoulders and legs covered. Many religious sites forbid shorts and sleeveless shirts for both sexes, so a light scarf is handy to wrap around the shoulders. Swimsuits are ok to wear at the beach or pool, but make sure to cover up before walking anywhere else.
Pack loose clothing with breathable fabric – cover up with fabric you know will breathe. Tunics are a great option as they can be dressed up or down, are light weight and offer good coverage. Linen layers are also a good option.
The protection basics – even if its cold and windy, doesn't mean that you won't get a sunburned, especially in places like Petra and/or Wadi Rum. Make sure to bring along sunscreen (SPF 30+), sunglasses and a hat.
Layer up – Bring a sweater or jacket for cold nights in the desert, and maybe even a scarf and gloves. This is particularly true for Petra as it can go from hot to cold in minutes depending on how much sun the area gets.
Footwear – Pack a pair of lightweight, durable and comfortable shoes that you don't mind getting dirty! If you plan on heading over to Petra and Wadi Rum, make sure to pack a good pair of hiking boots.
Water bottle – Water is not potable in Jordan – do not drink or even brush your teeth with tap water. Consider taking a portable water bottle or a Steripen on your trip
See our packing tips: packing tips
When to Go
The best time to visit climate-wise is in spring (March to May) and autumn (September to November), when the daytime temperatures aren't too extreme. Summer lasts from roughly June to September and temperatures in certain areas have been known to top 45°C.
The wintertime in some cities, like Amman, can experience chilly biting winds, showers and even snowfall. In short, the Jordan Valley and Gulf of Aqaba suffer the worst summer heat and humidity while the winters in the higher central and northern areas can be quite cold.
Things to Do
Adventure
Explore the Lost City – Whether its during the day or the night, Petra wasn't voted one of the New 7 Wonders of the world for nothing! It is definitely one of those places that really lives up to the hype.
Go Canyoning – hike, swim, slide and abseil right down the centre of the Wadi Mujib gorge, which houses some of the most spectacular cliffs we've ever seen.
Float in the Dead Sea – The Dead Sea has a salt level of a whopping 33%. To give you an idea of the saline levels, the ocean has a salt concentration of only 3.8%. And that my friends is exactly why we humans have such an easy time floating in the Dead Sea.
Culture
Sleep in a Bedouin Camp – go back in time and camp under the stars: Captain's Desert Camp is designed to replicate an authentic Bedouin camp.
Stay in Feynan Eco Lodge – Located in the Dana River Biosphere Reserve, it is a solar powered retreat offering peace and quiet while promoting conservation.
Sights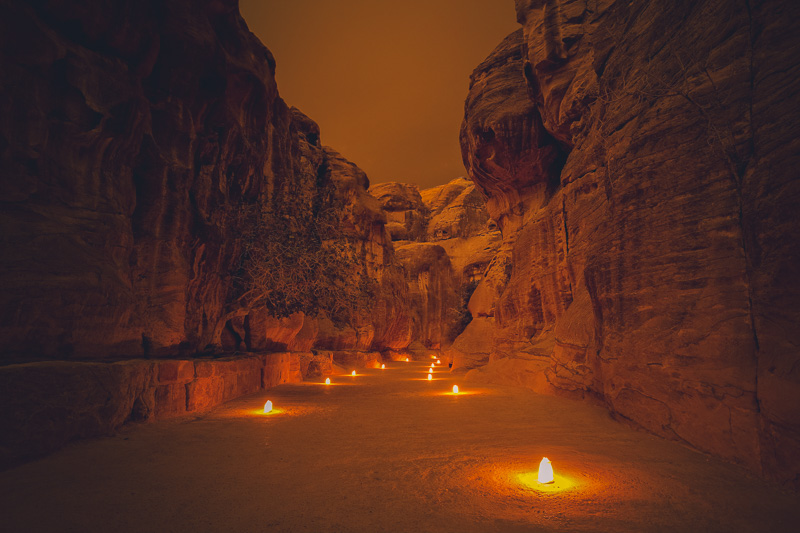 Booking Resources
Whenever we travel to we make sure to start with these companies.
We have tried a lot of different ones over the years and all of these have consistently proven to be the best when it comes to offering great prices.
We have used every one of these personally and continue to do so.
Booking.com: This is our go site to when comparing prices for accommodation. It is usually the has the cheapest prices, not to mention you get free cancellation and you are guaranteed the best price.
Trip Advisor: What we like about Trip Advisor is that we can look at all the reviews and then book our accommodation.
Air BnB: Airbnb is the main search engine we use when we are looking for a home or apartment rental. It is the best way to stay in areas that offer a more local feel.
Skyscanner: This is the first place we check for flights. It consistently comes back with the cheapest and best options. It allows us to compare a lot of airlines to get the best price.
Hostelworld: With one of the largest databases of hostels in the world, Hostelworld is the go-to site when you are looking for budget accommodation.
Rome 2 Rio: If you want to see how to get somewhere by plane, train, bus, ferry or car Rome2Rio lays it all out for you as well as related costs. I love how they show it all to you on a Google Map and it works offline.
Get Your Guide: For all your day trip and city guide needs, we use Get Your Guide. It has the world's largest collection of things to do with more than 30,000 activities in 7500 destinations.
World Nomads Insurance: When traveling you should always have travel insurance. We do.
Related