One of the most magical experiences anyone can have in life is a dolphin encounter.
These intelligent and playful mammals are one of the most extraordinary creatures in the ocean that anyone could have the opportunity to interact with.
New Zealand has very strict standards when swimming with dolphins and we felt very comfortable jumping in the water with Fuller's Great Sights in the Bay of Islands.
Why is New Zealand a dolphin encounter in New Zealand is more environmentally friendly than other countries.

They cannot feed the dolphins to entice them to come back day after day.
Only 3 vessels are allowed within 300 metres of the dolphins at one time.
Nobody can swim with the dolphins if there are infants in the pod
The number of times that a group can swim with the dolphins in limited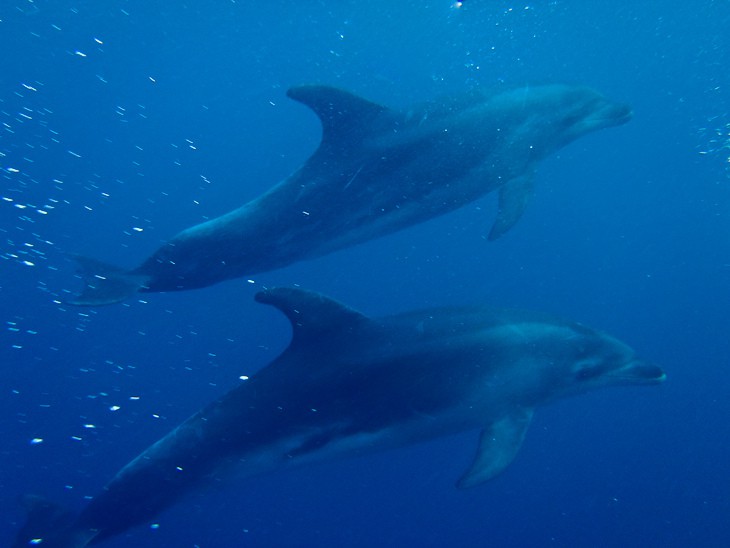 As our Captain Billy said, the dolphins come up to the boat for a visit because they want to, if we fed them, we would never know if they are here just for food or if they want to be here to interact.
Our guide Floppy has been studying dolphins and having dolphin encounters for 18 years. She knows what she is doing. When radioing to the other vessels to discuss whether they would stay with a pod or move on, she and Billy chose to move on.
Enjoy our photostory: 33 Reasons to Visit New Zealand
They know the dolphins well from their various markings and scars and knew that the group the other two boats were following weren't filled with the most interactive of dolphins.
Floppy and Billy are the most experienced guides on the bay and we felt incredibly lucky to have them as our guides. They are patient and knowledgeable and they gave us the best experience that we could possibly have.

We heard the other boats struggling through the radio chatter and knew that we were on the right boat with Fuller's Great Sights which the Flying Kiwi Booked through Awesome New Zealand.
Our boat moved to the other side of the bay away from the bigger vessels and found the most playful dolphins to have a dolphin encounter with.
They called these two dolphins The Midgets.  They are a couple of smaller male dolphins with another fun dolphin (that unfortunately I can't remember the name of) along with a fourth dolphin that didn't have a name.
He was as equally curious as the rest of them. We were lucky to have the friendly pod to ourselves before any of the other boats made their way to our side of the bay.
Floppy studied the dolphins before allowing us in the water.
She made sure that there were no babies in the group and that these dolphins would indeed stick around for a bit to let us play. Once she decided that we could go in, there was no room for hesitation.
She and Billy yelled at us to get in now! They said, stop thinking about the cold.  We didn't have wetsuits and that water looked pretty cold and dark to me.
Dave was the first in of the group as he is a fish at heart, and went straight to the pod where he had the most amazing dolphin encounter of his life. He played with them for a good 20 minutes never leaving their side.
Note: We never touch the dolphins.

Dolphins gain your trust when you keep your hands at your side. We were instructed to never reach out and try to pet them. They will swim away if they feel threatened. But if you keep your hands to yourself, they will swim around and around you coming closer and closer. You may have the urge to reach out, but don't.
I was slower getting in the water than Dave, the cold took my breath away and I panicked a little bit.  I swam back to the swim platform and Billy and Floppy seemed disgusted with me.
I gave myself a good scolding and jumped back in. It wasn't long before a dolphin came right up to me to check me out. It swam around a bit and I could see its eye looking right at me.
Amazing.
We were told to sing and do some twirls to attract the dolphins.  I didn't do much, I simply swam and floated getting my fill of dolphin fun.
Dave, however, was a different story.
He was determined to get the best photographs and video and sang his heart out while diving, spinning and turning upside down.  It worked because the dolphins loved him.
Billy and Floppy were yelling at the rest of us to follow Dave.  "That guy knows what he's doing, he has never left the dolphins side, He's a great strong swimmer.  Follow that guy!"
I heard their yells from the boat trying to get the rest of us to go to the right direction of the trio of dolphins. Lucky for us, a fourth dolphin was swimming around and coming by to visit the rest of us that weren't quite as on the ball as Dave.
A guy that was on the Flying Kiwi tour earlier told us that he sang the A-Team when he went swimming with the dolphins and it was quite funny that the song stuck with us. Dave kept humming the A-Team theme as he swam and I oddly enough thought to myself "I bet Dave is humming the A-Team."
Sure enough he told me he did! Click on the video above to hear Dave's rendition of the A-Team. The dolphin seemed to like it because it squealed right back at him!
Looking for another dolphin encounter? See our South Africa dolphin swim in great white shark country. 
He had some incredible views and witnessed the most amazing moments. I am going to hand the computer over to him now so he can share his dolphin encounter.
Dave:
I could feel the dolphins looking at me. They were as curious about me as I was of them.  At one point it circled around me so much that I ended up spinning to the point where I got dizzy.  Floppy and Billy said that the dolphins love doing that to people."They're taking the piss out of you" they said.
I could almost here the dolphin laughing, "Look at this stupid human spinning in circles in the middle of the bay." "I can make him do anything!"
Two dolphins circled below me at one point and looked like they were kissing each other as they spiraled down.  I thought I had my camera on record, but didn't and cursed myself.  On the other hand, I witnessed an awesome moment.
Another time the dolphins swam by belly to belly. One was upside down and the other swam above it in perfect unison.
It was like they were putting on a show for me I felt like they were saying "look what I can do!" "Can you do that?"

There is nothing like that feeling when a dolphin looks directly in your eyes and starts clicking.
You feel like they are communicating with you on some higher level that you don't quite understand.  As Floppy said, Dolphins can read you from the inside out.  They can feel your heartbeat and whole being, and I felt that way too.
It was the most incredible experience of my life and I just skydived a day earlier!
To find out more about how you can swim with the dolphins check out Dolphin Cruises in the Bay of Islands on the North Island of New Zealand. Costs start at 89 NZ dollars for the dolphin view and add $30 NZD to swim with the dolphins.
---
Read More:
The Absolute Best Things to do in New Zealand
Bungy Jump in Queenstown, New Zealand – Video
New Zealand with The Flying Kiwi
Paragliding Over Queenstown New Zealand
Pilot a Stunt Plane in New Zealand, An Extreme Adventure
SaveSave
SaveSave