'What drew me here to Connemara, Ireland?' I think everyone will tell you the same thing,
The Landscape' I sat sipping red wine, watching the sun fall below hills on the opposite side of Killary Fjord.
I'm with Hostel Manager Barbara, who goes to great lengths to ensure a stay at here is as relaxed as the landscape it is in. The pace of the evening is slow; the soft buzz of millions of little midges set against trickling water adds to the calming effect of this part of Ireland.
The Connemara Loop
I've travelled to the Connemara Loop, South West of Westport and approximately two-hours from Ireland West Airport.
It's an enticing location, at the start of the stunning Wild Atlantic Way, with a variety of scenery and activities on offer to keep even the most adventurous busy for weeks.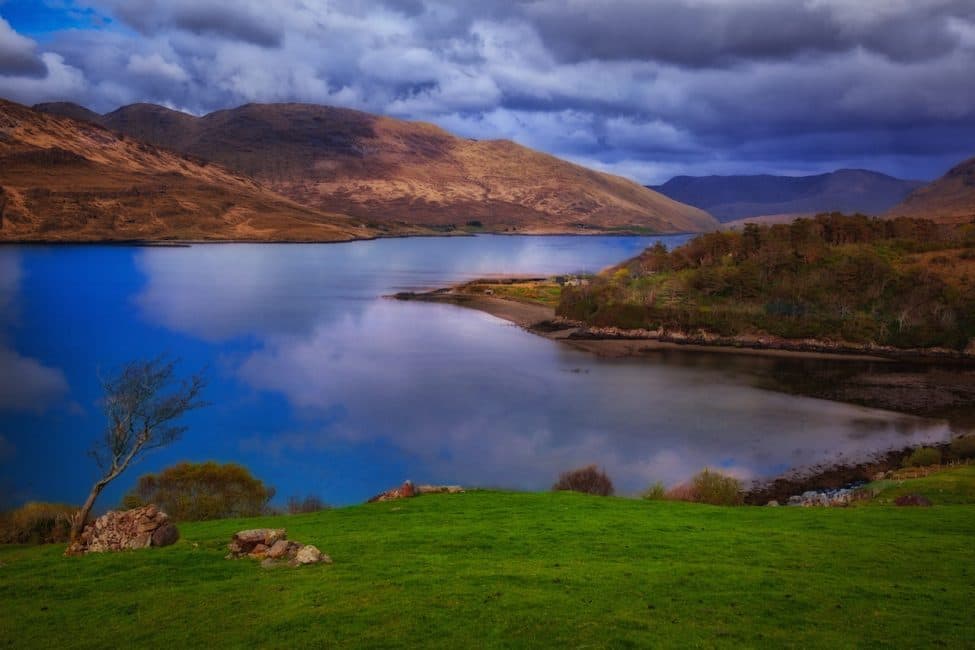 It's also completely stunning; think the Caribbean with a bit of Norway and Lord of the Rings thrown in and you wouldn't be far wrong.
Going to Connemara? Check out Our list of Offbeat Things to do on the Wild Atlantic Way
Westport
Driving south towards the Connemara Loop, Westport, on the south-east corner of Clew Bay is the only major town in the area and provides a good selection of bars, traditional pubs and amenities.
It is regularly voted as one of the best places to live in Ireland, and is proud of its status as a hub in the area, being a popular destination for tourists driving or visiting the untamed Wild Atlantic Way.
Tip: From Connemara, you can fly or take the ferry to the Aran Islands. A must when visiting Ireland.
Leenaun
Driving from Ireland West airport at Knock south through Westport, I came to the little village of Leenaun on the edge of the Killary Fjord.
It's a small place, with an air of passing through rather than anything else, but it is the home to Killary Fjord Boat Tours and as a destination, it provides some magnificent views of the fjord itself, the only one of its kind in Ireland.
Traveling to Ireland: Check out our complete Ireland Travel Guide
Letterfrack
Letterfrack is a small village and home to the entrance to the Connemara National Park.
It lies at the end of Ballinakill Harbour, and was selected by Marconi as the location for the transatlantic wireless receiver station for his new wireless transmission service at the beginning of the 20th century.
Again, a number of pubs and convenience stores available, with easy access to the superlative Kylemore Abbey.
Visiting Ireland, Read the Best Things to do in Dublin
Places to Stay in Connemara
There are plenty of places to stay in the area, as you would expect from a part of Ireland next to a National Park that regularly sees visitors from around the world.
The Connemara Hostel, my base for my stay, was a charming, friendly and very well equipped place to stay.
As part of the Sleepzone hostels, it is managed and run by an excellent team who share a passion and love of this part of Ireland that was palpable and exciting to witness.
Full of recommendations, the staff here ensure it provides an excellent base, with wonderful, picture-postcard views west down Killary Fjord to the inevitably glorious orange and purple hues of Ireland's sunsets.
Directions: The hostel is also perfectly placed and next to a stretch of coastline that even when you see it, you can hardly believe it.

Take a small road to the right just past the hostel and you come across the start of the Connemara Loop, a circular stretch of road that circumnavigates the Connemara National Park and passes the glorious beaches of Glassillaun, Rinvyle and the beautiful turquoise waters of Omey Island.
Dolphin Beach
Traveling to West Ireland? Check out our list of Where to Stay on the Wild Atlantic Way
From Dave and Deb: For a more upscale experience head to our good friend Feargus' Bed and Breakfast: Dolphin Beach House – Located near the town of Clifden, Dolphin Beach House is an excellent spot to unwind and relax.

It's another perfect place to base yourself in Connemara. Nearby you can explore Killary Harbour, Kylemore Abbey, The Clifden Castle Walk and the Sky Road Loop.

Dolphin Beach House is  comfortable and modern but is also has a homey and welcoming feel set directly on the sea, you can spend hours walking along the 14 km of rugged coast or relaxing in the quiet garden.

We could have stayed there for days. The setting is extraordinary. 
Glassillaun
Glassillaun was my refuge for my stay, its soft sand and still waters lapping at the shoreline with the most dramatic backdrop imaginable.
Cows graze in the nearby fields and small Irish farms amidst the dunes are the only real signs of life.
To say this is a peaceful place is somewhat of an understatement, the pootling of small fishing boats to and from the outlying islands that look like they've been placed there as silhouettes in an oil painting add to an aura of small town stillness that is hard to capture amongst even the most remote parts of the UK.
Sold on a trip to Connemara yet? Enjoy these 27 photos that will make you want to Discover Ireland Right Now!
Light Nights
One thing was immediately apparent whilst I was staying in West Ireland was the amount of light on offer.
During the day the weather was spectacular, the light bouncing off the lochs and still sea onto the mountains, ensuring everything was bathed in an extraordinary light.
In the evening, because I was so far west and this part of Ireland nearly deserves its own time zone, sunset went on forever and there was light in the sky until a long way past midnight.
Perfect for lazy evenings on the fjord with a glass of wine at the hostel…as long as you've got some insect spray handy.
Places to Visit on the Connemara Loop
Along the coast, and within the Connemara loop itself, there are a number of amazing places to visit.
The community of Tully Cross was recommended to me on a number of occasions, and with traditional thatch cottages and the fantastic Paddy Coynes pub, it seemed a great place to spend an evening eating traditional Irish steak burgers and drinking local ale.
A well heated beer garden was a welcome advantage, too.
The Connemara National Park, with its famous white ponies, is also not to be missed, and there are a number of trails available depending on how fit you're feeling.
I chose the mid distance, which still provided a fair hike and provided me with stunning views across Mannin Bay and towards Inishbofin.
Thinking of Driving the Connemara Loop? Read our tips for Driving the Wild Atlantic Way
An interesting place to visit in Ireland are the Skellig Islands.
On my final day in Ireland, I travelled to Inishboffin, a half an hour boat journey from the small fishing harbour at Cleggan.
The boat journey was charming in itself, but nothing compared to the idyllic tranquillity of the island itself.
A small community, complete with a fascinating museum and archive centre charting the history of the families who live here, it's comprised of a number of different landscapes, from crystal clear deserted beaches to moors and hill climbs that are perfect for a day's expedition.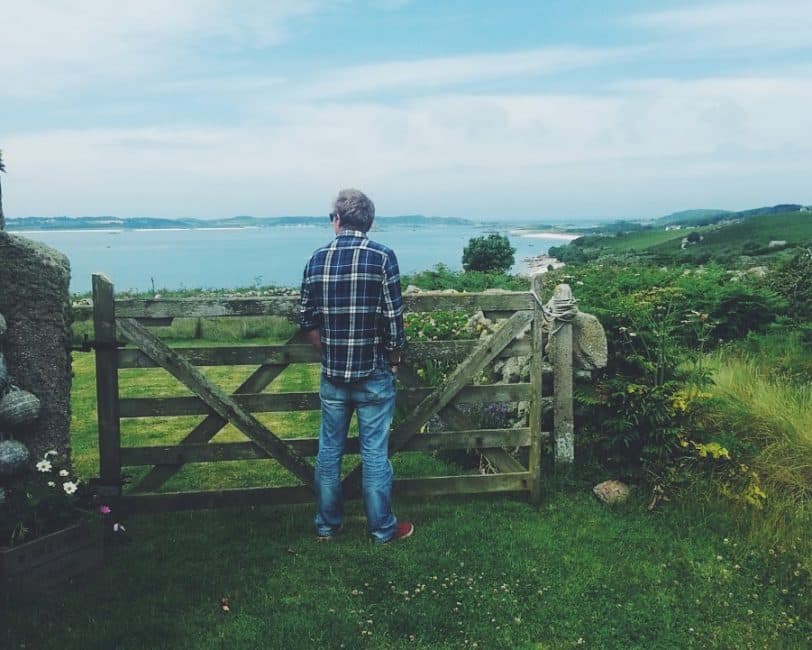 There is also an equestrian centre, dive centre and easy bicycle hire, a must for getting around the island and feeling the wind in your hair.
Visit http://www.inishbofin.com/ for more information.
This part of Ireland, unlike the more famous parts of the Wild Atlantic Way further south, is unspoilt and a true escape.
Despite the looming, foreboding mountains that surround the national park, it's one of the most gentle, inspiring and welcoming places I've ever visited.
Follow JacobCLittle on Twitter and on Instagram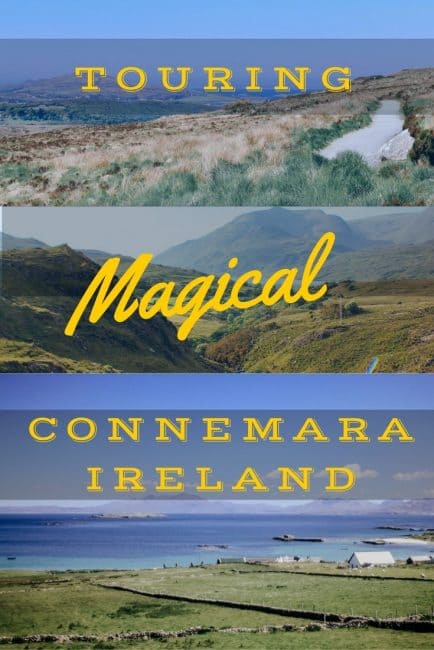 Author Bio:
Jacob Little is a  photographer particularly interested in wild landscapes, craft, old ways and dying traditions.
You can see all his photography at jacoblittleportfolio.co.uk.
Travel & landscapes form a big part of his work – Jacob also provides content, marketing and digital PR services to small businesses, often working alongside hisphotography.
Visit Sowena Media for more information about this.
The 10 Best Scenic Views of the Wild Atlantic Way
Things to do in Northern Ireland
You Might Also Enjoy